Unless you're traveling to a cold-weather country, you might think that the Fall/Winter collections in your favorite shops seem counterintuitive given our tropical climate. But it is possible to layer up even when it's not-so-cold out—it's all in the styling. Mango's Shared Moments collection gives you options like cozy knits, warm colors, and prairie-inspired patterns. Here, we list different ways you can pull them off in this clime. Bonus: You can wear these to work!
1. Try co-ords.
Wearing a matching set of Fringed Wool Blazer and Fringed Wool Skirt can serve as a foolproof way to look instantly put-together. Ditch the classic button-down blouse and opt for a light tank top under your jacket. Let the co-ords do the job in dressing up the casual piece.
2. Pair flowy elements together.
Look for pieces made of breezy fabrics as seen in this long-sleeved Pleated Metallic Blouse and Printed Pleated Skirt combo. You won't have to worry about breaking a sweat even when you're all covered up. You can also choose to balance the look with a pair of Leather High-Leg Boots to get that Fall/Winter vibe.
3. Choose oversized outerwear.
If you're after comfort, switch your tight-fitting jacket to an Unstructured Fringed Coat. The latter can keep you cozy like a fuzzy blanket on a rainy day. Wear a tank top and shorts underneath and belt the cardigan in place. Allow one or both sleeves to fall slightly off your shoulder for an effortless look.
4. Layer up with accessories.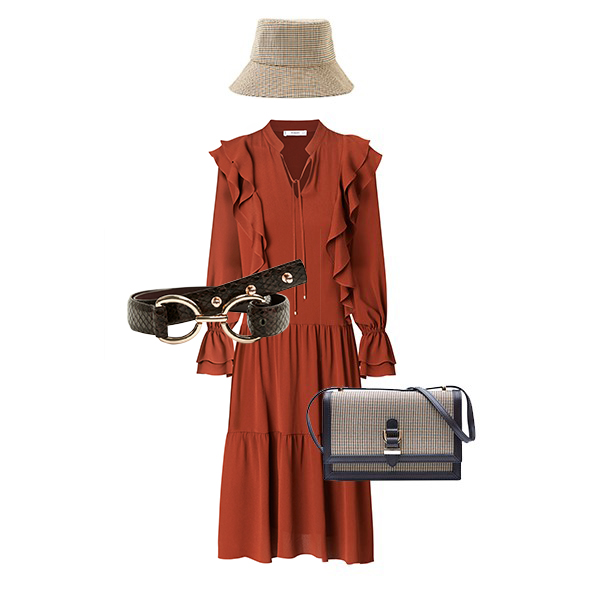 Style a Short Ruffled Dress with a Double Bucket Belt to cinch the waist, a Houndstooth Pattern Bucket Hat to add a unique element, and a Houndstooth Pattern Contrast Bag to tie everything together. It's a low-key way to add layers to your outfit without weighing yourself down with unnecessary fabric.
For more details, visit Mango's website, Instagram, and Facebook.