Jumpstarting our fashionably fit series of 30 Days, 30 Ways is none other than award-winning actress and Preview cover girl Iza Calzado. Known for her sexy, athletic aesthetic, read on for her insider tips and tricks to achieving that healthy (and real!) glow.
Day 30
Mabuhay from The Farm at San Benito!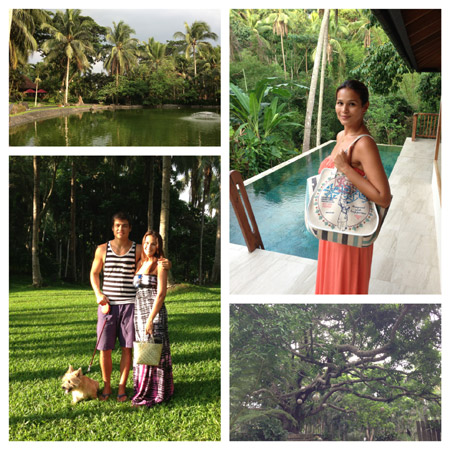 Photos of The Farm; my picture at our villa (proudly using my Rafe Totengco tote that says Malandi!Hehe); Ben and Hugo saying goodbye before they leave me to head back to Manila
ADVERTISEMENT - CONTINUE READING BELOW
I'm so sad that I'm on my last post but certainly happy that I was given an opportunity to share my workouts and parts of my life with you guys. Maybe I can continue doing so in my own way. I hope to get your support if I make my own blog. Hehe!

For my 30th day I wanted to make my entry more special so I may or may not have skipped some workout posts just to time this for the 30th day post :p
CONTINUE READING BELOW
Recommended Videos
Before my Thai massage with my favorite therapist Lemuel with my 3 p.m. drink; a selfie with my 12 p.m. drink; my first "dinner" at The Farm; Colon Hydrotherapy set-up
This will actually be day 30-32 as I've been at The Farm for the past three days doing a detox consisting of an all liquid/juice diet, cleansing treatments, colon hydrotherapy sessions, and even guided meditation. I really planned to take a break from it all: my workouts, stress, and even eating. I wanted to just relax and rejuvenate. I wanted to try and bring balance into my life... perhaps even try to find my center.
This is what I want to leave you with: a gentle reminder to always remember to love yourself and make conscious decisions to give your mind and body the attention it deserves. After all a sound mind, happy heart, and energized body means a healthy YOU!

Love and Light to you my friend!

Xx

Iza


ADVERTISEMENT - CONTINUE READING BELOW
Day 29 (Part 2)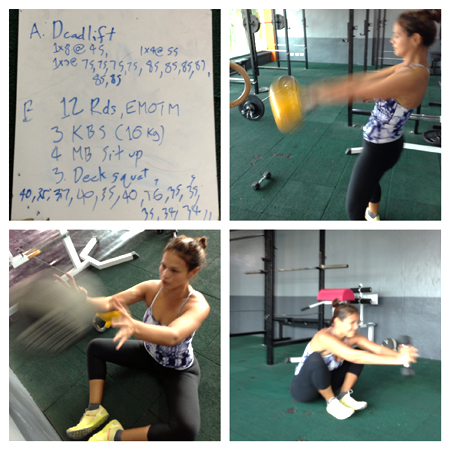 Quick workout before work. I always try and squeeze in a workout whenever I can, so this was just a relatively short workout just before a full day of co-hosting duties for Kris TV.

Sorry no pictures of the dead lifts. Did manage to take photos of the Metcon!

I can't believe I'm one day away from the end of this fitness diary. How time flies!


ADVERTISEMENT - CONTINUE READING BELOW
Day 29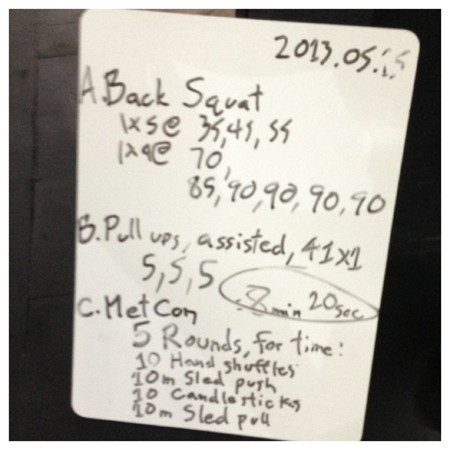 ADVERTISEMENT - CONTINUE READING BELOW
Back at the Mad Minute box and did a quick strength session with Coach RJ Garcia and finished it off with a quick Metcon.

I hope to get that pull up soon!! :)
Day 28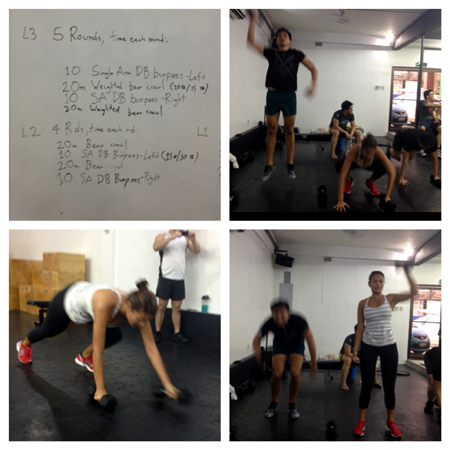 CrossFit Day! After more than a year of not doing a proper CrossFit WOD (workout of the day), I joined a class at the Mad Minute Box.

I had so much fun being in a class setting. I'd forgotten how good it felt to have people pushing you and helping you get motivated!

Probably going to start doing more CrossFit WODs again.
ADVERTISEMENT - CONTINUE READING BELOW
P.S. Oh, and here's a picture of my two bodyguards for that day, the Wintle brothers! Pagka-sinuswerte ka nga naman. Cute nila noh? :p

It was Ralph's first CrossFit WOD and Ben's second time. I sure hope they don't make it their last!

It was a very memorable re-introduction to the CrossFit community! I will be seeing more of you guys again!!! Xx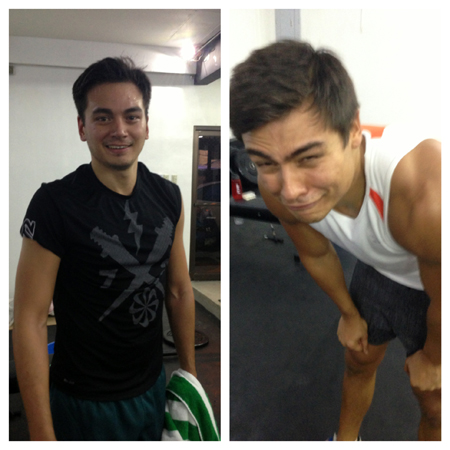 ADVERTISEMENT - CONTINUE READING BELOW
Day 27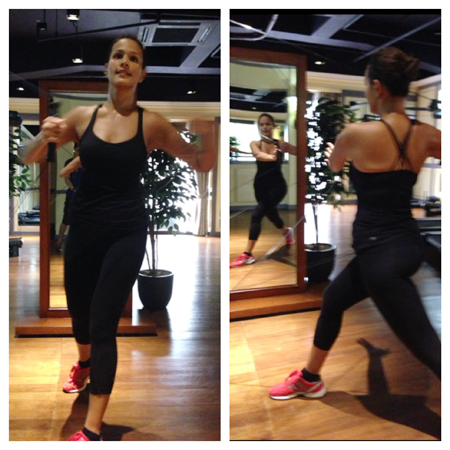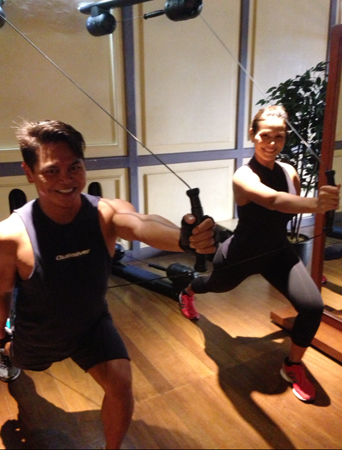 ADVERTISEMENT - CONTINUE READING BELOW
Super sorry for the late posts! Here I am working out at Core Kinesis at King's Court Makati.
Just when I was doing my last set, THE eternally bagets Jing Monis walks in. Here we are striking a pose for all you guys! I love Jing!!! :)
Day 26
Sorry but I had to skip a day. I didn't get to take a picture of anything on Friday. Was too busy working on the set of Biggest Loser! No workout and no pictures!

Anyway, here's a picture of me squeezing in a short run before headin to Anilao for some fun in the sun for my high school friend Sharyn's birthday!
ADVERTISEMENT - CONTINUE READING BELOW
Day 25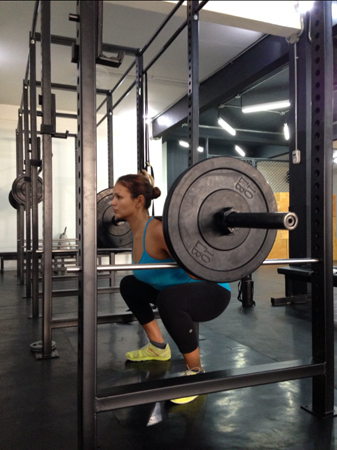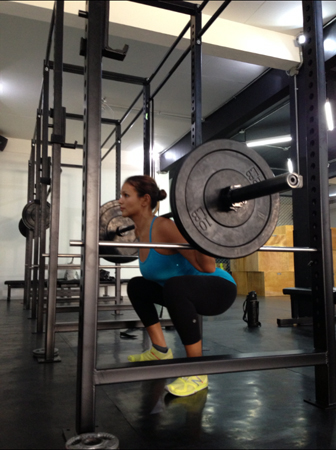 ADVERTISEMENT - CONTINUE READING BELOW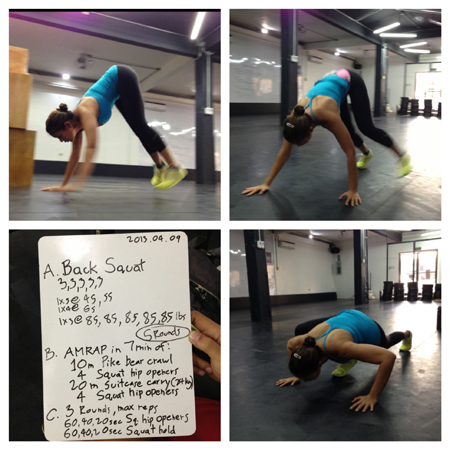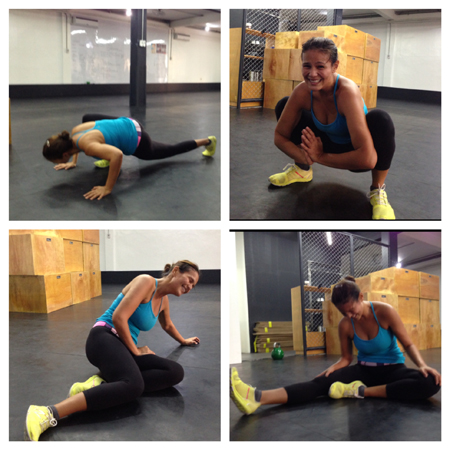 ADVERTISEMENT - CONTINUE READING BELOW
My new favorite playground, CrossFit Mad Minute!!! :))

Started it off with squats then did a fun metcon (metabolic conditioning) after. Then asked my coach RJ if I could do the lizard progression to squats. Metcon of one minute on and one minute off, with squats as active rest, then 40 seconds on and off, then 20 seconds on and off.

The pictures with me almost crying are proof of me feeling the burn on my quads. Sa sobrang sakit natatawa na naiiyak na ako! :p
Day 24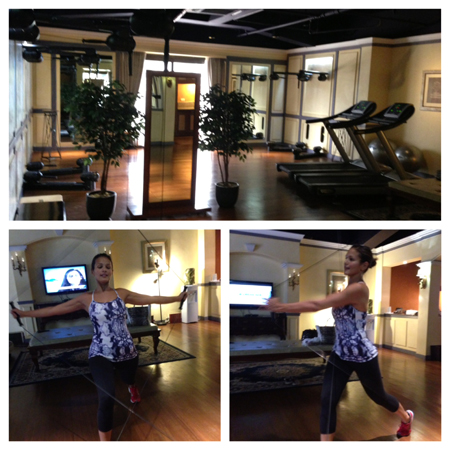 ADVERTISEMENT - CONTINUE READING BELOW
Hey guys!!!

Since I forgot to take photos of Core Kinesis yesterday, here's a photo of the gym and some of my movements for today's workout.

Today was an amazingly busy and productive day and I'm so glad I was able to squeeze in a workout!

I'm a happy and healthy girl today :)


Day 23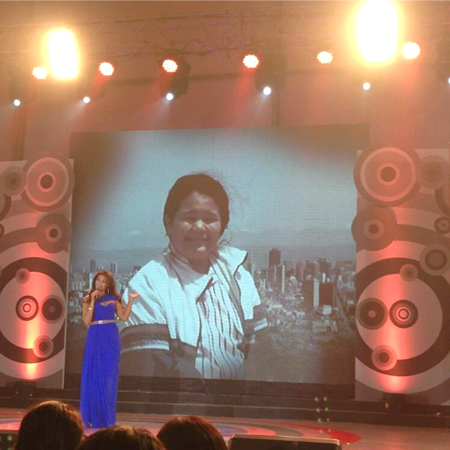 ADVERTISEMENT - CONTINUE READING BELOW
Sorry for the late post!
Did Core Kinesis as my workout on my 23rd day but I forgot to take a photo. You'll just have to take my word for it! Hehehe!!!

However I have a photo of my spiel introducing our show The Biggest Loser Doubles Pinoy Edition at the ABS-CBN trade show. Of course they had to show my, ummm, chubby (?) photos!

Yes, that's me. Ang cute ko, noh?!? :p

Hope you guys can watch the show and be inspired by it. Excited for this! Iit's a show that's very personal to me. So happy and proud to be part of it!
Day 22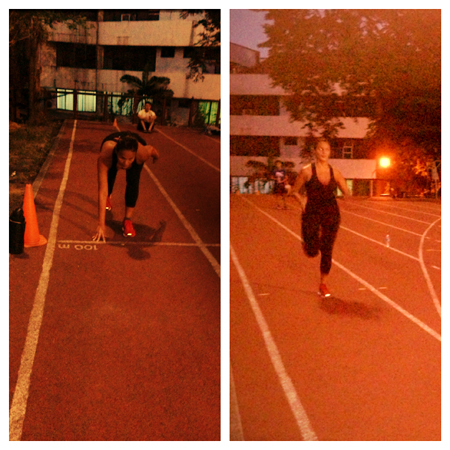 ADVERTISEMENT - CONTINUE READING BELOW
Here I am back on track! Literally!!!

Sunset sprints are the best!!! Did 20 sprints from 40m to 60m at 100% effort.

I guess this is my way of paying for all the cake I had yesterday. I am so not tempted by the thought or even the sight of cake at the moment. Amazing.


Day 21
ADVERTISEMENT - CONTINUE READING BELOW
Biggest Loser shoot so no workout. Officially a rest day and cheat day. Yes, this is what happened yesterday:
cheat day, which became a lesson well-learned.

Finally felt my gluten intolerance after my two cake slices (day and night naman yun!) and now in paying the price.

I don't know whether to be grateful that it has finally showed physical manifestations, or be sad. Maybe both. Now I won't allow myself a slice. A bite or two is good once in a while but two is just not worthwhile!

Have a happy and healthy week ahead!


Day 20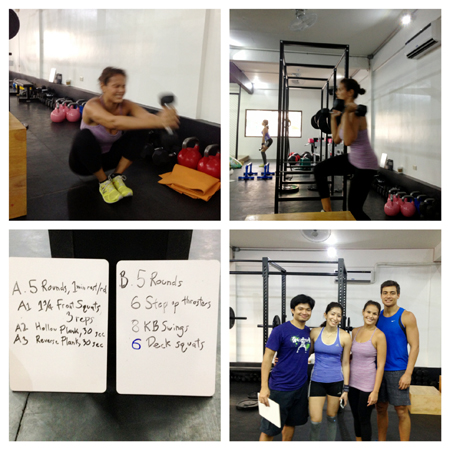 ADVERTISEMENT - CONTINUE READING BELOW
Sorry for the late post! This microblogging thing is harder than it seems. Or maybe because it's not in my nature to post stuff everyday. Time to retrain the brain! :p

Workout was at the CrossFit Mad Minute box in Makati. Did some squats then a quick Met Con after. Those deck squats are not easy! Kaloka!

Group photo with my coach RJ, his pretty and strong girlfriend Falqi, and my bodyguard Ben :)))


Day 19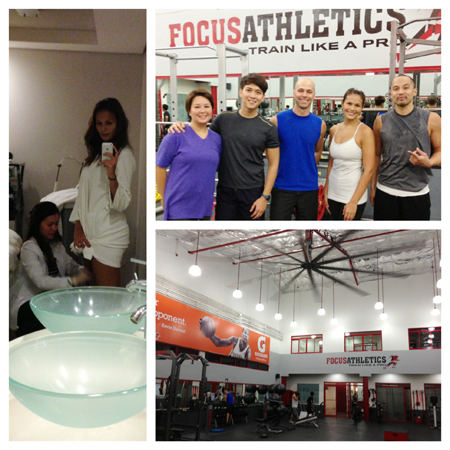 ADVERTISEMENT - CONTINUE READING BELOW
Group photo: Bernice, Nix, Mark, and Paolo :)
Today I opted to try something new. I feel like whoever is reading this 30 Days, 30 Ways blog of mine for Style Bible must be tired of seeing the same workouts.

Before my workout I did some Multi-Firm and Body Sculpt treatments at Sexy Solutions. Forgive my selfie with someone taking measurements of my thighs. I only got to take this photo. It's hard trying to take so many Photos of the stuff I do, health-/fitness-/vanity- (like my Belo treatments) wise!

So here's the new workout: My friend Nix Alañon asked me to try this boot camp program by a foreign teacher named Mark Wood at Focus Athletics. I was delighted to hear that venue would be Focus since I'm very good friends with one of the guys who part-owns and runs the gym, Paolo Cabalfin.

We did a boot camp kind of training with four stations working on the upper body today—very challenging for me as my upper body is weaker than my lower body. Push-ups, bicep curls using tension bands, tricep extensions (I did 7.5 kilos and had to suck it in because it was a bit too heavy for me! Haha!) then 8 kilos kettlebells for rows—all for 30 seconds per station, and we did a total of 7 sets.

Then we did squats, curls, and shoulder presses, and I started with 8 kilos and had to move down to 5 kilos. We did that for 20 times.

It's a good workout especially for beginners, as Mark will never force you to do something that could be injury-causing. The pace of the class is also good. I just wish I didn't do all that hand-balancing stuff yesterday! Pagod pa ako!

Hope you all got to do some activities to spike up your endorphins last weekend!!! :)



ADVERTISEMENT - CONTINUE READING BELOW
Day 18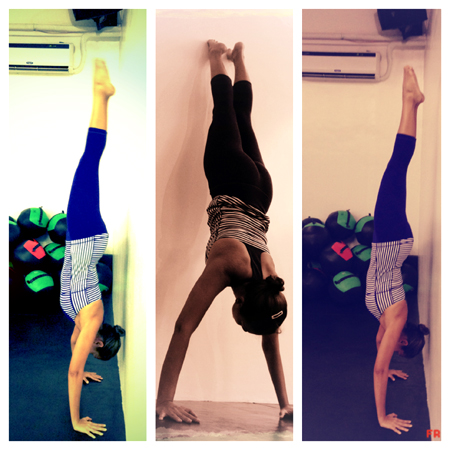 It's a handstand kinda day :)))

Here I am desperately trying to hold longer! Did a six-second hold from the wall. It was a good Equilibre day.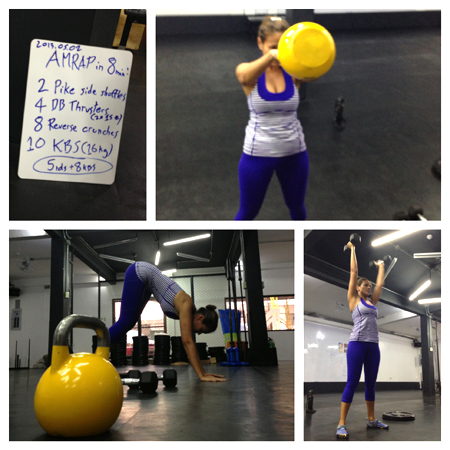 ADVERTISEMENT - CONTINUE READING BELOW
After my Equilibre session, I asked Coach RJ to make a short MetCon for me. Maybe I'll do a Crossfit WOD soon! I kinda miss doing a class!
That's it for my day at the gym. What was your workout routine like? Just remember to have goals and keep it fun!!!
Day 17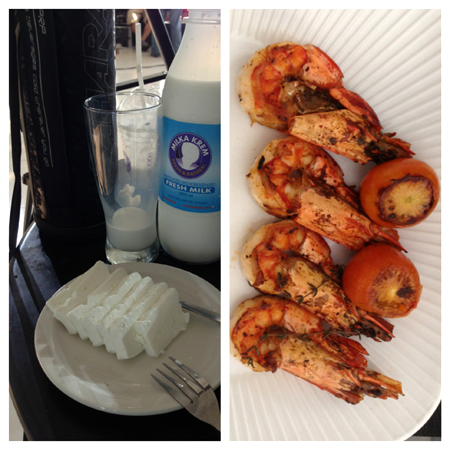 ADVERTISEMENT - CONTINUE READING BELOW
No workout day because had to leave the house at 4:45 a.m. for Biggest Loser shoot. Work ended almost 12 m.n.

Kept myself hydrated (big black water container) and tried carabao's milk and kesong puti on the BL set. I'm a bit intolerant to cow's milk so this is a good substitute.

Lunch was grilled shrimp with ginger sauce! Yummy!!!
What did you for your body today?
Day 16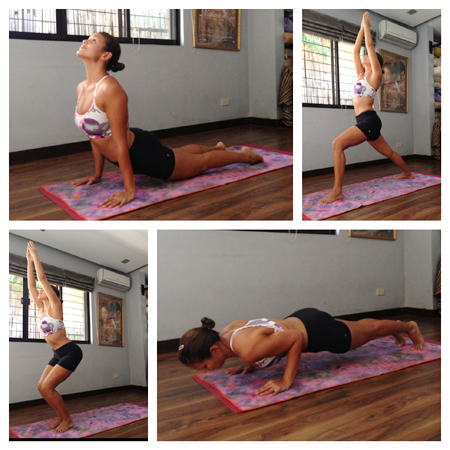 ADVERTISEMENT - CONTINUE READING BELOW
Morning Workout: Ashtanga Yoga. Doing some sun salutations.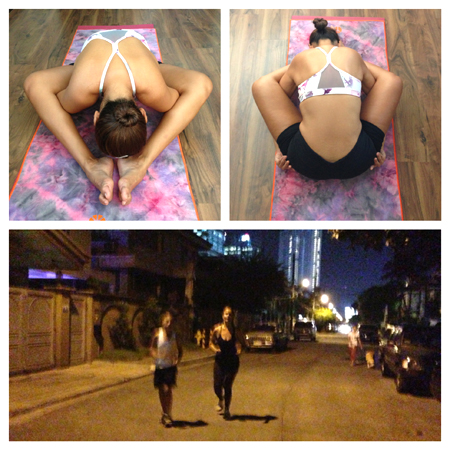 Tortoise Pose part of morning Ashtanga practice with teacher Isla Rosete. Gotta love my yoga towel from Certified Calm :))

Evening workout was a quick run around the village. Sabi nila lead by example, so here I am with my brother who is staying with me this summer so he is also required to do some workouts! Haha! He did a shorter distance and was running and mainly walking! I rewarded him with gluten-free chocolate treats after :)))


ADVERTISEMENT - CONTINUE READING BELOW
Day 15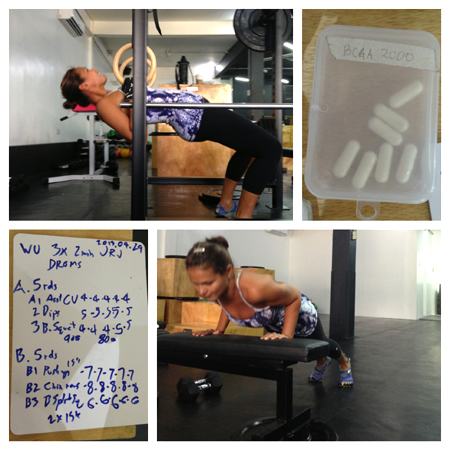 Monday and I'm back in business!!
Strength Session (again): Still feeling like I need more rest. At some point this month I may take a three-day rest. That's a long time for me!

Doing the assisted chin-up rows; supplementing with BCAAs (branch chain amino acids) during and after my workouts so my body uses it instead of my muscles and helps with building of my muscles; my workout routine for today beautifully written by coach RJ Garcia of CF Mad Minute; incline push-ups, a little lower than last time.

Oh, and I'm back to my low carb life... Boo!!! Hahaha!!! Oh well, just gotta do what I gotta do!!! :))


ADVERTISEMENT - CONTINUE READING BELOW
Day 14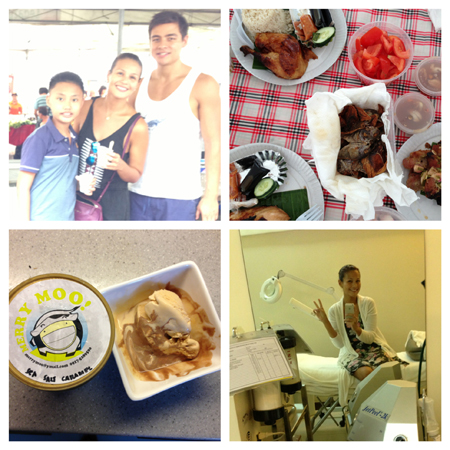 REST DAY and CHEAT DAY!!!!!! :)))

After two weeks, I finally force myself to not do anything except eat and be with friends, family and my loved ones!!!

Legazpi Market is one of my happy places! Such a great vibe from both Salcedo and Legazpi Markets. Perfect way to chill with loved ones.

In the picture is my stepbrother Zhan, and Ben, my bodyguard :p Food at the market plus my baon na danggit from Erich Gonzalez. My favorite salted caramel ice cream from Merry Moo. So worth the calories!!! :)))

Also did a Belo Beautiful Sunday! Facial just to feel clean. Finally! Haha!

Hope you all had a relaxing Sunday to prepare you for a busy and productive week ahead!!!

Xx
Iza
ADVERTISEMENT - CONTINUE READING BELOW
Day 13
Core Kinesis at 3pm then short run in my village at 5:30 p.m. Nakakapagod at mahirap na rin ito minsan! Please refer to top right photo. Hehe!!!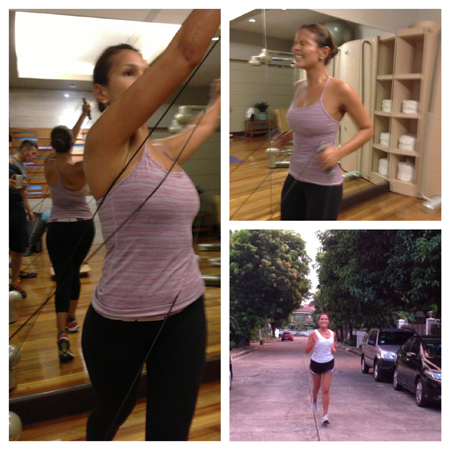 One good thing about working out is when you randomly bump into friends! That's Jake Cuenca on the mirror reflection at Core.
ADVERTISEMENT - CONTINUE READING BELOW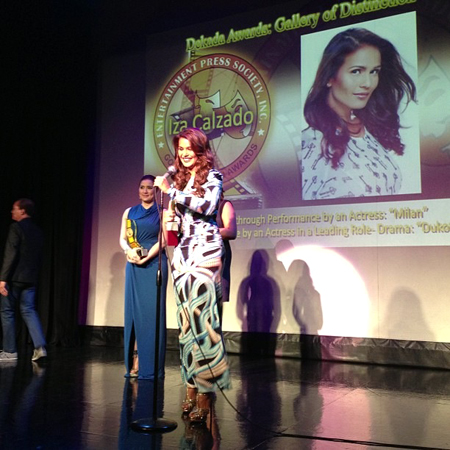 So all that hard work always has a reward. Tonight it was in the form of an award... For having awards!!! :p

Thank you to Enpress Golden Screen Awards for making me part of their Dekada Awards as one of the Best Actresses!

Fitness + Acting/Hosting/Performing = Happiness :)))
Day 12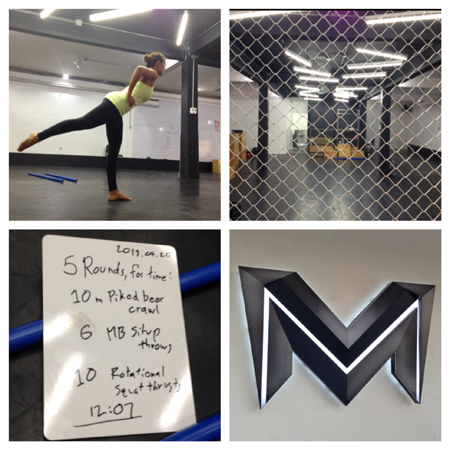 ADVERTISEMENT - CONTINUE READING BELOW
Here I am doing one-legged good mornings in between handstand drills. After my Equlibre session I opted to do a Metcon to commemorate my first workout at the Mad Minute Box. Picture of the Box and their logo!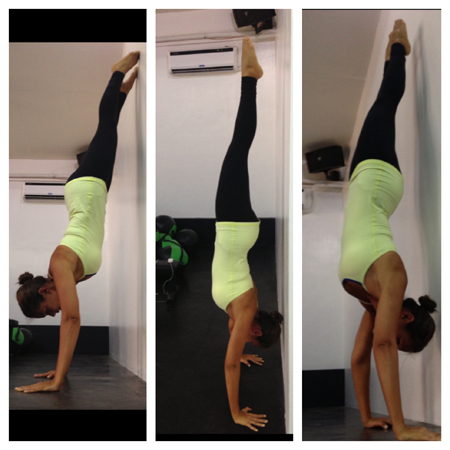 Equilibre/hand balance work at the new Crossfit Box in Makati called Mad Minute. So happy to train at this new box that my friends put up. So proud of them :))

Handstand chest-to-walls (I still can't go super near the wall, more of a fear thing) then wall-heel pulls are shown in the pic.
ADVERTISEMENT - CONTINUE READING BELOW
Day 11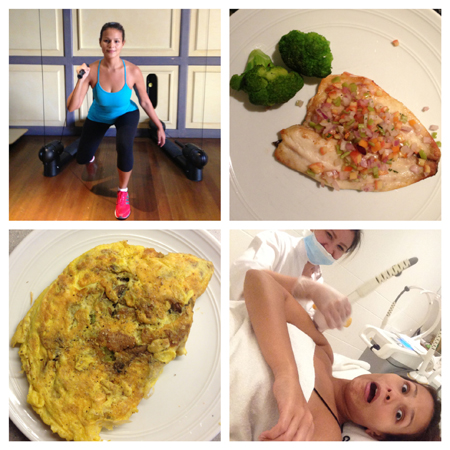 Hey guys!!!

I can't believe I've managed to post 10 days (11, including this) of activities and share some stuff with you guys. I've always wanted to do this but was always shy to build my own website or have my own blog. So a big thanks goes out to Style Bible for giving me this opportunity!!! :)

Here goes 11th day out of 30 :)

Core Kinesis at King's Court Makati; breakfast omelette with mushrooms and celery; Sexy Solutions Multi-Firm RF treatment (it's really not scary or painful, I was just clowning around and trying to make the therapist, Patty, laugh); dinner of baked pompano with tomato salsa, broccoli, salad (not in picture, 'di na kasya eh).

I should start posting some fashion photos (workout gear). I just realized this is Style Bible! Hehe! :p


ADVERTISEMENT - CONTINUE READING BELOW
Day 10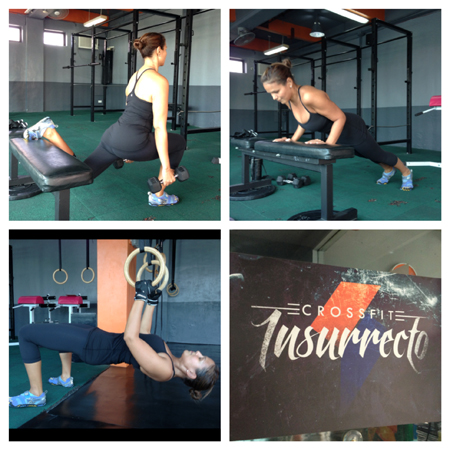 Strength Day... Again: As promised I would give the pictures of the second part as I took pictures of the first part already. Bulgarian Split squats, Incline push-ups (it can't go down until I can actually do proper push-ups without breaking my body line!), and assisted chin rows.

Please refer to the older post regarding this particular program.

Thanks agin to CrossFit Insurrecto, especially coach RJ Garcia for letting me play there :)


ADVERTISEMENT - CONTINUE READING BELOW
Day 9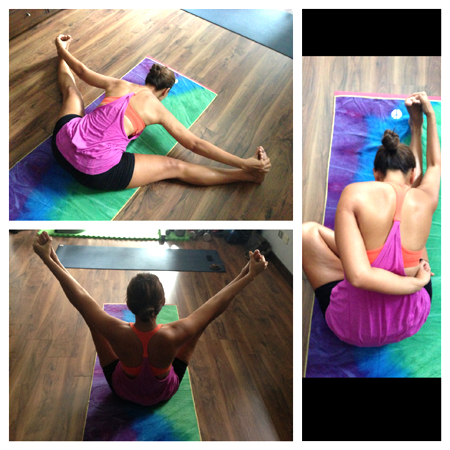 A Not So Rest Day: I was feeling very weak today so opted to carb up a bit and had fruits and some rice. Not a lot though as I really plan my cheat on Sunday pa.

Since it's supposed to be an easy day (actually dapat super rest), I just did Ashtanga Yoga but at a very slow pace and skipped some sequences. I couldn't pass on the opportunity to stretch out and practice on.

Much love and special thanks to my teacher Isla Rosete for making time and getting me this oh-so-colorful peacock yoga towel from Certifed Calm, and Lulu Lemon for making awesome workout clothes. I wish I could say I was your brand ambassador! Hehe!!! :)))


ADVERTISEMENT - CONTINUE READING BELOW
Day 8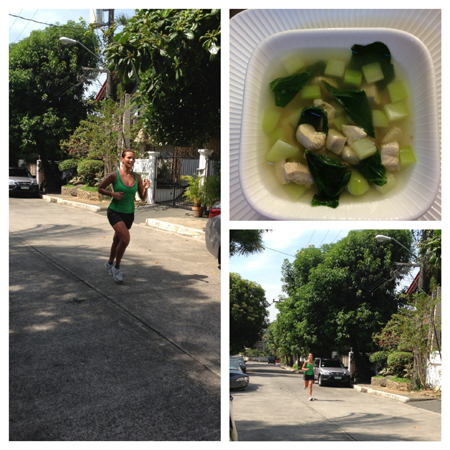 Busy Work Day so I started the day with another quick run in our village for around 40 minutes. Still good with my food intake! Here is my dinner: Chicken Tinola with sayote :) As you can see from the photos, it's a green kind of day :)))
Day 7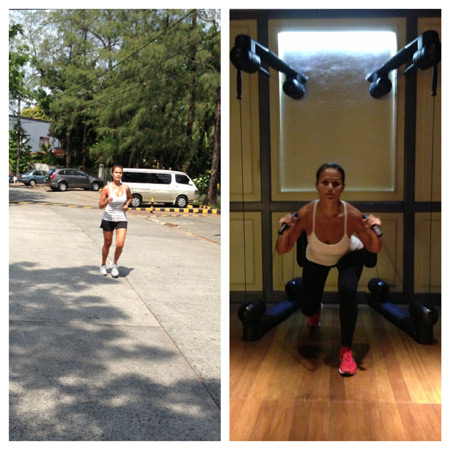 ADVERTISEMENT - CONTINUE READING BELOW
Sunday Workday for me! Had ASAP and an event for Haribon/Earth Day after.
Didn't have enough time to do my Ido program so I just did a 35-40-minute run inside our village. It was 9 a.m. when I started and I was dying from the heat. Being on this no-carb diet is so tough because I do like to hydrate myself by having buko juice. I may do a break on Tuesday if I start feeling too weak for my workouts.

Evening workout was a quick one at Core Kinesis at King's Court. Must schedule my next rest day. It is important to rest!
Day 6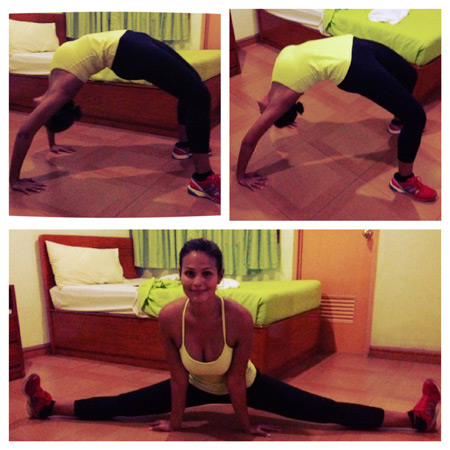 ADVERTISEMENT - CONTINUE READING BELOW
Today was a bit of a challenge as I had to leave my house at 8 a.m. for Dagupan. I wanted to wake up early to do a quick workout but the Boston Manhunt on CNN kept me up. Fortunately I had time after my two events in Bacolod to do my jump rope intervals. This is still part of the program that Ido Portal made for me.

5 minutes jump rope (rest for 2 minutes)

3 minutes jump rope x 7 sets with 1-minute rest in between sets

30-second back bridge hold + 30-second middle isometric split hold, for 3 sets with 30-second rest in between sets.
Day 5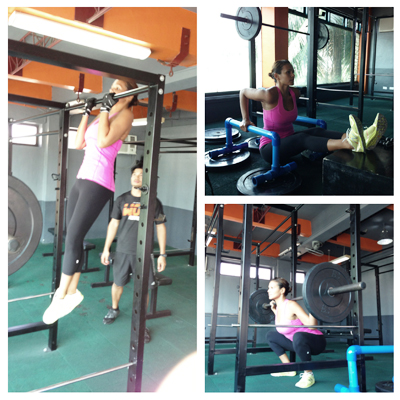 ADVERTISEMENT - CONTINUE READING BELOW
Workout Day 5: Strength session. 3 x 2 mins jumprope, 5 sets with a 90-second rest at each station; assisted chin-ups, negatives 40 x 1, 4 reps; parallel bars 40 x 1, 5 reps; squats 31 x 1, 5 reps; *85lbs squats 5 sets with 45-second rest each station; push-ups 30 x 1, 8 reps; chin rows 30 x 1, 8 reps; Bulgarian Split squat 30 x 1, 7 reps per side.
Thanks to coach RJ Garcia of Crossfit Insurrecto for helping me with my Ido program :) Will send pictures of the push-ups and second part of the workout next time I do this program :) Happy weekend!
Day 4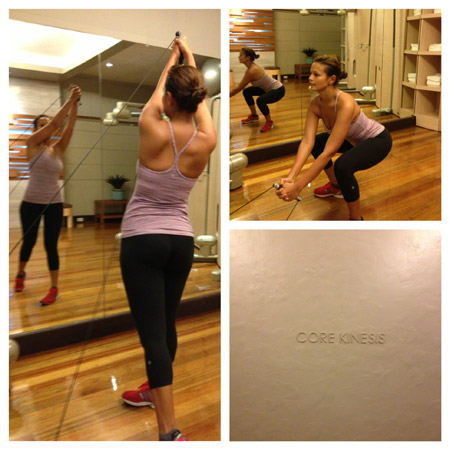 ADVERTISEMENT - CONTINUE READING BELOW
Core Kinesis kinda day. I like doing core when I'm rushing and don't have much time to work out. Thanks to my trainer Gelo for taking my picture! Hehe!
Day 3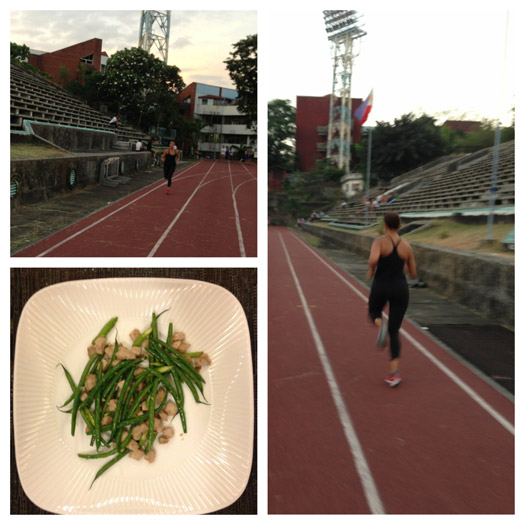 Afternoon workout at Ultra. Sprints. Again. Although I only got to do 15 100m sprints… I was in a hurry, bummer. Tuna with asparagus and French beans—part of my modified South Beach.
ADVERTISEMENT - CONTINUE READING BELOW
Day 2
Morning Workout: Ashtanga Yoga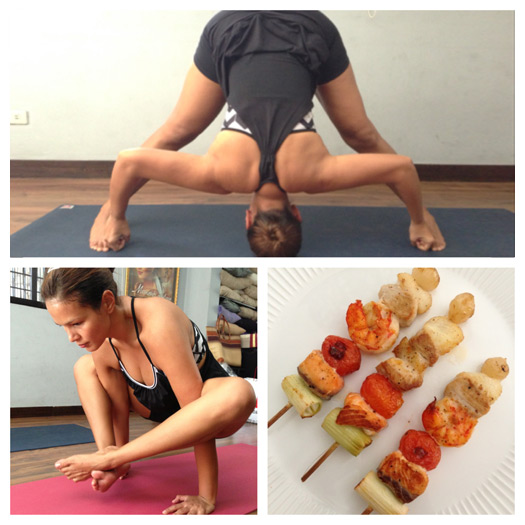 Prasarita Padottanasana D (top), Bhujapidasana (bottom left)
Day 1 of my modified South Beach diet from Florabel. Haven't done these portion-controlled diets in a while. Exciting! I specifically ask for no artificial sweeteners, less dairy, and more fish. Artificial sweeteners are a big no-no for me—I won't take them just to make my food more palatable.
ADVERTISEMENT - CONTINUE READING BELOW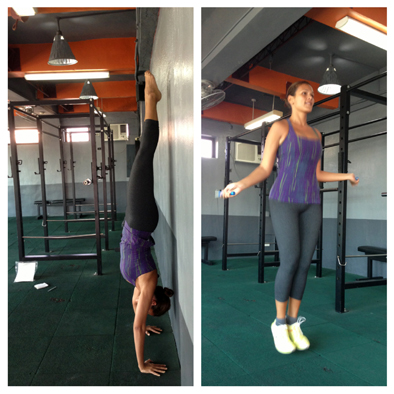 Today's afternoon workout: Equilibre/hand balance session, jump rope intervals metabolic conditioning session, 5-minute jump rope then 2-minute rest, 3 minutes x 7 sets with 1-minute rest in between :)
Day 1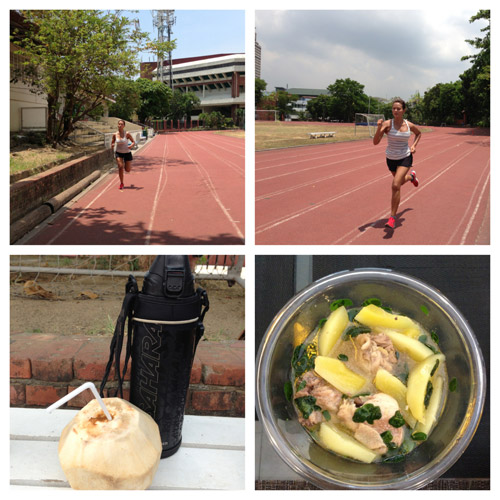 ADVERTISEMENT - CONTINUE READING BELOW
Morning sprints for breakfast at Ultra. My program today: 1km jog, stretch, 20 100m sprints at 80% effort (I did 2 of them at 100% though), and 1km cool-down jog. Remember to hydrate, hydrate, hydrate!!! I ran from 10:30am-12nn so it was so hot! If you ever do activities under such conditions, hydration should be your first priority. My favorite buko juice and a liter of water in a non-plastic container saved me from the heat! Oh and definitely put on sunblock! It's a MUST! Lastly, after every workout I make sure to feed my body something healthy (unless I'm cheating! Hehe). Tinola, meal of champions, for lunch! Hope your day started out as great as mine :)
—Iza
Hey, Preview readers! Follow us on Facebook, Instagram, YouTube, Tiktok, and Twitter to stay up to speed on all things trendy and creative. We'll curate the most stylish feed for you!