Can you believe it's been two decades since we first published Preview? We'll be celebrating our 20th birthday this Friday, and if anything, it got us feeling even more nostalgic over the glossy's fashionable journey. Want to join us as we take a stroll down memory lane? Below, the 20 times our editorials captured history in a nutshell.
1. The Gen-X (December 1995 – January 1996)
It band of the moment, Eraserheads, appeared in our editorial with model-turned-designer Anne Torres-Bichelmier along with some iconic lines from their song, Magasin.
2. The Spice Girls Fever (May 1997)
Don't tell us you weren't as obsessed with this British girl group as we were back in 1997.
3. Before there was #GirlBoss (November 1999)
Way before Sophia Amoruso made #GirlBoss trend online, we celebrated girl power, which takes pride in strong women who are in control of their own choices.
4. The Original Hunks (August 2000)
When Carlos Agassi and Diether Ocampo grew up and showed off their guns.
5. The Rise of Charlie's Angels (December 2000)
The same year we first saw Charlie's Angels starring Cameron Diaz, Drew Barrymore and Lucy Liu, we did our own version of badass girls as part of the 12 Days of Christmas editorial, shot by Xander Angeles.
6. Mikee Cojuangco-Jaworski, from on-screen darling to Filipino pride (December 2002)
The actress and skilled equestrian brought home a gold medal in the 2002 Asian Games in Busan, South Korea.
7. We borrowed from the boys for the first time (October 2002)
We've been rifling through their closets ever since.
8. The booming industry of cosmetic and plastic surgery (May 2005)
Botox, anyone? How far would you go in the quest of beauty? We riffed on the issue via a series of photographs shot by Lilen Uy.
9. When George and Richard happened (October 2005)
It was a love story that didn't last, but it unfolded right inside our pages.
ADVERTISEMENT - CONTINUE READING BELOW
10. The age of "scandals" (January – February 2007)
We had our own Boyfriend Video, too, shot by Neil Lucente and Claudine Sia.
11. The battle for 'Teen Queen' (August 2007)
Back then, it was Judy Ann Santos versus Jolina Magdangal.
12. The wife of the People's Champ (January – February 2010)
Jinkee Pacquiao stole her husband's thunder in our Fighting Form editorial shot by Mark Nicdao. Manny's obviously not the only one who can put up a good fight inside the ring.
13. When KC Concepcion schooled you on your right to vote (May 2010)
Three cheers for the red, white, and blue… and yellow.
14. When the Philippine Azkals changed the game (March 2011)
And they played it dirty for an editorial with model Jasmine Maierhofer.
15. Our crusade against AIDS (December 2011)
In light of World AIDS Day, we debunked the false beliefs about HIV.
16. We went digital (May 2012)
#OOTD was born, and everything else became just a click away.
17. When we imagined a world without water (April 2011)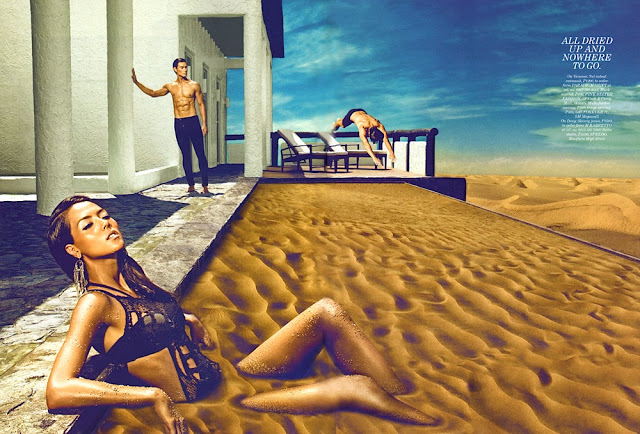 Our cautionary tale against global warming.
18. When blogging became more than just a hobby (September 2012)
It's a job, and a ridiculously well-paying one. Just ask Tricia Gosingtian, Camille Co and Laureen Uy.
19. The #Unselfie Movement was launched (December 2012– January 2013)
Anne Curtis covered up her face on our post-Yolanda issue.
20. The reign of the queens (May 2013)
Venus Raj, Shamcey Supsup and Janine Tugonon showed us and the world how it's done.