Art by Yayay de Castro, food photography by Maia Puyat
Ever since coming across this blog, we've been enamored with the art of plating. At the first Madrid Fusión Manila, we were pleasantly surprised to find dishes that resembled the season's runways. Could this be food – and fashion's – bold new direction? Elena Arzak, a 3-Michelin Star chef who was at the trade fair, did say that "to evolve, we have to try something new." Herewith, 15 dishes that reimagined the best of Luzon, Visayas and Mindanao in a gastronomical fashion show:
1. "Balut" by Chef Josh Boutwood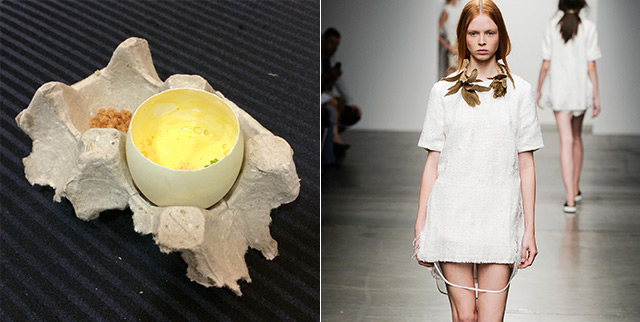 ADVERTISEMENT - CONTINUE READING BELOW
Right: Osklen Spring 2015
Balut has never been the easiest to look at. In fact, it's probably easier to eat when you aren't looking the baby chick eye-to-eye. This spin on the traditional balut took its best elements and presented them in a way that looked more edible than it has ever been. It also used duck instead of dead baby chicks.
2. Barbacua Terrine by Chef Ariel Manuel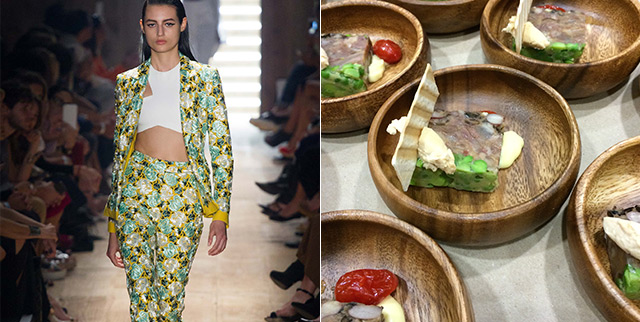 CONTINUE READING BELOW
Recommended Videos
Left: Animale Sao Paolo Spring 2015
This very Visayan dish is slow cooked and transformed into pulled oxtail terrine. While it sounds like the typical barbacua, which is meat slow cooked over an open fire, this perceivably straightforward dish does not pull away from the medley of flavors this technique brings. The beautiful layering also helps bring an extra dimension to it.
3. Pineapple Coconut Chocolate/Praline by Chef Jackie Laudico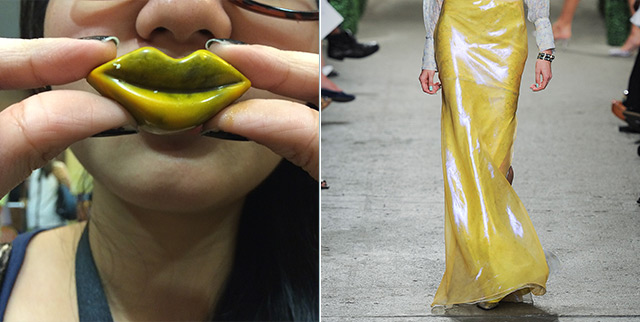 ADVERTISEMENT - CONTINUE READING BELOW
Right: Misha Nonoo Spring 2014
Sounds like an unlikely combination right? Especially as a flavor of chocolate! But this cute lip-shaped dessert is a perfect balance of sour taste of pineapple and the distinct flavor of coconut, brought together by the sweeter flavors of a chocolate praline. It also makes for cute Instagram bait.
4. Crispy Pata Ice Cream by Chef Happy Ongpauco-Tiu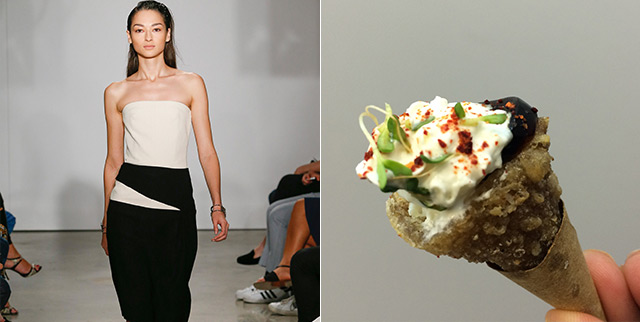 ADVERTISEMENT - CONTINUE READING BELOW
Left: Balenciaga Resort 2015
This scrumptious looking ice cream was unquestionably the first standout among the dishes of Luzon. It is composed of a crispy pata cone, whose flavors and crunchy consistency are balanced with the softness of the kesong puti "ice cream." The dish is bite-sized and easy to eat – and very easy to look at, too.
5. "Dagat" by Chef Carmina del Rosario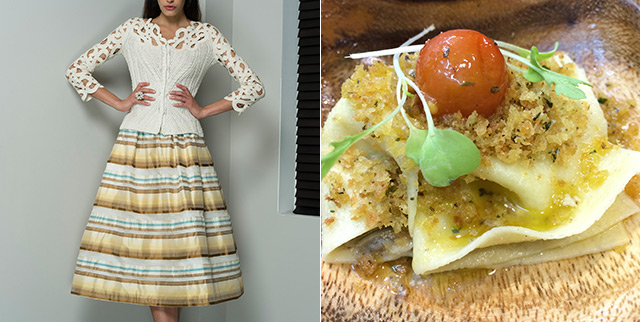 ADVERTISEMENT - CONTINUE READING BELOW
Left: Barbara Tfank Resort 2015
This aptly named dish used the most obscure parts of the fish - aragu of imbao, bihod (roe), bagaybay (male egg sac) and ubol-ubol (tendon) – with strips of pasta. While these ingredients don't sound too appetizing, this representation of the ocean and its clever use of its favorite tenant showed cooking at its finest. Think: lip-to-tail. No part of any ingredient should go to waste.
6. Endulsao Chavacano by Chef Tippi Tambunting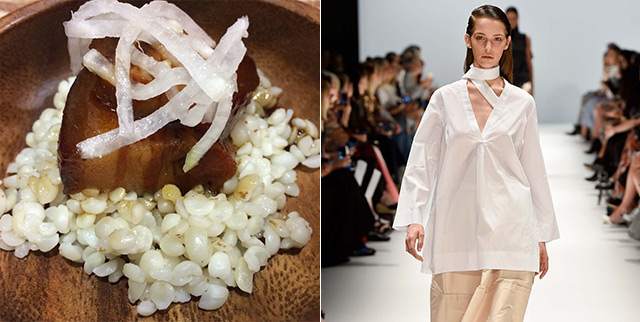 ADVERTISEMENT - CONTINUE READING BELOW
Right: Tome Spring 2015
This beauty is made up of braised pork belly and pickled radish. It is served over adlai, a crop that, in many ways, is even better than rice. This combination of the simple taste of adlai and the explosive sweet flavors of the pork belly created a harmonic balance of tastes.
7. Halo-halo Popsicle by Sebastian's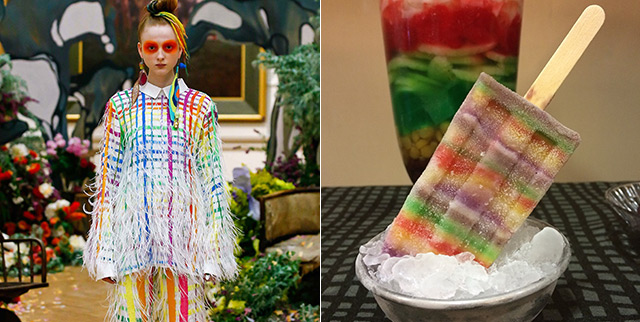 ADVERTISEMENT - CONTINUE READING BELOW
Left: Romance Was Born Spring 2015
If you thought Sebastian's couldn't come up with any more unique ice cream flavors, you were wrong. This halo-halo pop did everything and more. Each color had its own unique flavor, condensing the Philippines' favorite dessert without losing any of its unique flavors. It's a portable halo-halo! It looks adorable, too.
8. Kinilaw of Kitayama Beef by Chef Jordy Navarra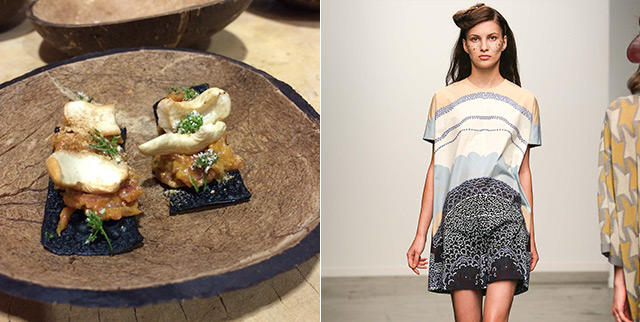 ADVERTISEMENT - CONTINUE READING BELOW
Right: A Détacher Spring 2015
It wasn't enough to present the kitayama beef, a delicious piece of meat from Mindanao, solo. This dish took it to the next level, sandwiching it with a crunch. It also used hints of curry and Mindanaoan spices, which makes it hard not to eat five million of these bite sized beauties.
9. Kinilaw "Past" by Chef Enting Sugay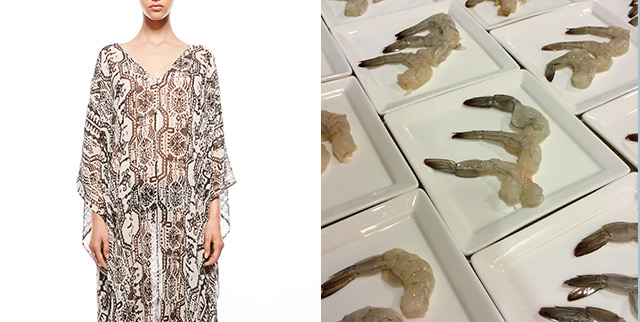 ADVERTISEMENT - CONTINUE READING BELOW
Left: Rachel Zoe Spring 2015
This is the first installment of a kinilaw done three different ways. Representing the "past," raw shrimp was seasoned with Chef Enting's special spicy vinegar - kinilaw at its most basic. You don't have to try too hard to make a dish delicious.
10. Kinilaw "Present" by Chef Enting Lobaton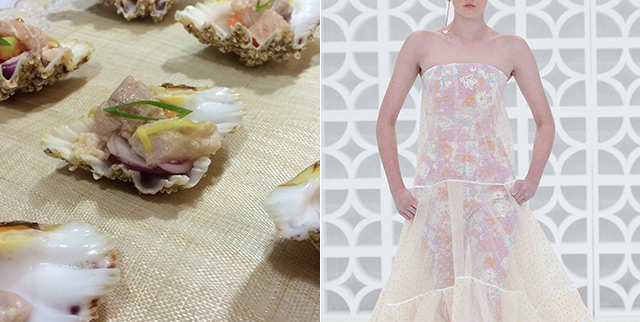 ADVERTISEMENT - CONTINUE READING BELOW
Right: Maticevski Spring 2015
The second installment of the kinilaw series, it's presented on a seashell, and is obviously more garnished than its past. While it has more components than raw shrimp, it is still less complex than many of the other dishes on this list. Its freshness and easily understood flavors made it stand out among the crowd.
11. Leche Flan by Chef Miko Aspiras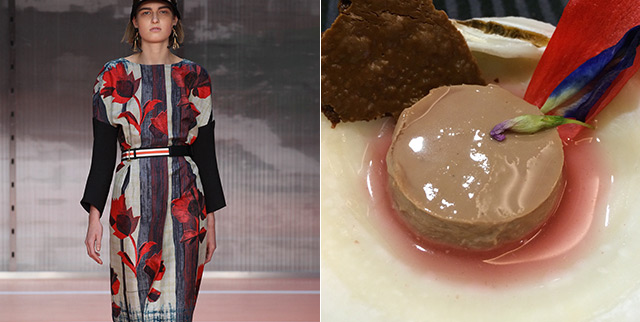 ADVERTISEMENT - CONTINUE READING BELOW
Left: Marni Spring 2014
While it's safe to say the typical leche flan already looks appealing as it is, this rendition took it a step further – maybe even three. Its main component was wild boar's blood – yes, folks, not just ordinary pig's blood – mixed with edible flowers, passion fruit, orange, lemon, lime, lemongrass, pandan, mango, cream, fresh milk, coconut water and pinipig. It tasted kind of like chocolate.
12. Lechon Manok by Chef Josh Boutwood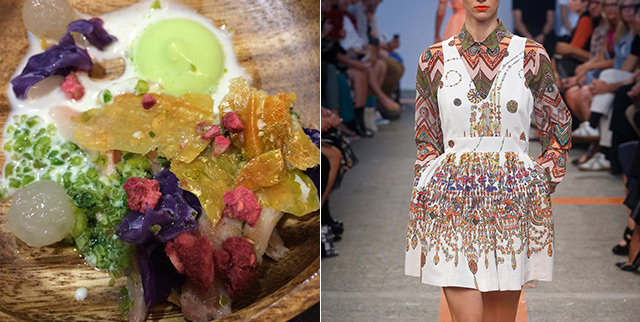 ADVERTISEMENT - CONTINUE READING BELOW
Right: MSGM Spring 2014
Never thought lechon manok – which basically just looks like deep fried chicken – could look like art? Well, this one went the extra mile with yellow pea flowers and wood sorrels. Native chicken and edible flowers? Yes, please!
13. Spanish Manileña Lechon by Pepita's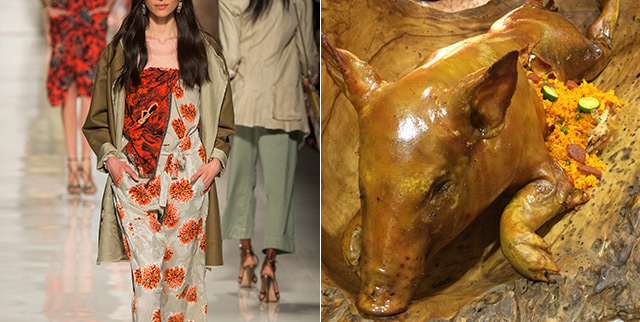 Left: Etro Spring 2014
First of all, what isn't delicious about chorizo rice spilling out of a beautifully cooked pig? The spicy and savory mix of the chorizo rice and the lechon – a must in every Filipino feast – was definitely one of the highlights of the Luzon regional lunch.
ADVERTISEMENT - CONTINUE READING BELOW
14. Artisan Piaya by Fresh Start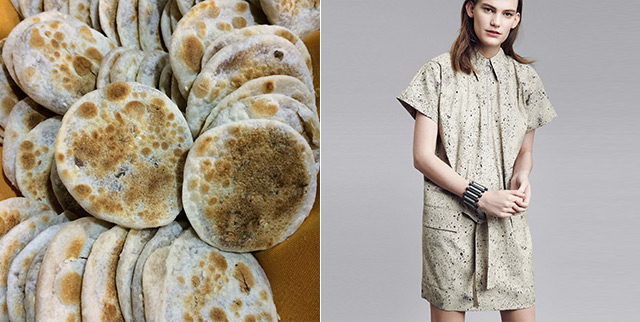 Right: Damir Doma Resort 2015
These piayas show that one of the best ways to style food is simply presenting multiples of it. Made out of muscovado sugar, they were simple yet exploded with flavor. The fact that these delicious pieces of heaven used no artificial ingredients was also a major plus.
ADVERTISEMENT - CONTINUE READING BELOW
15. Visayan Crab by Chef Rob Pengson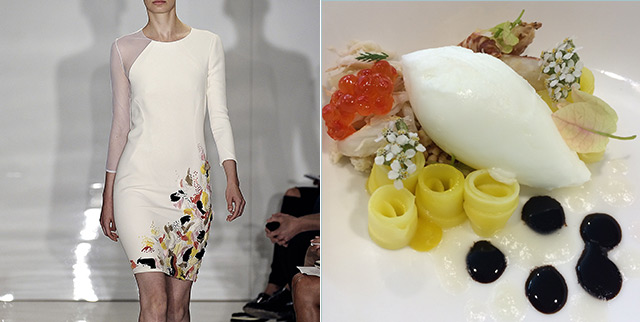 Left: Ralph Rucci Spring 2015
While not part of the regional lunches, this dish was one of the most beautiful plates at the trade show. It is made up of Visayan crab, fermented green mango and ripe mango, coconut ice cream, coconut sugar syrup, extra virgin coconut oil, smoked cilantro and smoked ikura. This masterpiece of flavors is also decorated with pretty flowers.
ADVERTISEMENT - CONTINUE READING BELOW
Read more about Madrid Fusion Manila here.
See more of our food and fashion juxtapositions here.
Hey, Preview readers! Follow us on Facebook, Instagram, YouTube, Tiktok, and Twitter to stay up to speed on all things trendy and creative. We'll curate the most stylish feed for you!