It's the last day of February and what better way to end it than with a couple we love? Paolo and Samantha Valenciano just celebrated their first year as a married couple, so we sit down and chat them up to ask how their love story started and evolved—there were so much laughter involved and we certainly had a great time!
Paolo is a musician; he does vocals for Salamin. Sam, on the other hand, is a photographer and she mostly works behind the scenes. Together they build a home that's reflective of who they are as a couple—quirky and fun!
Want to know more? Get to know them slam book-style!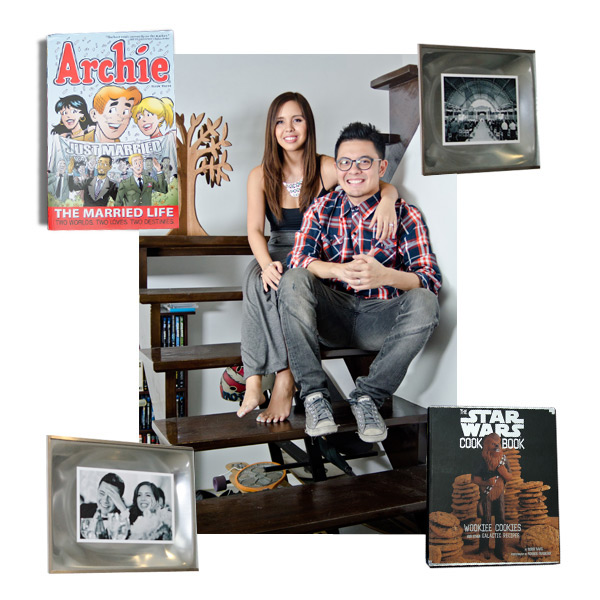 ADVERTISEMENT - CONTINUE READING BELOW
Can you share the story of how you met?
Paolo: We never actually met. (laughs) We've known each other since—
Sam: Forever!
P: We were young. Our parents were neighbors when they were kids. Our parents grew up together.
S: Separately, obviously. His dad and my dad were neighbors. My mom and his mom weren't close when they were young. They met later on. My dad met his mom before his dad met his mom. It's weird.
P: They were from the same circles. And her dad used to be the sound engineer of my mom, when my mom would still sing. So that's how we became close. Plus her dad became the sound engineer of my dad. They became business partners and then they started Sound Check. We never actually met. It's one of those things when you were born and, yeah, I know her.

How did you know that you already like each other?
P: It's the way that she would look at me.
S: Whatever! No! Three years is a big gap, so for example, he's like 14 and I'm 11, so I was never close to him. I was closer to Gab, his younger brother and he was the naughty older boy. He'd go out with the cool gang. Cool kids.
P: Apparently, she was into that sort of thing.
S: I was goodie, goodie, a Church girl. Never drank, never smoked. And then he wanted me to set him up with all my friends because I played football in La Salle—all the girls there are good-looking. He was the one actually who forced me to play football because I wanted to quit already.
P: I wanted her to join the football team because there were a lot of good-looking girls. So she set me up with about three or two.
S: One was with my best friend.
P: So she set me up with that girl. And because it wasn't a really good union, we got closer because of that, because I kept on going to her for advice. So that's how we started talking, like really getting to know each other, because of that girl. That's how it developed.
CONTINUE READING BELOW
Recommended Videos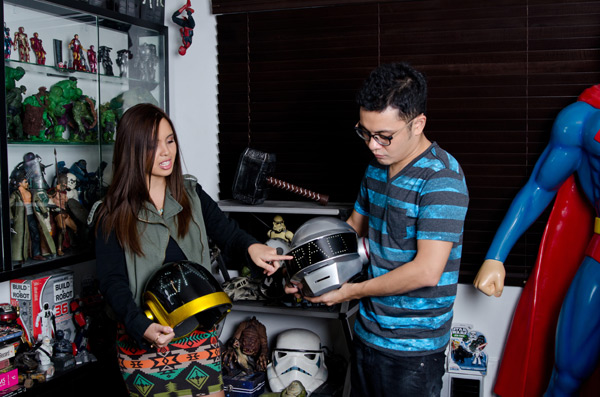 And then what happened after?
P: What happened was we became partners in that debut. You know, for me, it was nothing; she was my friend who kept setting me up with other girls. So it was a bit weird, but anyway whatever. And then I think it's because we were together all the time, more than when she set me up with her friend. So that's when we really started talking. I guess that's when she looked into my eyes.
(laughs)
P: I went to the wake with her and then we were talking then one of her uncles was drunk, he came to us and asked her if I was her boyfriend. Of course we both laughed like "What? No! We're just friends." And then it hit me. I was like "Ohh man, this could work!"
(laughs)
S: I didn't think that way, by the way.
P: She says she wasn't looking at me that way but I already felt it, when I started to think about it. I think she subconsciously really, really liked me.
(laughs)
P: It's true. So anyway, when that uncle of hers said that, I panicked. And I left her right away. And I started calling up all my friends and "I'm really feeling something weird right now, I think I like Sam Godinez." Everybody started laughing at me, we were like buddies. Less than a week after that, I met up with friends again and I was telling them that I think this is the girl I'm going to marry. She didn't even like me! See... I wouldn't have said that if I didn't feel there was some sort of—you were sending signals!
S: Whatever! Whatever!
P: But yeah. That, I remember, telling my friends that I'm going to marry this girl. And she didn't like me.

How about you, Sam?
S: I think mine started two months later on Valentine's Day. I think I only realized it that time. Mine's not as romantic as his. I think it's because we kept texting every day. Nothing cheesy, we just kept texting.

How long have you been dating before you got engaged?
S: Six years
ADVERTISEMENT - CONTINUE READING BELOW
What's one of the best memories you've had as a married couple?
P: We went to Alaska.
S: We went to Bohol first for the short honeymoon.
S: We were in Alaska for a week. And I've never been to Alaska and I don't plan to fly to Alaska so we were okay with a cruise.

Share your individual interests.
S: I like football/soccer, I used to play. We like watching movies. We stay home more because my dad gave us this thing like Netflix. So we just end up going home instead of going out. We hardly go out, actually. We like eating in every ramen place. And we love Halloween. That's the only time we go out. Right after Halloween, right when we get home, we think of our next costume already. Last year we were Daft Punk.
P: Music and geeky stuff like Battlestar Galactica.
S: That's one of our favorite shows.
P: And Star Wars.
S: What else. We like going to church together.
P: We like to eat.
S: Yeah. We like to eat lot.
S: Paolo cooks.
P: I love, love Asian food. Korean, Japanese, Vietnamese... We both love Asian food.

What do you collect?
S: He collects toys. There's a room full of toys.
P: Action figures.
S: I collect lunch boxes but I don't have that much yet. I like collecting the tin can ones. I like wearing them with a bag strap. I like collecting accessories—necklaces, bracelets, rings…
ADVERTISEMENT - CONTINUE READING BELOW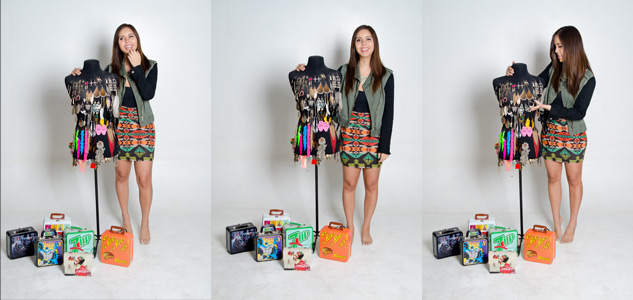 Can you describe your personal style?
S: I don't really dress the way I want to right now because I'm still in the process of losing weight. So now since I don't like my body, I'm always in leggings. But then…
P: I love your body.
S: Whatever.
(laughs)
S: I don't really follow the trend. My favorite time to shop is sale season. So if anything is on sale, whatever is on sale, if I like it, I'll buy it. If I find it pretty, I'll wear it. But I'm not very girly like if I wear a dress it won't be pink, it will be black!

What about you, Paolo?
S: What do I make you wear?
(laughs)
S: He's always in graphic tees, jeans and Converse, always, and a blazer.
P: The "I don't care but I actually do." That's usually how I dress.

How many sneakers does he have?
S: He has more shoes than me.
P: Converse has been giving me shoes but only because I've been wearing them ever since high school. I guess they noticed that every time I perform, every time I came out anywhere, I was always wearing Converse. So they decided, just give me.

How long does it take for you to get ready?
S: Me? It depends. If my eyeliner doesn't look good, I'll get pissed off and start over. I have to fix my eyeliner, then I start sweating and then everything gets messed up so maybe an hour at most. I can do it really fast, but if you're pressuring me, then I'll take longer. I just put eyeliner, eyebrows and I'm okay.
P: 15 minutes.

Do you shop together?
P: Nope
S: Not really. If we really have to find something for him like for a show, that's the only time we shop together. The only thing we do together if it has to do with shopping is grocery. And stuff for the house, but clothes? I only get to shop when I find time to shop.

What is one item you have been saving up for?
S: Lens?
P: New lens or a camera
P: A new computer
S: A new computer, a new lens. It's for work.
ADVERTISEMENT - CONTINUE READING BELOW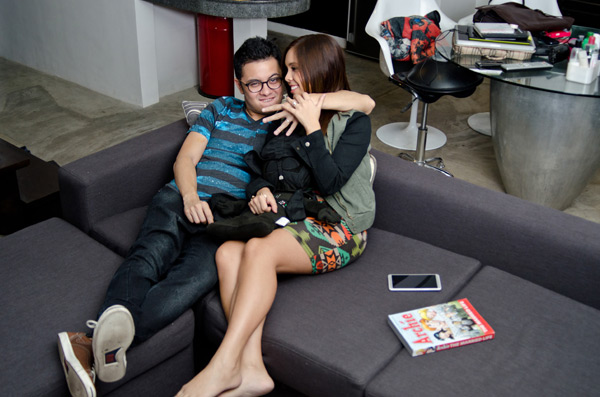 What kind of music do you listen to?
P: It depends what we're in the mood for. 'Cause we listen to anything.
P: Anything but country
S: I like the Beatles.
P: Beatles, Daft Punk, Deftones…
S: Coldplay
P: Coldplay!
S: One Republic. I almost said One Direction, no!
P: Mumford and Sons, Lumineers, Incubus…
S: But like clothes, I don't care about brands, I don't also care about bands. If the song's something I like, I'll listen to it. Like One Direction.

Which TV series are you addicted to?
S: Well, now we just finished Battlestar Galactica.
P: Two months ago. That's so two months ago.
S: We watch whatever is on TV. My dad has everything so like whatever's there.
P: She just finished Scandal.
S: Game of Thrones. Walking Dead
P: The usual
S: The usual, yeah. And then maybe soon House of Cards. I heard it's good.

Favorite movie of all time?
S: Gladiator
P: Batman Begins

Comfort food?
S: 2nd's Truffle Mac and Cheese forever—that's my forever order, that's my favorite until now.
P: Ramen, shabu-shabu, and Korean barbecue. Okay maybe the top one would be shabu-shabu.

Finally, list your top travel destinations that are in your bucket list.
S: I want to go to a desert island. Vietnam, should that be bucket list or just a goal?
P: Me? I like Iceland and Japan.
S: Because of—
P: The movie.
S: Japan, yeah, even if I'm scared of the earthquakes. And, Africa!
P: South Africa
ADVERTISEMENT - CONTINUE READING BELOW
Launch the photo gallery to check out some of their favorite things!
Hair and makeup by Jinky Oreta
Photographed by Bea Puertollano
Hey, Preview readers! Follow us on Facebook, Instagram, YouTube, Tiktok, and Twitter to stay up to speed on all things trendy and creative. We'll curate the most stylish feed for you!
ADVERTISEMENT - CONTINUE READING BELOW
CONTINUE READING BELOW
Recommended Videos
Hey, Preview readers! Follow us on Facebook, Instagram, YouTube, Tiktok, and Twitter to stay up to speed on all things trendy and creative. We'll curate the most stylish feed for you!