Who is Katarina Rodriguez? You probably know her as one of the Filipinas—Jodily Pendre being the other one—who represented the Philippines in the recently concluded Asia's Next Top Model Season 2. Although neither of the two brought home the title, Filipinos made the show's finale trend by showing an overflowing amount of support for the country's pride on social media. But what is it about this gorgeous lady that makes people stop and stare, and at the same time want to know more?
ADVERTISEMENT - CONTINUE READING BELOW
"The fun part about fashion is you can be daring. You get to try new things. The fun part about being a model is that you can't go wrong doing that."
Born in Orlando, the young Katarina had been jumping back and forth from the US to the Philippines until her family decided to stay in the Philippines for good, just three years ago. As we got to know the new It girl more, we gathered that behind her pretty face, the up and coming model people can't stop talking about, is actually a normal college student-athlete(!) facing school life the same way other girls her age do. You might actually be surprised to know that modeling played a very small part into getting her into the spotlight she's in now. Excited to know more? Scroll down.
CONTINUE READING BELOW
Recommended Videos
When did you start modeling?
September last year. My first photo shoot was the first episode of the show.
What made you decide to join Asia's Next Top Model?
It was two of my best friends who really pushed me. For my birthday, one of them bought me a pair of 6-inch black pumps. And then my other best friend was like, "You need to audition for Asia's Next Top Model." So I went to the audition in Hyve and I was thinking, "Why am I here? What am I doing? I'm not a model." But they both knew that deep down, modeling is something I really wanted to try. Next thing I know I've made it to the first round and it just went all the way from there.
Who are the models you look up to?
I think my favorite model is Cara Delevingne. One of the reasons why is because I found out that she's a competitive long distance runner. Also, the fact that she's so in demand now—if you're going to look up to someone, might as well look up to the best, right? I also think I like her because of the fact that she's not afraid to show who she is. There's no cover up, she's just being herself.
ADVERTISEMENT - CONTINUE READING BELOW
Do you think you're more of a high fashion, ramp, or commercial model?
It depends, they all give me different feelings, but I'm really pushing high fashion and ramp modeling because people tend to stereo type me to beauty or commercial. I'm pushing the opposite route because I want to sort of prove that I can do this just as good as any other girl. I enjoy it—the challenge.
What's your biggest dream or goal as a model?
My biggest model dream, as any model, whether they admit it or not, is to model for Victoria's Secret. But I think my biggest goal in this industry since forever is to be a Bond girl. There's something about being a Bond girl—sexy, intelligent, and can shoot guns! She also embodies or is associated to specific luxury brands, which I think is a good market to cater.
ADVERTISEMENT - CONTINUE READING BELOW
What do you think is one misconception people have about modeling?
One misconception is that it's easy. That was my misconception when I first started modeling. I thought it was all just pose, pose, and looking doe-eyed. But no, it's not just about that. It's actually a lot like acting, it's involves a lot of movement. You also have to trust people you've never met. You have to trust the photographer, the makeup artist, the hair stylist, the client, everyone. You need to find rhythm and it's like a relationship you need to build quickly. It's more technical than people think it is.
ADVERTISEMENT - CONTINUE READING BELOW
"If you fear styling yourself, then you don't trust yourself"
Discussing Fashion...
Describe your personal style.
It depends where I'm going, depends on the event. At school, I'm very laid-back, very boyish-sexy, a cross between the two. I try to find a balance between two opposing styles. I try to keep it as classy as I can.
What's your typical model off-duty look?
If I'm in school you'll see me in jeans and a tank, a beanie or a snapback and my Nike—oversized stuff, which are very much in, thank God!
ADVERTISEMENT - CONTINUE READING BELOW
Is there a particular fashion item you collect?
I don't intentionally collect, but I have a lot of Nike sky-highs. I collect a lot of headwear, fun headbands, hats, caps.
Who are your style icons?
I don't know if I have any but I like what Kim Jones wears. I'm a fan of her overall image. I like the way Miranda Kerr dresses. I like Blake Lively, I know she styles herself, which is what I like.
Let's talk beauty...
On the show you shared that you went through a phase where you had skin problems? Can you tell us about that?
I have Eczema, it's skin asthma triggered for me internally by food. You're born with it, I believe it is hereditary and my mom had it. But you can grow out of it! It's one of the reasons I try to eat organic or healthy. If I eat oily food, processed, fried, you'll know because the rashes show on my neck, my arms, hands, chest. It's allergies, I just regulate it very well with what I eat.
ADVERTISEMENT - CONTINUE READING BELOW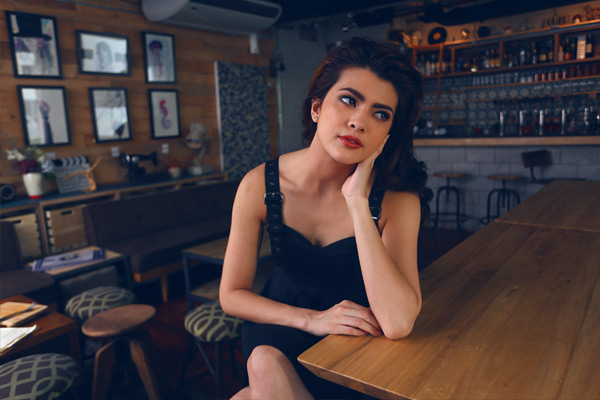 What do you do to stay fit?
I run track and field for De La Salle, I'm part of the team. Running is my first love, I've been doing it since I was 14. Track and field was my life before modeling, so that and then yoga, if I have time. I used to go to yoga everyday but now I can only go if I'm not tired. But most of it is because of my diet. I actually get my food from Creative Food. They prepare my food, customized only for me. I lost 15 pounds even though I wasn't as physically active as I was prior to the show (Asia's Next Top Model). Before, I'd work out more and just diet with whatever knowledge I have of a healthy diet but apparently my diet wasn't right for my body. Now, my nutritionist plans everything for me, even my work out. So yeah, really, 99% of my fitness is because of my diet.
ADVERTISEMENT - CONTINUE READING BELOW
What's one beauty secret you can share?
Eat well. You really are what you eat.
Three of her recent works.
What's something people don't know about you?
I love sketching! I think I got it from my grandma. I tried taking painting classes before but I'd always end up just drawing (laughs.) I also used to play the violin. In music, I noticed that I like a lot of songs where there's violin in the background. I'm fond of songs like that, and they'll be on repeat while I study. I also love reading.
ADVERTISEMENT - CONTINUE READING BELOW
This or that...
Movie Date or a Picnic?
Movie
Early morning breakfast or a midnight snack?
Early morning breakfast
Wine or Beer?
Wine
Chick flicks or horror movies?
I don't like either. I like movies that make you think like Transcendence, The Prestige, movies like that.
Rainy or Sunny?
Sunny
Female or Male vocalist?
Female, im a huge fan of Lana del Rey.
ADVERTISEMENT - CONTINUE READING BELOW
Photography by Yayay de Castro
Makeup by Sari Campos
Hair styling by Marie Tan
Produced by Bea Jocom
Shot on location at Big Bad Wolf, Burgos Circle, Bonifacio Global City
Hey, Preview readers! Follow us on Facebook, Instagram, YouTube, Tiktok, and Twitter to stay up to speed on all things trendy and creative. We'll curate the most stylish feed for you!