In a world bound by music, musicians―singers, composers, and DJs alike―are the catalysts of the global aural outbreak. Countless music fests, record breaking albums, sold out concerts, and dance parties are all the buzz, and these people are to blame. Providing us with good music, it's amazing how they can bring folks from different strokes come together in frenzied harmony. Meet DJ Jessica Milner, a certified catalyst/fresh faced beauty with an equally refreshing demeanor that got us snooping for more (especially when she mentioned that she's also a fashion design student).
ADVERTISEMENT - CONTINUE READING BELOW
"I've been a DJ for 3 years now, I've been DJ-ing around the Philippines in clubs such as Urbn, Imperial, and I've been doing a lot of fashion shows as well and events which is awesome because those are my favorites."
CONTINUE READING BELOW
Recommended Videos
From the moment we stepped into the room, our attention went straight to the bubbly lady who lit up the entire space of Beat Project Manila. We didn't know what to expect, but who we met was certainly far from the stereotype we had in mind. Don't get us wrong, she can be all that plus more if she wanted to, but she diverts from the norm by simply being herself. She's that girl who wears sneakers to work, eats anything she wants, shops in thrift stores, and drinks beer with the boys, while looking oh-so-pretty at all times. Call her cool, yes she is, but from our short chat with her, we've come to know that she has more charm, beauty, and talent that makes the total package.
ADVERTISEMENT - CONTINUE READING BELOW
Some people find their voice through writing, some by acting, and for others like Jess, it's music that gets them going. Armed with her headphones and a bright lippie, she can take away the day's strain and stress. Ready to get to know her? Read on as she walks us through her thrilling life as a DJ and her long-time affair with music.
How did you start DJ-ing?
I was always really passionate about music. Back then, I was the go-to girl for new music. I remember going to a club one day and I saw the DJ and I thought to myself, "Wow! He has the coolest job in the world. I want to do that!" I was more interested in him than the dancing and the drinking. So I went online and looked for a DJ school and came across Spin City. I enrolled right away and met my mentor and dear friend, DJ Aryan Magat. I was apparently a very fast learner and once he thought I was ready, he let me play at one of his gigs along with Nix Damn P and the rest is history!
ADVERTISEMENT - CONTINUE READING BELOW
What or who were your music influences growing up?
I was obsessed with Michael Jackson, my dad would make me listen to Bob Dylan and all those classic singers and it was just really fun. And I don't know, I think I was eight years old when I started getting heavily into hip-hop. I really think it was passion.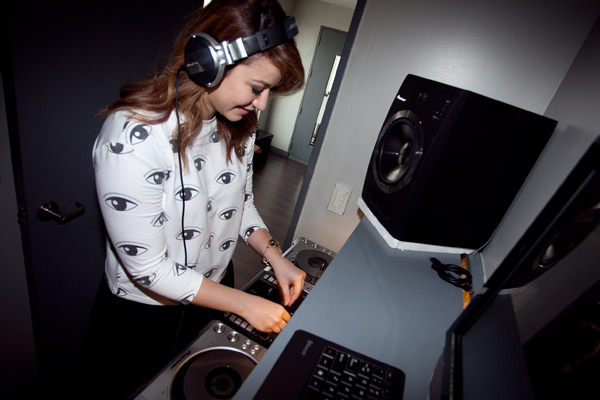 ADVERTISEMENT - CONTINUE READING BELOW
Describe your music.
I don't stick to one genre. Sticking to one genre bores me and I enjoy exploring fresh, new sounds. It excites me! In the words of Madeon, "Anyone hating any genre of music simply doesn't know the context in which it's meant to be enjoyed." [Right now] I'm obsessed with The Tailor DJs and Cyril Hahn. I'm so into the whole Deep Disco scene right now.
Did you ever think you would be doing what you're doing now?
5 years ago I thought I was gonna be a fashion designer. I went to SoFA. For now it's on hold because I'm really enjoying what I do and it takes up a lot of my time as well. Now, I'm really enjoying music because that's my number one passion.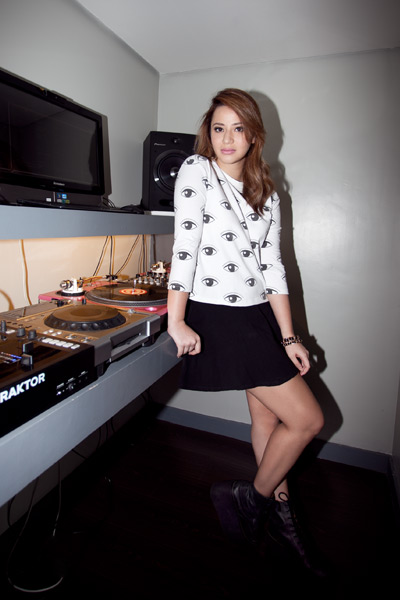 ADVERTISEMENT - CONTINUE READING BELOW
"Right now I actually suck at sketching but im pretty good with a paint brush."
Do you still see yourself playing music in 10 years?
Definitely. I don't think I'm ever gonna stop unless I go deaf so let's pray that never happens. (Laughs)
What was your most unforgettable gig?
There are just too many. For me, the best gigs are when the people are just generally happy, dancing all night to my music. It's my job. I'm paid to make people forget about the stress they get in their everyday lives and just forget about the world and dance!
Out of all the places you've been to, where would you say has the best parties?
Cebu. Definitely. Cebuanos really know how to party. Not just Sinulog, last year I was in Cebu like eight to nine times. That's why I got sick of lechon. I don't know what it is about them but you know how in the Manila scene they only dance if they know the song, but there even if they don't know it they'll go crazy and it's so awesome, and that's just a normal night.
ADVERTISEMENT - CONTINUE READING BELOW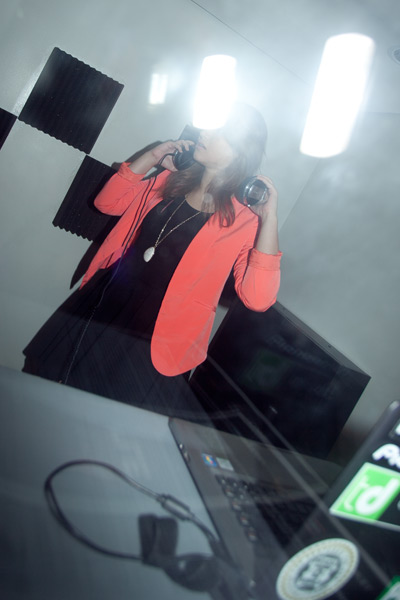 What is the greatest misconception about DJs?
Were not all drug addicts! (Laughs) This is actually a real job and it's not all fun and games. We DJs actually put a lot of time and effort into our craft and we still keep learning everyday.
Would you call yourself a party girl?
ADVERTISEMENT - CONTINUE READING BELOW
Not at all. I mean I get enough of that from DJ-ing. I don't go through the crowd and dance because I already have my own little spot but usually the perfect Friday night for me is watching a TV series or movies at home in my pambahay with a basket of wings. [Sometimes] I also paint.
What is your favorite bar drink?
I drink before, during, and after. Usually a beer, I love beer. But if I wanna be feminine that day I'll order a Cosmopolitan.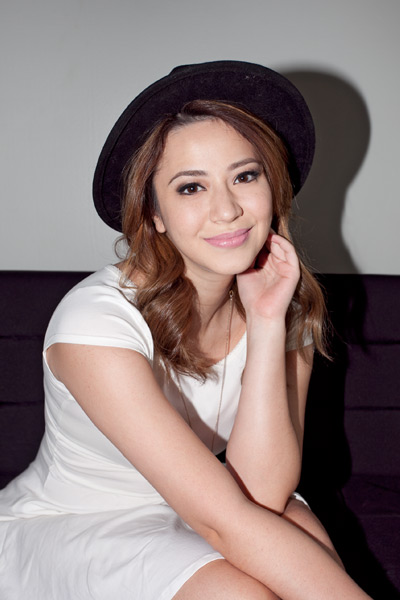 ADVERTISEMENT - CONTINUE READING BELOW
What's the worst pickup line you've heard?
I would really love to go home with you and buy you a drink, complete with a song request. (Laughs)
But a lot of them have been really sweet. Just this December 20, someone told me, "You are the most beautiful girl I have ever seen. Here's a drink, by the way." [One time] two Brazilians gave me paper roses. Those things are the sweetest.
Describe your personal style.
Well, it's predominantly black, white, and gray but I like to put in a pop of color from time to time to change things up. I dress up depending on my mood. One day I want to dress up in something girly like a flirty dress and high heels; another day I want to dress in something baggy paired with sneakers or boots, and sometimes I like to dress like I came out of a Japanese streetwear blog where I get a lot of my inspiration from.
ADVERTISEMENT - CONTINUE READING BELOW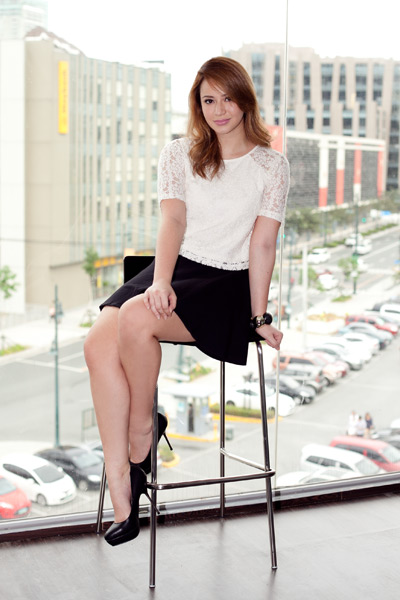 What do you wear when you work?.
Sneakers, a lot of sneakers! That's my thing now, I'm not really a high heels type of girl. Now I collect a lot of sneakers and boots. (Ed's note: Her latest splurge was a Commes des Garcons X Converse sneakers.)
Who are your style icons?
ADVERTISEMENT - CONTINUE READING BELOW
I guess it would be Mary Kate and Ashley Olsen. I love how they can pull of the baggy look and make it look so effortless and stylish. I also like the Japanese artist Yuka Chocomoo. She looks so modern and hip with a hint of boyishness. She just looks so cool!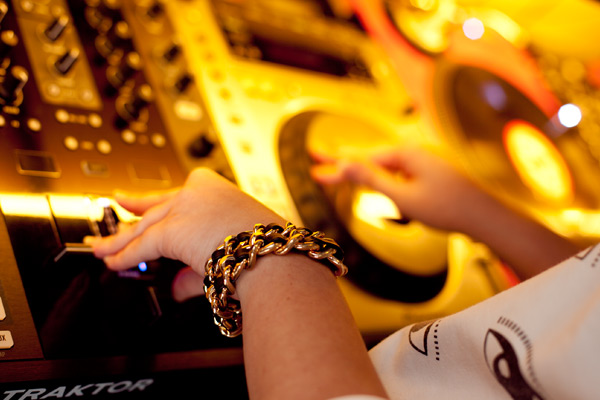 ADVERTISEMENT - CONTINUE READING BELOW
Do you have any big 2014 goals?
Stay away from fast food and be a more positive person. And for my goals, I want 2014 to be the year I put up a business that's related to fashion. An online boutique with more of my style. I will be designing. But we'll see how that works out.
Get a glimse of her taste in music by checking out 5 songs currently on loop in her Ipod by launching the gallery.
Photography by Yayay de Castro
Makeup and hair styling by Ren Bautista
Shot on location at Beat Project Manila (Follow @BeatProjectMNL on Instagram and Twitter!)