The route to stylized loungewear is still on everyone's map. Hoodies, for one, have received numerous spinoffs on the runways of Alexander Wang, Vetements, Moschino, and Rihanna's Fenty x Puma. In fact, their designs for Fall 2016 kickstarted a frenzy for hoodies thereafter, challenging street style stars to achieve looks outside the potato sack realm. After all, a practical piece is only practical if you know more than three ways to wear it.
And to officially make our case for this lazy day staple, here's ten!
1. With drop crotch pants
Go with colored or printed ones for a casual yet "done up" vibe. But if you're as bold as Liz Uy, you can try an American football-inspired look with some shoulder pads.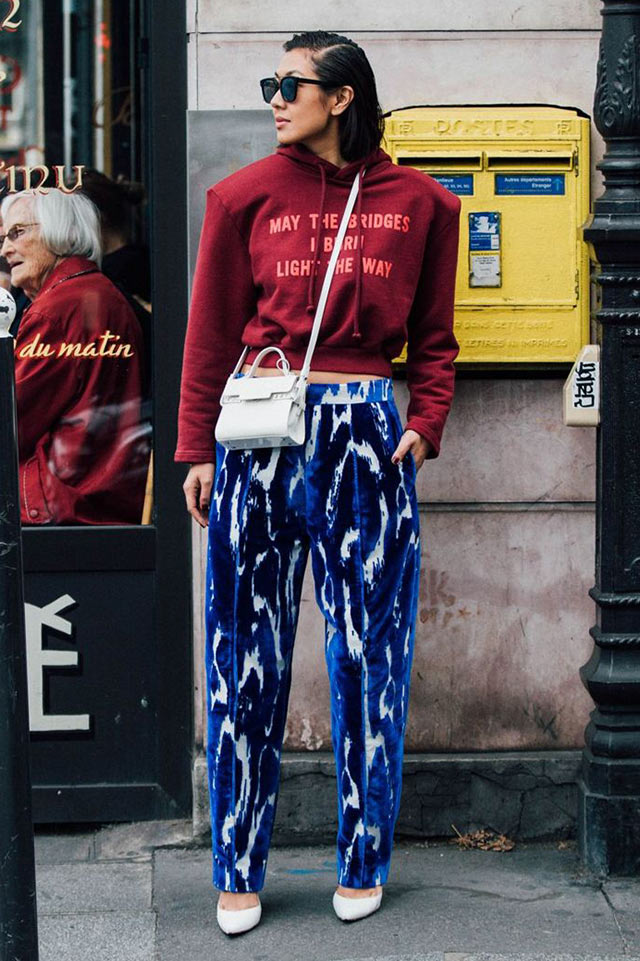 IMAGE Jonathan Daniel Pryce for Vogue UK
2. With denim culottes and dainty shoes
Incoporate a more femme element into your outfit with embellished flats that scream dainty. Take bow shoes and lace-up flats, for example! And as an optional step, accessorize with a handy investment piece for a high-low outfit idea that's errands day-friendly.
IMAGE Getty Images Entertainment | Kirstin Sinclair
3. Layered over tulle
Make the most out of your hoodie's coverage by playing with sheer details. A tulle maxi skirt, for example, will give your outfit more texture and effectively combat the "boyish" feel of a hoodie.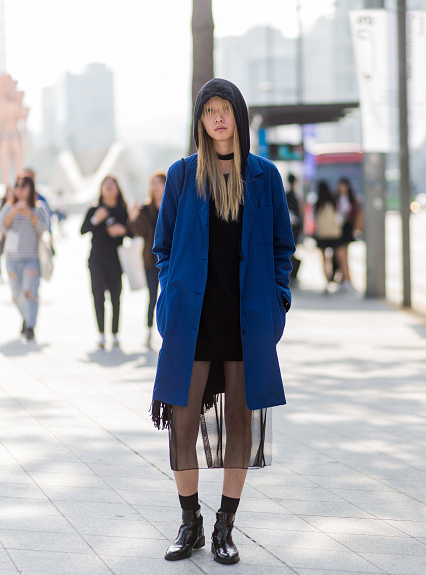 IMAGE Getty Images Entertainment | Christian Verig
4. Cropped with a leather mini skirt
For the petite ladies out there, the combination of the cropped hoodie and the mini skirt will give your legs ample breathing space. The result? An edgy ensemble that discreetly adds height.
IMAGE Getty Images Entertainment | Timur Emek
5. Extra oversized with striking footwear
But if you'd rather play the oversized card, rough up the hems and let your shoes do the talking. Colored combat boots, stilettos, or your favorite pair of statement shoes will elevate your look and take your hoodie out of its lounging state.
ADVERTISEMENT - CONTINUE READING BELOW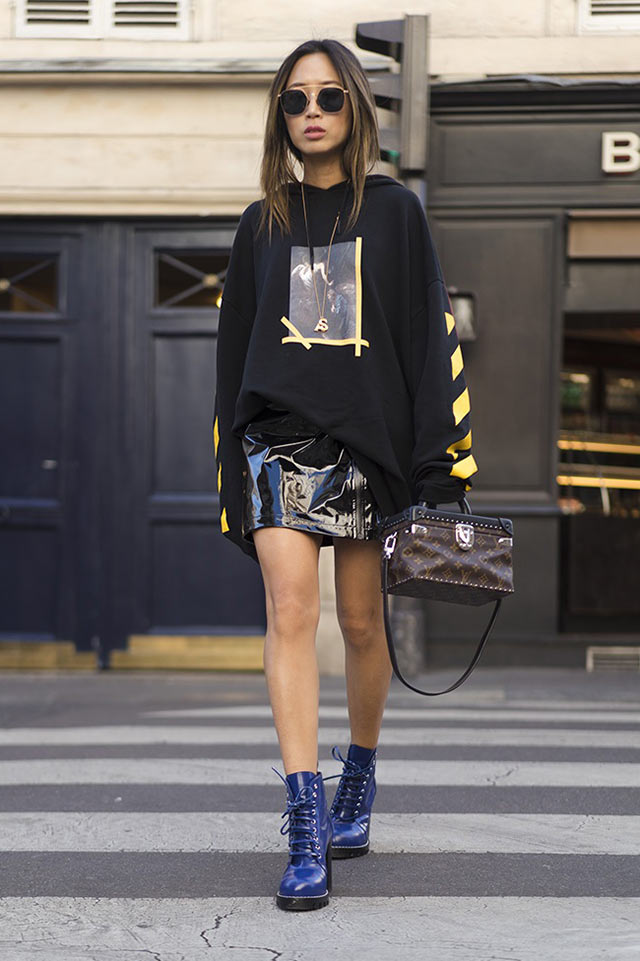 IMAGE songofstyle.com
6. Tucked it into a pencil skirt
To prevent your oversized hoodies from swallowing you whole, cinch your waist with body-hugging bottoms like a pencil skirt. This way, you'll stay warm while showing off your hourglass figure.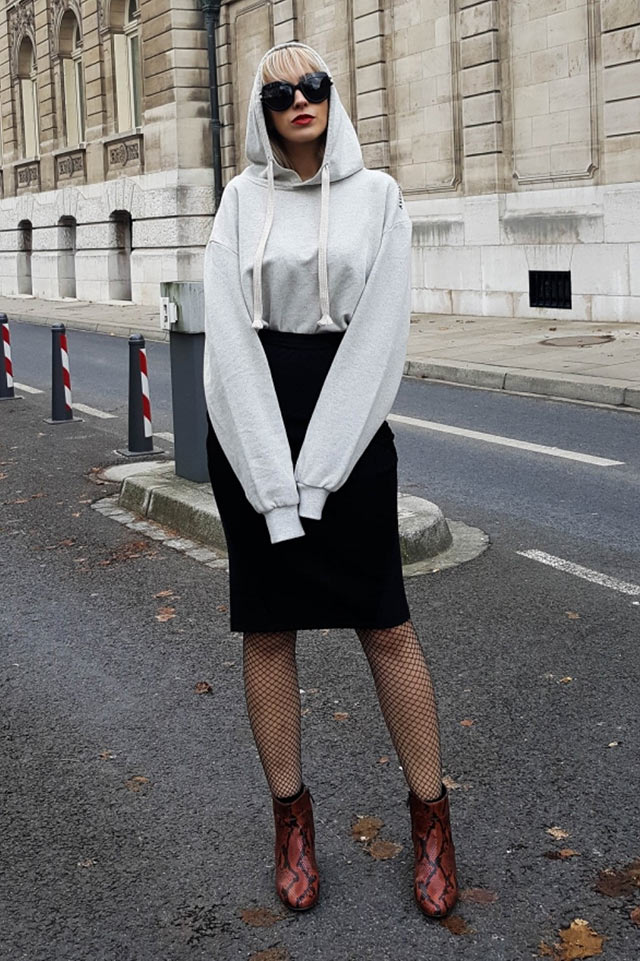 IMAGE ivaniasmode.com
7. "Look ma, no hands!"
Channel the no hands trends a la Vetements and your hoodie + jeans combo will never look as chic. Try your best to skip the sneakers for this one and opt for something with heels.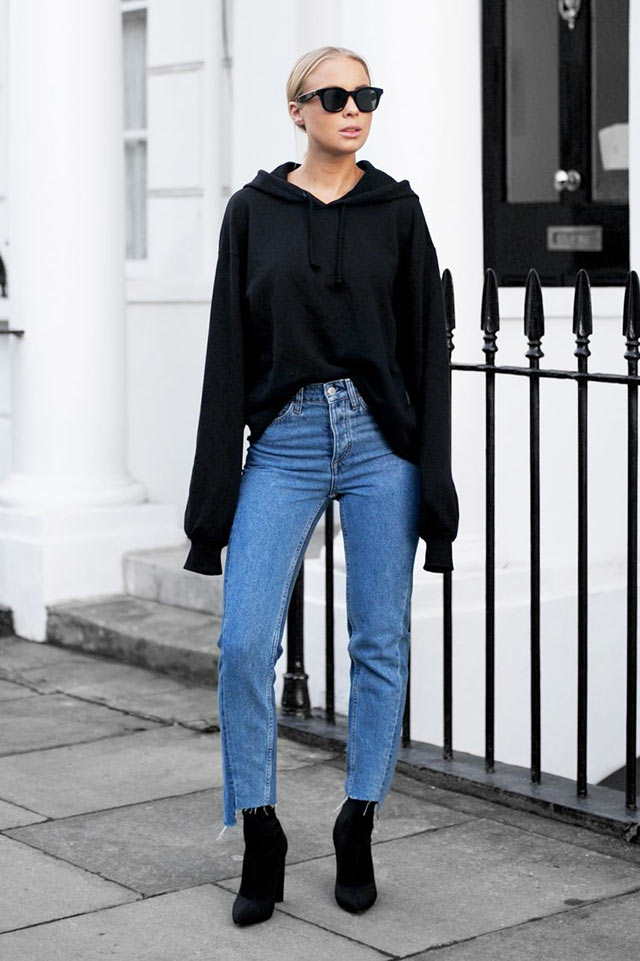 IMAGE victoriatornegren.se
8. Plain with your favorite animal print.
Don't look lazy in all-black attire by donning something like a leopard number. The print will give your outfit more texture and sometimes, the illusion of luxury and dare we say it—effort.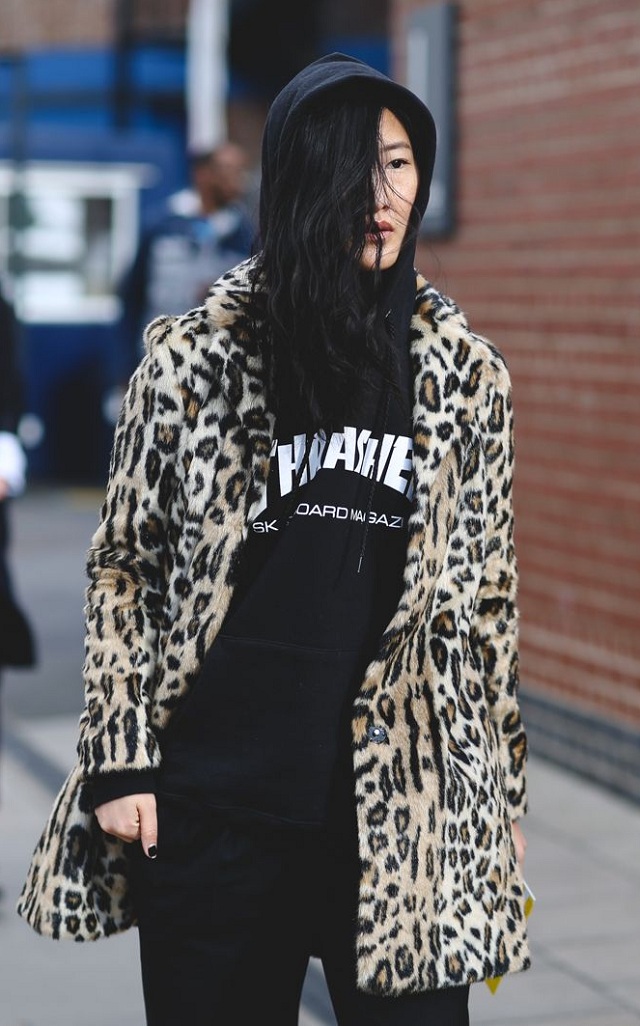 IMAGE Victoria Adamson for Refinery29
9. Layered under a trenchcoat
This layering technique was a hit when fashion week fell right in the middle of a wintery spiel. Everyone found it as an excuse to be warm without looking too shabby, all thanks to the crisp silhouette of trenchcoats. Keep this in mind when you're traveling!
IMAGE Getty Images Entertainment | Christian Verig
10. Like a rebel.
Combine your favorite street style hacks into one well-rounded outfit. Tuck your hoodie into a patent leather pencil skirt, extend your sleeves, and wear socks with heels. The more extra elements and styling techniques your outfit has, the less attention will be given to the fact that you're wearing a hoodie.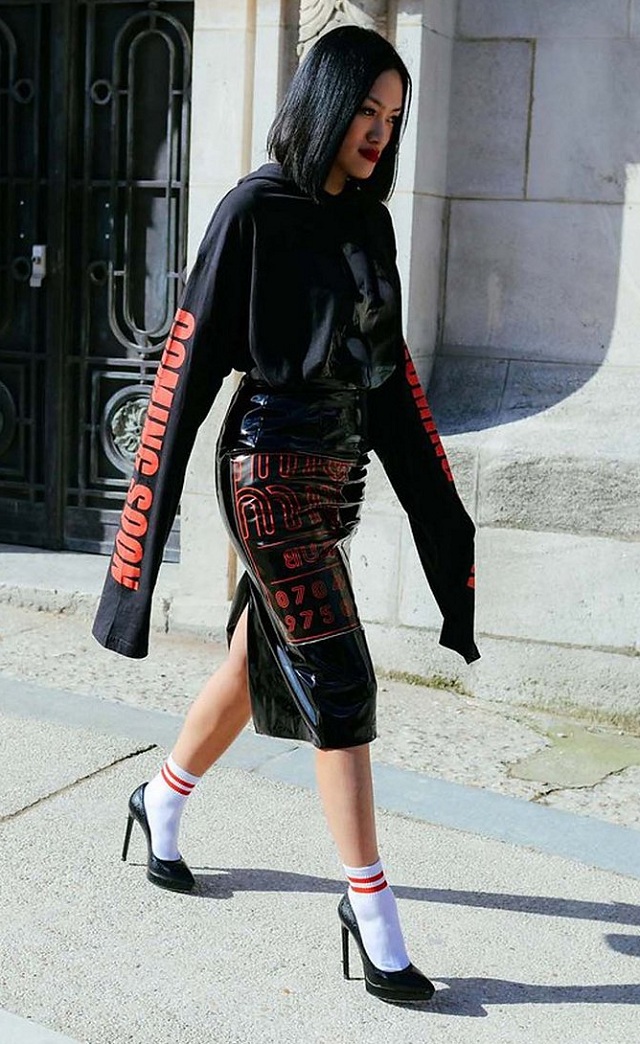 IMAGE Phil Oh via Vogue