Ukay-ukay is relatively new to me. I've done research on it and written a number of articles about it, but unfortunately, I have yet to try it out myself. What I know of it comes from interviewing ukay experts and hearing stories as told by my friends. They would talk about their thrifting adventures featuring Japan and Hong Kong and even local ones including Anonas and Tagaytay. But what intrigues me the most are Baguio's ukay-ukay havens. That said, I decided to tackle the famous Harrison Night Market as my initiation into the halukay craze. Here's what I learned from this experience:
1. Dip your toes; don't dive.
If it's your first time thrift shopping, it's best to visit a small-scale ukay-ukay first. When I stepped in front of Harrison Night Market, I was immediately overwhelmed by the seemingly never-ending stretch of stalls. It also didn't help that there were a lot of people sashaying through the narrow, labyrinth-like alleys.
ADVERTISEMENT - CONTINUE READING BELOW
CONTINUE READING BELOW
Recommended Videos
2. Go for an indoor ukay-ukay.
Indoor ukay means you'll be able to move in a controlled environment. And based on experience, it's a relief to have one less thing to worry about! You'll feel more at ease moving around without being paranoid if you still have your belongings with you.
ADVERTISEMENT - CONTINUE READING BELOW
3. Dress (down) for it.
Go for the simplest outfit you can don and forego the accessories. Wearing hoop earrings, a button-down shirt, and wide-leg, side-striped trousers didn't work in my favor when I tried to bargain. I realized I had to look as plain as possible, seeing how some sellers would either hike up the prices of untagged items or wouldn't let you bargain if you seem like someone who can afford shelling out a few more bucks for clothes. While you're at it, if you're doing outdoor ukay, skip the white sneakers―you'll get stepped on for sure! Also, carry a fanny pack (slung across the chest) to secure your belongings.
ADVERTISEMENT - CONTINUE READING BELOW
4. Take an expert with you.
Going through multiple racks (or in my case, a whole street) of ukay-ukay stalls might be overwhelming, so you'll need the expert eye and guidance of an ukay veteran. Having a friend who's well-versed in ukay shopping will help you navigate the way. Plus, it won't hurt to get personal insider tips and hacks, too!
Related Stories from Preview.ph
5. Plan your shopping goals.
Ukay-ukay stores are practically a dumping site of overruns or second-hand items, so they're not exactly curated based on what's trendy. That said, it's best to have a specific item in mind that you'd like to purchase. This will help you become less distracted or overwhelmed with the amount of products you'll see.
6. Patience is a must and perspective is everything.
On my first trip exploring the entire stretch of Baguio's night market, I began to feel hopeless not seeing anything that I liked. I thought, perhaps I am not cut out for this. But upon turning around to scour the place once more, I realized shopping in an ukay-ukay also means seeing beyond the item for sale. Look at an item's potential to be turned into a DIY project, or come up with ways you can easily incorporate it into your existing wardrobe. Additionally, ukay shopping is an unhurried art. Set aside an entire afternoon to go through racks and stalls because it takes time to find worthy gems.
ADVERTISEMENT - CONTINUE READING BELOW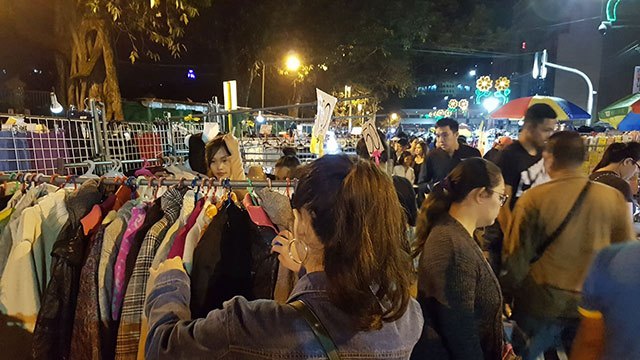 IMAGE Steph Sison
7. Decide quick.
An ukay-ukay is nothing like your usual mall boutique. Despite its excesses, the pieces you'll find are also quite unique. So if you see something you like, you better decide quickly if you're buying it or not. Keep in mind that you can't ask for new stock, and chances are, by the time you go back for it, it's already gone.
ADVERTISEMENT - CONTINUE READING BELOW
8. Don't buy just because it's super cheap.
It's tempting to buy a top for P20 or a jacket for P40, but you have to bear in mind that while prices are astonishingly low, quality is often compromised. Always check for the item's condition before buying!
9. Fakes and dupes are everywhere, but so is real vintage.
A critical eye is needed for thrift shopping. When you stumble upon a branded item, inspect if it's an imitation or an actual pre-loved authentic piece. You don't need to be told to snub the fakes, right?
Related Stories from Preview.ph
10. Shopping in an ukay-ukay requires skill coupled with some luck.
Don't be frustrated if you come out empty-handed, some places just don't have what you need at the moment. There's always an option: move on to the next ukay. During my first time, I was only able to buy an oversized white denim jacket for 50 bucks. That small purchase challenged me even more. The allure of finding cheap steals and unique items motivated me to give thrift shopping a second chance.
ADVERTISEMENT - CONTINUE READING BELOW
Armed with these shopping lessons, I'm hopeful that one day I'll be able to narrate my own ukay success story to convince a non-believer.
Related Stories from Preview.ph
Hey, Preview readers! Follow us on Facebook, Instagram, YouTube, Tiktok, and Twitter to stay up to speed on all things trendy and creative. We'll curate the most stylish feed for you!