She looks Imeldific with her butterfly sleeved, sampaguita embroidered robe over a pink serpentine gown. Her matching jewelry gives a feel of old brass crafts from Mindanao, and her lace fabric fan makes her look ready to rub elbows at the SONA.
Presenting Mutya, the Filipina Barbie.
Part of Mattel's "Global Glamour" collection, the pint-sized morena beauty made waves with her stylish Philippine terno-inspired ensemble, despite being the third Filipina doll that the toymaker has produced.
Its Filipino designer, Carlyle Nuera, said that Mutya's name could either mean "pearl, beauty or muse" in our local tongue, and was inspired by Filipina beauty queens.
Style Bible talked to the pouf-haired dollmaker about how he got here, and where he'd take Mutya should she suddenly transform into a real person.
Congratulations! How did you get the job?
I've loved Barbie ever since I was a kid. Throughout my childhood and teenage years, I played with and collected dolls, eventually I started styling and customizing them for mini photo shoots. After I graduated from art school, a position on the Barbie Design team opened up, so I applied and got the job!
ADVERTISEMENT - CONTINUE READING BELOW
What's the best thing about designing Barbie dolls?
I love being able to capture what's happening in culture and translate that into a doll design. I love being able to reach so many different people and create something that will bring joy to another person, whether that person is a child or an adult collector.
Do you have any special rituals to get you into designing mode?
I always listen to music when I'm working, so I'm definitely inspired by musicians, for both their musical talent and fashion style. My favorite group ever is Mutya Keisha Siobhan [formerly the Sugababes] and I love Solange as well.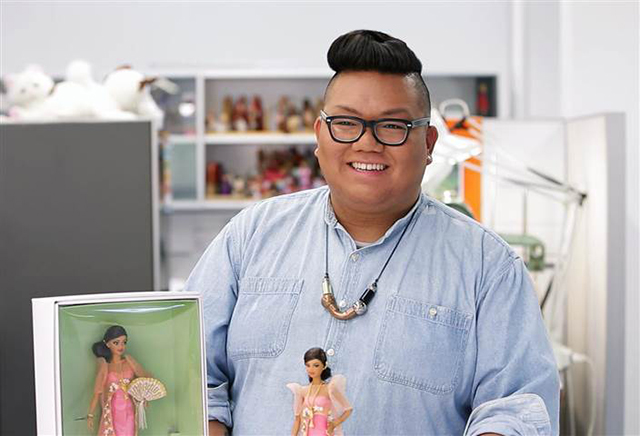 CONTINUE READING BELOW
Recommended Videos
Carlyle Nuera designed the 3rd Filipina Barbie in history. (Mattel)
Which Barbie doll is your favorite?
My favorite doll is named Urban Hipster Nichelle from the Barbie Collector Model of the Moment series, which is one of my favorite Barbie series ever.
What inspired the Filipina Barbie and when and how did the whole production begin?
The Global Glamour series started in 2013. When I received the opportunity to design the third doll in the series, I wanted to take Barbie collectors to a continent not yet represented in the series. So of course I looked to my own culture as inspiration.
What were the Filipino elements that you injected into the design?
Her terno, with the signature butterfly sleeves, done in a printed organza. The print is inspired by textiles of the different tribes in the Philippines and features the sun icon from the Philippine flag. The embroidery on the hem of the terno is inspired by the sampaguita, the national flower of the Philippines.
ADVERTISEMENT - CONTINUE READING BELOW
How did you make Muya's features look Filipino?
Filipinas have such a wide range of looks, that it's impossible to represent everyone with just one doll. For example, in my own family, there's a huge range of characteristics and traits.
What was the biggest challenge in producing Mutya?
Recreating the specific shape of the terno's sleeve in such a small scale was challenging. We had to make sure the proportions of the sleeve were correct and that the pleats and creases were crisp.
What's your favorite thing about Mutya?
Everything! Mutya Barbie was released on my birthday. I am so honored to be at the intersection of Filipino, Designer and Barbie lover.
If Mutya were to visit the Philippines where would you take her?
It would be awesome to take Mutya to my parents' hometowns. My Dad is from Tagbilaran in Bohol and my Mom is from Tacloban in Leyte.
ADVERTISEMENT - CONTINUE READING BELOW
This interview has been condensed and edited.
Hey, Preview readers! Follow us on Facebook, Instagram, YouTube, Tiktok, and Twitter to stay up to speed on all things trendy and creative. We'll curate the most stylish feed for you!