Just in case things have been super hectic lately and you haven't been able to keep track of the days, this is a little reminder that Christmas is only a few weeks away. Time flies by so fast, right? You probably had thoughts on your holiday 'fit as early as the season started, a.k.a September for us here in the Philippines,
The most important thing about the clothes you'll wear, especially when it comes to bottoms, is that they should be able to hide the food baby you're going to conceive at the Christmas dinner table, or any table, for that matter. You should also be able to move around easily and comfortably. Best for bending down and peering at the gifts, or for all the kisses and aguinaldo you're about to drop on the inaanaks. Why would you stop enjoying yourself to the fullest in the name of a fashionable but restrictive bottom? Bonus if you can wear them even beyond December, just to get a bang for your buck.
ADVERTISEMENT - CONTINUE READING BELOW
We round up a list of bottoms that tick one, if not all, the boxes. Who knows? You might meet your perfect pair.
SHOP: 10 Stylish and Flattering Pants
Pleated Wide Pants (P1,990) from Uniqlo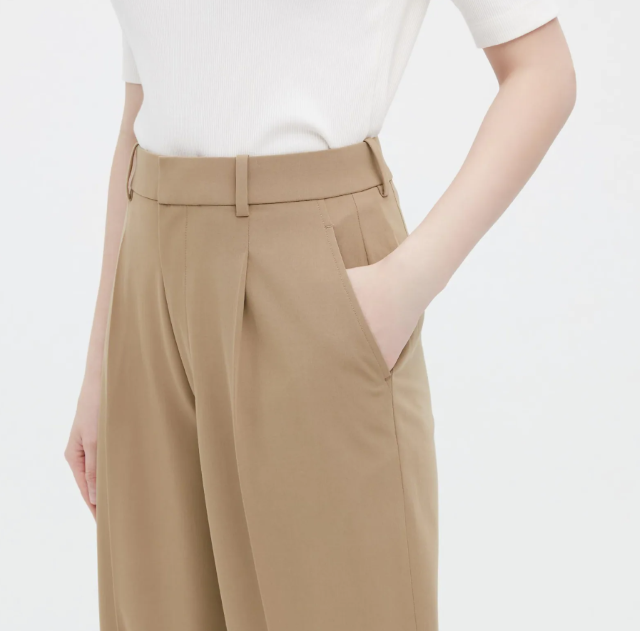 We're swearing by Uniqlo—the master of lifewear essentials—and this pair of sleek pants to help you get through the holiday feast-ivities. Thanks to its loose-fitting wide-leg style, you don't have to worry about your thighs or stomach screaming for help when you move or eat a lot. Or about ironing it every time you have to wear it because it's also wrinkle-resistant. If that doesn't make you want to sprint to your nearest Uniqlo branch, then we don't know what will.
See a list of Uniqlo branches.
Linen Wrap Pants (P790) from Clothes for Breakfast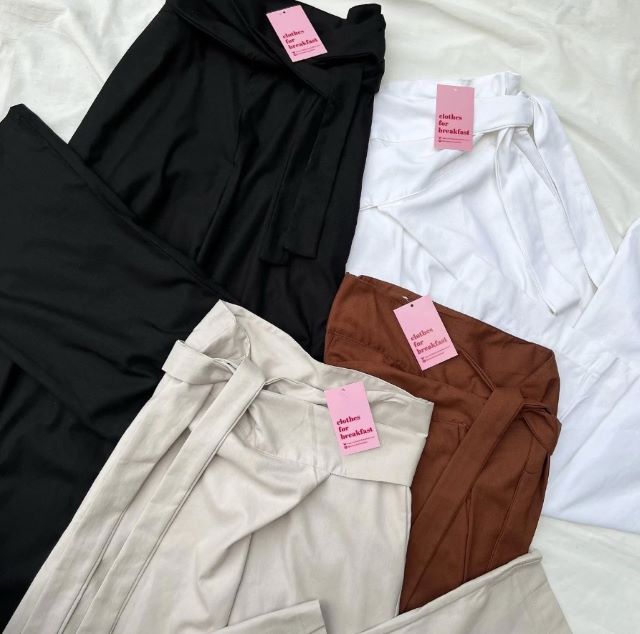 As its name suggests, this pair of pants from Clothes for Breakfast sports a design that neatly wraps around your waist and is tied on one side, perfect if you're looking for something more unique. It has a classic silhouette with its straight cut and wide-leg fit with a touch of elegance and sophistication. Not to mention that the straps that hug your waist can be adjusted to your preference. It comes with functional side pockets, too.
ADVERTISEMENT - CONTINUE READING BELOW
Available online.
Flowy Palazzo Trousers (P2,295) from Mango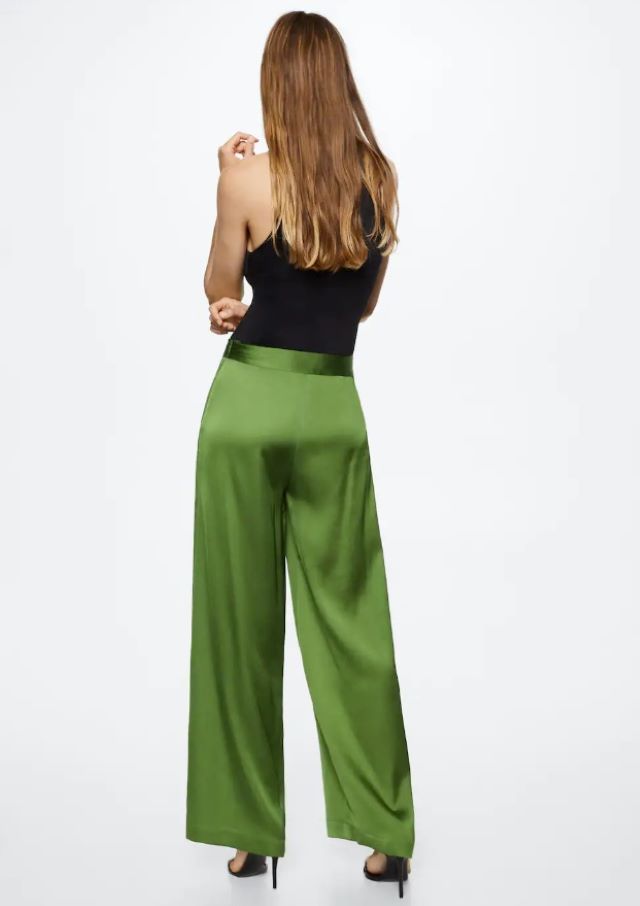 This pair of trousers will feel like flowing water from the waist down. Pair this with a top in the same shade, go with some accessories, and you're bound to turn heads and drop jaws once you walk inside a room. The satin material's subtle sheen gives these bottoms a sophisticated and elegant vibe. We say cop them in green to make the most out of that low-key element.
ADVERTISEMENT - CONTINUE READING BELOW
Available online.
High-Density Flare Pants (P2,750) from Muji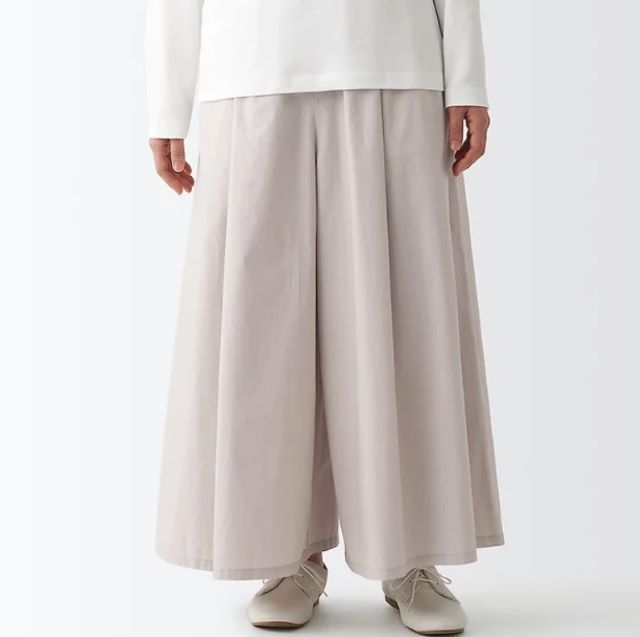 These Muji pants are minimalism at their finest, complete with a design that gives you more than enough room to move, dance, or, heck, do a cartwheel should you want to. Maybe it's high time to let your dancing skills shine this holiday. Put these on, and get ready to go bust a move. Go all out. Comfort? Check. Style? Check. Good time? Check! It might even pass as a long skirt at first glance.
ADVERTISEMENT - CONTINUE READING BELOW
Available online.
Faye Pants in Red (P1,299) from Wear Sundays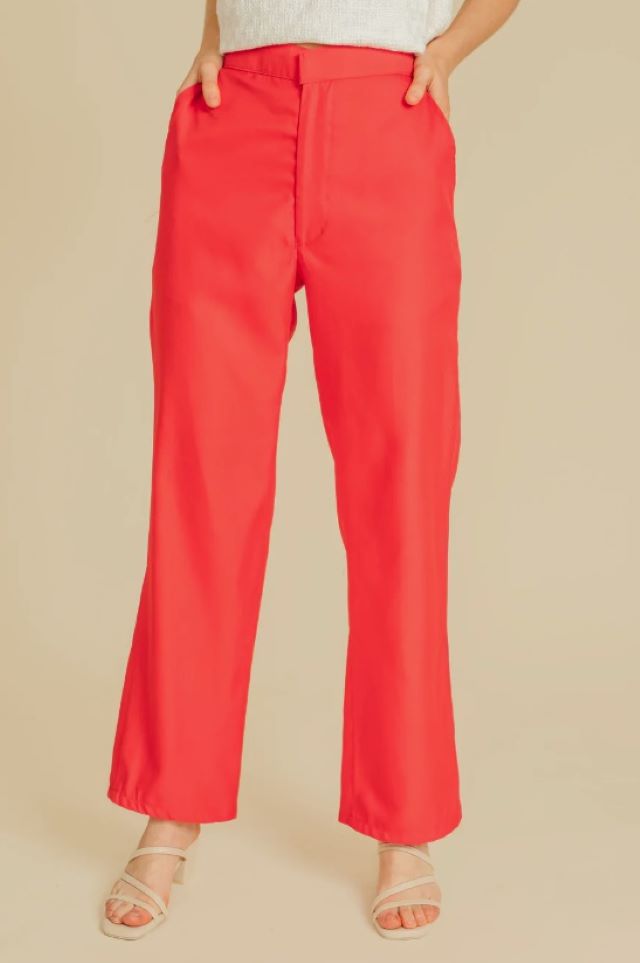 There's something about the color red that screams passion and power—and yes, Christmas. These Faye Pants in that color are proof as we can't help but be drawn to it. Confidently strut into your Christmas reunions and catch attention in these pairs. These pants, made out of soft twill fabric, are also the pop of color you need in your everyday wardrobe staple. If bold colors are not your thing, you'll be happy to know that they're also available in white.
ADVERTISEMENT - CONTINUE READING BELOW
Available online.
Wide Twill Trousers (P1,190) from H&M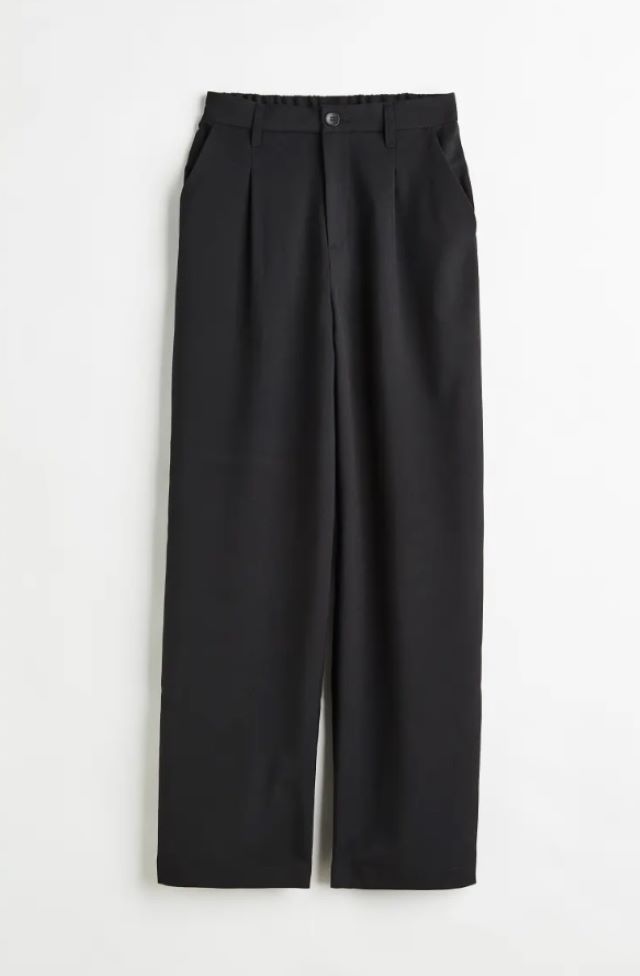 You'll find yourself reaching for this pair of loose-fitting black trousers even beyond the holidays. It's totally an investment piece also available in other neutral shades should you want more options in your closet. Take, for example, bright pink, if you want something extra. You can wear a long blazer, and a pair of your favorite footwear to match—and you're good to go! And that's whether you're going to a family reunion, samgyupsal date, or work appointment. Or all on the same day.
ADVERTISEMENT - CONTINUE READING BELOW
Available online.
Knit Palazzo Trousers (P2,495) from Zara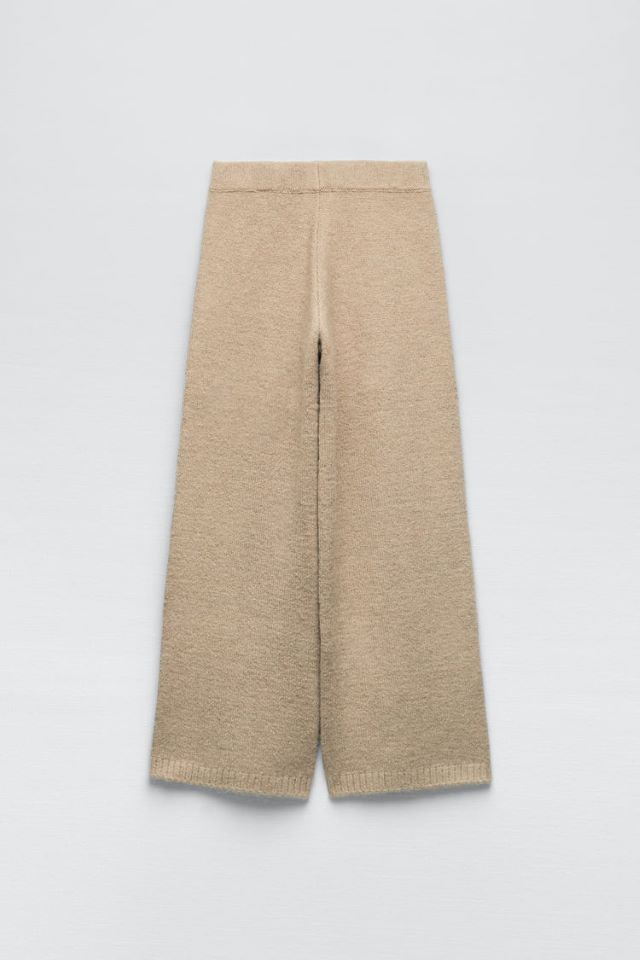 You can easily slip into these comfortable high-waisted, super wide-leg trousers at any time for any occasion. No unzipping or unbuttoning required. No squeezing or forcing yourself into this piece of clothing either. The knitted material will keep you warm and fuzzy during the cold, 'Ber-months weather. That said, we can already imagine you replacing your favorite sweatpants or jammies. Please don't. Unless. You can cop them in two other neutral-toned colors: Cream and Black.
ADVERTISEMENT - CONTINUE READING BELOW
Available online.
Quaintrelle Culottes (P999) from Straightforward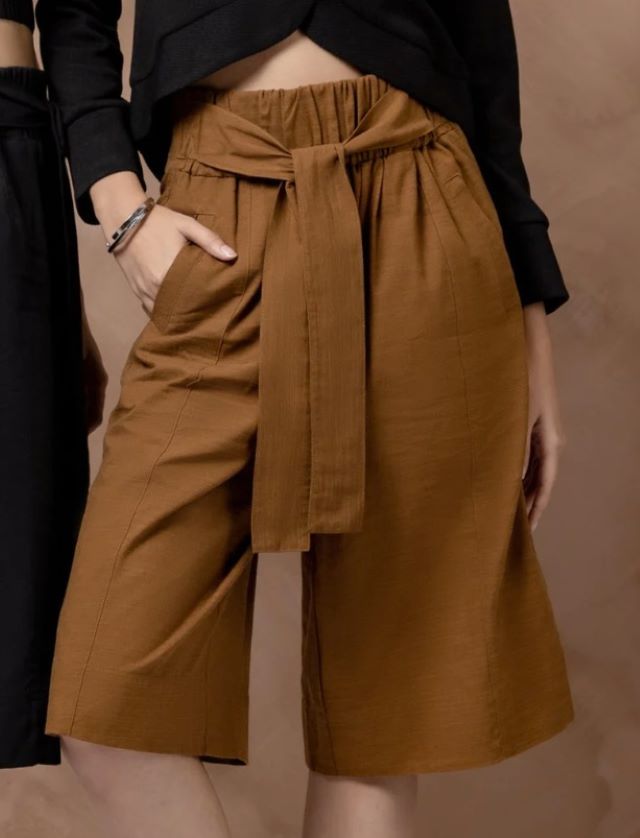 When it comes to no-frills apparel, Straightforward has got you. Hence, the name of the shop. This Quaintrelle Culottes won't be as long as most of the pairs we've mentioned, seeing as they are what they are, but its carefree yet classy style deserves a spot on this list and your daily wardrobe. Peep that tie-knot detail on the front—which you could also use to make your food baby completely unnoticeable. It's like you're a cute little present. It's the perfect casual outfit for fun and simple hangouts with a few of your girlfriends or family bonding.
ADVERTISEMENT - CONTINUE READING BELOW
Available online.
Morie High-Waisted Straight Leg Pants ($43.90, approximately P2,186) from Love, Bonito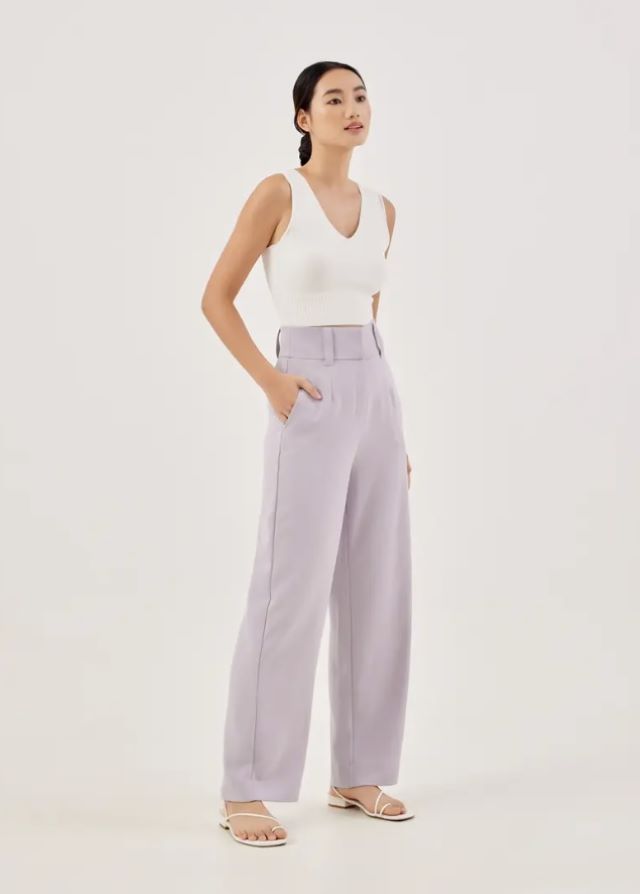 Love, Bonito is known for its elevated and timeless wardrobe staples, and these high-waisted straight-leg pants are prime examples. We won't deny that we were charmed by this specific clean pair's sweet lilac color, but you can cop it in more basic colors like Black, White, and Nude for more versatility. ICYDK, the Singapore-based brand is going on tour around the Metro in the next few months, so if you ever want a firsthand feel of their fabrics and see this style in person, you know where to go.
ADVERTISEMENT - CONTINUE READING BELOW
Available online.
Gabriela Pants (P2,300) from Laya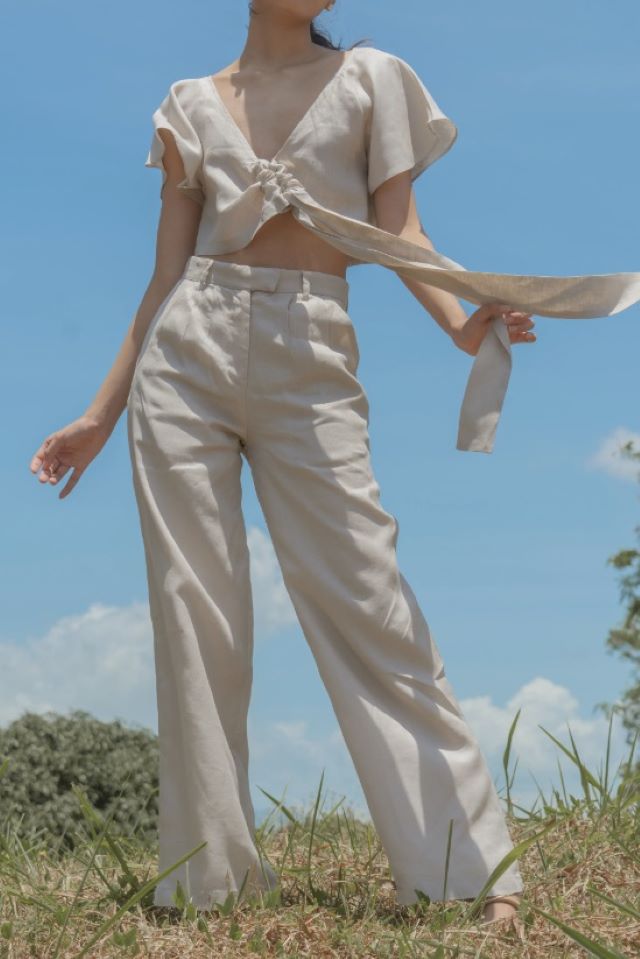 This specific beige pair from Laya is perfect not just for the holidays, but also for your minimalist, everyday aesthetic. There's just something about high-waisted and straight cut styles plus that nude-toned shade that gives these bottoms a timeless appeal. They're also available in various colors: from neutral tones to playful ones. Pick your poison.
ADVERTISEMENT - CONTINUE READING BELOW
Available online.
Related Stories from Preview.ph
Hey, Preview readers! Follow us on Facebook, Instagram, YouTube, Tiktok, and Twitter to stay up to speed on all things trendy and creative. We'll curate the most stylish feed for you!