Following the news of Lauren Becall's passing, some of the most moving tweets were the ones that chose to remember her as a fashion icon. Those perfectly coiffed waves and unbuttoned shirts tucked into high-waisted skirts, made her, perhaps, the quintessence of effortless glamour. With her smoky voice and nonchalant stare, Lauren had a signature style long before we even started using the term so loosely.
ADVERTISEMENT - CONTINUE READING BELOW
A young Betty Joan Perske poses for the cover of Harper's Bazaar with little idea that she would soon become Lauren Bacall.
To be quite fair, there's really more to old Hollywood than the Hepburns, Monroes, and Kellys. First discovered by then Editor in Chief of Harper's Bazaar Dianna Vreeland at the age of 16, Betty Joan Perske debuted on the magazine's March 1943 cover sporting a black embroidered jacket, bright red lips, and wavy tresses – a look that would soon grab director Howard Hawks' attention, prompting screen tests and a change of name.
CONTINUE READING BELOW
Recommended Videos
ADVERTISEMENT - CONTINUE READING BELOW
"You do know how to whistle, don't you, Steve?" she famously told Humphrey Bogart in the film To Have and Have Not. "You just put your lips together and … blow."
Read on and see some of Lauren's memorable performances on the silver screen as we look through her stylish wardrobe of suits, ball skirts, and button-down shirts.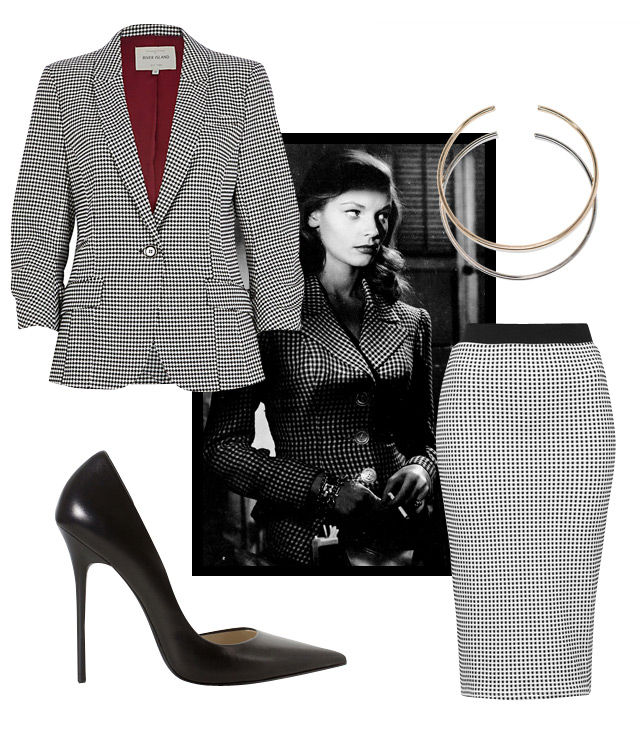 ADVERTISEMENT - CONTINUE READING BELOW
TO HAVE AN HAVE NOT (1944)
Lauren made her acting debut cast opposite Humphrey Bogart (whom she married in 1945 and stayed with until his death in 1957), in the film To Have and Have Not. Here she plays a Marie "Slim" Browning, a sassy club singer that expatriate Harry Morgan (Bogart) has an affair with.
Get the look: Leave out the solids and pick out a skirt and jacket in matching checks. Top the look off with metal accessories just as how Slim layers her bracelets.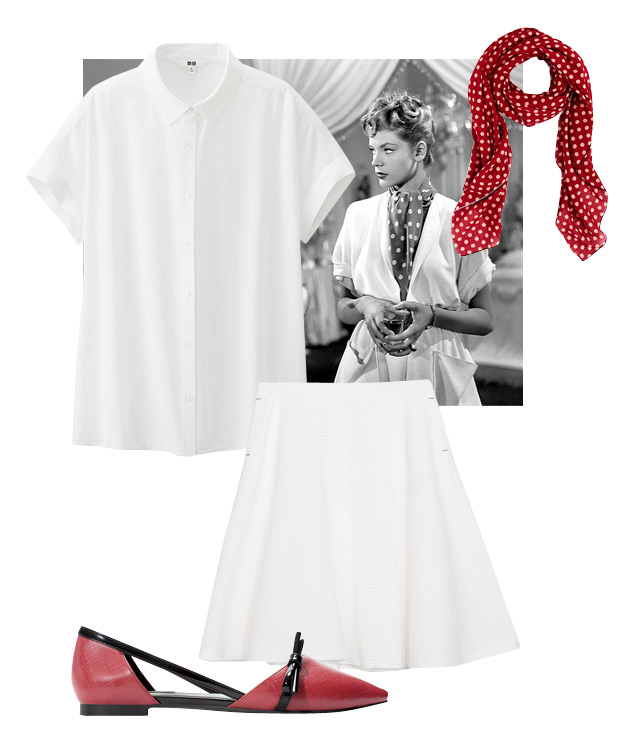 ADVERTISEMENT - CONTINUE READING BELOW
THE BIG SLEEP (1946)
The complex, baffling, logic-defying cliff-hanger starring Humphrey Bogart as detective Philip Marlowe and Lauren Bacall as Vivian Rutledge was a Hollywood hit with its series of electrifying scenes of tough action and well written script.
Get the look: Leave your white button-down open as you tuck it in your skirt. Fake an inner blouse by tying a scarf around your neck and tuck it inside your shirt as well.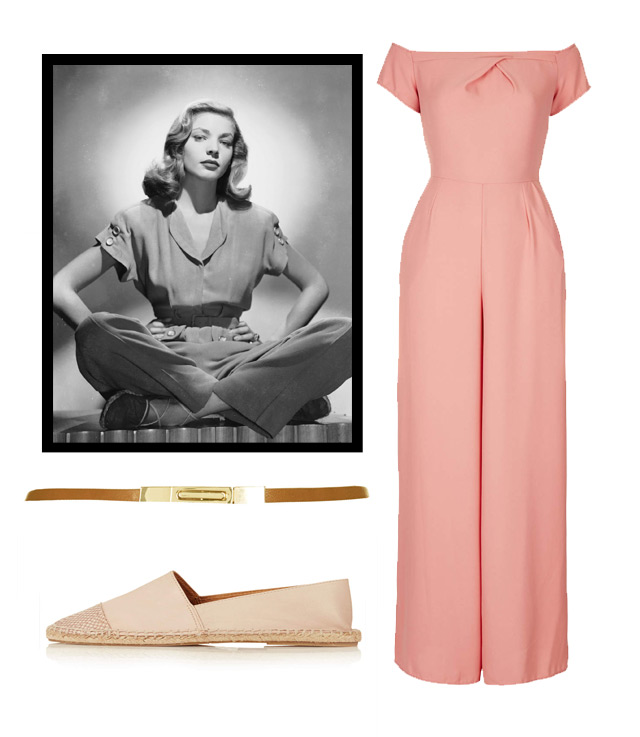 ADVERTISEMENT - CONTINUE READING BELOW
KEY LARGO (1948)
In her fifth film with husband Humphrey Bogart, Lauren stars with Edward G. Robinson and Lionel Barrymore in a crime drama was even more of a nail biter than her previous film, Dark Passage. Bogart plays Frank McCloud, a bitter war veteran who travels to Key Largo in Florida meet Nora Temple (Bacall), the wife of an old pal.
Get the look: Lauren was all about keeping it cool. Pair a dressy jumpsuit with espadrille flats for a more casual approach.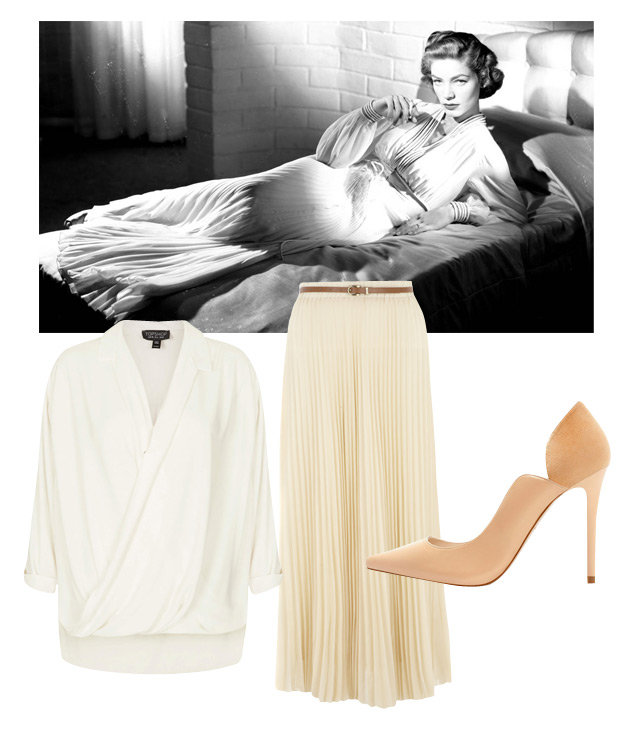 ADVERTISEMENT - CONTINUE READING BELOW
YOUNG MAN WITH A HORN (1950)
In the 1950 musical drama based on the novel by Dorothy Baker, Lauren stars as Amy North, a two-faced femme fatale friend of Jo Jordan played by Doris Day.
Get the look: This look is all about the fluidity of fabrics. Skip the accessories and just let yourself drown in a pleated maxi skirt and a loose, draped blouse.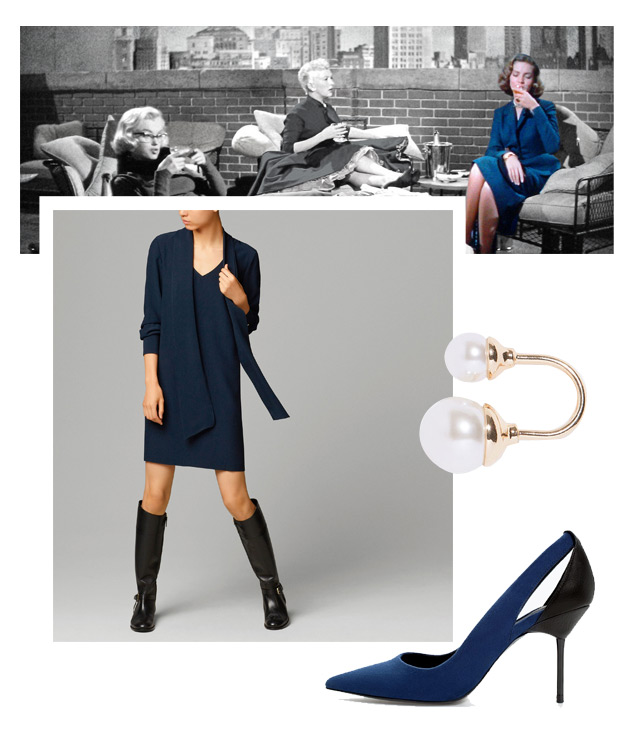 ADVERTISEMENT - CONTINUE READING BELOW
HOW TO MARRY A MILLIONAIRE (1953)
In her first comedy, Lauren as model Schatze Page opposite Marilyn Monroe and Betty Grable as they set out to find three millionaires to put a ring on it. The only problem they have is that spotting a rich guy from a sea of huxters doesn't seem so easy.
Get the look: The model-model-off-duty look may be a bit more grunge today but back then they liked to keep it classy. Slip into a blue dress and paird with pumps in the same hue and accessorieze with just one statement piece. An artsy ring perhaps?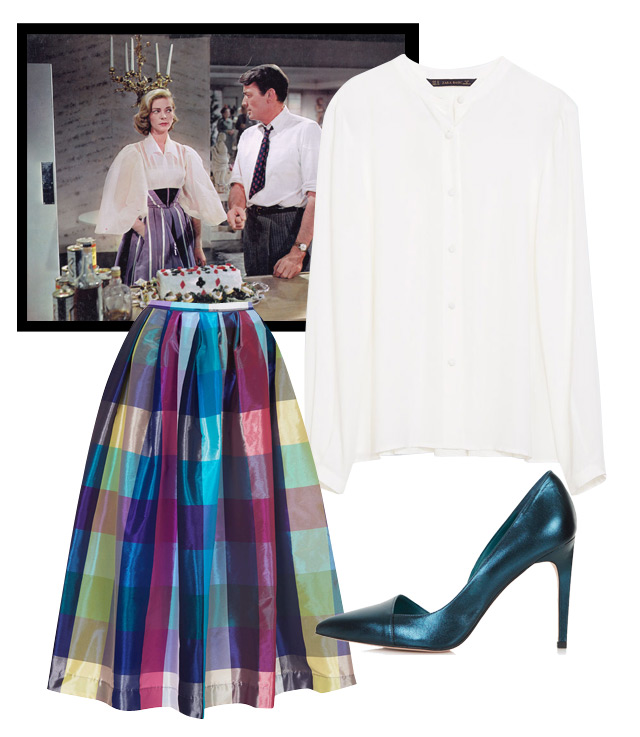 ADVERTISEMENT - CONTINUE READING BELOW
DESIGNING WOMAN (1957)
Sports journalist Mike Hagen (played by Gregory Peck) meets designer Marilla Brown (Bacall), fall in love and marry right away. Soon they realize that they know nothing about each other as exes and angry mobsters enter the picture, getting in the way of their happily ever after.
Get the look: Marilla likes to make bold statements with her silhouettes. Bring out your festive side with a printed tafetta midi skirt and metallic pumps. Keep the look balanced with a white shirt tucked in just as how Lauren always did.
Love her classic looks? Click on the gallery to shop the pieces!
Gif from Giphy.com