Directory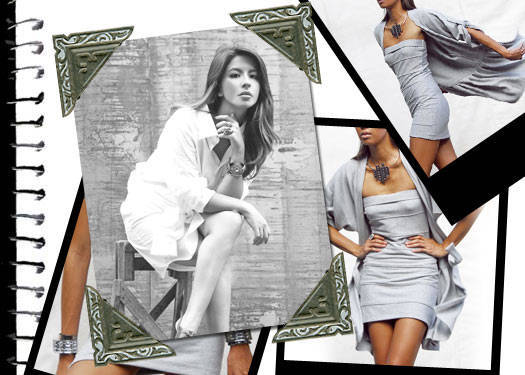 DESIGNERS
VANIA ROMOFF
Contacts
Unit 3D LPL Towers, Legazpi St. cor. Greenbelt Drive, Legazpi Village, Makati City

0917-3459666

vaniaromoff@gmail.com
About
WHAT MOTIVATED YOU TO BECOME A DESIGNER?
I grew up surrounded by fashion. My grandmother, Viring Romoff, was a couturier, while my mom was into garment manufacturing, and my brother [Anthony Romoff] is a fashion designer as well, so it's all innate.
HOW DID YOU START AS A DESIGNER?
I started designing 5 years ago. Nothing happened overnight; I grew and honed my skills as years passed. I started in Cebu and decided to move to Manila. I joined Fashion Week for the first time back in 2008, and I was only 20 then. I think I was the youngest of my batch. I kept on joining shows until I finally decided to step it up and expand to Manila. Now, I fly to Manila as often as I can while still looking for a place to set up.
WHERE DID YOU RECEIVE YOUR FASHION TRAINING?
I learned the essentials of design from my family and designer friends. My grandmother used to cut and drape on the customer herself, a kind of old school craftsmanship that still amazes me now. I have also always considered my brother Anthony to be my mentor. He taught me many important things that I might not have learned from fashion school. My training, although informal, was very personal.
Of course my brother also urged me to improve my skills and take up the essentials such as construction and draping through a formal education. Hence my stint at School of Fashion and the Arts (SoFA).
WHAT IS YOUR DESIGN PHILOSOPHY?
Good design is only second to clean lines and impeccable construction. And in designing, trends can only take you so far; the rest of it has to come from you. Otherwise, your designs lose identity and become forgettable.
WHERE DO YOU GET YOUR INSPIRATION?
My designs always start with personal taste and are finished off with common sense. I'd like to think that the clothes I make are like subtle pieces of art—they don't scream for attention but, more importantly, they indulge the wearer.
WHO ARE YOUR STYLE ICONS? YOUR STYLE INFLUENCES/INSPIRATIONS?
They change as my design senses evolve. But I have always been drawn to Parisian chic more than anything else. I prefer clean and put-together looks over fanciful ones.
WHICH DESIGNERS/ARTISTS DO YOU ADMIRE MOST?
Tomas Maier, Karl Lagerfeld, Phoebe Philo, Hannah McGibbon, Tom Ford.
WHO WOULD YOU LOVE TO DRESS?

Reaching for the stars: Margherita Missoni, Bee Shaffer and Carey Mulligan.
WHO DO YOU THINK IS THE PERFECT EXAMPLE OF TIMELESS STYLE?
I know its cliché, but Audrey Hepburn or her stylist, if she had one back then. Haha!
WHAT DO YOU CONSIDER YOUR BIGGEST CHALLENGE AS A DESIGNER?
Right now, to get noticed. And when that happens, to endure.
WHICH ASPECT OF THE DESIGN PROCESS DO YOU ENJOY MOST?
Conceptualizing!
WHAT'S THE BEST CLOTHING ITEM/ACCESSORY WOMEN/MEN SHOULD HAVE?
Character.
WHAT IS YOUR FAVORITE GARMENT OR FASHION ACCESSORY?
My mom's dress watch.
ANY CURRENT TRENDS THAT YOU'RE FOND OF? ANY CURRENT OBSESSIONS?
It's not exactly a trend because it has been an Italian staple, but I just purchased a beautiful pair of Tod's Gamminos. They're timeless.
HOW HAVE YOU EVOLVED AS A DESIGNER?
Learning to edit and restraining my designs. Before, I used to sketch like I was making a dress for a Disney princess. Now, I've developed a certain taste for certain design approaches.
WHAT ARE YOU MOST PROUD OF IN YOUR CAREER?
Expanding to Manila without knowing what to expect, except for the occasional warning from random people saying "It's tougher than you think." I've never gotten anything overnight. I worked hard for years to get to where I am now and I'm happy I've gotten this far at 22.
WHAT IS THE GREATEST COMPLIMENT YOU HAVE RECEIVED ABOUT YOUR WORK?
When someone says they feel beautiful in it.
ASPIRATIONS FOR THE BRAND IN THE FUTURE?
Going international, of course.
HOW DO YOU UNWIND?
Staying in, watching movies, and drinking wine.
FAVORITE SHOPPING AND TRAVEL DESTINATIONS?
Thrift shopping is always fun.
DO YOU COLLECT ANYTHING?
Costume jewelry.
WHAT MUSIC DO YOU LISTEN TO? FILMS YOU WATCH? BOOKS YOU READ?
Indie rock/pop. I love horror films. Currently, I'm being entertained by Neil Gaiman.
OTHER PASTIMES, PASSIONS, INTERESTS ASIDE FROM FASHION?
Currently, interior decorating!
WHAT IS YOUR GREATEST EXTRAVAGANCE?
Food.
WHICH OTHER TALENT WOULD YOU MOST LIKE TO HAVE?

Cooking!
WHAT CAN WE LOOK FORWARD TO FROM YOU AS A DESIGNER?
Setting up base and designs being available in Manila.
WHAT DO YOU THINK THE PHILIPPINE FASHION INDUSTRY NEEDS MOST IN ORDER TO FLOURISH?
Funds and support from the government and the people.
DO YOU HAVE ANY ADVICE FOR ASPIRING DESIGNERS?
Have a POINT OF VIEW. So many young designers come and go because they're busy trying to chase the trends of the moment versus doing something that is innately their strength. If you are true to yourself, others will take note.
Shops
Unit 3D LPL Towers, Legazpi St. cor. Greenbelt Drive, Legazpi Village, Makati City

0917-3459666

vaniaromoff@gmail.com
http://vanillalabel.multiply.com
VANIA ROMOFF FOR THE RAMP
THE RAMP
2/F Shangri-la Plaza, EDSA cor. Shaw Blvd., Mandaluyong City
(02) 635-4410 to 29 / (02) 635-4410 to 24 / (02) 634-3181 to 84


3/F Glorietta 3, Ayala Center, Makati City
The Podium, 18 ADB Ave., Ortigas Center, Mandaluyong City

TriNoMa, EDSA cor. North Avenue, Quezon City