Directory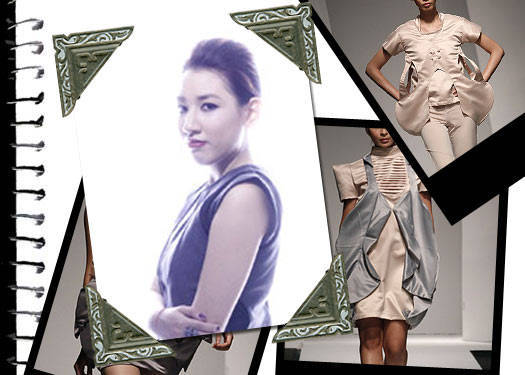 DESIGNERS
NOELLE LLAVE
Contacts
57 Molave Ave., Molave Park, Merville Subdivision, Parañaque City
(02) 828-2380
0915-4023617
noellellave@yahoo.com
About
WHAT MOTIVATED YOU TO BECOME A DESIGNER?
Originally, right after graduating from high school, I wanted to take up multimedia arts or some art-related studies. I even thought of taking up architecture at some point. However, I ended up taking Fashion Design and Marketing in SoFA, and I realized I had the talent for designing.
WHAT IS YOUR DESIGN PHILOSOPHY?
Not to be afraid to push boundaries.
WHERE DO YOU GET YOUR INSPIRATION?
From books, museums, the internet, blogs—actually almost everywhere and anything.
WHO ARE YOUR STYLE ICONS? YOUR STYLE INFLUENCES/INSPIRATIONS?
My style icons are Daphne Guinness for her fierce style and wild hair, blogger Diane Pernet again for her fierce style and hair, Susie Bubble for her avant-garde look, Japanese DJ/designer Mademoiselle Yulia and Andy Warhol's muse Edie Sedgwick.
WHICH DESIGNERS/ARTISTS DO YOU ADMIRE MOST?
Junya Watanabe, Rei Kawakubo, Yohji Yamomoto, Alexander McQueen, Gareth Pugh, Rick Owens and Hussein Chalayan.
WHO WOULD YOU LOVE TO DRESS?

I would love to dress Angel Aquino and Anne Curtis, women who are beautiful and have strong will power.
WHO DO YOU THINK IS THE PERFECT EXAMPLE OF TIMELESS STYLE?
Audrey Hepburn, of course.
WHAT DO YOU CONSIDER YOUR BIGGEST CHALLENGE AS A DESIGNER?
Always coming up with new and cohesive designs. And also making your clients happy all the time.
WHICH ASPECT OF THE DESIGN PROCESS DO YOU ENJOY MOST?
Pattern making, sketching, and also doing mockup designs.
WHAT'S THE BEST CLOTHING ITEM/ACCESSORY WOMEN/MEN SHOULD HAVE?
For women: a simple and elegant statement black dress (perfect for any occasion).
For men: A nice tailored jacket.
WHAT IS YOUR FAVORITE GARMENT OR FASHION ACCESSORY?
One accessory that most people see me wearing almost all the time is my handcrafted button necklace that I bought in a local bazaar.
ANY CURRENT TRENDS THAT YOU'RE FOND OF? ANY CURRENT OBSESSIONS?
My obsession for all things and chunky and androgynous.
HOW HAVE YOU EVOLVED AS A DESIGNER?
Learning through past mistakes and asking advice from people who have been in this business for years.
WHAT ARE YOU MOST PROUD OF IN YOUR CAREER?
Right now, this very instance that I am actually answering this interview for Style Bible is one of the proudest and most surreal moments in my life just because I am still this young and still so very new to this industry.
WHAT IS THE GREATEST COMPLIMENT YOU HAVE RECEIVED ABOUT YOUR WORK?
Being part of Preview's Ten Designers to Watch is a huge compliment. Also, being able to meet my clients' expectations.
WHAT ASPECT OF DESIGN DO YOU SEEK TO MASTER?
Being more knowledgeable in experimental pattern making and draping.
ASPIRATIONS FOR THE BRAND IN THE FUTURE?
Being able to open my first atelier and venturing later on to the RTW market.
HOW DO YOU UNWIND?
Daydreaming, watching movies, traveling, spending time with my parents and bonding with friends.
FAVORITE SHOPPING AND TRAVEL DESTINATIONS?
Hong Kong for shopping and Europe for its culture.
DO YOU COLLECT ANYTHING?
A lot of things—from books about fashion to sketch pads and even travel souvenirs . (I am such a lola when it comes to collecting things.)
WHAT MUSIC DO YOU LISTEN TO? FILMS YOU WATCH? BOOKS YOU READ?
I like to listen to all kinds of musical genres—from classical, folk, indie, to old school rock like Bob Dylan and Led Zeppelin. For films, I particularly like artsy and sometimes foreign films like Amélie and The Royal Tenenbaums.
OTHER PASTIMES, PASSIONS, INTERESTS ASIDE FROM FASHION?
Aside from fashion, I do photography, I paint, and play badminton.
WHICH OTHER TALENT WOULD YOU MOST LIKE TO HAVE?
Singing, playing electric guitar and rocking out.
WHAT DO YOU CONSIDER YOUR GREATEST ACHIEVEMENT?
Having this privilege of being one of the chosen few for Preview's Ten Designers to Watch for the September 2010 issue.
WHAT CAN WE LOOK FORWARD TO FROM YOU AS A DESIGNER?
More intricate, structurally detailed, and out of the ordinary designs.
WHAT DO YOU THINK THE PHILIPPINE FASHION INDUSTRY NEEDS MOST IN ORDER TO FLOURISH?
More resources for raw materials such as fabrics and trimmings, as well as the capital for marketing local designers to the world market.
DO YOU HAVE ANY ADVICE FOR ASPIRING DESIGNERS?
Dreams do come true; you just have to have the patience for it to flourish. Always follow your mentor's advice no matter how old school you think it is—remember they have been in this industry far longer than you have been.
Shops
57 Molave Ave., Molave Park, Merville Subdivision, Parañaque City
(02) 828-2380
0915-4023617
noellellave@yahoo.com