Directory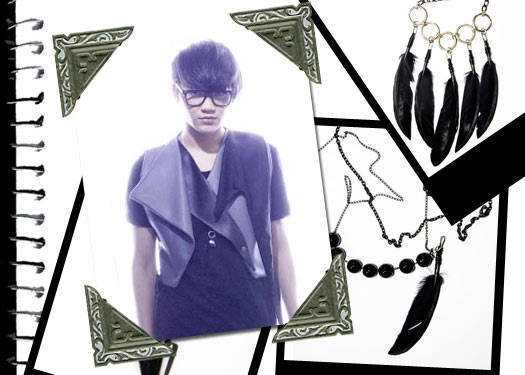 DESIGNERS
NIXON MARQUEZ
Contacts
0915-8992440
nixmarquez@gmail.com
About
WHAT MOTIVATED YOU TO BECOME A DESIGNER?
I've always loved to draw since I was little. I especially liked drawing female Japanese anime characters—I loved their costumes and how skinny they are. With that, I developed the feeling that I wanted to be a designer and create clothes that are new and unorthodox.
HOW DID YOU START AS A DESIGNER?
I was an assistant stylist for Shahani Gania and whenever he needed clothes or accessories he couldn't find in the stores, he would ask me to make them. We also wanted to create our own unusual accessories and so we did, and people started to appreciate them. That's when we decided to start the accessory line. Now we're in the process of having our first clothing collection.
WHERE DID YOU RECEIVE YOUR FASHION TRAINING?
I'm a self-taught designer. I just read books on sewing and pattern making. And on my own I've learned how to analyze my designs.
WHAT IS YOUR DESIGN PHILOSOPHY?
It should be monochromatic and unconventional yet practical.
WHERE DO YOU GET YOUR INSPIRATION?
It just usually pops out of my mind.
WHO ARE YOUR STYLE ICONS? YOUR STYLE INFLUENCES/INSPIRATIONS?
Rockstars, skinny models and the subculture of fashion.
WHICH DESIGNERS/ARTISTS DO YOU ADMIRE MOST?
I really love Julius, Ann Demeulemeester, Gareth Pugh, Martin Margiela, Helmut Lang and Rad Hourani.
WHO WOULD YOU LOVE TO DRESS? WHO ARE THE CLIENTS YOU ENJOY WORKING WITH?
I would love to make clothes and accessories for a client who isn't afraid to be different and can actually style himself or herself.
WHO DO YOU THINK IS THE PERFECT EXAMPLE OF TIMELESS STYLE?
Helmut Lang and Ann Demeulemeester.
WHAT DO YOU CONSIDER YOUR BIGGEST CHALLENGE AS A DESIGNER?
To actually start out to be a designer. It's when you start to learn everything, especially how to deal with clients.
WHICH ASPECT OF THE DESIGN PROCESS DO YOU ENJOY MOST?
Sketching! I can go crazy when it comes to sketching, I can do whatever I want on paper and it's always where you can create the perfect model for the clothes. Also, it's the first step to letting a client see what's on my mind.
WHAT'S THE BEST CLOTHING ITEM/ACCESSORY WOMEN/MEN SHOULD HAVE?
A nice jacket and a necklace that can go with anything they wear.
WHAT IS YOUR FAVORITE GARMENT OR FASHION ACCESSORY?
My skinny jeans, white shirts, cardigans, leather vest and my skull with feather necklace.
ANY CURRENT TRENDS THAT YOU'RE FOND OF? ANY CURRENT OBSESSIONS?
I really want to have the Mono Lens sunglasses by Margiela and the Admire wedge booties by Acne.
WHAT ARE YOU MOST PROUD OF IN YOUR CAREER?
When my friends and clients appreciate the pieces I've done.
WHAT IS THE GREATEST COMPLIMENT YOU HAVE RECEIVED ABOUT YOUR WORK?
When stylists start to pull out from my collections and clients start to order clothes and accessories.
WHAT ASPECT OF DESIGN DO YOU SEEK TO MASTER?
I would love to master pattern making.
ASPIRATIONS FOR THE BRAND IN THE FUTURE?
To have lots of store branches internationally, and to discover new materials that could be used as clothes or accessories.
HOW DO YOU UNWIND?
By surfing the net and going on vacations.
FAVORITE SHOPPING AND TRAVEL DESTINATIONS?
I love Hong Kong for its wide variety of stores. I would love to go to Japan, Singapore, Korea and New York.
DO YOU COLLECT ANYTHING?
Clothes tags, especially when it's something from an unconventional clothing line.
WHAT MUSIC DO YOU LISTEN TO? FILMS YOU WATCH? BOOKS YOU READ?
I love pop rock, alternative, and K-pop. For films, I'm okay with anything as long as it isn't boring. I love books by Chuck Palahniuk, and anything that has to do with modern society.
OTHER PASTIMES, PASSIONS, INTERESTS ASIDE FROM FASHION?
I sometimes DJ as part of the Panty Monsters, which consists of people who are not afraid to wear outrageous outfits. I also love photography—using black and white as my main effect.
WHAT IS YOUR GREATEST EXTRAVAGANCE?
I'm a cheapo, and I tend to save lots of money. When I want something pricey, I'll buy it but that would be my only purchase for a while.
WHAT CAN WE LOOK FORWARD TO FROM YOU AS A DESIGNER?
More obscure, fashion-forward clothes in black, white, gray and nude colors.
WHAT DO YOU THINK THE PHILIPPINE FASHION INDUSTRY NEEDS MOST IN ORDER TO FLOURISH?
More stores to consign with and people embracing the fact that what is new is not ugly.
DO YOU HAVE ANY ADVICE FOR ASPIRING DESIGNERS?
Well, I'm also new so I'll just quote Ann Demeulemeester: "There's no better time to do something you want than now."
Shops
0915-8992440
nixmarquez@gmail.com