Directory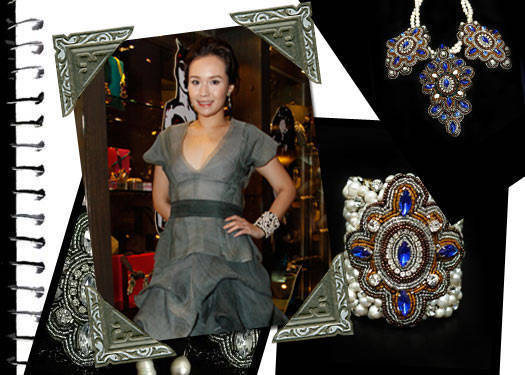 DESIGNERS
NICOLE WHISENHUNT
Contacts
0917-5719050

nicolewhisenhunt@yahoo.com
About
HOW DID YOU START AS A DESIGNER?
I was led to it. I never planned to be a designer, but since I have this passion for art and making things, it just happened. My being a designer grew from a hobby. I just did what I love until before I knew it, it needed my full-time attention.
WHERE DID YOU RECEIVE YOUR FASHION TRAINING?
I haven't. I'm planning to take short courses abroad very soon. I once did a short summer job years ago with Patrice Ramos Diaz and I took classes in art history, drafting, and color theory, but no fashion training. All the techniques I know are self-taught and [took] years of trial and error. I study my products, and I look for new materials to improve pieces or achieve certain looks.
WHAT IS YOUR DESIGN PHILOSOPHY?
I don't follow trends. As much as possible, I want to keep my pieces timeless and unique.
WHERE DO YOU GET YOUR INSPIRATION?
Everywhere. I'm inspired by people, places, experiences, music, and art.
WHO ARE YOUR STYLE ICONS?
Jackie O. She is regal, stylish, and elegant.
YOUR STYLE INFLUENCES/INSPIRATIONS?
Coco Chanel.
WHICH DESIGNERS DO YOU ADMIRE MOST?
Coco Chanel, Monique Lhuillier, Ramon Valera, Patrice Ramos-Diaz, Joey Samson, Joyce Makitalo.
WHO DO YOU THINK IS THE PERFECT EXAMPLE OF TIMELESS STYLE?
Jackie O, Grace Kelly, Queen Rania, Audrey Hepburn.
WHAT DO YOU CONSIDER YOUR BIGGEST CHALLENGE AS A DESIGNER?
Product development. Each piece has to not only be beautiful to the eye, but it must fall well and fit right. It should flow from any angle you view the piece from. Many times, we have to recreate a new product over and over again until we get it perfect. It can be frustrating because each time we edit, we have to make a new piece. In spite of this, I know the sacrifice and patience is worth it.
WHICH ASPECT OF THE DESIGN PROCESS DO YOU ENJOY MOST?
I enjoy the complete process. Certain steps have their challenges, but each step also has its fun part.
WHAT'S THE BEST CLOTHING ITEM/ACCESSORY WOMEN SHOULD HAVE?
Jewelry, specifically fantasy jewelry. If you know how to choose the right pieces, they will last you a lifetime. Plus you can pass them on to your children, and if they are quality pieces they can even increase in value. I love fantasy jewelry! They bring your outfit to life!
WHAT IS YOUR FAVORITE GARMENT OR FASHION ACCESSORY?
The necklace. I looooove necklaces! I feel that the necklace can do so much to your outfit and overall look.
ANY CURRENT TRENDS THAT YOU'RE FOND OF? ANY CURRENT OBSESSIONS?
I've recently been very fond of Tamburin antique necklaces, scarves, and ever since I've always obsessed over cardigans of all sorts.
HOW HAVE YOU EVOLVED AS A DESIGNER?
I've recently tried to venture into other accessories aside from neckpieces such as hair accessories, bridal pieces, and cuffs.
WHAT ARE YOU MOST PROUD OF IN YOUR CAREER?
Every day is a challenge for me, but seeing women wear my pieces makes me proud.
WHAT IS THE GREATEST COMPLIMENT YOU HAVE RECEIVED ABOUT YOUR WORK?
Whenever a client texts me and is happy about their piece, I take that as a really fulfilling compliment.
ASPIRATIONS FOR THE BRAND IN THE FUTURE?
I hope that this year I can build a brand abroad. Actually, recently three stores in the US will start carrying my pieces at the end of the month.
HOW DO YOU UNWIND?
I listen to music, watch a movie, read a book, get a massage, or I also enjoy going out of town. I always have a blast getting together with friends for a nice dinner out, or even a short beach trip on the weekends.
FAVORITE SHOPPING AND TRAVEL DESTINATIONS?
Shopping in Manila and Hong Kong is great. Travel destinations would be Hong Kong for the food, and San Francisco because it's a second home to me because I grew up there as a child. I love walking around quaint cities. The beaches here are amazing and always a fun getaway with friends.
DO YOU COLLECT ANYTHING?
I wish to have a great collection of paintings someday. I have been able to collect a few. It's a work in progress.
WHAT MUSIC DO YOU LISTEN TO? FILMS YOU WATCH? BOOKS YOU READ?
Everything. I particularly like jazz, old songs, and classic rock. My favorites include Sade, EBTG, Basia, and of course, Madonna! Actually I listen to almost everything. It depends on how I feel. What I love about music is that it can completely change the atmosphere or even put you at ease. It sets the mood.
I'm not into heavy action films and I don't watch anything scary. My favorite films are Sabrina, Love Affair, Thomas Crown Affair, Kill Bill, Father of the Bride.
I like The Time Traveler's Wife, Sundowners, Eat, Pray, Love, Malcolm Gladwell books, and books on costume jewery.
OTHER PASTIMES, PASSIONS, INTERESTS ASIDE FROM FASHION?
I'm passionate about food. I love cooking and trying new restaurants—nothing excites me more. I enjoy looking at paintings, listening to music, I'm a theater fan. I always look forward to seeing a play or a musical. Traveling always excites me, especially going to new places! Oh, and I love dogs. I have two—a Jack Russell and a French bulldog.
WHAT IS YOUR GREATEST EXTRAVAGANCE?
I like art and beautiful things, although I can't call it my greatest extravagance. It would probably be food. I'm passionate about food, I'll go anywhere and I'll try anything. To me it's an experience.
WHAT OTHER TALENT WOULD YOU MOST LIKE TO HAVE?
I'd love to be able to play the piano.
WHAT DO YOU CONSIDER YOUR GREATEST ACHIEVEMENT?
The growth of my work now, because not only am I lucky enough to be doing what I love, but in the process I get to help a lot of my girls. Each girl comes to me unexperienced. We teach them skills. I encourage them to finish their education, so currently I have three girls going to college while working with me. I also have another girl who's one my best artisans and because of her work she has been able to build a home for her family in the province. In short, I've always wanted to be able to help people and through our work. I'm able to fulfill my own desires of being creative but just as importantly I am able to help others as well. I really believe it is important to take care of your people.
WHAT DO YOU THINK THE PHILIPPINE FASHION INDUSTRY NEEDS MOST IN ORDER TO FLOURISH?
Artists and designers should be given a venue to showcase their work in order to get their names out there, because there are a lot of talented artists and designers who lack resources but are extremely creative.
DO YOU HAVE ANY ADVICE FOR ASPIRING DESIGNERS?
Find what you're passionate about and pursue it.
Shops
FIRMA
G/F Greenbelt 3, Makati Ave. corner Esperanza St., Ayala Center, Makati City, Metro Manila
(02) 757-4009
F: (02) 757-4010
firma2@vasia.com
3084 Level M3, Trinoma, EDSA cor. North Avenue, Quezon City, Metro Manila
(02) 916-7257
F: (02) 916-9376
No Entry Found