Directory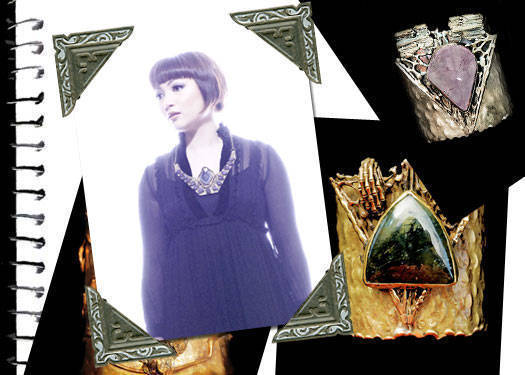 About
WHAT MOTIVATED YOU TO BECOME A DESIGNER?
My parents are both prominent artists and I was raised in a very creative environment. I suppose you could say that's what prompted me to pursue a career in the arts.
HOW DID YOU START AS A DESIGNER?
Back in the 90's I was the lead singer of a rock band under Vicor Records called Faust. I used to design all the outfits and accessories for our performances, music videos, and television guestings. I later pursued this line of work after college.
WHERE DID YOU RECEIVE YOUR FASHION TRAINING?
I am a sculptor by profession, so everything I do in terms of creating jewelry and accessories is self-taught. I like to think of trial and error as my best teachers. I think using low-tech methods in creating my pieces gives my work an edge. To this day, I use the most primitive of tools for my collections.
WHAT IS YOUR DESIGN PHILOSOPHY?
I create what I would want to wear. I like to consider my pieces avant-garde and out of the box.
WHERE DO YOU GET YOUR INSPIRATION?
I draw inspiration from any number of things. I'm a certified film buff so I suppose a lot of my ideas come from my favorite films.
WHO ARE YOUR STYLE ICONS? YOUR STYLE INFLUENCES/INSPIRATIONS?
Alexander McQueen has always been my favorite style icon. I love everything he created. He was pure genius.
WHICH DESIGNERS/ARTISTS DO YOU ADMIRE MOST?
Abroad I like the works of Alexander McQueen and John Galliano.
WHO WOULD YOU LOVE TO DRESS? WHO ARE THE CLIENTS YOU ENJOY WORKING WITH?
I would love to dress Adam Lambert, Madonna, Lady Gaga, Angelina Jolie and Anna Wintour.
WHO DO YOU THINK IS THE PERFECT EXAMPLE OF TIMELESS STYLE?
Coco Chanel. She was so ahead of her time. It's ridiculous!
WHAT DO YOU CONSIDER YOUR BIGGEST CHALLENGE AS A DESIGNER?
My biggest challenge would have to be continuously trying to top myself collection after collection. I keep praying that the creative juices flowing through my veins don't run out, and so far, they haven't failed me yet.
WHICH ASPECT OF THE DESIGN PROCESS DO YOU ENJOY THE MOST?
I enjoy all the phases involved in creating a collection. But I would have to say that the conceptualization aspect of it is the most exciting. Once I have the ideas and concept for the line, I feel invincible.
WHAT'S THE BEST CLOTHING ITEM/ACCESSORY WOMEN/MEN SHOULD HAVE?
I think that a statement piece of jewelry is very important especially in this day and age when accessories are known to speak of a person's identity.
WHAT IS YOUR FAVORITE GARMENT OR FASHION ACCESSORY?
My hand-beaten Armada Cuff was my first creation in brass, and I treasure it dearly. I use it often to special events.
ANY CURRENT TRENDS THAT YOU'RE FOND OF? ANY CURRENT OBSESSIONS?
As a jewelry artist, I love the fact that accessories have never been so "in." I'm currently obsessed with anything by Alexander McQueen.
HOW HAVE YOU EVOLVED AS A DESIGNER?
I think I've evolved a lot as a designer. Being a sculptor has helped me adapt quickly in learning new skills and processes for creating my works. I've gained a lot of insight and knowledge along the way and I think this is reflected in my work.
WHAT ARE YOU MOST PROUD OF IN YOUR CAREER?
I'm proud of the fact that I haven't had to compromise my ideas to fit into the industry. I've been able to do what I love and have other people love it as well. Other designers tell me that I'm brave because I create what I want to regardless of whether or not people will want to buy it. I just think pieces lose a certain kind of magic when they aren't done purely for the love of it. If people love my work, then that's fabulous. But if they don't, I can always wear it myself. ;-)
ASPIRATIONS FOR THE BRAND IN THE FUTURE?
I would like to expand my horizons and branch out to Europe, Japan and the US.
HOW DO YOU UNWIND?
I like to unwind with a glass of wine or a margarita, and of course, a good movie.
FAVORITE SHOPPING AND TRAVEL DESTINATIONS?
Las Vegas, Nevada.
DO YOU COLLECT ANYTHING?
I collect so many different things. I have a collection of guitars that dates back to my Faust days. I also collect vintage skirts.
WHAT MUSIC DO YOU LISTEN TO? FILMS YOU WATCH? BOOKS YOU READ?
I watch a lot of films. I use to write a movie review column for a national daily, and I suppose the film bug never really left me. I watch everything! I've even seen practically every series out there!
OTHER PASTIMES, PASSIONS, INTERESTS ASIDE FROM FASHION?
Art as a whole. Sculpture and installation art are my forte, though, and I've always had a love affair with music as well.
WHAT IS YOUR GREATEST EXTRAVAGANCE?
My greatest extravagance would have to be keeping my own work. Many times I love a piece so much that it doesn't even hit the shelves because I just keep it for myself!
WHICH OTHER TALENT WOULD YOU MOST LIKE TO HAVE?
I would love to be a better saleswoman.
WHAT DO YOU CONSIDER YOUR GREATEST ACHIEVEMENT?
Balancing my art and fashion careers. Last year my Armadillon Collection was included in the Ateneo Art Awards, a first for jewelry design!
WHAT DO YOU THINK THE PHILIPPINE FASHION INDUSTRY NEEDS MOST IN ORDER TO FLOURISH?
I think we need more support from establishments and venues so that we can better showcase our works. It's very difficult to create when there are limited places where you can exhibit.
DO YOU HAVE ANY ADVICE FOR ASPIRING DESIGNERS?
My advice would be to find your own niche in the industry. It may take some time, but it's important to have your own identity. The world has limitless ideas and all you have to do is develop your own. Don't ever be content with being a copy of someone else. It's individuality that sets our creativity free. Trust yourself and most importantly, believe.

Shops
FIRMA
G/F Greenbelt 3, Makati Ave. corner Esperanza St., Ayala Center, Makati City, Metro Manila
(02) 757-4009
F: (02) 757-4010
firma2@vasia.com
3084 Level M3, Trinoma, EDSA cor. North Avenue, Quezon City, Metro Manila
(02) 916-7257
F: (02) 916-9376