Directory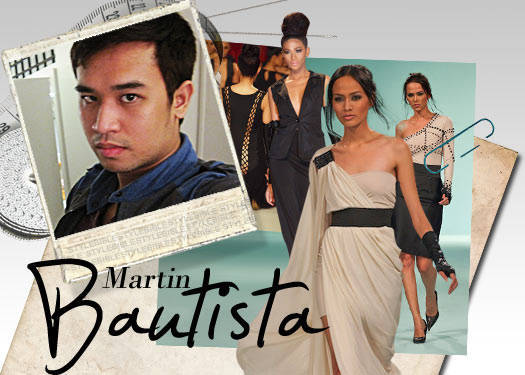 DESIGNERS
MARTIN BAUTISTA
Contacts
803 Princeville Condominium, Laurel St., Mandaluyong City
(02) 263-6539

0917-5665662

ask @ martin-bautista.com

www.martin-bautista.com
About
What motivated you to become a fashion designer?
Everything that surrounded me when I was growing up inspired me to become a designer. I remember when I was a kid, it was so bizarre for my parents that I was obsessed and fascinated with curtain drapes, Mama Mary's robes, and women's clothing.

How did you start as a fashion designer?
It all began when I launched my first collection back in the summer of 2007. I made it to Preview magazine's 2007 Top 10 Best Collections and the rest is history.

Where did you acquire your fashion training?
I took up Fashion Design at Slim's Fashion & Arts School in 2004.

What is your design philosophy?
My clothes are made for living. I design for women who are looking for real and practical clothes.

How have you evolved as a designer?
Being a designer is a big learning experience for me. Being able to communicate well with people is very important, and I think the same things goes with my clothes—fashion must be like a language that everyone must understand and easily relate too.

Where do you get your inspiration?
I get inspiration with what I feel each woman should have. I get excited when I talk to women and I love the idea that each girl has a different story. I get inspired by their way of living, and what they do.

Who are your style icons?
Pam Quiñones, Karen Elson, Lisa Airan, Julianne Moore, Anh Duong, Anna dello Russo, Chloe Sevigny.

What do you consider your biggest challenge as a designer?
It's not really a challenge but more of a goal for me: that I always make sure the wearer is not overpowered by my creation. I always want the wearer to stand out. I feel I have succeeded whenever a woman wearing my creation enters a room and the first thing people notice is the wearer and not the dress.

Which designers do you admire?
Local: Rajo Laurel, Inno Sotto, Salvacion Lim-Higgins, Pepito Albert, Ivarluski Aseron, Lulu Tan-Gan. International: Haider Ackermann, Tomas Maier, Alber Elbaz, Phoebe Philo, Donatella Versace, Jonathan Saunders, Sophia Kokosalaki, Marios Schwab. History: Gres, Vionnet and Halson.

Who do you think is the perfect example of timeless style?
Madame Gres and her amazing seamless, bias draping, is timeless.

Who are you muses?
I have dressed up a lot of women. Their personality and character has inspired me so much, be it showbiz, Fashion or Politics; but my favorites are Kris Aquino-Yap, Pam Quiñones, Divine Lee, Mariel Rodriguez, Angel Locsin, Heart Evangelista, Ruffa Gutierrez, Anne Curtis, and Bianca Gonzalez.

What's the best piece of clothing women should have?
Little colored dress (LCD).

What are you most proud of?
Being able to create draped pieces without the use of corsetry. Comfort is very important for me. The body must be free to move.

How do you unwind?
I love talking to my friends over wine or coffee. I also enjoy going to the spa. I love going to Fully Booked or Powerbooks, and just killing time reading books. That's really unwinding for me.

What do you collect?
I love collecting fashion magazines and books, multi-colored Topman shirts, as well as photographs of women wearing my creations.

What music do you listen to?
I love listening to Christina Aguilera, Sia, Phoenix, Ladytron, Madonna, Santogold, Thom Yorke, Kings of Leon and MIA.