Directory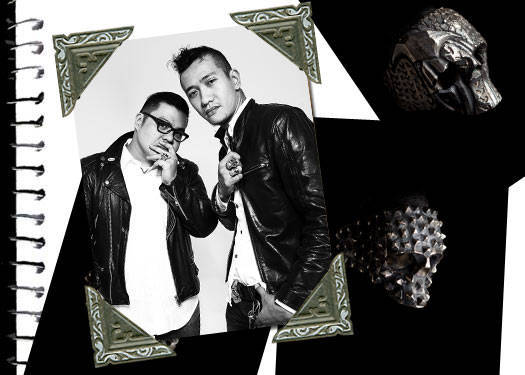 DESIGNERS
LUCKY MONKEY SILVERSMITHS
Contacts
0917-8450425
13luckymonkey@gmail.com
About
WHAT MOTIVATED YOU TO BECOME AN ACCESSORY DESIGNER?
Dante: The lack of these pieces out there. The perfect skull ring.
Noli: Taste.
HOW DID YOU START AS A DESIGNER?
D: I doodled a lot, ever since. Sculpted here and there. I guess it all started with drawing.
N: As a sculptor, it came naturally.
WHERE DID YOU RECEIVE YOUR DESIGN TRAINING?
D: Self-taught by reading a lot, doing a lot of research. A lot of trial and error.
N: From nature.
WHAT IS THE BACKGROUND AND DESIGN PHILOSOPHY OF LUCKY MONKEY?
D: We design pieces that we would actually wear and keep.
N: It's all in the mind, Mind over matter. If you don't mind it doesn't matter.
HOW WOULD YOU DESCRIBE LUCKY MONKEY'S DESIGN AESTHETIC?
D: Raw, unpolished, evil.
N: Raw, naked, unpolished.
WHERE DO YOU GET YOUR INSPIRATION?
D: Riding old motorcycles, getting tattoos, looking at the past the future for inspiration.
N: Sex, drugs, rock 'n roll, speed, nature.
WHO ARE YOUR STYLE INFLUENCES/INSPIRATIONS?
D: Bikers, punks, the modern day dandy.
N: Bikers, rock stars.
WHICH DESIGNERS/ARTISTS DO YOU ADMIRE MOST, BOTH LOCAL AND FOREIGN?
D: Shinya Kimura, Trent Reznor, Robert Williams, Banksy, Rick Owens, Gian Romano.
N: Shinya Kimura, Alexander McQueen.
WHO ARE THE CLIENTS YOU ENJOY WORKING WITH?
D: Clients who put in a reasonable amount of influence to the piece and keep an open mind. We see commissions as some sort of a collaboration with the client.
N: Those who understand the aesthetic.
WHAT DO YOU CONSIDER YOUR BIGGEST CHALLENGE AS A DESIGNER?
D: I guess it's how we can evolve and not get stuck. Constant evolution.
N: The business side.
WHICH ASPECT OF THE DESIGN PROCESS DO YOU ENJOY MOST?
D: I like brainstorming, [executing] an idea [on] paper, to wax, and [then] the actual metal.
N: Brainstorming, sculpting the final product.
ANY CURRENT TRENDS THAT YOU'RE FOND OF? ANY CURRENT OBSESSIONS?
D: Kustom kulture, workwear. I love leather jackets.
N: Short skirts.
HOW HAVE YOU EVOLVED AS A DESIGNER?
N: From human to monkey.
D: Same as Noli—from human to monkey.
WHAT ASPECT OF DESIGN DO YOU SEEK TO MASTER?
D: I have to learn how to sculpt better. Right now Noli does all the sculpting, [but] we design together. I want to put my ideas into 3-D.
N: Nothingness.

WHAT CAN WE LOOK FORWARD TO FROM LUCKY MONKEY, AND YOU, AS A DESIGNER?
D: Motorcycle jewelry, leather, a chair?
N: Evolution.
WHAT DO YOU THINK THE PHILIPPINE FASHION INDUSTRY NEEDS MOST IN ORDER TO FLOURISH?
D: Open minds.
N: Open minds.
DO YOU HAVE ANY ADVICE FOR ASPIRING DESIGNERS?
D: An idea remains an idea if it just stays in your head. Working with your hands is the best therapy.
N: Just go!
No Entry Found