Directory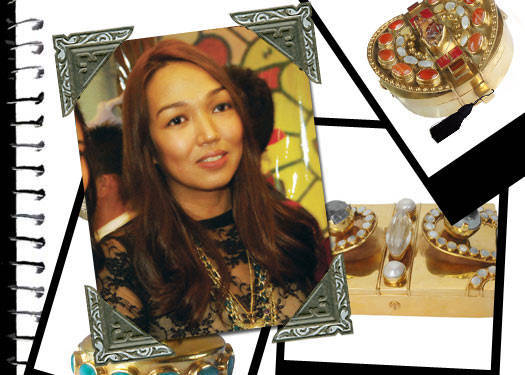 DESIGNERS
JOYCE MAKITALO
Contacts
Unit 8D, The Makati Tuscany, Ayala Avenue, Makati City, Metro Manila
0917-5633898
maisonmakitalo@gmail.com
About
In 2003, she had an encounter with strands of semi-precious stones and was inspired to make her own jewelry. Not long after, her bold, chunky pieces were available at the Ayala Museum shop under the label Galleon. In 2007, she joined the Guild of Philippine Jewelers' annual design competitionto free her mind from the frustrating limitations of stringing stones. Instead of a technical drawing, her entry was a watercolor illustration with a piece of poetry. She became one of the ten finalists, and had a chance to work with a fine jeweler from Meycauayan Bulacan- the home of gold jewelry in the Philippines- where her piece was executed in 18k gold.She won in the competition's Non-Traditional category.
From then on, she has been designing rough, irregular-cut, chunky semi-precious stone jewelry, set in brass and dipped in 24k gold.Her bold, raw and almost talismanic pieces reflect her passion for art and instinctive understanding of fashion.
Her work has been acknowledged by local top fashion magazine Preview, naming her as one of the Ten Hottest Designers of 2009. Rajo Laurel, one of the most respected and highly celebrated fashion designers in the Philippines, says that she is "a designer to watch."—www.joycemakitalo.com
WHAT MOTIVATED YOU TO BECOME A DESIGNER?
My passion for art—I love painting. And my fascination with fashion, which, like art, is a medium of self-expression.

HOW DID YOU START AS A DESIGNER?
I just started making things I wanted to have that didn't exist.

WHERE DID YOU RECEIVE YOUR FASHION TRAINING?
I went to UST and took Fine Arts: Graphics Application and Fashion Illustration under Danilo Franco. I salvaged his doodles and sketches and I died each time he erased his illustrations on the whiteboard.

WHAT IS YOUR DESIGN PHILOSOPHY?
Raw and bold, ancient-modern, high-impact, high drama.

WHERE DO YOU GET YOUR INSPIRATION?
I get inspired by past eras, and the challenge is to make them current.

WHO ARE YOUR STYLE ICONS? YOUR STYLE INFLUENCES/INSPIRATIONS?
The Rolling Stones (Mick and Keith) during the 60's, and Diana Vreeland. At present, I find the Olsen twins and model Irina Lazareanu really interesting. They have unpolished glamor—a more raw and natural style that lets the personality shine through.

WHICH DESIGNERS/ARTISTS DO YOU ADMIRE MOST?
I admire Christian Lacroix and Alexander McQueen. Their collections remind me of either a theater performance or a grand parade. Each collection is high-impact. I'm amazed and inspired by designers who do not compromise. Lacroix's haute couture never turned a profit throughout its history, but he is a true artist, and he never failed to give a show.

WHO DO YOU THINK IS THE PERFECT EXAMPLE OF TIMELESS STYLE?
Mick Jagger.

WHAT DO YOU CONSIDER YOUR BIGGEST CHALLENGE AS A DESIGNER?
Mathematics! And really, I wish I could just give my pieces away to those who like them and not charge a cent. Having said that, I hope my clients don't come across this interview.

WHICH ASPECT OF THE DESIGN PROCESS DO YOU ENJOY MOST?
Buying stones and sketching, then watching the piece come to life. But then when it's time to let go of it, I feel a bit bad.

WHAT'S THE BEST CLOTHING ITEM/ACCESSORY WOMEN/MEN SHOULD HAVE?
I think a vintage piece always makes an outfit more interesting.

WHAT IS YOUR FAVORITE GARMENT OR FASHION ACCESSORY?
Piled up jewelry or a stunning necklace.

ANY CURRENT TRENDS THAT YOU'RE FOND OF? ANY CURRENT OBSESSIONS?
My current favorite is ultra-high-waist jeans. But I've always been obsessed with wedges that look as if they walked straight out of the 60's. I've had the obsession since my first Buster Brown wedges when I was eight. Celine's current wedges are so cool; if I had them, I'd wear them everyday till I'm ninety.

WHAT ARE YOU MOST PROUD OF IN YOUR CAREER?
I'm excited that the foreign market is showing a lot of interest, and I haven't even done a thing to market my brand. A close-up shot of my necklace was on the cover of Culture Hong Kong magazine last month. It was unexpected and when it was sent to me, I sort of fell off my seat. But I try not to get too excited.

WHAT IS THE GREATEST COMPLIMENT YOU HAVE RECEIVED ABOUT YOUR WORK?
Somebody from Stella McCartney said that that my work has the look of vintage Chanel. Ha!

WHAT ASPECT OF DESIGN DO YOU SEEK TO MASTER/HAVE DEVOTED TIME TO MASTER?
I want to study more about stones, both semi-precious and precious. They are powerful little things. I am looking into studying gemology, but for now I make do with tons of books about them.

ASPIRATIONS FOR THE BRAND IN THE FUTURE?
I hope we would someday be a big international brand. We're already in Tangs Singapore!

HOW DO YOU UNWIND?
Yoga and chanting.

FAVORITE SHOPPING AND TRAVEL DESTINATIONS?
Finland is my family's second country (my husband is from there, and Makitalo is actually a Finnish last name, not Filipino!). It is the home of fashion brand Marimekko and it is a place where you see a lot of streamlined bold design. Kiasma, their modern art museum, [has] a quirky shop with genius souvenirs and cool kids with neon mohawks skateboarding outside.

DO YOU COLLECT ANYTHING?
Vintage kaftans, vintage bags, Moroccan tea cups, semi-precious rocks, Vogue.

WHAT MUSIC DO YOU LISTEN TO? FILMS YOU WATCH? BOOKS YOU READ?
I've exhausted all of J.D. Salinger's books and have been searching for years for another one like him, but unfortunately, no such being exists.

I love the music of Cocteau Twins, Enigma, Clannad, Enya, Sigur Ros, Era, Radioactive Sago Project, The Rolling Stones, Phoenix, the list goes on.

OTHER PASTIMES, PASSIONS, INTERESTS ASIDE FROM FASHION?
Art! I love meeting artists and analyzing their psyche through their work.

WHAT OTHER TALENT WOULD YOU MOST LIKE TO HAVE?
Math skills! I'd like to have a left brain please, thank you.

WHAT DO YOU CONSIDER YOUR GREATEST ACHIEVEMENT?
Yoga is my greatest treasure. I am very lucky to have found it.

WHAT DO YOU THINK THE PHILIPPINE FASHION INDUSTRY NEEDS MOST IN ORDER TO FLOURISH?
We need at least one great fashion school with great teachers. Not just good, okay ones.

DO YOU HAVE ANY ADVICE FOR ASPIRING DESIGNERS?
What you create is an expansion of yourself. Communicate well through your work.
Shops
Joyce Makitalo for Ayala Museum
The Ayala Museum Shop, Makati Avenue, Makati City, Metro Manila

Joyce Makitalo for House of Laurel
House of Laurel, 6013 Villena St., cor. Manalac St., Poblacion, Makati City, Metro Manila
Joyce Makitalo for Firma
G/F Greenbelt 3, Makati Ave. corner Esperanza St., Ayala Center, Makati City, Metro Manila
(02) 757-4009
F: (02) 757-4010
firma2@vasia.com
3084 Level M3, Trinoma, EDSA cor. North Avenue, Quezon City, Metro Manila
(02) 916-7257
F: (02) 916-9376