Directory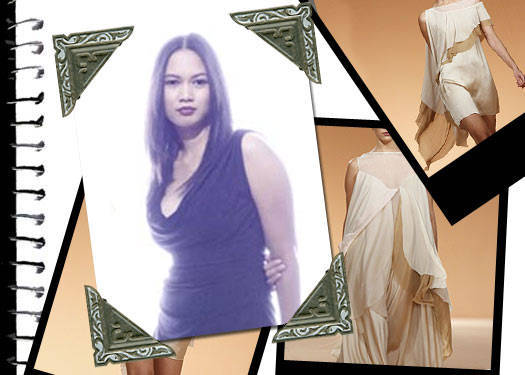 DESIGNERS
JONA BALLARAN
Contacts
Block 3 Lot 30, Mt. Everest St., Panorama Hills Subdivision, Cupang, Antipolo City, Metro Manila

(02) 998-2939

0916-5518743

jona_ballaran @ yahoo.com
About
WHAT MOTIVATED YOU TO BECOME A DESIGNER?
I was motivated and influenced by Japanese designers Rei Kawakubo and Yohji Yamomoto through their asymmetrical cuts and informal balance. I've always been fond of Japanese fashion way since high school.
HOW DID YOU START AS A DESIGNER?
Right after I graduated, I started as a designer for RTW brand Pipay in 2006. In the same year, I was also a designer for a garments company that supplies for SM Department Store. In 2007, I presented my first collection for Philippine Fashion Week Spring/Summer 2008.
WHERE DID YOU RECEIVE YOUR FASHION TRAINING?
I got my degree, AB Fashion Design and Merchandising in the School of Design and Arts, DLS-College of Saint Benilde.
WHAT IS YOUR DESIGN PHILOSOPHY?
My design philosophy is feminine, fluid and minimal.
WHERE DO YOU GET YOUR INSPIRATION?
I usually find inspiration anywhere. May it be a place, music, a movie or even a crumpled piece of paper. It really depends on mymood.
WHO ARE YOUR STYLE ICONS? YOUR STYLE INFLUENCES/INSPIRATIONS?
One of my style icons is Madonna. She constantly evolves with time. Another is Sienna Miller—her boho-chic style and her no-fuss look always seems well-put together.
WHICH DESIGNERS/ARTISTS DO YOU ADMIRE MOST?
I've always admired the works of Dries Van Noten, Helmut Lang, Consuelo Castiglioni of Marni and Tomas Maier of Bottega Venetta. Locally, I admire Ivarluski Aseron and Patrice Ramos-Diaz.
WHO WOULD YOU LOVE TO DRESS? WHO ARE THE CLIENTS YOU ENJOY WORKING WITH?
I would love to dress Sienna Miller. I enjoy working with young professional women because they know what they want.
WHO DO YOU THINK IS THE PERFECT EXAMPLE OF TIMELESS STYLE?
Audrey Hepburn. She pioneered the infamous little black dress women still wear now; the Sabrina décolletage you can see from formal to informal pieces of clothing; as well as the pedal pushers she wore during daytime journeys. Basically, everything she wore then are stuff women can still wear now.
WHAT DO YOU CONSIDER YOUR BIGGEST CHALLENGE AS A DESIGNER?
Always making the clients happy with designs. It's always a matter of compromise between the client's needs and the designer's aesthetics.
WHICH ASPECT OF THE DESIGN PROCESS DO YOU ENJOY MOST?
What I enjoy most is draping and cutting. That is where you clearly see the flow and structure of the fabric.
WHAT'S THE BEST CLOTHING ITEM/ACCESSORY WOMEN SHOULD HAVE?
I think the best clothing women should always have is a nice bra. It should fit well and be the right cut appropriate for different kinds of clothing.
WHAT IS YOUR FAVORITE GARMENT OR FASHION ACCESSORY?
My favorite garment is the jacket. It can make old clothes look new because of styling.
ANY CURRENT TRENDS THAT YOU'RE FOND OF? ANY CURRENT OBSESSIONS?
I'm currently obsessed with soft fabrics like crêpe de Chine, silky chiffon and silk satin.
HOW HAVE YOU EVOLVED AS A DESIGNER?
From Japanese street wear and avant-garde designs when I was growing up, I shifted to more feminine and subtle designs.
WHAT ARE YOU MOST PROUD OF IN YOUR CAREER?
I'm most proud of becoming the costume designer for the movie Emir. It was a movie filmed in the northern parts of Luzon, Manila and Morocco. I'm also proud of being one of the semi-finalists for the Philippine Fashion Design Competition under the accessories division in 2007.
WHAT IS THE GREATEST COMPLIMENT YOU HAVE RECEIVED ABOUT YOUR WORK?
The greatest compliment I received from a publication was being one of the women to watch for 2009.
WHAT ASPECT OF DESIGN DO YOU SEEK TO MASTER/HAVE DEVOTED TIME TO MASTER?
Draping is one aspect of design I have devoted time to. Since I do womenswear, it's important to know the flow of fabric based on how it's draped on the dress form.
ASPIRATIONS FOR THE BRAND IN THE FUTURE?
I've always wanted my brand to sell in independent stores in Asia and some parts in the U.S.
HOW DO YOU UNWIND?
I usually watch DVDs, go to the mall, and have a massage or sometimes hang out with friends.
FAVORITE SHOPPING AND TRAVEL DESTINATIONS?
So far, my favorite travel destination is Essaouira, Morocco. The scenery is just so wonderful—the beachside, the nonstop flight of cranes and the blue and white exteriors of the whole district. Plus, the souks have a broad range of stuff to offer. Different leather products like bags, shoes, wallets, silk scarves and cotton tunics, to other stuff you could use at home.
DO YOU COLLECT ANYTHING?
I used to collect different kinds of skirts when I was in high school. But I stopped when I was in college. Now, I'm looking for new stuff I could collect.
WHAT MUSIC DO YOU LISTEN TO? FILMS YOU WATCH? BOOKS YOU READ?
I listen to a wide range of music; it basically depends on my mood and the artist. I could listen to jazz, pop, reggae, electronic, indie rock and sometimes even classical. For films, I actually can watch anything with a great storyline, may it be drama, suspense or comedy. I've always been a fan of suspense/thriller books since I was a kid. I'm a fan of Stephen King, Christopher Pike and R.L. Stine.
OTHER PASTIMES, PASSIONS, INTERESTS ASIDE FROM FASHION?
I like watching different types of films and listening to music. I also travel and go out of town when I have free time.
WHICH OTHER TALENT WOULD YOU MOST LIKE TO HAVE?
I've always wanted to have the talent of singing. I just envy Blondie's and Bonnie Tyler's voices. They're so hardcore.
WHAT DO YOU CONSIDER YOUR GREATEST ACHIEVEMENT?
So far, my being a costume designer in the movie Emir. It is a musical made for Philippine cinema. It has tested all aspects of my character and personality not just as a designer but also as a person.
WHAT CAN WE LOOK FORWARD TO FROM YOU AS A DESIGNER?
You can expect more femininity and subtlety from my designs in the future.
WHAT DO YOU THINK THE PHILIPPINE FASHION INDUSTRY NEEDS MOST IN ORDER TO FLOURISH?
I think the Philippine fashion industry needs resources and the support of the government. We need local resources for manufacturing textiles. Most of the materials designers use here is imported from China and Korea. By having trade fairs and expos with the support of the government it will help us promote the use of Filipino-made goods and garments.
DO YOU HAVE ANY ADVICE FOR ASPIRING DESIGNERS?
I'd like to tell aspiring designers that respect is always important in this industry. One should always have respect, humility and perseverance. Respect fellow designers' works. Be humble and keep your feet on the ground so that you would know the value of how far you have come. And lastly, aspiring designers should always be patient, for this industry is based on tenure and hard work. Success doesn't come overnight—it comes from the years you spend and the hard work you give.
No Entry Found