Directory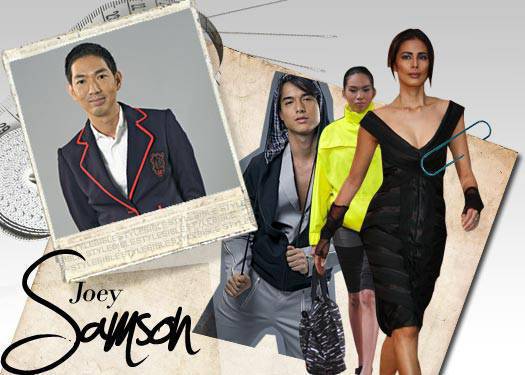 DESIGNERS
JOEY SAMSON
Contacts
455 Adalla St., Palm Village, Makati City, Metro Manila

(02) 890-4419 / (02) 892-3118

F: (02) 434-9648

0918-9592541

joeysamson@ymail.com
About
HOW DID YOU START AS A DESIGNER?
Towards my senior year in college, I realized I wanted to become a designer [rather] than pursue my first love, which is to become a doctor. I think [love for fashion] is something that I [perhaps] inherited, [because] both my parents are mahilig magbihis. My dad's very particular with his fabrics for his suits, my mom naman is very particular about little details and not really with trends or with what's in or what's out. [They paid attention to] how you should wear your trousers, how you should wear your jacket—things that matter. They're very meticulous, to put it simply. So when I was growing up, [I guess they influenced me].

But yes, it was towards my senior year in college when I realized I wanted to concentrate more on doing clothes. Actually, hindi ko naman naisip na I'd be able to reach this far. I just wanted to do it.

WHERE DID YOU RECEIVE YOUR FASHION TRAINING?
After I graduated from college (I did finish my pre-med course, which was BS Biology), I was doing nothing for a year because I had a hard time convincing my parents to allow me to do what it is I want. So it was through the prodding and influence of my cousins in the States na napayagan ako ng parents ko to get into fashion so I went to Slim's Fashion and Arts School.

And then apart from that I'd take special courses in fashion. I enrolled under Jojie Lloren for basic draping and pattern making. Back in the late 90's there were also special courses at Philippine Trade Training Center (PTTC) and Citem—they'd invite the professors from Fashion Institute of Technology in New York and they'd take their usual 6-month to a year course and they'd offer it here for a week, two weeks, or 10 days.

WHAT IS YOUR DESIGN PHILOSOPHY?
I'm very much aware that not a lot of people, up until now, appreciate or understand the kind of clothes that I do. Parang feeling ko most of the time ako lang ang nakakaintindi ng ginagawa ko, honestly, because even at this point in my career very limited pa rin yung people who understand why I do things the way I do. But I wanna be able to keep on pushing the envelope, to keep on showing people that there's something special about my work. It's something that you just can't stop because hindi ka naiintindihan ng tao. You can't just stop doing what you do best only because dalawa lang yung tao na naniniwala sa iyo.

[I've realized that,] particularly on working with a collection, I'm not the type of designer, who, after the show, nauubos yung mga collection. I've surrendered myself [to the idea] na hindi ako ganong tipong designer. So with that realization, I always tell myself that I'd rather—since no matter how you try to adjust to [common] taste or what's popular, or what's uso or what's in, hindi pa rin naman nila naiintindihan—I'd rather concentrate or focus on what I like to do and at the end of the day, at least I'm happy. It's a lot better na happy ako.

Fashion is a business, I know that, but hindi mo naman mapipilit yung tao na, this is what I do, get it, wear it. I'd rather be happy with what I do. If there's another person, if there's a third person apart from the two who believes and likes my work, eh di thank you. If wala, at the end of another show dalawa pa rin yung naniniwala, I'm okay. At least happy ako dun sa ginawa ko and I believe na hindi ako tumitigil to continue to push what I do.

WHERE DO YOU GET YOUR INSPIRATION?
Inspiration can come from anywhere and everywhere and anything. I just continue to read. If not read, just leaf through books that interest me or capture my fancy. The books and magazines and sites that I visit are more than enough to encourage or inspire me to keep on going.

WHO ARE YOUR STYLE ICONS? YOUR STYLE INFLUENCES/INSPIRATIONS?
I've always liked the looks of Tilda Swinton and Daphne Guinness because parang it doesn't matter what age bracket they're in, they just wear what they wanna wear.

WHICH DESIGNERS/ARTISTS DO YOU ADMIRE MOST?
I've always looked up to Jojie Lloren and Inno Sotto in terms of how they do things and the body of work they have.

WHAT DO YOU CONSIDER YOUR BIGGEST CHALLENGE AS A DESIGNER?
Madami. Finding the right fabric, finding the right supplies, considering that it's always been limited. Being able to give it your own [take], without it looking like, o, ginamit yan nung other designer or ginamit ng ganyang tao, diba. That's an everyday challenge, supplying material. [Also,] I've always believed I'm still a work in progress. I wanna be able to continue to better myself as a person and as a designer.

WHICH ASPECT OF THE DESIGN PROCESS DO YOU ENJOY MOST?
Everything, from beginning to end, kasi I won't be able to arrive at the end product without going through [everything], no matter how hard or tedious.

WHAT'S THE BEST CLOTHING ITEM/ACCESSORY WOMEN/MEN SHOULD HAVE?
Either a nice fitting trouser or a nice dress shirt.

WHAT IS YOUR FAVORITE GARMENT OR FASHION ACCESSORY?
I can wear my tuxedo shirts forever.

WHAT ARE YOU MOST PROUD OF IN YOUR CAREER?
I'm proud that I'm still able to manage and maintain my business on my own.

WHAT IS THE GREATEST COMPLIMENT YOU HAVE RECEIVED ABOUT YOUR WORK?
That my regular clients still keep on coming back. For my first-time clients, when they tell me they like what I did, whether it's something they saw in a show, or in a magazine.

WHAT ASPECT OF DESIGN DO YOU SEEK TO MASTER/HAVE DEVOTED TIME TO MASTER?
Everything is a continued process, especially in terms of proper fit and the technicality of design. You should never stop learning.

HOW DO YOU UNWIND?
I either watch a movie or go to a bookshop.

FAVORITE SHOPPING AND TRAVEL DESTINATIONS?
Hong Kong because it's accessible and all the shops are there and you can always enjoy it with either a good friend or a family member.

WHAT BOOKS DO YOU READ? FILMS YOU WATCH?
Reading is kumakain sa oras, so rather than starting books and not finishing them, I'd rather browse through them. I browse through art and travel books.

I like fashion [documentaries]. There's one called The Secret World of Haute Couture.

[Also,] there's a particular site that I visit. It's a design site called yatzer.com. It's everything about design—fashion, architecture, it covers anything about design.

WHAT OTHER TALENT WOULD YOU MOST LIKE TO HAVE?
When I was a kid, I learned how to play the piano, pero hindi ko siya na-master as much as I would want to. Iniisip ko palagi mahilig ako magluto [and] feeling ko if I really concentrate on it I can do wonders in the kitchen.

WHAT DO YOU THINK THE PHILIPPINE FASHION INDUSTRY NEEDS MOST IN ORDER TO FLOURISH?
Support from whoever—be it the government or a private firm—who would understand the plight of Filipino designers. Not a lot of designers have the means or the money to [fund themselves], no matter how much they want to study abroad, or show their work.