Directory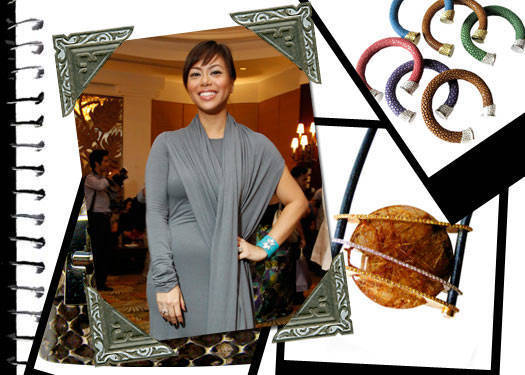 About
WHAT MOTIVATED YOU TO BECOME A JEWELRY DESIGNER?
Well, I was born into a family of jewelers so the motivation to uphold the family name has always been there. I thought of entering fashion even before I apprenticed as a diamond supplier.
HOW DID YOU START AS A JEWELRY DESIGNER?
Nothing beats hands-on experience and this is what my siblings and I went through with my mom (Jul B. Dizon). Starting at the age of 15, she would make us sit next to her and watch her design and interact with clients who also became our friends.
WHERE DID YOU RECEIVE YOUR TRAINING?
I am a Graduate Gemologist at the Gemological Institute of America.
WHAT IS YOUR DESIGN PHILOSOPHY?
I like using non-traditional materials for jewelry, making it current and fresh without losing its classic appeal. I always try to incorporate a symbol in my collections, such as luck, double happiness, or the lotus flower, a symbol of purity.
WHERE DO YOU GET YOUR INSPIRATION?
Inspiration comes from everywhere, but lately I have been looking at my children's toys and I want to incorporate that kind of playfulness in my jewelry.
WHO ARE YOUR STYLE ICONS? YOUR STYLE INFLUENCES/INSPIRATIONS?
French Vogue editor-in-chief Carine Roitfeld and anyone who is featured in the JAK & JIL blog, which showcases each and everyone's individuality to perfection. It makes me lust!
WHICH DESIGNERS/ARTISTS DO YOU ADMIRE THE MOST?
I admire Alexander Calder, the sculptor who made the first mobile, and August Macke, for his use of intense saturated colors in his art.

WHO WOULD YOU LOVE TO DRESS? WHO ARE THE CLIENTS YOU ENJOY WORKING WITH?
My line seems to attract the well-traveled set. They are more adventurous when it comes to jewelry. But I can't name a few clients. Sorry, that's confidential. :-)

I would love to dress Vanessa Traina and [Japanese Vogue's fashion director] Anna Dello Russo.
WHO DO YOU THINK IS THE PERFECT EXAMPLE OF TIMELESS STYLE?
Jackie O is a perfect example of timelessness. Her style still resonates and can be worn to this day.
WHAT DO YOU CONSIDER AS YOUR BIGGEST CHALLENGE AS A DESIGNER?
I am currently designing a men's collection which is more difficult than I initially thought.
WHICH ASPECT OF THE DESIGN PROCESS DO YOU ENJOY MOST?
The step by step process has always fascinated me. From sourcing the stones to designing to the finished product—it's an exciting adventure. The designing process actually does not take long for me. I am very lucky that I seem to be able to design on the spot. The pressure seems to be compatible with my creative flow.
WHAT'S THE BEST CLOTHING ITEM/ACCESSORY WOMEN SHOULD HAVE?
Jewelry always, ALWAYS completes the look.
WHAT IS YOUR FAVORITE GARMENT OR FASHION ACCESSORY?
I can't seem to not go out without wearing earrings and a bracelet.
ANY CURRENT TRENDS THAT YOU'RE FOND OF? ANY CURRENT OBSESSIONS?
I don't know if it's an obsession or a trend, but I just bought three rock-and-roll tie-dye dresses.
HOW HAVE YOU EVOLVED AS A DESIGNER?
With the current economy, I have downplayed playing with diamonds. Instead, I use colored gemstones prominently. I think being in touch with your surroundings helps the business and prepares you to lead it.
WHAT ARE YOU MOST PROUD OF IN YOUR CAREER?
Winning design awards both locally and internationally (London and France) for De Beers was quite exciting. But opening my own store, I have to say, is one of the peaks in my life. I fall in love everyday when I go to work.
WHAT IS THE GREATEST COMPLIMENT YOU HAVE RECEIVED ABOUT YOUR WORK?
I have just received a note from a dear client who wrote, "The necklace is beautiful and what's more, it made ME feel beautiful. I have never received this many compliments on anything I've worn. Thanks to you!"
ASPIRATIONS FOR THE BRAND FOR THE FUTURE?
I am currently exporting to Tokyo, France, and Italy. I would like to see my line in Barneys or Harvey Nichols someday!
HOW DO YOU UNWIND?
The kiddies really help me relax and make me forget time. A massage always helps, too.
FAVORITE SHOPPING AND TRAVEL DESTINATIONS?
Shopping? Tokyo, most definitely!
DO YOU COLLECT ANYTHING?
I am an avid shopper. I collect everything to my husband's consternation. :-)
WHAT MUSIC DO YOU LISTEN TO? FILMS YOU WATCH? BOOKS YOU READ?
I am really loving Alicia Keys and her "Empire State of Mind (Part 2)" right now. I just finished One More Day by Mitch Albom. It's about having one more day with your parent who passed away.
OTHER PASTIMES, PASSIONS, INTERESTS ASIDE FROM JEWELRY MAKING?
I enjoy spending time with family and friends. Just as long as we are together, I am good.
WHAT IS YOUR GREATEST EXTRAVAGANCE?
The luxury of having the time to spend it with the people I love.
WHAT OTHER TALENT WOULD YOU MOST LIKE TO HAVE?
I think I can be a personal shopper. I already do it with my friends and family. :-)
WHAT DO YOU CONSIDER AS YOUR GREATEST ACHIEVEMENT?
It is yet to come...
WHAT DO YOU THINK THE PHILIPPINE FASHION INDUSTRY NEEDS MOST IN ORDER TO FLOURISH?
Cohesiveness and major support from the government.
DO YOU HAVE ANY ADVICE FOR ASPIRING DESIGNERS?
It always pays off when you love what you do.