Directory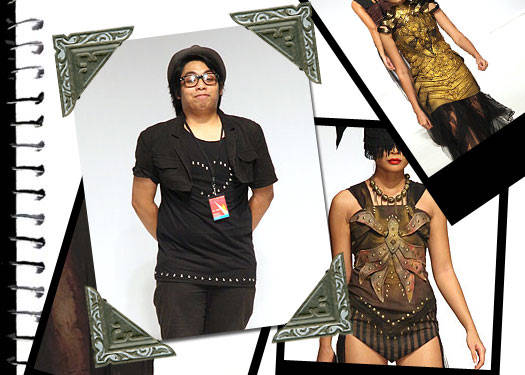 DESIGNERS
ENRICO CARADO
Contacts
Unit 26, EVP Mansion, 2nd St., Riverside, Ortigas Ext., Pasig City

(02) 748-3898

0915-5964547

enricocarado@gmail.com
About
WHAT MOTIVATED YOU TO BECOME A DESIGNER?
I actually started out as a costume designer for local TV programs. I was still in college back then. After I finished my degree in Fine Arts I then wanted to start a business related to my craft, but then I realized that there is not enough market for costumes here in our country. That's when I decided to take Fashion Design instead.
HOW DID YOU START AS A DESIGNER?
My career as a fashion designer started when I first joined this fashion design competition called Animax Fashion Ability. It was a design contest inspired by a fashion-inspired anime, and I was the first runner-up. After that other opportunities came, like Philippine Fashion Week. My debut was in October 2008, which showcased the collections for Spring/Summer 2009.
WHERE DID YOU RECEIVE YOUR FASHION TRAINING?
At the De La Salle-College of Saint Benilde.
WHAT IS YOUR DESIGN PHILOSOPHY?
I always believe that clothes must always express our individuality and emotions. That's why I create garments as if they were pieces of art–each done in their own unique style.
WHERE DO YOU GET YOUR INSPIRATION?
My inspirations come in many kinds–tangible and intangible. Oftentimes I am inspired by my mistakes and failures–this is what gives me the drive to always strive to do my best every time. I also get inspirations from the elements of nature, and also from fantasies, like some things that we often think never exist.
WHO ARE YOUR STYLE ICONS? YOUR STYLE INFLUENCES/INSPIRATIONS?
Bjork. She has always been my style icon since I was a kid.
WHICH DESIGNERS/ARTISTS DO YOU ADMIRE MOST?
When it comes to fashion, I admire Alexander Mcqueen and Rodarte the most. In terms of the arts, the sculptures of Nicole West are my all-time faves.
WHO WOULD YOU LOVE TO DRESS? WHO ARE THE CLIENTS YOU ENJOY WORKING WITH?
My ideal clients are fearless and experimental women, since most of my clothes are eccentric, fearless and experimental as well. Women who are not afraid to get out of their comfort zones, and always have the desire to stand out.
WHO DO YOU THINK IS THE PERFECT EXAMPLE OF TIMELESS STYLE?
Madonna.
WHAT DO YOU CONSIDER YOUR BIGGEST CHALLENGE AS A DESIGNER?
Designing, of course. I consider every design I create as a challenge.
WHICH ASPECT OF THE DESIGN PROCESS DO YOU ENJOY MOST?
The sewing part. I love seeing how clothes get sewn and come to life.
WHAT'S THE BEST CLOTHING ITEM/ACCESSORY WOMEN/MEN SHOULD HAVE?
Women must have the little black dress of course, the most well-known item to be found in any woman's closet. This dress can be taken from day to evening flawlessly, and still allows for creative expression through its style and form. It can be work appropriate with a tailored blazer and pumps, or the perfect number for a cocktail party.
WHAT IS YOUR FAVORITE GARMENT OR FASHION ACCESSORY?
Black skinny jeans, a plain white V-neck shirt, shades and a fedora.
ANY CURRENT TRENDS THAT YOU'RE FOND OF? ANY CURRENT OBSESSIONS?
Warrior, fantasy and sci-fi trends–I have always been fond of these themes.
HOW HAVE YOU EVOLVED AS A DESIGNER?
Now I know more about construction, execution, and detailing.
WHAT ARE YOU MOST PROUD OF IN YOUR CAREER?
As of now, I am most proud of my Holiday 2010 collection not only because of the attention the collection had, and the luster I got from it, but because this is the only collection that I did all by myself. I did everything–from the patterns, sewing, painting, embellishments and detailing.
WHAT IS THE GREATEST COMPLIMENT YOU HAVE RECEIVED ABOUT YOUR WORK?
"We believe of great things to come from this designer," by Joyce Fernandez.
WHAT ASPECT OF DESIGN DO YOU SEEK TO MASTER/HAVE DEVOTED TIME TO MASTER?
Right now I'm trying to master "prêt-a-couture," a fusion of ready-to-wear and couture.
HOW DO YOU UNWIND?
Guzzle hard liquor; I can finish a whole bottle of vodka when I'm stressed. Haha!
FAVORITE SHOPPING AND TRAVEL DESTINATIONS?
Divisoria, the "fashion capital of the Philippines," or some say the "utopia" of Filipino fashion designers. Hahaha. I'm not really a fan of traveling. I always get carsick, plane-sick and seasick.
DO YOU COLLECT ANYTHING?
Yup, toys. The sculpted toy figures by Todd McFarlane, specifically his dragons and zodiac collections. I also have a huge collection of hats, baseball caps, fedoras, and flat hats.
WHAT MUSIC DO YOU LISTEN TO? FILMS YOU WATCH? BOOKS YOU READ?
R&B, pop, K-pop, J-pop, haha! I really love fantasy and sci-fi films, like Harry Potter, Lord of the Rings, Push, Avatar, etc. I also love watching teen/chick flicks. Mean Girls is one of my all-time fave film. As for books? I don't read. I know how to, but I choose not to. Hahaha!
OTHER PASTIMES, PASSIONS, INTERESTS ASIDE FROM FASHION?
Computer games. I've always been a gamer, and a really good one too. May it be on whatever game console (PS, PSP, PC–thoughI'm much more into MMORPGs), it's fun to the play and interact with other people who have the same interests. And just so you know, some of the clothes from my latest collection was inspired by the armor of my characters in these online games.
WHAT IS YOUR GREATEST EXTRAVAGANCE?
Gadgets. These are the only stuff I'm crazy enough to spend a lot of money on.
WHICH OTHER TALENT WOULD YOU MOST LIKE TO HAVE?
Dancing. I used to be a cheerdancer back in college, but I didn't have that much skill then.
WHAT DO YOU CONSIDER YOUR GREATEST ACHIEVEMENT?
To be a part of the Philippine fashion industry. Not everyone gets this chance, so I am most grateful that I am where I've always wanted to be.
WHAT CAN WE LOOK FORWARD TO FROM YOU AS A DESIGNER?
As I usually say, I will leave that as a surprise. Hehe.
WHAT DO YOU THINK THE PHILIPPINE FASHION INDUSTRY NEEDS MOST IN ORDER TO FLOURISH?
Innovation. To develop ingenious materials and clothing that would cater to the international market.
DO YOU HAVE ANY ADVICE FOR ASPIRING DESIGNERS?
Keep doing what you love. Work hard. Dream big and live your dreams. Anything is possible as long as we set our minds to it.
Shops
Unit 26, EVP Mansion, 2nd St., Riverside, Ortigas Ext., Pasig City
(02) 748-3898

0915-5964547

enricocarado@gmail.com