Directory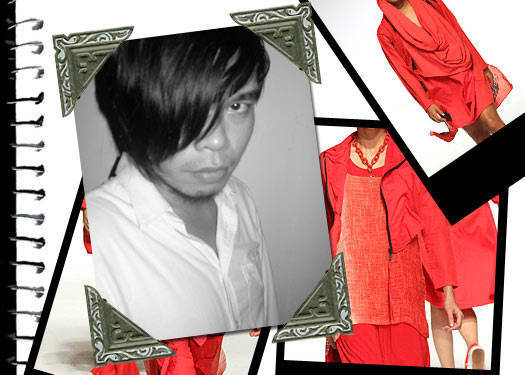 DESIGNERS
DON PROTASIO
Contacts
245 Timawa Ave., Iloilo City

0919-8205923

protasiodon@yahoo.com
About
WHAT MOTIVATED YOU TO BECOME A DESIGNER?
I've loved clothes, dressing up, fashion and style since an early age. My mom said I was 4 or 5 years old when I started flipping through her fashion magazines and was fascinated by the imagery.
HOW DID YOU START AS A DESIGNER?
My theater group in college sponsored my first collection, which all the members modeled. I didn't have a budget so my friends donated their old clothes which I deconstructed and mixed with plastic garbage bags, paper, and other recycled stuff. Very amateur Margiela, although at that time I didn't even have an inkling as to who Margiela is and what his design philosophy is.
WHERE DID YOU RECEIVE YOUR FASHION TRAINING?
I'm an autodidact; I took only some basic courses in sewing and tailoring from a university in Iloilo. I wouldn't really consider it formal fashion training. I'm mostly self-taught. I would rip old clothes and put them back again.
WHAT IS YOUR DESIGN PHILOSOPHY?
Make clothing with interesting details.
WHERE DO YOU GET YOUR INSPIRATION?
Usually, I'm inspired by my mood which I want to express in clothes. I want the clothing I design to encapsulate the feelings I want to express.
WHO ARE YOUR STYLE ICONS? YOUR STYLE INSPIRATIONS?
I love Stella Tenant—her style, philosophy in life, and the way she seems so natural in being different without the arrogance that you get from other renegade visionaries. I also admire the stylist Melanie Ward; her works and vision resonate deeply in me. I also love the style of Cecile Zamora van Straten. I like to think I'm her biggest fan! I knew her works pre-Chuvaness, like Grocery days early. I also like the style of Tina Maristela-Ocampo.
WHICH DESIGNERS DO YOU ADMIRE MOST?
Helmut Lang is my fashion hero. His works have influenced me as a designer more than any designers I've admired. Coming a close second is Ann Demeulemeester. Both of them have built their brand with their own singular vision, keeping it as close as possible with what they are passionate about. I like to think I'm like that, too.
WHO WOULD YOU LOVE TO DRESS? WHO ARE THE CLIENTS YOU ENJOY WORKING WITH?
I'd love to dress everybody who's willing to try my proposition when it comes to clothing. I enjoy working with clients who are open to my vision when it comes to fashion.
WHO DO YOU THINK IS THE PERFECT EXAMPLE OF TIMELESS STYLE?
Eve? What could be more natural than being in the buff? LOL!
WHAT DO YOU CONSIDER YOUR BIGGEST CHALLENGE AS A DESIGNER?
I always consider challenges with equal measure and an opportunity for growth.
WHICH ASPECT OF THE DESIGN PROCESS DO YOU ENJOY MOST?
I love the conceptualizing and the constructing part where I can slowly see my vision being made. I'm addicted to it, actually. I agonize over concepts.
WHAT'S THE BEST CLOTHING ITEM/ACCESSORY WOMEN/MEN SHOULD HAVE?
Women should have rich, handsome men on their arms, and men should have nice pens to sign credit card receipts to pay for shopping. Hahaha!
WHAT IS YOUR FAVORITE GARMENT OR FASHION ACCESSORY?
I love wearing t-shirts, so it's a fave challenge for me to redesign and make it not-so-basic all the time.
ANY CURRENT TRENDS THAT YOU'RE FOND OF? ANY CURRENT OBSESSIONS?
I'm obsessed with skull pendants for a bit now. And I've been buying accessories made of horns, bones and skins recently. There's something quite sensual about the organic feel of the pieces I got.
HOW HAVE YOU EVOLVED AS A DESIGNER?
Quite significantly—from being too conceptual to a more commercial designer, because at the end of the day I have workers who depend on me for their livelihood. When I was starting it was more like pure expression without caring too much about wearability and selling. Now I have to take into account so many elements of the business without sacrificing my artistic vision.
WHAT ARE YOU MOST PROUD OF IN YOUR CAREER?
I'm proud I'm able to create clothes that people buy. I'm quite proud of the putting up Poetry, my store, here in Cambodia.
WHAT IS THE GREATEST COMPLIMENT YOU HAVE RECEIVED ABOUT YOUR WORK?
International shoppers in my store always say I would be a hit in New York, Sidney, Tokyo, Melbourne, London, etc. It's nice to have an audience of different races from all over the world.
WHAT ASPECT OF DESIGN DO YOU SEEK TO MASTER/HAVE DEVOTED TIME TO MASTER?
Everyday is a learning process for me and all aspects of design and the business evolves with time, so it's a never-ending devotion for me because I really am passionate about crafting clothes.
ASPIRATIONS FOR THE BRAND IN THE FUTURE?
More stores is my immediate goal. Fine-tune our production, find good suppliers of fabric, etc. So many things I need to do!
HOW DO YOU UNWIND?
Go to the gym, run around Angkor Wat, or swim. I plan to take up yoga but I'm struggling with the early morning schedule. But I bought a yoga mat already so it will force me to do this.
FAVORITE SHOPPING AND TRAVEL DESTINATIONS?
I love Bangkok. So many things to see, so many stuff to do and it's affordable. I love the stuff the local designers make.
DO YOU COLLECT ANYTHING?
Magazines, old Helmut Lang pieces, design books, skull pendants.
WHAT MUSIC DO YOU LISTEN TO? FILMS YOU WATCH? BOOKS YOU READ?
I like Bjork, Patti Smith, The Cure and Garbage. I love watching chick flicks where you don't have to think too much. For romantic comedies, I'm always game. I also love fashion documentaries. The Incredibles is one of my most favorite movies. I also love anime films.
I love reading fashion books that document the processes of my fave designers. The latest one I got is the Maison Martin Margiela from Rizzoli. I'm currently reading Just Kids, the autobiographical narrative of Patti Smith and Robert Mapplethorpe.
OTHER PASTIMES, PASSIONS, INTERESTS ASIDE FROM FASHION?
Thrift shopping, making art, photography and cooking. I can make a mean marinara.
WHAT IS YOUR GREATEST EXTRAVAGANCE?
Sleeping late and waking up late. I've recently given up a curating job (I curated an art gallery), so it feels nice to not follow a strict schedule.
WHICH OTHER TALENT WOULD YOU MOST LIKE TO HAVE?
I wish I were good at sports. It's only just a few years that I discovered I like physical activities because they relieve stress.
WHAT DO YOU CONSIDER YOUR GREATEST ACHIEVEMENT?
Bringing this brand here in Cambodia and slowly growing it is an achievement I consider great.
WHAT CAN WE LOOK FORWARD TO FROM YOU AS A DESIGNER?
More developments and evolution of my works.
WHAT DO YOU THINK THE PHILIPPINE FASHION INDUSTRY NEEDS MOST IN ORDER TO FLOURISH?
Less talk, more work.
DO YOU HAVE ANY ADVICE FOR ASPIRING DESIGNERS?
Be very sure that making clothes is your passion because it's not all glam all the time. For most part it takes hard work and dedication, sleepless nights and a whole lot of perseverance to survive in this industry.
Shops
POETRY
The Alley West, Old Market Area, Siem Reap, Cambodia
245 Timawa Ave., Iloilo City

0919-8205923

protasiodon@yahoo.com
No Entry Found