Directory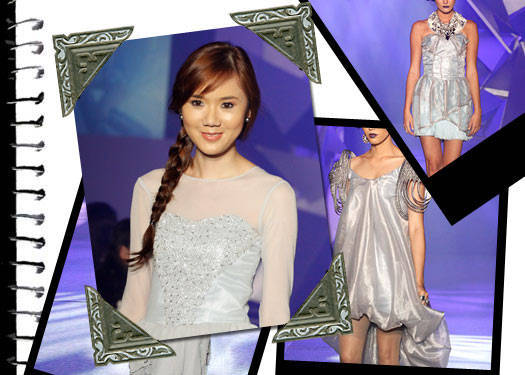 DESIGNERS
CAMILLE CO
Contacts
#3998 Yague St., Brgy. Tejeros, Makati, 1204

Operating hours: 11 AM - 7 PM, Monday to Saturday (except holidays)
(02) 511-06-75

09175302776 (Look for Clariss David)

coexist.online@yahoo.com
About
WHAT MOTIVATED YOU TO BECOME A DESIGNER?
First of all, when you're a senior in college, reality hits you and you're kinda forced to think real hard about your future and the career path you want to take. I think that alone was enough motivation for me to go for my dream of becoming a professional designer. I suddenly realized I could no longer fool myself into thinking that I can actually stomach a corporate career. Secondly, I've always wanted to dress people up because I believe that with the right clothes, anyone can reach their highest potential. Plus I love the feeling of randomly spotting people in one of my creations. I get so kilig.
HOW DID YOU START AS A DESIGNER?
At first, it was nothing serious. My sister and I wanted to open our own online store because she needed a creative outlet from her bland accounting job and I have always enjoyed designing clothes and fashion in general. I don't really know how it happened, but in no time, Coexist gained quite a following and we were suddenly getting features from the press. Then one thing led to another; doors opened, and here I am! Being a designer has always been my dream ever since I was a little kid, but I never thought it would actually happen. So in that sense, I guess I'm an accidental designer.
WHERE DID YOU RECEIVE YOUR FASHION TRAINING?
I studied in School of Fashion and the Arts (SoFA) and for a while in the Fashion Institute of the Philippines (FIP). In the future, I hope to study in London's Central Saint Martins.
WHAT IS YOUR DESIGN PHILOSOPHY?
Always true to the female body. Subtle but noticeable. Simple but modern. Striking but never over the top.
WHERE DO YOU GET YOUR INSPIRATION?
Everywhere. Anyone and anything can be an inspiration, really. It may be a story, a place, an era, a certain person, a movie and many many more. The choices are endless.
WHO ARE YOUR STYLE ICONS? YOUR STYLE INFLUENCES/INSPIRATIONS?
So many! If I have to choose, I'd definitely go for Diane Kruger and Kate Moss.
WHICH DESIGNERS/ARTISTS DO YOU ADMIRE MOST?
Alexander McQueen is such an inspiration. He had so much vision and direction, and he knew how to put on a show! Coco Chanel is also an inspiration because of everything she stands for. I'm also currently loving Givenchy and its current designer Riccardo Tisci, as well as Marchesa's Georgina Chapman.
WHO WOULD YOU LOVE TO DRESS? WHO ARE THE CLIENTS YOU ENJOY WORKING WITH?
I love all our clients! I love the give-and-take relationship and the collaboration that comes with designing for a client. For celebrities, I love it whenever Toni Gonzaga wears our clothes. She fits in them so perfectly. I wish to one day dress Anne Curtis, Heart Evangelista and Angel Aquino.
WHO DO YOU THINK IS THE PERFECT EXAMPLE OF TIMELESS STYLE?
Hands down, Audrey Hepburn and Jackie O.
WHAT DO YOU CONSIDER YOUR BIGGEST CHALLENGE AS A DESIGNER?
Designing itself is already quite a challenge because you always have to come up with something new. Personally, I always make an effort to make the next collection better than the previous one, constantly pushing for improvement and reinvention.
WHICH ASPECT OF THE DESIGN PROCESS DO YOU ENJOY MOST?
Sketching. There's something about it that is just so calming.
WHAT'S THE BEST CLOTHING ITEM/ACCESSORY WOMEN/MEN SHOULD HAVE?
The perfect white shirt, the perfect jeans, the little black dress and the perfect black pumps—all classics. No one can ever go wrong with these.
WHAT IS YOUR FAVORITE GARMENT OR FASHION ACCESSORY?
My pearl earrings. I feel naked without them! Also, shoes in general. I believe shoes can make or break an outfit.
ANY CURRENT TRENDS THAT YOU'RE FOND OF? ANY CURRENT OBSESSIONS?
Blazers and androgynous shoes! I'm obsessed with them!
HOW HAVE YOU EVOLVED AS A DESIGNER?
So far, I think I've become more mature in terms of my designs. I'm learning to experiment and think out of the box more. But I'm still quite new to the industry, so I feel there is still so much ground I need to cover. I'm only on my first stage of evolution, if you can call it that. I'm still getting to know myself as a designer and as I grow older and get more exposed to new things, all these are reflected on my designs, which is so exciting because everyday I am evolving and the public is witnessing that.
WHAT ARE YOU MOST PROUD OF IN YOUR CAREER? WHAT DO YOU CONSIDER YOUR GREATEST ACHIEVEMENT?
Being included in Preview's roster of Ten Designers to Watch this year. If you were to tell me before all this happened that I'd one day be included in the list, I'd think you're crazy! This is just so surreal. I've only been designing for a little over a year. When we started, we didn't know anyone in the industry. We really started from scratch, so to be recognized in this manner at such a young age is really an honor.
WHAT IS THE GREATEST COMPLIMENT YOU HAVE RECEIVED ABOUT YOUR WORK?
[Being told] that my designs are sophisticated.
WHAT ASPECT OF DESIGN DO YOU SEEK TO MASTER?
Pattern making. Good patterns make for good clothes.
ASPIRATIONS FOR THE BRAND IN THE FUTURE?
I wish to achieve mainstream success for my brand Coexist, like that of Topshop or Zara, and to open branches in our most prestigious malls. I want to take RTW dressing several notches higher and become the go-to store of our country's most fashionable.
HOW DO YOU UNWIND?
Like any other girl my age, I shop, have a massage, watch movies and hang out with my friends. Although nowadays, I haven't really done much unwinding.
FAVORITE SHOPPING AND TRAVEL DESTINATIONS?
Locally, Power Plant and Greenbelt 5. Abroad, Hong Kong and Singapore because they're just so convenient to go to. They're so near! Although I'd love to go back to Europe again; shopping in Paris and Spain is the best! And Japan, too.
DO YOU COLLECT ANYTHING?
Pigs. Haha! I don't know why but once I see something with a cute pig decoration on it, I fall in love with it instantly! I have so many pig stuffed toys. I have pig earphones, pens, clock, mirror, paperclips, notebooks, magnets, mousepad, wallet, bag, and so many more. My boyfriend's actually getting me a pink teacup pig as a pet. I can't wait!
WHAT MUSIC DO YOU LISTEN TO? FILMS YOU WATCH? BOOKS YOU READ?
I listen to a variety of music, especially British-sounding ones. My all-time favorite band is The Killers and I'm currently addicted to Justice's "D.A.N.C.E" in Msterkrft remix and the Aeroplane remix of Friendly Fires' song "Paris."
I watch a lot of films because my family watches movies every Sunday. One thing I can never enjoy, though, is slapstick comedy such as Bruno or that gigolo movie of Rob Schneider. I can never stand movies like that.
I'm currently reading Fashion Babylon by Imogen Edwards-Jones. My former teacher John Herrera recommended it to our class and it's really good.
OTHER PASTIMES, PASSIONS, INTERESTS ASIDE FROM FASHION?
I love traveling and almost everything about it except plane rides. I love the hotels, the food, the people, the culture—everything! I always say you can never have too much of the world. There's always something new to discover and explore. I also love eating and discovering new restaurants. Just the act of choosing which restaurant to go excites me! I'm such a fan of appetizers and desserts. During high school, I also used to dance a lot. I was part of our squad and dance troupe. That's one interest I'd like to rekindle.
WHAT HAS BEEN YOUR GREATEST EXTRAVAGANCE?
My student exchange program back in my junior year in Ateneo called the Junior Term Abroad program. I spent 4 months in France. It was the best experience of my life. Every weekend, my friends and I traveled to different places across Europe. We went to places like Milan, Rome, Florence, Venice, Brussels, Antwerp, Barcelona, Madrid, Prague, Greece, and so many more.
WHICH OTHER TALENT WOULD YOU MOST LIKE TO HAVE?
Being domesticated, haha! I wish I knew how to cook and knew all the things related to good housekeeping. During my student exchange program, all I knew how to cook were omelets and anything fried or instant! Goodness. At least I learned how to use the washing machine and dryer there so that's one step already!
WHAT CAN WE LOOK FORWARD TO FROM YOU AS A DESIGNER?
Lots of surprises! I'm still a young designer so I'm sure there is still so much more I can offer, maybe some that I don't even know I had in me.
WHAT DO YOU THINK THE PHILIPPINE FASHION INDUSTRY NEEDS MOST IN ORDER TO FLOURISH?
We need more willing investors. Notice how the fashion industry in Milan or Paris or New York—all fashion capitals—work: every good designer has an investor backing them up. That's what we don't have here, which is why it's such a big waste that a lot of good designers are not able to show the world what they have to offer because they don't have the resources.
Also, I think we need more direction, business-wise. We need to modernize and systemize the industry by gearing away from its mom-and-pop nature. I still believe in proper branding and marketing. At the end of the day, even if we're in the arts, it's still a business. With the two things I mentioned, I believe it would be easier for us to create the proper channels to reach the rest of the world and show them what our industry has to offer.
DO YOU HAVE ANY ADVICE FOR ASPIRING DESIGNERS?
Just go for it! If you have a vision, execute it to the best of your ability without pulling anyone down. Be confident and believe in yourself. There's no room for self-doubt in this industry. It's hard but if you don't believe in yourself, no one will. And most importantly: research and study your craft. In order to be good at what you do, you need to know what you're doing.
Shops
COEXIST
#3998 Yague St., Brgy. Tejeros, Makati, 1204

Operating hours: 11 AM - 7 PM, Monday to Saturday (except holidays)
(02) 511-06-75

09175302776 (Look for Clariss David)

coexist.online@yahoo.coms