Directory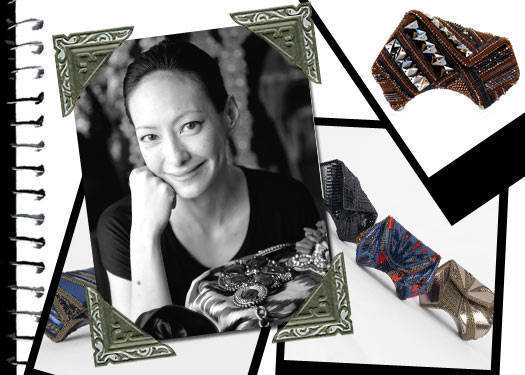 DESIGNERS
BEA VALDES
Contacts
[Portrait credit: Jay Directo]
About
Beatrice Panlilio-Valdes was born on August 30, 1973 and grew up in Manila, Philippines. Coming from a family which had been in the fine jewelry trade for three generations, she was fascinated with embellishments from a young age.
Today, she is a recognized and much celebrated accessories designer who continues to take inspiration from various cultures and countries, sourcing materials, patterns and ideas from around the world. While Bea receives global recognition and respect for her distinctive embroideries, she remains in the Philippines, working with modern local artisans and perfecting her craft at her Manila studio. She chooses Manila over New York as it is important to maintain a creative environment that allows for the time-intensive embroidery work to be carried out. The bags, belts and jewelry can take up to ten weeks to be made.
Bea maintain her focus on traditional embroidery and continues to support artisans and their craftsmanship. In her words, "In a factory you just do a piece of something, you don't get to own the whole. In our atelier, my girls take a lot of pride in their work. Everything is created in-house, from concept, to design, to production. Everything is proudly made in the Philippines."
When Bea Valdes first established the accessory workshop in 2004, her original vision was to design pieces that would ultimately be regarded as "Art to Wear" and not simply merchandise. She had already envisioned the workshop and artisans developing into a globally respected showcase of talent and home-base for Filipino craftsmanship. Today, she shines a light on the Philippines as a design hub specific to the high-end accessories trade and continues to receive global recognition as a forward-thinking, creative architect of uniquely distinctive luxury goods in this field.
She says, "As a designer, and as a workshop, BEAVALDES operates by doing each small step to the best of our abilities. The sum of these actions, if all done correctly, brings about a whole movement that we can truly call quality. We see it as small steps towards a bigger picture and our ideas and philosophy on what jeweled pieces should be have since taken wings in the global fashion community. We have been fortunate to find partners in this business that are helping us redefine and preserve this experience on a global scale."