Directory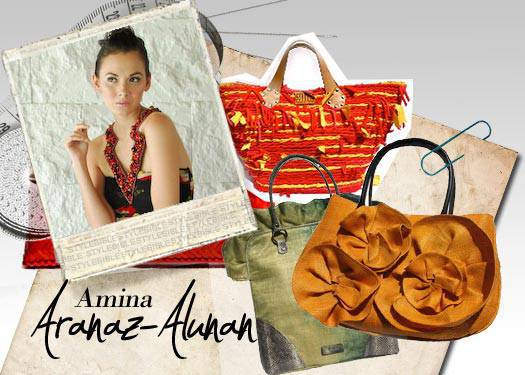 About
WHAT MOTIVATED YOU TO BECOME A DESIGNER?
I've always been interested in creativity and the arts. I always knew I would end up in a creative industry.

HOW DID YOU START AS A DESIGNER?
Just like [others], it started as an inclination. I've always loved to create things by hand.

WHERE DID YOU RECEIVE YOUR FASHION TRAINING?
I would consider my mom's bag factory as my first training ground. It was there that I spent many summers watching the sewers and trying my hand in creating my own designs as a child. After college, I went to formal fashion training at Istituto Marangoni in Milan, Italy.

WHAT IS YOUR DESIGN PHILOSOPHY?
When I design, I always gravitate towards beautifully handcrafted pieces. I like to create pieces that are visually appealing [and] highly detailed. I love to juxtapose contrasting elements such as color and texture. I've always enjoyed working with natural materials but giving them a new spin by mixing them with other textures. I also always say I like to "de-ethnicize the ethnic" because I've always used ethnic materials but give it a punch of modern global style by the treatment and mix.

WHERE DO YOU GET YOUR INSPIRATION?
Everywhere. When working on a collection, I consciously look for a source of inspiration and create a main mood board to aid the design process.

WHO WOULD YOU LOVE TO DRESS? WHO ARE THE CLIENTS YOU ENJOY WORKING WITH?
Women who dare and know their personal style. And women who appreciate and understand the value of hand labor and natural materials.

WHO DO YOU THINK IS THE PERFECT EXAMPLE OF TIMELESS STYLE?
Audrey Hepburn.

WHAT DO YOU CONSIDER YOUR BIGGEST CHALLENGE AS A DESIGNER?
Because we maintain a retail store. I always have to whip up something new for my customers. This can sometimes be tedious and tiresome.

WHICH ASPECT OF THE DESIGN PROCESS DO YOU ENJOY MOST?
I have a love-hate relationship with the sampling process. It's always a hit and miss; there are times that a piece comes out exactly as I've envisioned!

WHAT'S THE BEST CLOTHING ITEM/ACCESSORY WOMEN/MEN SHOULD HAVE?
A good reliable pair of designer sunglasses!

WHAT IS YOUR FAVORITE GARMENT OR FASHION ACCESSORY?
A precious beaded bag, of course! A pair of dangling earrings comes second.

ANY CURRENT TRENDS THAT YOU'RE FOND OF? ANY CURRENT OBSESSIONS?
Nude colors.

HOW HAVE YOU EVOLVED AS A DESIGNER?
In the past I was more interested in beading and embellishments. But through the years I have become more conscious about the construction and materials of a certain piece. Although my first love will always be beadwork.

WHAT ARE YOU MOST PROUD OF IN YOUR CAREER?
When we started back in 1998, we were one of the very few that promoted the use of Filipino materials. I would like to believe that our brand has managed to make a mark in the industry because of this and bring the use of our Filipino natural materials to a more modern, higher level of style, promoting Filipino skills and handiwork.

I am also proud of starting the School of Fashion and the Arts (SoFA). It is my own experience as a designer, my love for the Philippine fashion industry, and my hopes for it to prosper and gain an international audience that inspired me to take the plunge and start the school. I wanted to create an institution where like-minded creative [individuals] can go to develop and nurture their talents. This was an opportunity that was not locally available for me when I started as a designer.

WHAT IS THE GREATEST COMPLIMENT YOU HAVE RECEIVED ABOUT YOUR WORK?
That it's something that Filipinos are proud of. It elevates the level and perception of Filipino talent and materials to the international market.

WHAT ASPECT OF DESIGN DO YOU SEEK TO MASTER/HAVE DEVOTED TIME TO MASTER?
I seek to master pattern making and construction, especially of clothing. I specialize in handbags but have no background in clothing. In fact, I plan to take up our draping and pattern making classes at SoFA.

ASPIRATIONS FOR THE BRAND IN THE FUTURE?
To make a mark in the international market of course as a Filipino designer. :-)

HOW DO YOU UNWIND?
Go to the beach with my family. It's the only place that I block out work and really focus on family time.

FAVORITE SHOPPING AND TRAVEL DESTINATIONS?
Hong Kong during sale season! Bangkok for the bargains! Europe, which is a feast for the eyes and palette!

WHAT MUSIC DO YOU LISTEN TO? FILMS YOU WATCH? BOOKS YOU READ?
I like relaxing classical or meditation music. It helps calm me. I like reading fashion and business related books. I gain a lot of insight from them.

OTHER PASTIMES, PASSIONS, INTERESTS ASIDE FROM FASHION?
I used to dance ballet and flamenco. I consider dance my first love., though I have not had the time to indulge in it since having my first child. :-( Now that I just gave birth, I vow to make time for it again.

WHAT IS YOUR GREATEST EXTRAVAGANCE?
I like buying fresh flowers and plants for my home. They may not last too long but it instantly brightens up a room!

WHAT OTHER TALENT WOULD YOU MOST LIKE TO HAVE?
Wish I could sing! Haha.

WHAT DO YOU CONSIDER YOUR GREATEST ACHIEVEMENT?
Making a mark in the industry because of our promotion of Filipino materials and skills.

WHAT DO YOU THINK THE PHILIPPINE FASHION INDUSTRY NEEDS MOST IN ORDER TO FLOURISH?
There should be a unified pipeline within the industry. From designer, manufacturer, exporter, retailer, etc. Everyone working together with a greater vision on how to promote our goods to the global customer.

DO YOU HAVE ANY ADVICE FOR ASPIRING DESIGNERS?
Don't delay in pursuing your dreams and your passions! Think of fashion as a career and not simply as a hobby. Persist in improving your craft while giving due attention to the business aspect.
Shops
ARANÁZ
344 Robinsons Loop Robinsons Circle, Pasig, Metro Manila
2/L Greenbelt 5, Makati City, Metro Manila
2/L Power Plant Mall, Makati City, Metro Manila
2/L Ladies Bag Salon, Rustan's