Everyone knows that the key to being a mindful and efficient gift-giver is to start early. In a perfect world, I would have all my Christmas shopping done by September. They would be beautifully wrapped and stored under a well-decorated tree. I would have lists and categories. There would be common gifts bought in multiples for certain groups, and there would be specific and special presents for those dearest to my heart.
But if you're anything like the real me, you would be in a slight panic now for not having completed your Christmas shopping yet. But don't let the heavy traffic and impossible parking situation at the malls freak you out. There is still hope. You can either shop online, catch one of the fancier pop-up shops, or shop in the mall.
Here are some of my gift suggestions, sourced from National Book Store.
For Kids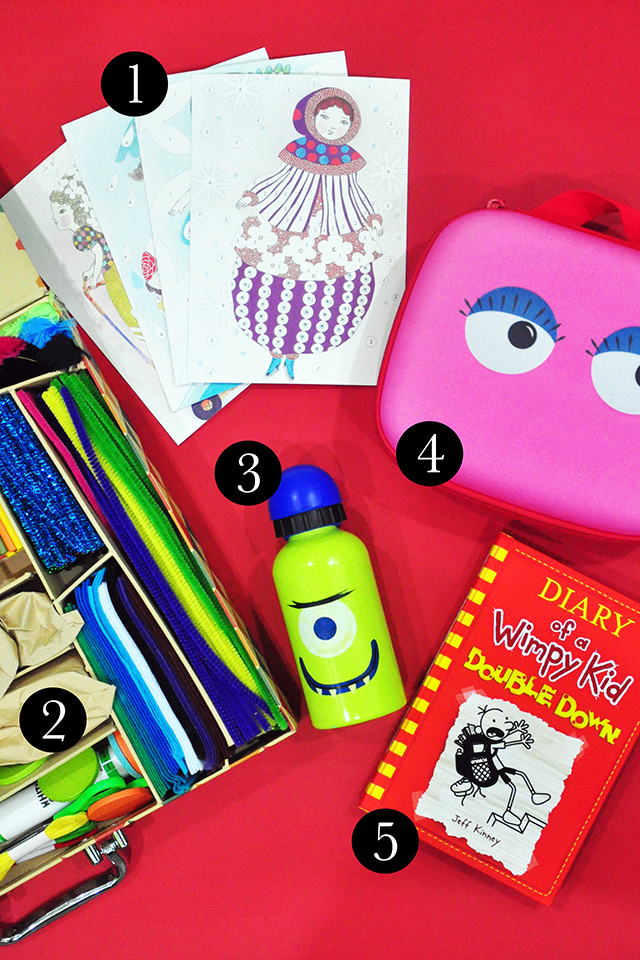 IMAGE Gab Gutierrez
ADVERTISEMENT - CONTINUE READING BELOW
(1. Djeco Foil art kit; 2. Kid Made Modern Arts and crafts case, P1999; 3. Crocodile Creek Water bottle; 4. Zip It Lunch box; 5. Diary of a Wimpy Kid: Double Down by Jeff Kinney, P485)
Christmas is most special for kids because of all the excitement leading up to opening presents. Of course by the time they become adults, they will know the true meaning of Christmas and find joy in the little gestures and gathering of friends. But while they are still minors, kids appreciate the toy of the season, collectibles, crafting sets, or age-appropriate books.
For Your Parents
IMAGE Gab Gutierrez
(1. Dot to Dot activity book, P399; 2. Cooking for Jeffrey: A Barefoot Contessa Cookbook by Ina Garten, P1465; 3. Caran d'Ache Luminance 6901 colored pencils, P2990; 4. Grit by Angela Duckworth; 5. Querkles activity book, P399)
I love buying cookbooks for myself. I assume parents would also love Ina Garten's new Cooking for Jeffrey because it's more than a cookbook, it has lovely stories about her life with her husband, too. Be mindful of what your parents enjoy and want. It is your time to pamper your parents and show them how much you love them by giving them something that can help them relax—literature, coloring books and art materials.
For Your Girl Friends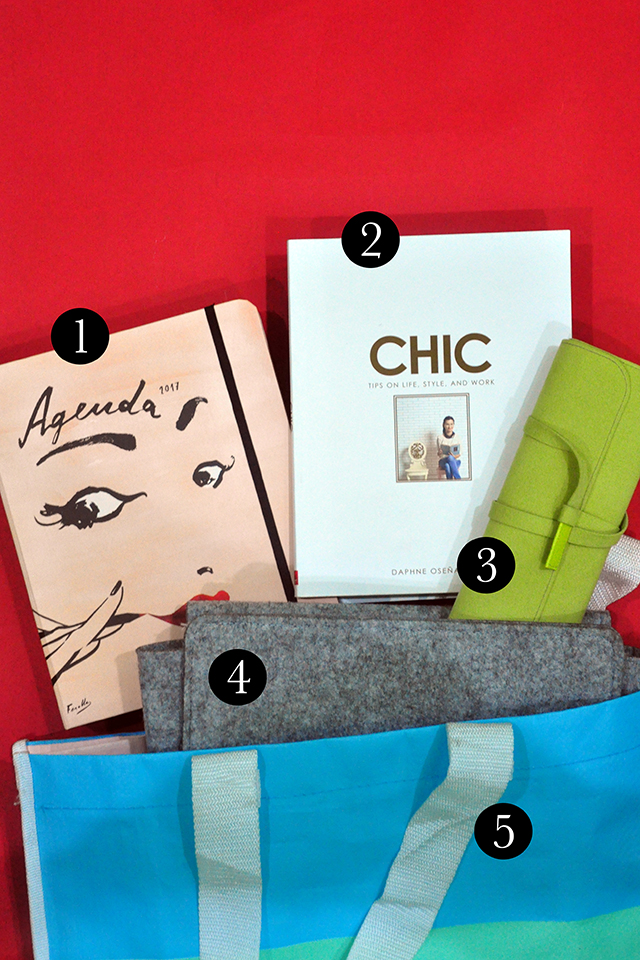 IMAGE Gab Gutierrez
(1. Kate Spade 2017 Agenda; 2. Chic: Tips on Life, Style, and Work by Daphne Oseña-Paez, P395; 3. Color Chart Jewelry roll, P3799; 4. Kikkerland Bedside pocket, P1152; 5. Ban.do Tote bag, P996)
You would know what your close friends exactly need and want. Beauty products are my favourite go-to gifts for my girl friends. I also love giving cute notebooks and journals, pouches, and practical storage solutions. This season is extra special because I have my book CHIC: Tips on Life, Style and Work, so I'll be giving my best girls a signed copy of my book.
For the Travel Bug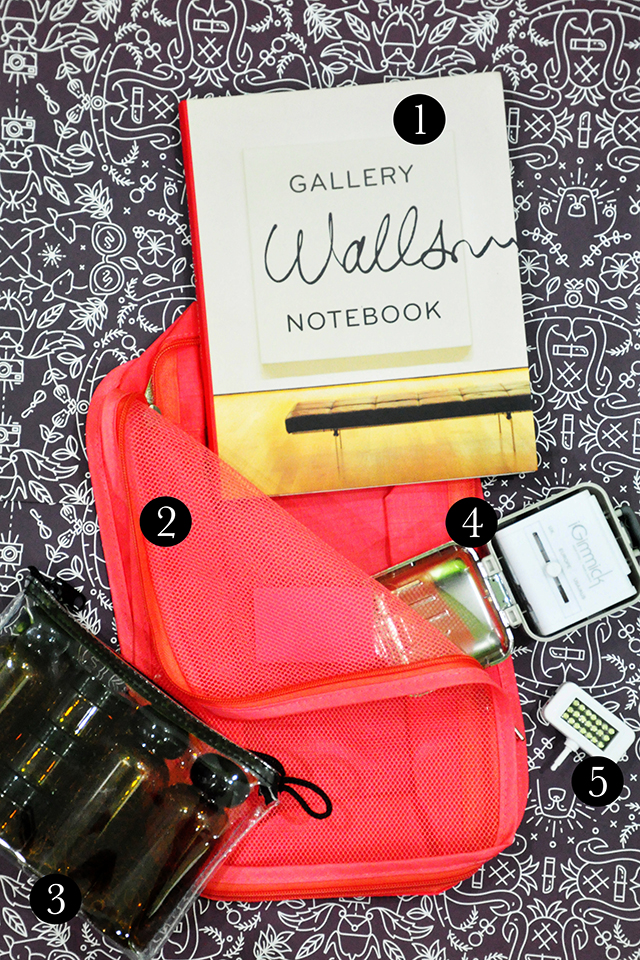 ADVERTISEMENT - CONTINUE READING BELOW
IMAGE Gab Gutierrez
(1. MoMa Gallery walls notebook; 2. Lapoche Packing cube; 3. Kikkerland Travel bottle set, P720; 4. iGimmick Travel adaptor and case; 5. Thumbs Up! Insta flash for mobile phone, P999)
The start of the new year often makes people wish and plan for their next trip. This is something everybody loves—travel. Not only are these items practical, they are beautifully designed products, too.
For Your Boss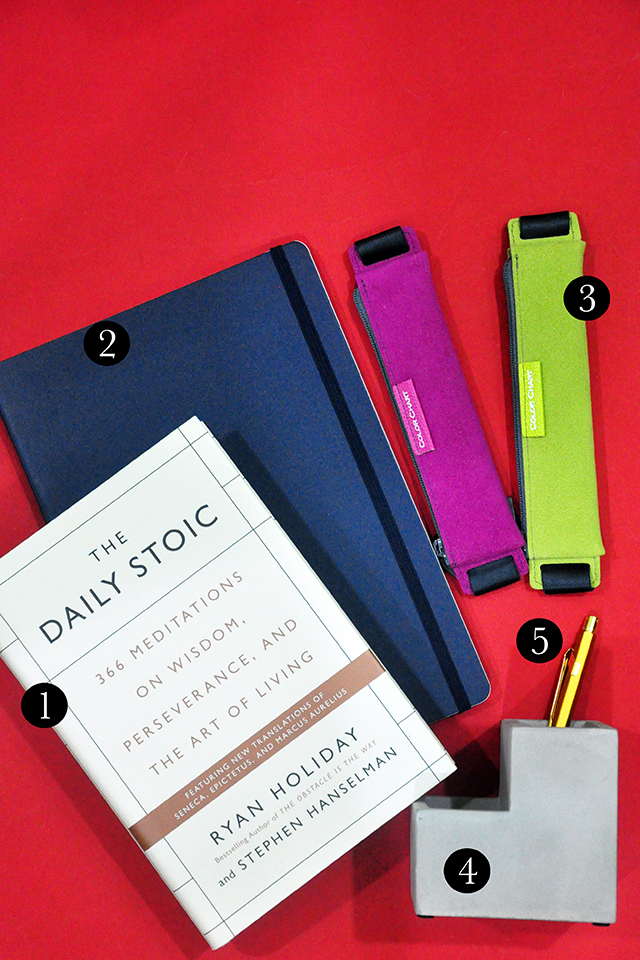 IMAGE Gab Gutierrez
(1. The Daily Stoic Book by Ryan Holiday; 2. Leuchtturm1917 Journal; 3. Color Chart Leather pen case; 4. Kikkerland Desktop planter, P1152; 5. Caran d'Ache 849 ballpoint gold bar pen )
I have not been in an office environment since I had my first job out of university. For the most part I have used the world as my office, so I haven't had a boss in decades. I chose this batch, not only for a boss, but for someone who has everything. Obviously if you were going to give your boss an office-related item, go a notch higher or go a bit whimsical like the desktop planter. I also recommend The Daily Stoic by Ryan Holiday. It's has daily meditations and readings from classical philosophers.
For Your Co-Workers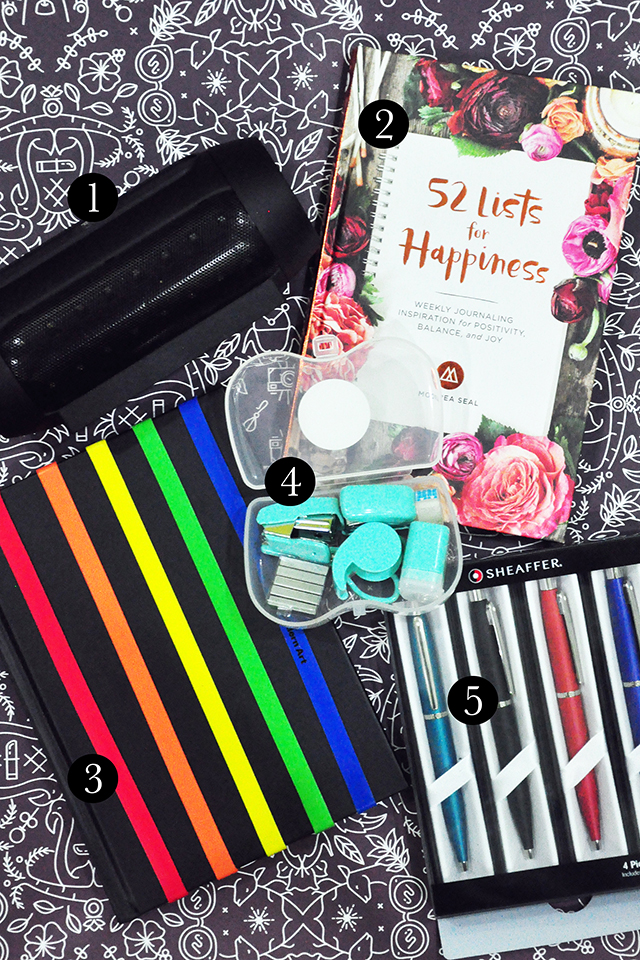 IMAGE Gab Gutierrez
(1. LED touch speaker, P2520; 2. 52 Lists for Happiness by Moorea Seal; 3. MoMA Snap it up journal; 4. Office Stationery set; 5. Sheaffer VFM 4-in-1 gift set)
Officemates could always use practical gifts they can actually use—desk organizers, fancy desk tools like staplers and tape dispensers, daily devotional books and notebooks. And if you are giving your officemates pens, go the extra mile and have the pens engraved.
For the Artist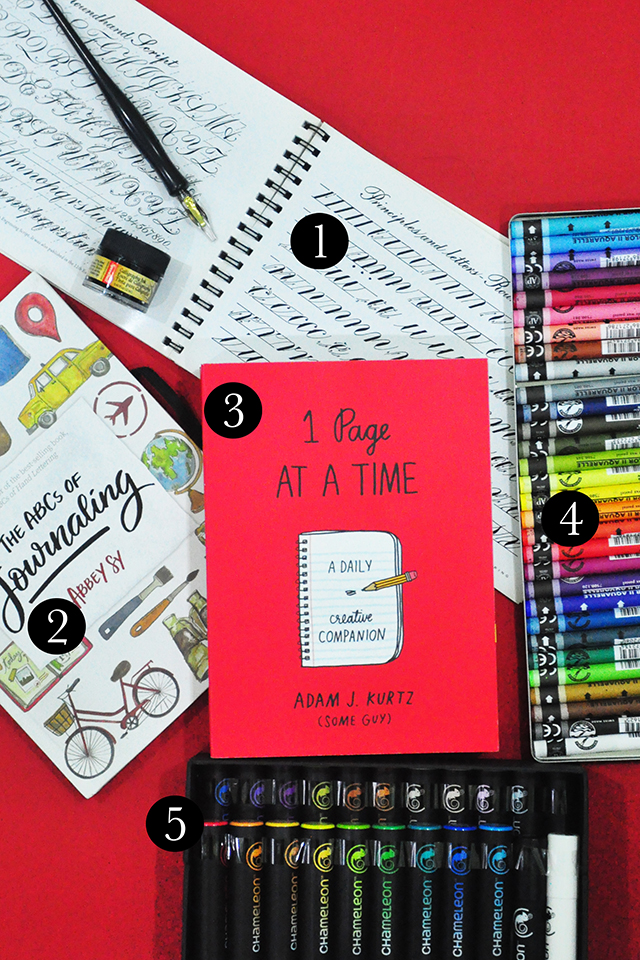 ADVERTISEMENT - CONTINUE READING BELOW
IMAGE Gab Gutierrez
(1. Speedball Complete calligraphy kit; 2. The ABCs of Journaling by Abbey Sy; 3. 1 Page at a Time by Adam J. Kurtz, P545; 4. Caran d'Ache Neocolor II watersoluble pastel, P3490; 5. Chameleon Color Tones 22s, P4799)
Almost everyone has a creative side. This is for those who have really embraced their inner artist.
For Your Guy Friends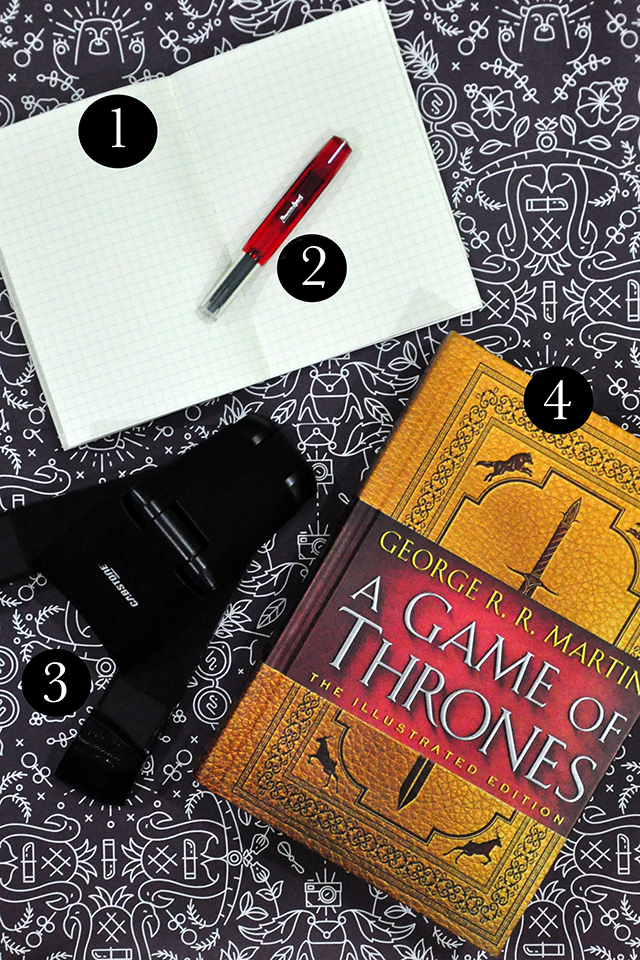 IMAGE Gab Gutierrez
(1. Itoya Color chart notebook; 2. Kaweco Sport series pen; 3. Cabstone Bluetooth sound stand, P2800; 4. A Game of Thrones: The Illustrated Edition, P1999)
I have to admit, I find it so hard to give guys gifts. This is the part where I would give a bottle of wine or whisky. But if you wish to be creative and put some actual thought into a present, give him what guys are into now—a book on his hobby, or better yet, a Game of Thrones book.
For the Crafter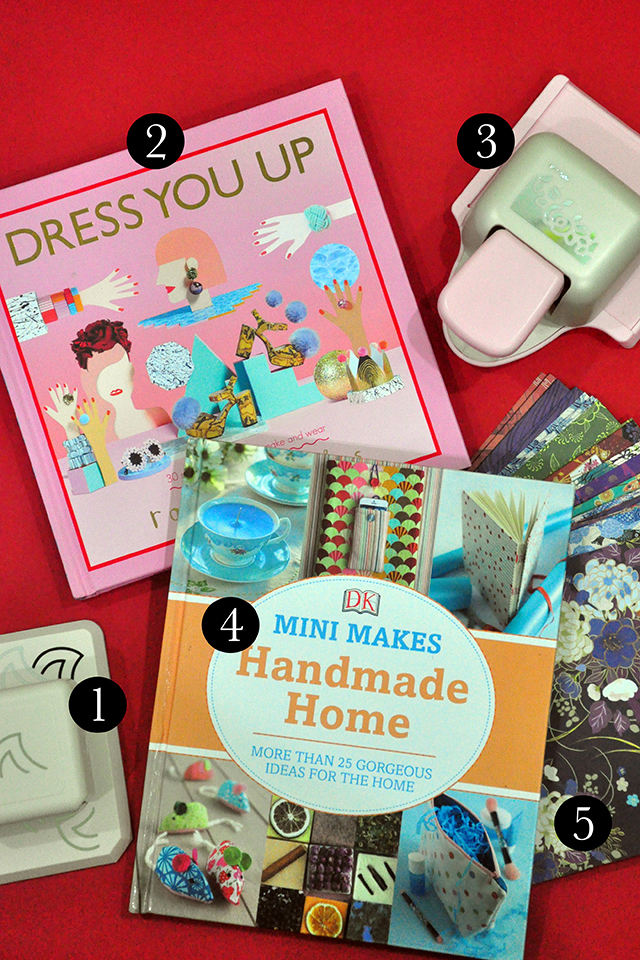 IMAGE Gab Gutierrez
(1. Kuretake Kure punch doily, P1324; 2. Dress You Up: 30 Simple Accessories to Make and Wear by Rosy Nicholas, P699; 3. Martha Stewart Crafts Cut-and-fold punch; 4. Mini Makers: Handmade Home by DK, 395; 5. Tuttle Origami paper in a box)
For that special someone who loves using her hands to make beautiful things.
Daphne Oseña Paez is Preview.ph's guest editor for the month of December. Her eponymous label, DAPHNE, is the home label for stylish living and is a good example of her exquisite taste and the ability to make any house a home. This month she helps us prepare for the holidays with her tips and tricks. Visit her blog here if you want to keep up with Daphne and her adventures.
Related Stories from Preview.ph
Hey, Preview readers! Follow us on Facebook, Instagram, YouTube, Tiktok, and Twitter to stay up to speed on all things trendy and creative. We'll curate the most stylish feed for you!