A seemingly calm Catholic professor asks Chang Jia Han (Edward Chen) with blood running down his face, "Why did you get into a fight for love?" in which the young boy answers, "I don't know what to say." The same sombre tone goes for most of the film: two high school boys who share unspoken feelings for each other as they live in 1987, a time where social repression has yet to ease up right after Taiwan's martial law has been lifted. Although the trend of BL stories has been sensualized these recent years, the film's director Patrick Kuang-Hui Liu emphasizes that Your Name Engraved Herein is "not another gay film," but simply a realistic take on a theme we all have a soft spot for—the bittersweet experience of a first love.
TOP STORY: 10 Universally Flattering Hair Color Ideas If You're Planning a Makeover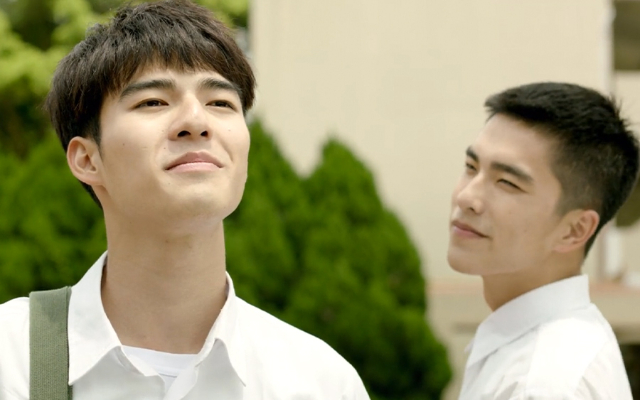 ADVERTISEMENT - CONTINUE READING BELOW
After being claimed as Taiwan's first highest grossing LGBTQ+ film, taking home 5 Golden Horse awards, and becoming the most popular film of 2020 in the country's cinematic history, does Your Name Engraved Herein really live up to its hype? Read up on our review below and decide for yourself if this love story is as remarkably special like they say it is.
What I Liked About It
It's as beautiful as a Wong Kar Wai film.
Winning the Best Cinematography award at the Taipei Golden Horse Film Festival not only proves this film to be visually stunning, but its production design was on point, too! Cinematographer Yao Hung-I successfully captured how Taiwan looked in 1987, which was evident through the conscious choice of scooter bikes, retro wardrobe, nostalgic beepers, and accurate sets. These, matched with the undeniably handsome main actors, easily transport you into the world of Jia Han and Birdy (Tseng Jing Hua). An obvious bonus would be the few stills that seem to be a nod to Wong Kar Wai's Chungking Express and Fallen Angels.
CONTINUE READING BELOW
Recommended Videos
PHOTO BY

Your Name Engraved Herein/Oxygen Film Co

PHOTO BY

Your Name Engraved Herein/Oxygen Film Co

ADVERTISEMENT - CONTINUE READING BELOW

It doesn't over-sensualize a blooming love between two boys.
Most BL films and series in the past have portrayed love stories that were ultimately doomed from the start. That said, it's about time that the LGBTQ+ community gets to have a coming of age film that accurately represents them. Where similar popular movies like Call Me By Your Name, and Blue Is The Warmest Color usually place great focus between the characters' sexual tension, Your Name Engraved Herein successfully explores other themes, especially when it comes to the painful yearning of forbidden love. There's also the fear that Jia Han wears because of his religious beliefs and societal pressure, and the regret in Birdy's eyes once he discovers the two of them have loved each other all this time. If anything, the quiet and silly little moments they shared throughout the film meant more than words, or sexualized intimate scenes could ever do.
ADVERTISEMENT - CONTINUE READING BELOW
Their romance developed slowly—a back and forth dance between best friends who refuse to acknowledge the piercing stares, the ambiguous body language, the word play that suffers from confusion, jealousy, and rage between them—it's almost frustrating to witness when you just want them to just say it out loud! But that's why this film hurts more, because it painfully depicts what it's really like to fall in love when you know you shouldn't.
PHOTO BY

Your Name Engraved Herein/Oxygen Film Co

ADVERTISEMENT - CONTINUE READING BELOW

It depicts Taiwan's progression from being a homophobic society.
Your Name Engraved Herein serves as an ode to the legalization of same-sex marriage in Taiwan back in 2019. It demonstrates a massive feat considering how much homophobia was exposed in the film especially during the '80s. As per Liu's intention, the film serves as a eulogy to all those who didn't make it to see this change, and lost their chance at a great love and life due to an unjust system. A moving example of this in the movie was the brief but memorable appearance of a then young Chi Chia Wei, one of Taiwan's most prominent gay rights activist. The film is also a good reminder that as much as we're lucky now, there's still so much to do when it comes to the gay civil rights front around the world.
Below: a young depiction of Chi Chia Wei while in protest.

PHOTO BY

Your Name Engraved Herein/Oxygen Film Co

ADVERTISEMENT - CONTINUE READING BELOW

It has the perfect original soundtrack.
What truly makes a film memorable is its music scoring. Based on the title, Liu asked renowned Taiwanese music artist Crowd Lu to compose an original song for the film. With just its heart wrenching lyrics—"Your name engraved herein, you're buried deep down in the dust. If I didn't do so, I wouldn't be able to live the rest of my life"—and its mellow tune, the film's main theme song effortlessly captures the emotional turmoil that unrequited love brings. Lu's song became a huge hit after the film's release, winning the Best Original Song at Golden Horse Awards. To add to that, its music video now has over 20 million views on YouTube, and counting.
Listen to the full song below. Fair warning: Ready your tissues while you're at it.
What I Didn't Like About It
The predictable use of the passage of time.
Writing a romance story is difficult to pull off nowadays especially when every trick in the book has been pulled out, and that includes the overuse of letting years pass by to wrap up some sort of closure between characters. This device could have worked if they integrated this a bit earlier in the film rather than focusing on flashbacks of the religious debate between the school priest and Jia Han. So if you compare it to the fast pace the film was trying to instill, it somehow puts an underwhelming halt to the build up of the story.
ADVERTISEMENT - CONTINUE READING BELOW
So Should You Watch It?
Your Name Engraved Herein might appear as a story that we've already seen before, but what sets it apart is the fantastic eloquence brought by the new actors Edward Chen and Tseng Jing Hua. This film is perfect for those who love escapist young romance tropes that settle just right to keep you thinking about it after watching it. It lets silence speak for their young yearning hearts and further proves that in the battlefield of love, sometimes we win it by losing some. But once the battle's over and you're given another chance at love, you must fight for it with everything that you are.
Your Name Engraved Herein is now streaming on Netflix.
Related Stories from Preview.ph
Hey, Preview readers! Follow us on Facebook, Instagram, YouTube, Tiktok, and Twitter to stay up to speed on all things trendy and creative. We'll curate the most stylish feed for you!