Being one of five brothers must make it hard to stand out—add to that the expectations for one of you to inherit the kingdom of Joseon, and you're probably facing a whole ton of pressure on your shoulders. We're obviously talking about Under the Queen's Umbrella, a historical K-drama that's had a comfortable seat in Netflix's Top 10 TV Shows list since its premiere.
In the family dramedy, Queen Im Hwa-ryeong (Kim Hye Soo) is tasked to whip her five boys into worthy heirs to the throne. Among them is Gyeseong, who's the timid but affectionate mama's boy of the group. Breathing life into him is Produce 101 alum and up-and-coming heartthrob Yoo Seon Ho. We've given you the lowdown on everything you need to know about him before, so now, we're serving you a catalogue of his titles that you simply cannot miss. Check them out below!
6 K-Dramas Starring Yoo Seon Ho
1. Under the Queen's Umbrella (2022)
Watch on: Netflix
ADVERTISEMENT - CONTINUE READING BELOW
Causing ruckus within the palace halls and around the kingdom are Queen Im Hwa-ryeong's (Kim Hye Soo) five sons. Her majesty has a tendency to let her short-temperedness get the best of her, much to the chagrin of her supervisors and Queen Dowager Cho (Kim Hae Sook). Still, she persists, and does her best to turn her children from troublemakers to ascendants to the throne.
Also starring: Bae In Hyuk, Moon Sang Min, Yoon Sang Hyun, Park Ha Jun
2. My Strange Hero (2018)
Watch on: Viki
High school was going relatively well for Kang Bok-soo (Yoo Seung Ho). He had a girlfriend, Son Soo-jung (Jo Bo Ah), who was always right by his side. Though, things quickly go south when he gets wrongly accused of acts of violence, getting expelled and betrayed by Soo-jung in the process.
As fate would have it, they meet again years later. Soo-jung, who now works as a board member of the school they went to, re-admits Bok-soo to appease public opinion. Back in his old stomping grounds, the scorned ex-boyfriend hatches a plan to seek revenge on those who framed him for his expulsion. In one of his classes, Bok-soo encounters resident tough guy and bully Yoo Shi-on (Seon Ho).
Also starring: Kwak Dong Yeon, Kim Mi Kyung, Lee Kang Min
3. Undercover (2021)
Husband and wife Han Jeong-hyeon (Ji Jin Hee) and Choi Yeon-soo (Kim Hyun Joo) enjoy a quiet life with their kids Seung-goo (Seon Ho) and Seung-mi (Lee Jae In). That is, until Jeong-hyeon's past life as a National Intelligence Service agent knocks at his door. He's presented a peculiar mission that could potentially destroy his relationship with his family: He has to take down his own wife, who was just appointed as an official of the government's Corruption Investigation Office.
Also starring: Jung Man Sik, Heo Joon Ho, Park Geun Hyung
4. Doctor Lawyer (2022)
Watch on: Disney+
Han Yi-han (So Ji Sub) was among the top cardiothoracic surgeons in the country until one operation left blood on his hands. Absolutely distraught from the incident, he got his medical license revoked. Four years later, he finds himself in the courtroom as a lawyer specializing in medical litigation, helping clients who've fallen victim to negligience and malpractice. Portraying Yi-han's younger self in flashback scenes was Seon Ho.
ADVERTISEMENT - CONTINUE READING BELOW
Also starring: Shin Sung Rok, Im Soo Hyang
5. The Great Shaman Ga Doo-shim (2021)
Watch on: Viki, iQiyi, KakaoTV
Ga Doo-shim (Kim Sae Ron) just wishes to live her life as a normal teeanger. Sadly, that's not really possible, as her lineage entails her to become a shaman. She transfers to Songyong High School after her grandmother tells her that a spirit she lost is lurking around there.
Once enrolled, Doo-shim meets the handsome Na Woo-soo (Nam Da Reum), and the two discover that an evil ghost is actually taking the souls of students who get the lowest grades. One of the pupils who fell victim to this was Hyun-soo (Seon Ho), whose spirit yearns to reunite with his mother. Together, Doo-shim and Woo-soo attempt to halt the evil that surrounds the school.
Also starring: Yoon Jung Hoon, Bae Hae Sun
6. Mischievous Detectives (2017)
Watch on: Viki
Pyo Han-eum (Seon Ho) and Seol Oh-sung (Ahn Hyung Sub) are two intelligent high school chums whose parents abruptly disappear. They recruit police detective Ok Jin-kyung (Kim Nam Joo) to help them with the manhunt, and they make some pretty unexpected discoveries along the way.
ADVERTISEMENT - CONTINUE READING BELOW
Also starring: Lee Soo Min, Lee Dong Gil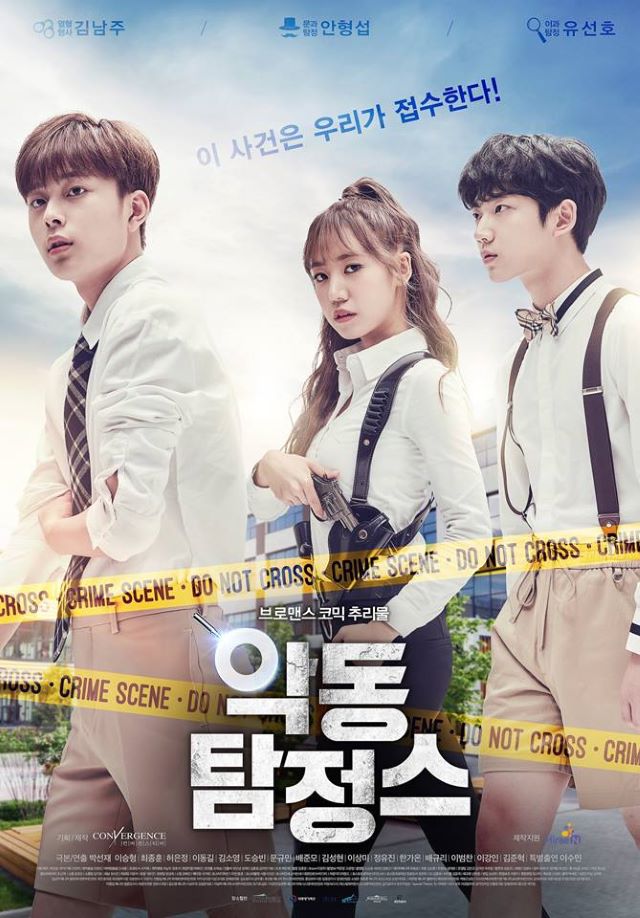 Related Stories from Preview.ph
Hey, Preview readers! Follow us on Facebook, Instagram, YouTube, Tiktok, and Twitter to stay up to speed on all things trendy and creative. We'll curate the most stylish feed for you!