"You like R&B. You don't like soul," Ylona Garcia quips, and Bailey May replies with a bemused "I don't really know what soul is" before the duo hit the set in head-to-toe deconstructed denim. Playful banter like this is normal for the pair, who see each other as "best friends," although landing a huge Bench billboard on Guadalupe alongside two of the country's biggest love teams is probably not normal. A gaze into what the future holds for them, perhaps? They're both just 14, after all.
Known collectively as BaiLona, Bailey and Ylona have come a few hundred-thousand Instagram followers away from Pinoy Big Brother (PBB) housemates and teleserye bit players to one of the youngest love teams to make it big in mainstream media in simply a year's time. You can blame it on their youth and that Generation Z social-media gravitational pull, but there's no denying that things will only get bigger and better for these two. We get candid with the pair about first impressions, growing up as a teenager on TV, and what "youth" means for the young.
ADVERTISEMENT - CONTINUE READING BELOW
What were your first impressions of each other?
YLONA: I thought he didn't like me. I thought he was a mean person, and I thought he would be a player.
BAILEY: I thought she was just an Australian girl. That's what I actually thought until I got into a conversation with her.
What's the difference now that you know each other better?
Y: Bailey's completely the opposite of what I thought he would be, and he's a really sweet guy. And he's not mean at all. Actually, he's like a mama's boy, so he's really sweet. I guess people have this impression of him as a player, but he's just kind to girls because he's a mama's boy.
B: She's not just an Australian girl that knows how to sing. There's a lot more to her. You know what I mean.
ADVERTISEMENT - CONTINUE READING BELOW
Since you both didn't grow up in the Philippines, is that one of the reasons you became friends?
B: Yeah.
Y: I think so. Yeah, that's one of the reasons. That's what brought us together. We had a task: to learn Tagalog.
What are the similarities growing up in Australia and the UK? Are there a lot?
B: English?
Y: Yeah. 'Yung English natin. Kaya naming mag-English na fluent. We're both learning Tagalog. Kind of growing together through learning Tagalog. And 'yung mga interest niya and 'yung interest ko, parang medyo pareho. We also both like to sing.
B: We like to play sports, I think. You like playing sports, right?
Y: Yeah.
B: Badminton, basketball...
BOTH: Swimming!
Y: There's another game we like to play, where it's like you have this hand thingy and if you look at it, I get to flick him in the ear.
Did you make it up?
Y: No, it was made up ages ago. 'Di ako sure, eh. I learned it in Australia.
ADVERTISEMENT - CONTINUE READING BELOW
What music do you guys like? You both sing.
Y: Well, I like… He likes Justin Bieber!
B: I changed who I like. I like James Arthur!
Y: You still like Justin Bieber, though!
B: Yeah, he's alright.
Y: I like James Arthur as well.
B: James Arthur is a good singer.
Y: I like Selena Gomez, Demi [Lovato], Christina [Aguilera].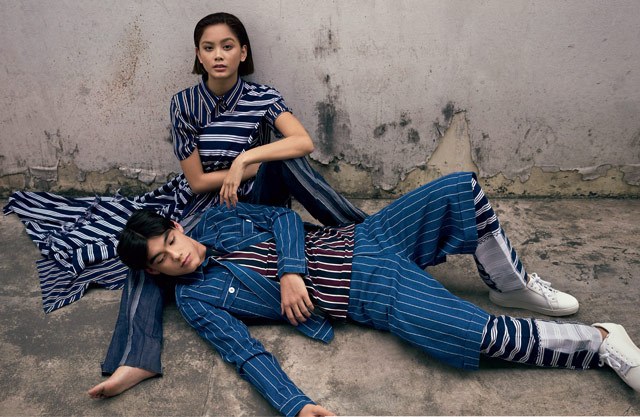 ADVERTISEMENT - CONTINUE READING BELOW
IMAGE BJ Pascual for Preview
What was the longest time you spent with each other?
B: PBB. I spent like 100 days with her.
Y: More than 100 days. I spent 100 days with Bailey, and there were ups and downs, but I never said I didn't like it.
B: I never said that!
Y: Yes, you did!
B: I enjoyed spending 100 days with her. I'd do it again if I have to.
What do you guys do when you're not together?
B: I like watching documentaries on YouTube. Vice. I watch Vice a lot. I watch all their videos. I watched the one about cannibalism in Africa, the honey that makes you hallucinate.... I just like learning new stuff. Ylona likes watching movies at the gym. And eating.
Y: That's pretty much me, actually.
What's it like growing up in the spotlight?
Y: It has its pros and cons. Para sa'kin, I try to look at the positive side. You know you have people that support you all over the world and you have an opportunity to share with people what you're made of, basically. So that's the pro, I guess.
ADVERTISEMENT - CONTINUE READING BELOW
B: It's nice to know that people support you and it's nice to have people scream for you and stuff. But the bad stuff is that there are people who will bring you down.
How do you support each other?
B: Oh, we don't do that. [Laughs.] I'm just joking!
Y: We support each other, of course. Especially with his album.
B: And her album.
Do you have a song together there?
Y: None from any of our albums, but from Himig Handog, we had one.
B: We raked that show, I have to say. We got a lot of awards and we're very blessed.
Y: We had a duet sa PBB house. It's called Magmahal Muli.
B: I still listen to it. Brings back a lot of memories.
Do you miss being a normal teenager?
Y: Well, I guess so because we're human. We won't be human if we don't. Sometimes I do miss being a normal teenager, but no one's ever really normal. I think we're all really crazy and weird.
ADVERTISEMENT - CONTINUE READING BELOW
B: Yeah, I kinda miss it, but I'm really thankful that I was given the opportunity to come here, 'cause if I were in England right now, I'd probably be doing bad stuff. Looking at my friends' Snapchat stories is really shocking!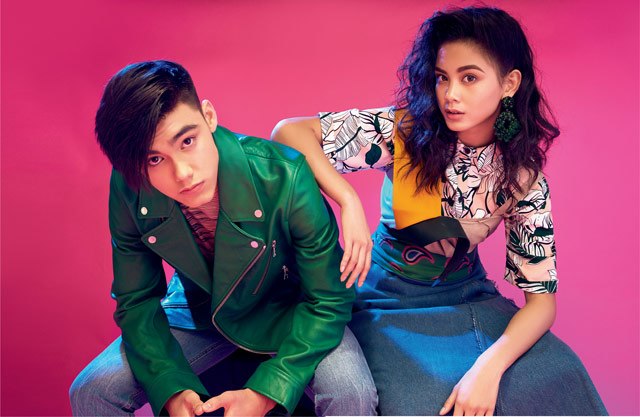 IMAGE BJ Pascual for Preview
ADVERTISEMENT - CONTINUE READING BELOW
Do you miss home?
B: I miss the UK very much. I haven't been back this year. Makes me heartbroken. But next year, hopefully, I get to go back.
Y: Absolutely. I miss it so much. Nakaka-homesick talaga, pero I guess I have my dad here so I'm fine.
How important is it to get a proper education?
Y: I think it's really important. I mean, for me, finishing school is a way to repay your parents. Just to let them know that you'll be alright in the future.
B: Yes, school's important. Personally, if I weren't a celebrity, I'd want to be a zoologist!
But is what you're doing now what you've always wanted to do?
Y: I think for the time being, I'm very sure of this. But I'm not sure of what I really want in the future. But I think it's best that way. I get to experience a lot of things.
ADVERTISEMENT - CONTINUE READING BELOW
When you say "future," do you have an age in mind?
Y: 25?
B: 21? Yeah, I'm just having fun, you know, but I have back-up plans.
Which are...?
B: I'm going to fly to Madagascar and find a cure for the black plague! I'm joking! I'll just probably go back to England and have fun.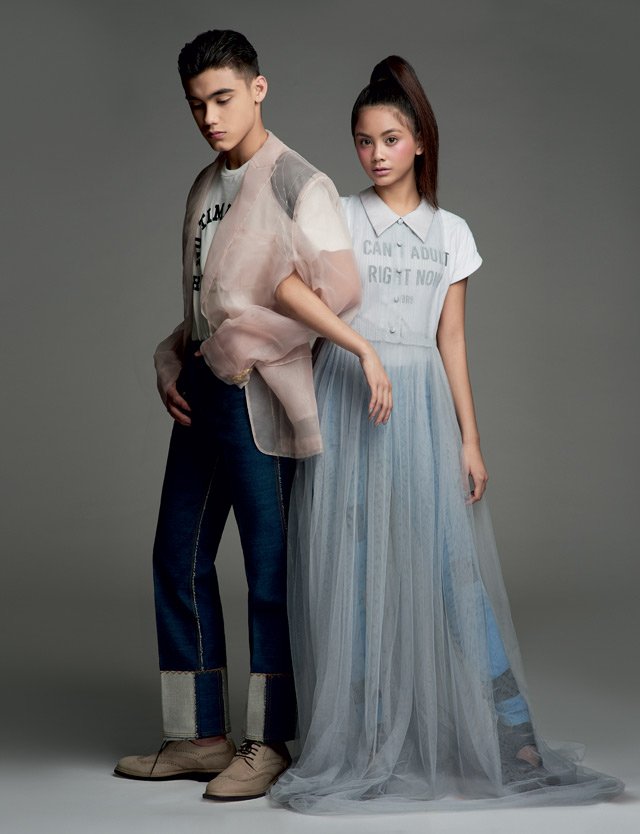 IMAGE BJ Pascual for Preview
ADVERTISEMENT - CONTINUE READING BELOW
Who are your heroes?
Y: My mother. She basically does everything for me... As well as my father, but she gave up almost everything for me. She almost lost her job. She almost died for me, and that for me is amazing. That's my kind of hero. Someone who would literally give up their life for you.
B: My parents because they gave up everything for me. They sold our house in England for me. I'm very blessed to have parents like them. They want to keep me grounded. They keep me grounded.
Do you both want to get into acting?
Y: Yeah, I actually enjoy acting. Kasi it's where you put yourself in different people's shoes and be a totally different person.
B: I want to act. Very much. But I like singing, I like dancing. I'll do all three. I'll try and master all three.
Y: Ooh, can I ask him a question? What would you rather do: singing, dancing, acting or football?
ADVERTISEMENT - CONTINUE READING BELOW
B: Football.
Y: Take out football, which one?
B: I like singing.
Y: Take out singing.
B: Then acting, obviously. You?
Y: Acting! Because I can act as a singer and I can act as a model and I can act as a dancer.
What do you think is cool now?
B: Fashion. Fashion is cool.
Y: Actually. Fashion is pretty cool.
B: Street fashion, like Supreme.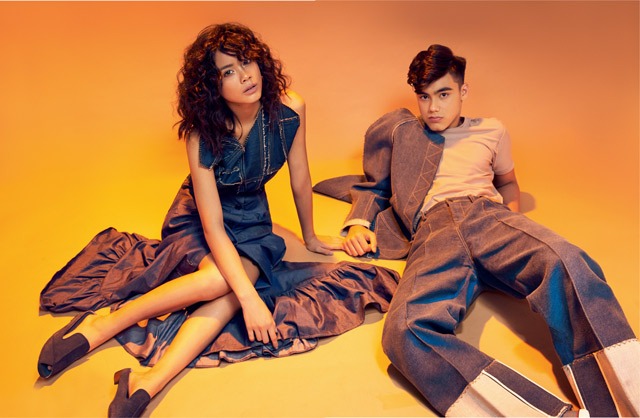 ADVERTISEMENT - CONTINUE READING BELOW
IMAGE BJ Pascual for Preview
Since you're both really young in a mature industry, do you feel the pressure to grow up quickly?
Y: Sometimes, because there are so many people. There are so many other artistas that are just amazing at what they do. I feel a little bit pressured by that.
B: No, not really because I'm taking my time.
Y: Well, I also want to be good for everybody, like the people that I inspire—especially for them.
When people say "you're so young," what do you feel? Is it a compliment?
Y: Could be. Depends. It could be a bad thing, it could be a good thing. The good thing is we set an example for the youth. The bad thing is they put you down 'cause you can't do a lot of things 'cause you're young. They think you can't do as well as older people.
ADVERTISEMENT - CONTINUE READING BELOW
B: I find it a compliment and a challenge 'cause when people try to put you down just because of your age, it just makes me want to do better at what I can do.
What's the best thing about being in show biz at your age?
B: You have a lot of advantages.
Y: You have such a long way to go. And so much more to give. Your craft, it gets better.
B: You have so much time to learn, to express and take in all the love from everyone and give the love back. And you also have a lot of time to save your money.
What does it mean for you to be young?
Y: To enjoy everything and not care about anything in the world. And travel! It could be anything, like just walking, enjoying the little things and the big things...
B: "Young" means not being in a wheelchair and have a walking stick. But everyone's young. Even the oldest person in the world is young. Age doesn't matter. It's the personality!
ADVERTISEMENT - CONTINUE READING BELOW
Would you ever travel together?
Y: Yeah, I mean, he'd be like my servant, I guess. [Laughs.]
B: I thought about LA, but there are too many people there. Iwant to go somewhere when no one's there. I want to go to Congo. Arizona, Nevada, Area 51… I want to sneak into Area 51 and Chernobyl!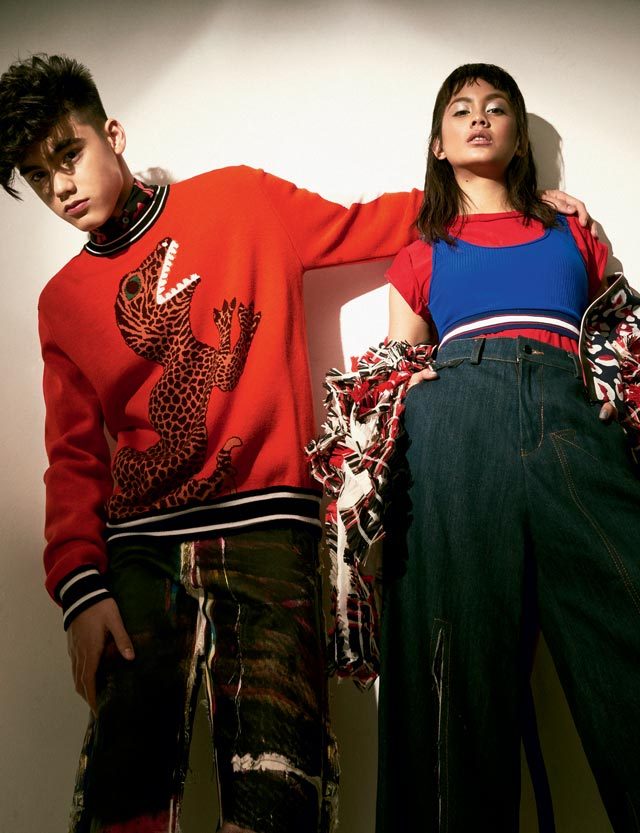 ADVERTISEMENT - CONTINUE READING BELOW
IMAGE BJ Pascual for Preview
What would you like to say to your 14-year-old self 10 years from now?
Y: Enjoy life. Take things slow. And be patient. Yeah, enjoy life and always aim for the best. Aim to be better than what you can do.
B: Make sure you bring an umbrella 'cause it'll be raining money. [Laughs.] I'm not trying to seem big-headed, but you know it's nice to dream! One of my dreams is to be well-off, so what I said isn'treally to sound big-headed—it's just part of my dream. I want to be able to buy my family everything they want. I want to get them a house in England. I want to have many houses around the world. I want to have many businesses. I want to have my own tower. I want to build a place with massive walls. I want to have an island!
ADVERTISEMENT - CONTINUE READING BELOW
Ask each other one question.
Y: Who would you date other than me?
B: Cara Delevingne.
Y: I would, too, actually. She's in my room. I have a picture of her. Why do you like her?
B: She's just really cheesy and I like her acting. You know Paper Towns? That's my favorite movie. I like Titanic, too. Paper Towns is very good and I can connect with Cara's character very well.
Y: Yeah, especially with the eyebrows.
B: Who is your celebrity crush?
Y: No, I don't have a celebrity crush. [Looks at BJ.] BJ Pascual! [Laughs.] Who would you rather—Selena Gomez, Demi Lovato or Miley Cyrus?
B: Selena. Justin Bieber, Shawn Mendes or Charlie Puth?
Y: Justin Bieber, 'cause I can see the realness in him. He's so up front. Wait, one more: Who's your favorite Victoria's Secret model?
B: Kendall Jenner. She's the only one I know. Who's your favorite?
ADVERTISEMENT - CONTINUE READING BELOW
Y: I kind of like the way Bella Hadid expresses everything. Like the way she walks as well. One last! Which is worse, having your tongue cut or having your eyes gouged out?
B: Why is this is a good question? Get my tongue cut. Why did you ask that? Are you planning something?!
*This article originally appeared in Preview March 2017 issue.