The first of many Star Wars spin-off films lined up for the next few years, Rogue One: A Star Wars Story opens your eyes to the realities of space politics, rebellion, sacrifice, and the undying concept of hope in a future ruled by a cruel dictator. Pretty serious? Yes. But a whole lot of fun, too.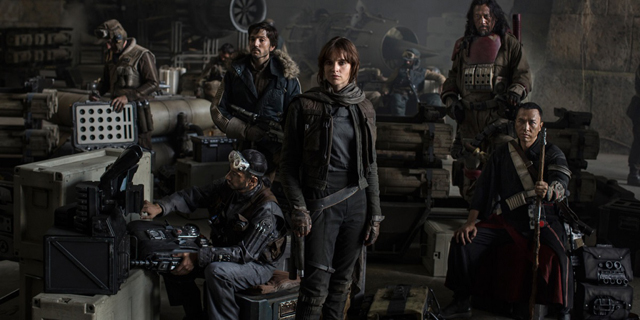 ADVERTISEMENT - CONTINUE READING BELOW
IMAGE screenrant.com
Everything starts with Jyn Erso (Felicity Jones), daughter of Imperial Engineer Galen Erso (Mads Mikkelsen), who is apathetic about the political status quo of the galaxy and is simply a rebel in her own right. Only because of the impending threat of the Death Star's completion and weapon test does she cross paths with Captain Cassian Andor (Diego Luna) of the Rebel Alliance. The Alliance needs Jyn to mend ties with one of the original precursors of the rebellion, Saw Guerrera (Forrest Whitaker) who has imprisoned an Imperial cargo pilot with a secret message from Galen Erso and has also raised Jyn as a child. Later it is revealed that her father's message is in fact about the Death Star's structural plans and its ultimate weakness, and Jyn and Andor set out to steal them to destroy it.
CONTINUE READING BELOW
Recommended Videos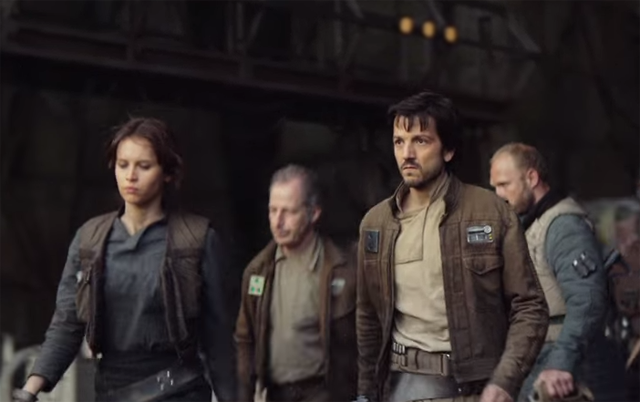 ADVERTISEMENT - CONTINUE READING BELOW
IMAGE Disney/Lucasfilm
Jyn and Cassian en route to reconcile with Saw Guerrera.
Rogue One may be a spin-off film, but it seizes the essence of what the entire Star Wars franchise is all about in a beautiful and comprehensive way (it is called Star WARS, after all). It's not an explorative adventure across the galaxy—it's about conflict, an intergalactic battle between ideals, races, the majority versus the oppressed, and ultimately, what's right and wrong. Sure, there's the mystic of The Force, the cool Stormtroopers, battle ships, and lightsabers to keep us all glassy-eyed and in awe, and admittedly without those it would make Star Wars like any other sci-fi flick. Although I've read that the "plot to steal the Death Star plans" is a lot different in the Expanded Universe of the franchise, Rogue One does not disappoint as the official version of the story. For the first time on screen, we're given a very grounded and realistic view of what a galactic war would be like as if it was a World War II movie.
ADVERTISEMENT - CONTINUE READING BELOW
IMAGE Disney/Lucasfilm
Forrest Whitaker's Saw Guerrera versus the young Saw in the animated series Star Wars: The Clone Wars.
The dialogue in the film is also a lot more complex and anchored on political views. My favorite exchange is between Jyn and Andor where he criticizes Jyn's sudden preachy tone about being part of the rebellion. "How do you know? I've been fighting since I was six," he says, and true enough Jyn only gets involved at the start of the movie. There are lot of lines like this that you can't help but relate to the current political climate locally and internationally. But despite all the seriousness, Rogue One delivers great action sequences that will keep you glued to the screen and at the edge of your seat.
ADVERTISEMENT - CONTINUE READING BELOW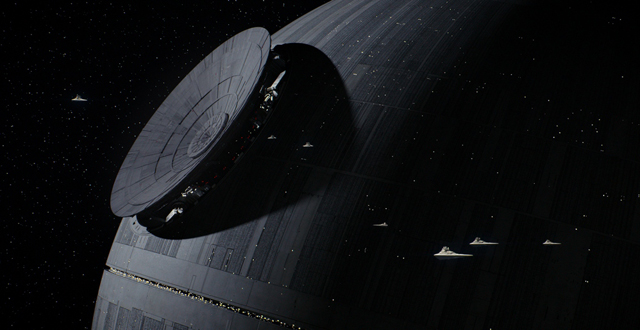 IMAGE Disney/Lucasfilm
The Death Star is ready to wreak havoc across the galaxy.
The two characters to blame for some of the epic action is Force sensitive warrior Chirrut Îmwe (Donnie Yen) and assassin Baze Malbus (Jiang Wen) who are both unique to Rogue One. And I know that everybody must be wondering how a blind man with a stick aka Chirrut can beat a squadron of Stormtroopers, but in the film he proves that his skill set is justified by his "oneness" with the Force. Also, to recap, if you remember in A New Hope, Stormtroopers aren't the most skilled in the galaxy and are actually "bad shots".
ADVERTISEMENT - CONTINUE READING BELOW
Who or what are they exactly aiming at?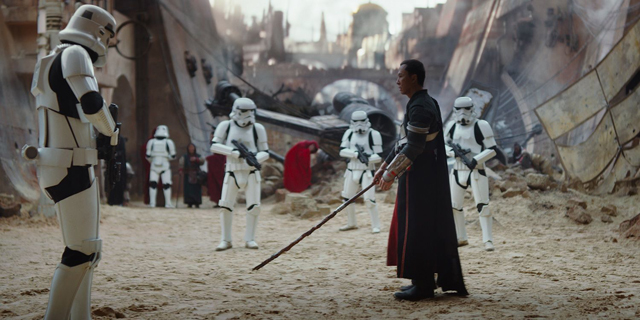 ADVERTISEMENT - CONTINUE READING BELOW
IMAGE Disney/Lucas Film
Donnie Yen is ready to beat Stormtroopers up.
Felicity Jones also gives an endearing and engaging performance as an initially "couldn't care less" Jyn to a fearless woman who's found prupose through the rebellion. Although I was a bit skeptical about another strong female lead like Rey, Jyn proves to be different, feisty yet level-headed, and not the typical Mary Sue of all traits. While Diego Luna plays the jaded yet good-hearted Cassian like a war veteran you can't help but relate to. Then there's Imperial droid K-2SO, who's a fun mix of Tony Stark's Jarvis and C-3PO. He, for the most part, provides all the memorable wit and humor in the film. Because it ain't a real Star Wars story without a campy line or two and well-timed laughs.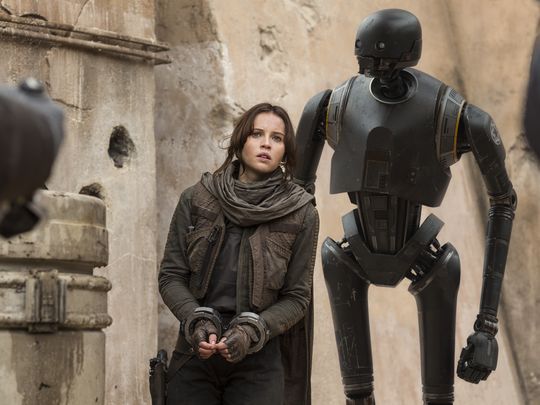 ADVERTISEMENT - CONTINUE READING BELOW
IMAGE ComicBookMovie.com
Jyn and Rogue One's version of Jarvis.
Then there's Darth Vader. And Rogue One gives you the best version of Darth Vader on the big screen. He's got the reverence of the classic James Earl Jones Vader we've grown to love, but the power and rage of Anakin Skywalker of the prequels. He's the perfect embodiment of the character from both of the trilogies combined, and his scene at the end will give you mind-blowing goosebumps of cool.
ADVERTISEMENT - CONTINUE READING BELOW
IMAGE Indiewire.com
He's ready to Force choke you, fam.
But the real hero is director Gareth Edwards. He received praise from original Star Wars creator George Lucas, who preferred Rogue One over The Force Awakens. And I couldn't agree more. It's obvious that Edwards is familiar with the entire Star Wars lore, and not just the original trilogy. As a fan, I appreciated his design and character references to The Clone Wars animated series, and how consistent yet original and intelligently written the plot was to the timeline (this takes place literally a parsec before Episode IV). The film bridged that gap between the prequels and original trilogy quite smoothly, and as soon as the movie ends you're left loving and wanting more and every bit of Star Wars all over again. Quite honestly, this is the Star Wars movie we all deserve—not just fan service.
Related Stories from Preview.ph
Hey, Preview readers! Follow us on Facebook, Instagram, YouTube, Tiktok, and Twitter to stay up to speed on all things trendy and creative. We'll curate the most stylish feed for you!