Here's a list of private villas with swimming pools in Rizal Province:
Villa Elisha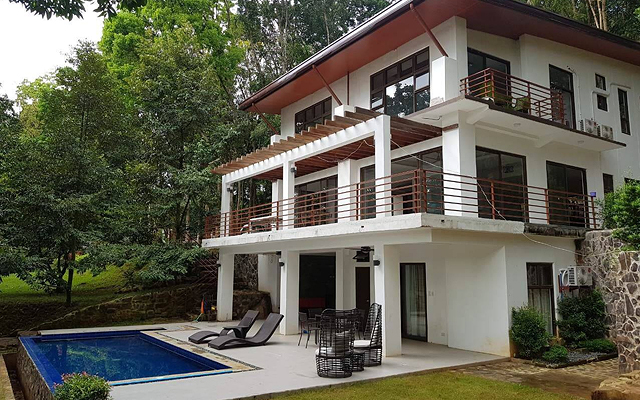 Pestaño Farm in Antipolo is known for its sprawling grounds, once a neglected piece of land with cogon grass and tree stumps. After five years of replanting, the 25-hectare property has become an eco-tourism destination with an agro-forestry farm, team building facilities, and a chapel for retreats. You can also find a private villa within the farm's premises called Villa Elisha. The three-storey vacation house has a swimming pool, an elevated backyard deck with a grilling station and outdoor tables and chairs, and three bedrooms plus a loft with extra beds that can accommodate up to 20 people. Guests also have access to Phillip's Sanctuary's hanging bridge, water and land obstacle courses, and fishing lagoon.
Timmy in the Woods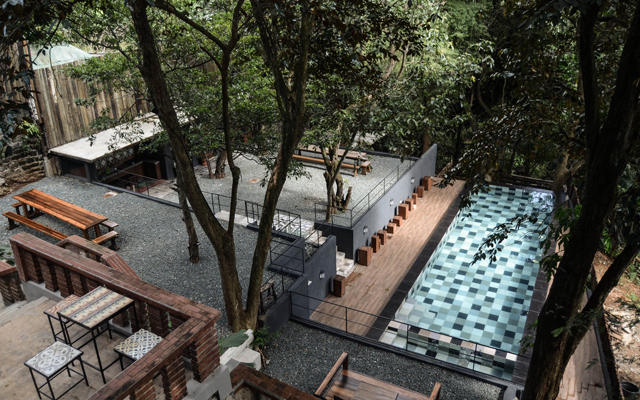 Timmy in the Woods opened to the public in January 2018, and has since become a crowd favorite for photo shoots, weddings and debuts, and weekend getaways. The two-floor villa has an air-conditioned room with a queen-sized bed and one sofa bed, a bunk room with three double-deckers, a living room with sofa beds, and a workstation for when you can't leave your deadlines behind. Guests also have access to the 14-meter infinity pool, garden with long tables, and outdoor kitchen with grilling area. Timmy in the Woods can accommodate 12 to 15 people for P26,000 from Monday to Thursday and for P28,000 on weekends and holidays.
Mi Santorini View Staycation - Maddie's Venue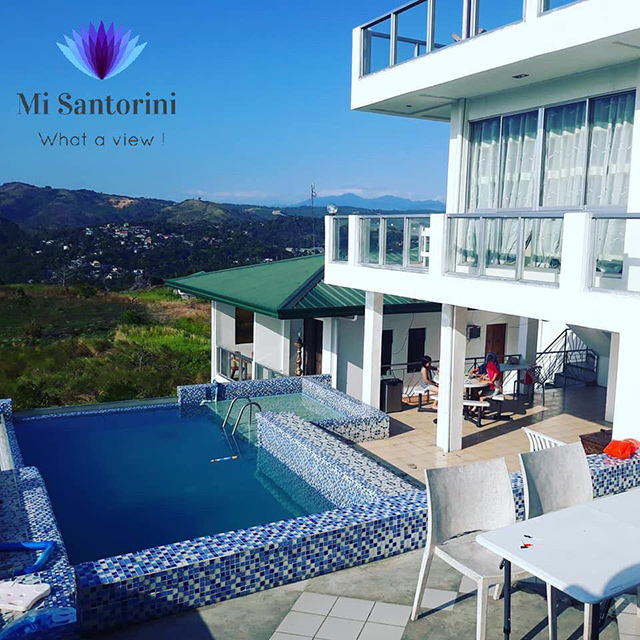 "The view is the best part of our place that we would like to share with you," reads their Airbnb description. This private villa lets you enjoy the scenic mountain view in many ways: while taking a dip in their Infinity Pool, at their roofdeck lounge, or even from the rooms. Pet parents don't need to leave their fur babies behind, as they're welcome to have a staycation with you too!
Luke's Haven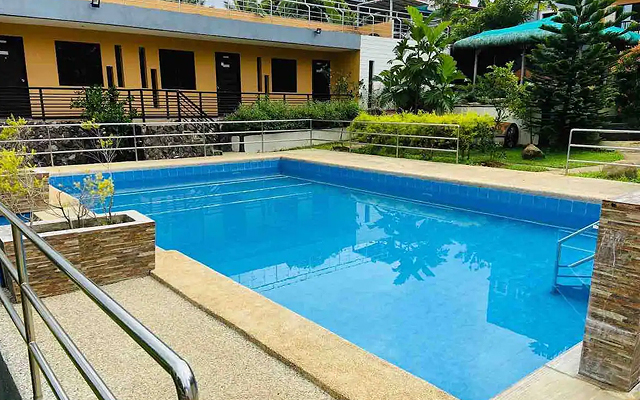 You have three options when booking Luke's Haven in Tanay: overnight use from 7 p.m. to 7 a.m. is at P18,000 for 16 pax; daytime use from 9 a.m. to 5 p.m. is at P17,000; and 22-hour use is at P21,000. Whichever you choose, you get to use the rest house's three bedrooms, 10-meter swimming pool, and the sound-proofed music room so you can go all out in karaoke.
Antipolo Bungalow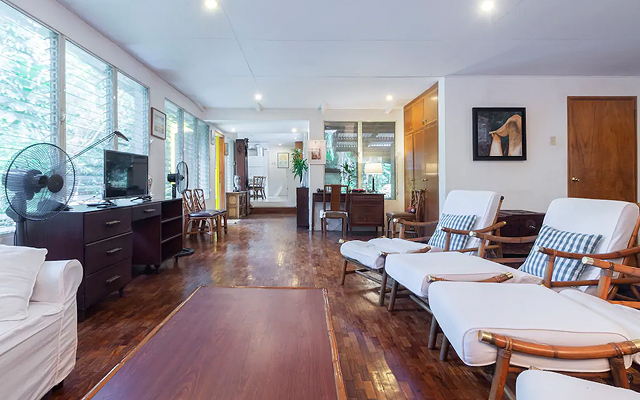 Located at the end of the road in a private subdivision, this Antipolo rest house is as secluded as you want it to be for a quiet weekend getaway. Plant lovers would feel right at home in this rest house, as the property is surrounded with plenty of plants.The house also offers Internet connectivity, in case you want to post photos on your IG, stat.
A Hidden Gem: Exclusive Villa With Pool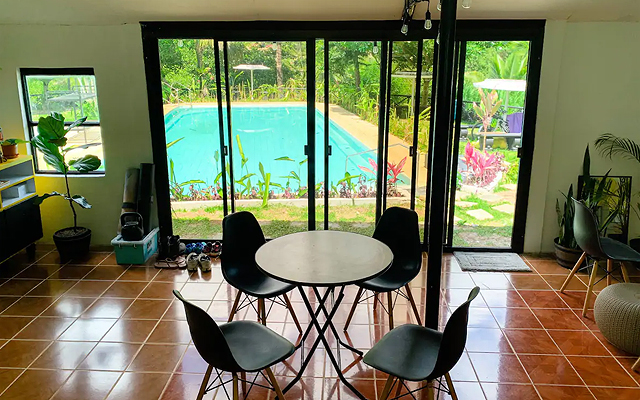 Just 500 meters away from Sierra Madre Hotel, this exclusive villa is the perfect place to go off the grid. There's no WiFi, mobile signal is a bit spotty, and there's no television—giving you all the reasons to get closer to nature. The place, after all, is close to a nature trail leading to a waterfall.
White House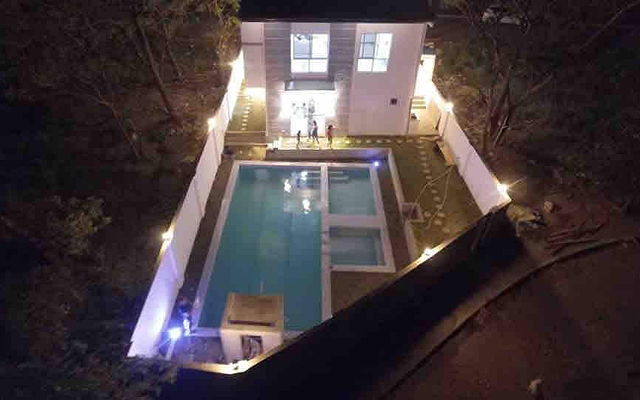 Palo Alto, a leisure and residential estate in Baras, Rizal, is often dubbed the "Tagaytay of the East" because of the chilly breeze coming from the Sierra Madre. You can enjoy this cold weather at the White House, which is located within a private subdivision close to nature. The swimming pool area is installed with three different kinds of lighting to suit your mood.
Beverly Hills Private Resort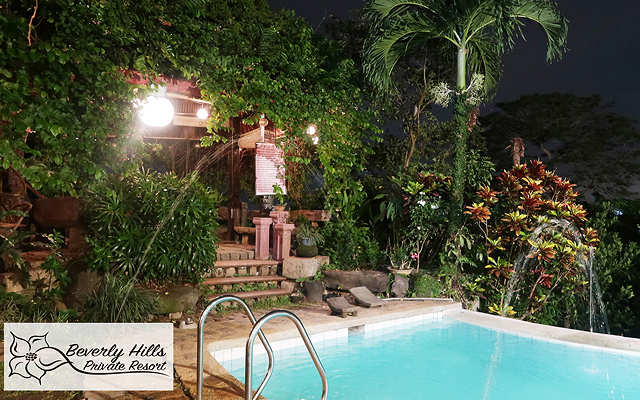 Beverly Hills Private Resort's infinity pool offers front-row seats to a beautiful view of the foothills of Sierra Madre. Guests have access to the three-storey house reminiscent of your grandmother's home. There's also a cabana and plenty of outdoor space for when you just want to walk around and breathe the fresh air.
YOLO's Rest House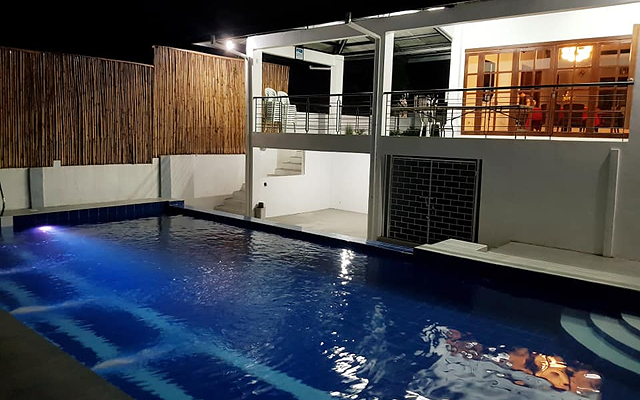 Yolo Rest House is a three-storey home that features a swimming pool, an entertainment room with a 50-inch television, a billiard table, and air-conditioned bedrooms. You can choose to rent it out for the day (9 a.m. to 5 p.m.) for P11,000; overnight (7 p.m. to 7 a.m.) for P12,000; or for 22 hours for P20,000.
Casa Rita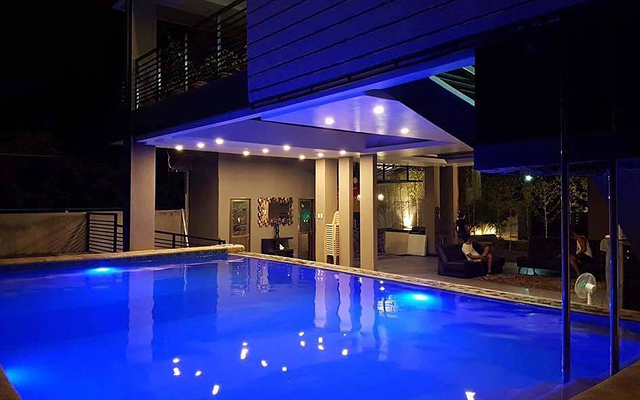 Boasting an overlooking view of Metro Manila, Casa Rita is often booked for family gatherings, birthdays, and wedding receptions. Bookings can either be for 22 hours at P18,000 or for 10 hours at P12,000. Guests have access to the nine-meter pool with a varying depth of four to six feet, one air-conditioned bedroom with a queen-sized bed and mattresses, billiard table, kitchen with refrigerator and burner stove, and grilling area.
*This story originally appeared on Spot.ph. Minor edits have been made by the Preview.ph editors.
Related Stories from Preview.ph