While it may seem like grand gestures are next to impossible at the moment due to the current crisis, Justin Cheng—with the help of events stylist Kyno Kho— still found a way to give his now-fiancée Katrina Sia an engagement proposal straight out of a fairytale. After all, before the big wedding, there's the all too important question, and every bride dreams of a kilig-worthy story to tell.
"Justin originally planned to do the proposal on his friend's building where we could make a natural look out of the semi-abandoned rooftop garden," Kyno of Art Project Ph recalls for Preview. However, considering all the health and safety measures they'd have to take into account, both Justin and Kyno agreed to build the garden in Katrina's house instead. The end result? An entertainment room transformed into a full-fledged enchanted forest!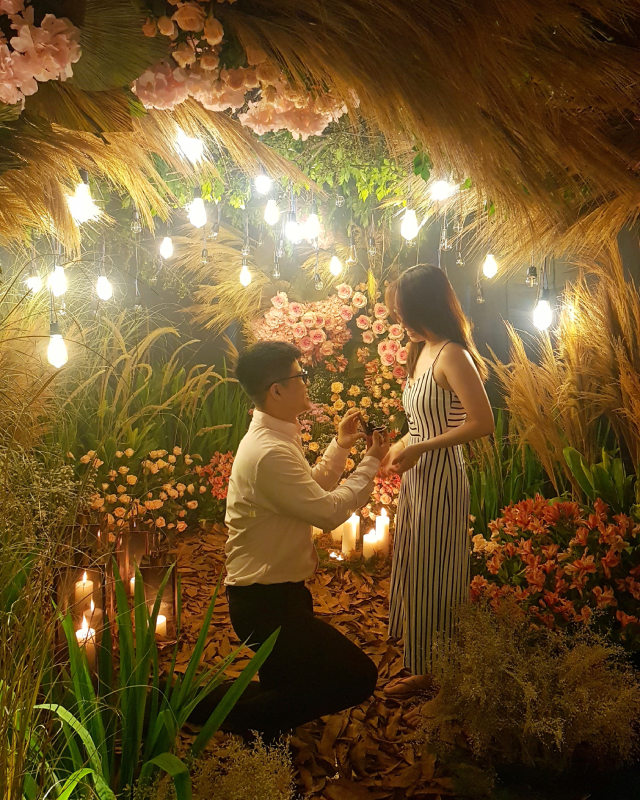 ADVERTISEMENT - CONTINUE READING BELOW
Decked with fresh foliage, and decorated with various blooms including roses, hydrangeas, and baby's breath, we can hardly recognize the living room at all!
Check out the before and after photos below!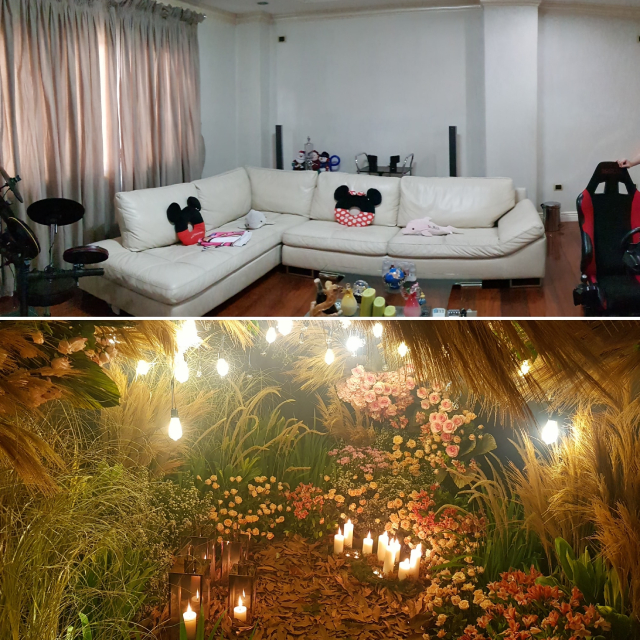 Scroll through our interview with Justin's stylist Kyno to find out how he made the magic happen.
Can you take us through the process of creating the indoor garden?
"It was a challenge for us to do an ocular and a setup at their house since Kat always stays at home! Thankfully, Justin and I were able sneak in to do an ocular in their entertainment room two weeks before the big day. We started sourcing our materials thereafter and made sure that we sanitize them before taking them out for the setup. Since our window time to set up was limited to Kat's sleeping time, we started doing our flower arrangements at our warehouse late afternoon. As soon as Kat fell asleep, we began to bring in the materials and flowers to their entertainment room."
How long did it take and what types of flowers did you use?
"Including the preparation at our warehouse, it took us roughly 10 hours to transform their entertainment room into an enchanted forest. We used a variety of elements in order to create a natural look and at the same time include the requests of the client. We used fresh foliage as our base to achieve the forest vibe, then we added a variety of dried elements such as pampas grass to our arrangements. To add a splash of color, we added different types of flowers including roses, hydrangeas, and baby's breath in our setup. Finally, we wanted there to be no trace of the room so we covered up the floor with dried leaves."
ADVERTISEMENT - CONTINUE READING BELOW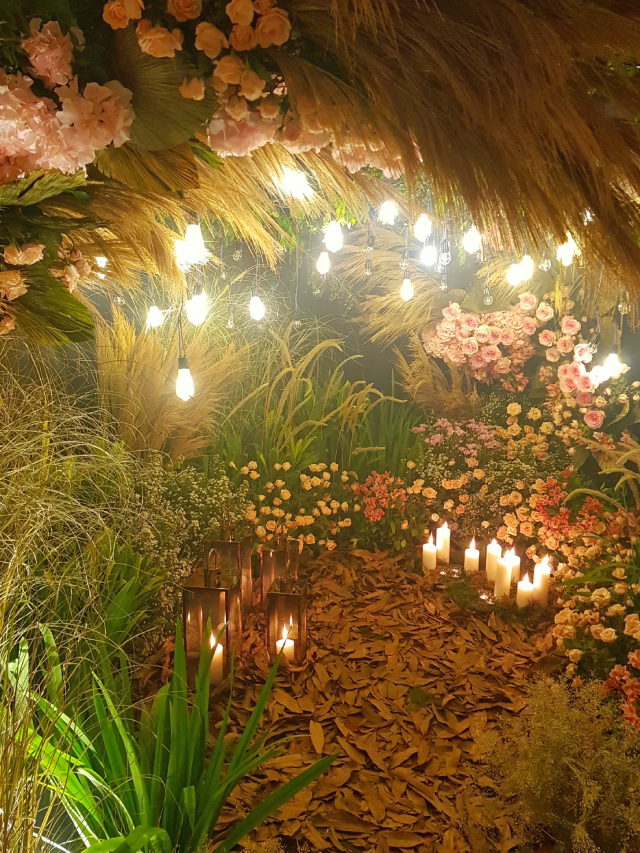 What advice would you give to engaged couples looking to push through with an intimate wedding in terms of styling their venue considering the restrictions right now?
"If venue and styling is the only reason holding you back to push through with an intimate wedding, have you considered doing it at the comforts of your home? Justin was facing the dilemma of how to convince Kat to go out with him to the rooftop garden, so we told him not to worry because we can help him make a garden of our own. As much as we love grand weddings and celebrations, there is always a silver lining in every situation and it is up to us to make the most out of it. At the end of the day, milestones like these all boils down to love—and love always wins. We are here to help our clients achieve their vision and to provide them with a memorable experience. When passion meets creativity, all dreams can come true!"
ADVERTISEMENT - CONTINUE READING BELOW
Congrats on the engagement, Justin and Katrina!
Hey, Preview readers! Follow us on Facebook, Instagram, YouTube, Tiktok, and Twitter to stay up to speed on all things trendy and creative. We'll curate the most stylish feed for you!