The ideal venue is key to the success of any wedding reception. But while the country is sprawling with events places, finding the perfect one for your nuptials could prove to be a chore depending on multiple factors, including the size of your party and your chosen theme. To help you narrow down your choices, we let the pros weigh in on the best wedding reception venues in the country. Though the current pandemic has put all large celebrations to a grinding halt, it never hurts to envision your special day well in advance.
Below, 11 wedding planners and stylists list their most recommended wedding venues.
Gideon Hermosa, events stylist
"My top five includes Shangri-La at The Fort since it's very accessible as it is located at the center of Bonifacio Global City. They have many options for function rooms that can accommodate small and big crowds. Shang at The Fort also has this amazing feature called the 'Sky Bridge' that connects the main hotel to the Grand Ballroom. It is the perfect spot to create an entrance tunnel that gives the guests a glimpse of the event's theme before going into the actual ballroom.
ADVERTISEMENT - CONTINUE READING BELOW
"Another venue within Metro Manila is The Peninsula Manila. The hotel has a very classic and timeless lobby, the overall view is very picturesque, and every corner is photo-friendly for a classic theme. The ballroom has a proportioned size, the ceiling is not too high, but ceiling installations can still be executed. They also have really good food and service.
There's also the Marriott Grand Ballroom. They have the biggest ballroom in the country today. The venue offers a generous amount of space, ideal for a styled event. Their banquet also has a wide food selection that can cater to big events with more than a thousand guests."
CONTINUE READING BELOW
Recommended Videos
"As for out-of-town venues, I'd recommend Shangri-La Boracay. It has the best view of the island away from the crowd. The venue also offers outdoor and indoor venue options. Other tourist spots in the famous Boracay island are accessible as well that your guests will surely enjoy.
Second is Amanpulo Resort in Palawan since it's found in a very private and exclusive location. The venue offers the best hospitality and personalized service, in my opinion. It has the best view and it's the perfect place for a romantic destination wedding."
ADVERTISEMENT - CONTINUE READING BELOW
Amanda Tirol, events planner
"My favorite wedding reception venue will of course be the beach. Why? It is because you have the beautiful water as your background, the sunset, the palm trees around, basically, with the whole setting, you will not really have to put much effort into styling the whole area as it is already pretty as it is. I'd recommend Shangri-La Boracay, Crimson Resort [in Cebu and Boracay], The Lind Boracay, Sea Wind Boracay, and Discovery Shores Boracay."
ADVERTISEMENT - CONTINUE READING BELOW
"I also think that with the current situation, this will be an ideal setting for you to be able to cut down on the guest list. Of course, the people that are close to you and love you will be the only ones that will be present in the wedding. Having your wedding at a beach setting will not just be a mini vacation but will also be some sort of a reunion for your family and friends."
ADVERTISEMENT - CONTINUE READING BELOW
Ayie Tuates, Imbitado Events
Blue Leaf Events Pavillion in Bonifacio Global City because it's very accessible to several nice churches, valet parking is very helpful, and it also has really nice restrooms. Also, I must say that their staff—maintenance, technical, cleaning people, parking attendants, security are all very nice people! They work with suppliers on what can be done to benefit the event and the couple. They're team players."
"I also recommend The Mango Farm in Antipolo. They have ample parking, beautiful scenery, accommodating office and venue staff, and they listen to what you want for your event and discuss possibilities before turning them down immediately."
Arbee Panga Delgado, Kiss the Girl Events
"For me, the best venues in Metro Manila are the Blue Leaf Events places located in QC, Taguig and Paranaque. Each venue has its distinct look and feel. Aside from its unique architecture, the venues can host small to large-scale events depending on your needs. They have superb facilities from their restrooms, valet parking, lounge areas, and even their sound system. Their security service also make sure that their guests feel safe whenever they're at the venues. They also have numerous partnerships with different caterers suitable for each client's needs. Not to mention, they also have the nicest and the most accommodating sales team."
ADVERTISEMENT - CONTINUE READING BELOW
"Another favorite is Antonio's Restaurant in Tagaytay. It's like a secret hideaway for you to discover. I like it because the place gives a regal yet intimate feel for guests and people who hold their celebration there. Aside from its world-class menu, Antonio's has a great lanai area for cocktails and pre-drinks before the celebration, a Cabana for smaller gatherings, pocket gardens for Christian/civil ceremonies, and a two-floor main restaurant for bigger gatherings."
ADVERTISEMENT - CONTINUE READING BELOW
Teddy Manuel, events stylist
"I have two wedding venues in mind. First is Shangri-La at The Fort. The grand ballroom is the perfect size in terms of the number of guests, and ceiling height for ceiling installations. You can transform the ballroom or leave it as it is because of its already beautiful interiors. Second is the Marriott Grand Ballroom. Most of my out-of-the box weddings happened there! We appreciate the hotel's effort in being convenient and flexible so we can execute set-ups that are one-of-a-kind."
ADVERTISEMENT - CONTINUE READING BELOW
Rhed Sarmiento, wedding planner
"For a modern feel while immersed in nature I'd recommend Blue Leaf Filipinas in Manila, Sitio Elena Events Venue in Cainta, and Hillcreek Gardens in Tagaytay. All three are easy to work with, supplier friendly, well maintained, and have clean comfort rooms."
Dave Sandoval, events stylist
"Shangri-La at the Fort, Blue Leaf Venues, and Whitespace Manila. I recommend them because of their professionalism and cooperation especially during the planning of the event. The staff are all friendly and accommodating too.
ADVERTISEMENT - CONTINUE READING BELOW
Shangri-La at the Fort for its convenient location and elegant ballroom. Blue Leaf and Whitespace because of their black canvas looks where stylists can easily transform them to any given theme. There's also The Peninsula Manila for its timeless elegance and picturesque looking ballrooms. No need for a lot of decorations since it's already beautiful."
Daryl Limjuco, events planner
"Blue Leaf Filipinas is a venue that is not hard to dress up. It gives you a sense of style and elegance. Plus, the people here are super nice. Blue Leaf Pavilion in Bonifacio Global City, on the other hand, has the biggest garden area where you can have your cocktails, game area, or even your ceremony.
There's also Angelfields Nature Sanctuary in Tagaytay. The first time I saw this venue, I fell in love with it. The nature scene of this venue gives you an authentic vibe for a romantic setup."
ADVERTISEMENT - CONTINUE READING BELOW
"I'd also recommend Makati Shangri-La. Amongst all the Shangri-Las here in the Philippines, Makati Shang for me is the best when it comes to events. They have great food, beautiful chandeliers, and courteous staff. They are very lenient with clients and suppliers. As much as possible they aim to help suppliers give their clients the perfect experience."
Sheena Añonuevo-Lopez, SMA Weddings and Beyond
"Blue Leaf is my most recommended venue. They're supplier friendly. They don't have unreasonable policies, and they don't make it difficult for suppliers to work in their venue. Thus, suppliers can give their best output for clients. They also have very courteous and helpful staff, and they don't charge unreasonable corkage fees to clients when they want to bring in their own suppliers for sound systems, extra food booths, etc. Additionally, they have branches in different locations that are near churches. And they have one of the most well-maintained and nice-smelling comfort rooms!"
ADVERTISEMENT - CONTINUE READING BELOW
Roch Chua, wedding planner
"There are so many beautiful wedding venues in the Philippines, but since I'm from the south and as one of the Board of Directors of the Laguna Events Association of Professionals I would like to recommend wedding venues here in our place. There's Casa Ibayo Trinidad which can accommodate up to 350 people and is the biggest here in our town. Ted's Warehouse & Event Space for rustic weddings. Lastly, the Bali-Raya Resort and Spa for a Bali-inspired wedding venue, and for intimate celebrations."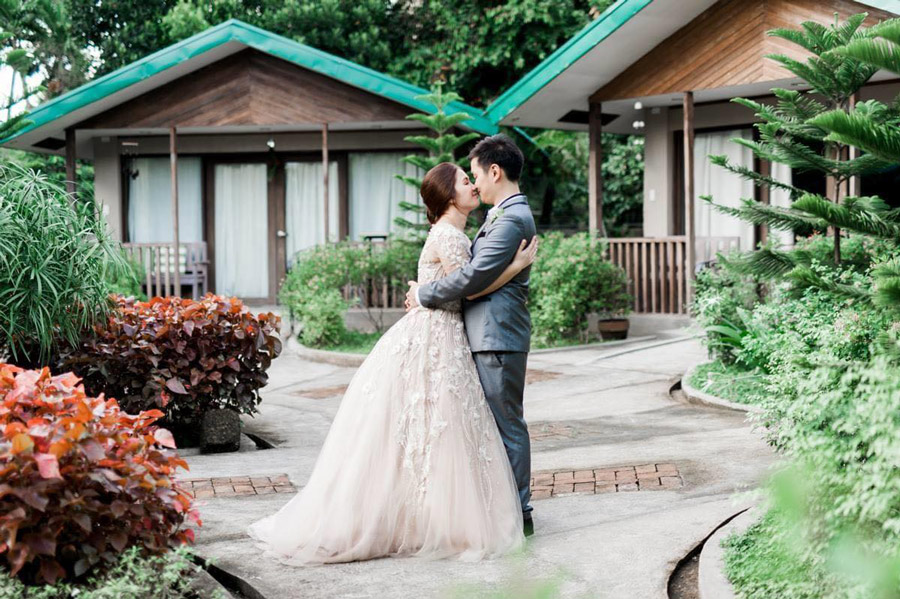 ADVERTISEMENT - CONTINUE READING BELOW
Bangs Zaldivar, events planner
"My favorite wedding reception venues are the 5 star hotels in Metro Manila because they have beautiful lobbies. Guests are already mesmerized upon entrance that it sets the tone for the rest of the event. I deal with professionals, from banquet sales, to dining, to event lobby personnel. Coordinating with them is systematic and I know for sure that my guests are handled well. It is comfortable for the hosts, meaning my brides and grooms and their families, as well as for the guests. Just take clean and well-managed restrooms, to begin with. Kitchens have strict rules, thus safety of my clients, their guests, as well as my staff, is assured. I love my 5-star relationship with hotel people. It makes my weddings held there beautiful."
Related Stories from Preview.ph
Hey, Preview readers! Follow us on Facebook, Instagram, YouTube, Tiktok, and Twitter to stay up to speed on all things trendy and creative. We'll curate the most stylish feed for you!