Wedding cakes are vital to every couple's big day. It's considered as the reception's centerpiece and an important part of traditional ceremonies. But in choosing your wedding cake, brides need to consider a lot of things in terms of size, flavor, and design. It must be stylish and photogenic enough for a seamless wedding decor.
To help us know more about the planning that goes into wedding cakes, Preview reached out to cake suppliers based in Manila. Let Melissa Pedreña-Cardenas of Lovelots Cakes and Yumi Castrillo of Piece of Cake by Yumi Castrillo answer your FAQs below!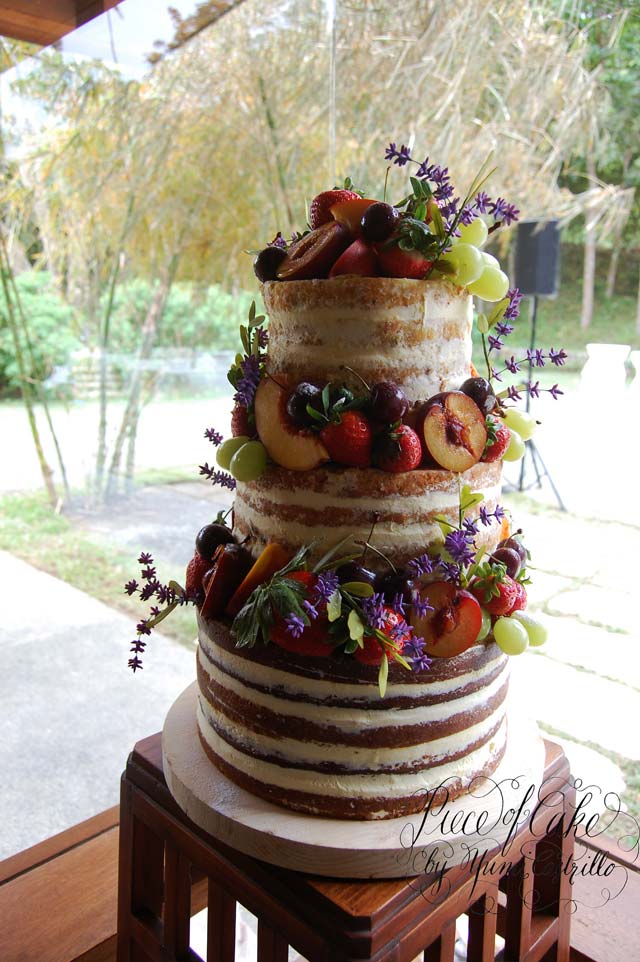 IMAGE Courtesy of Piece of Cake by Yumi Castrillo
1. What are the different wedding terms every bride should be familiar with?
Melissa: "Consultations may be a little tricky, especially with some never-heard jargon. Here's a starter pack to get you started:
First you have to decide what cake finish you want your cake to have:
ADVERTISEMENT - CONTINUE READING BELOW
Fondant
This is a type of icing that leaves a smooth outer surface. We highly recommend this option if you will have an outdoor reception, especially during summer. This medium also allows your cake artist to be more adventurous with your cake design since it is a lot sturdier than buttercream. We make a fresh batch of fondant for our cakes out of marshmallows and premium fine powdered sugar.
Buttercream
For non-fondant lovers, we got you covered. Our buttercream is made from high quality unsalted butter and meringue. It has a silky feel and is a favorite for rustic themes. Buttercream cakes is best for air conditioned venues.
Ganache
This is a mixture of cream and chocolate. This can be white, milk, or dark chocolate ganache. It is also what truffles are made of. The couple can opt to have ganache as their cake finish if they want another alternative. This is sturdier than buttercream. As for us, all our fondant cakes are coated with a generous amount of ganache before covering with marshmallow fondant.
IMAGE Courtesy of Lovelots Cakes
Next is to decide on the design elements. Here are the most common elements that comprise a cake:
Sugar flowers
If the couple wants to have flowers on their cakes, I always recommend sugar flowers over real flowers. Real flowers undergo chemical treatments that are not food safe. Some advantages of having sugar flowers is that the cake artist can make it for you even when that flower is not locally produced or not in season. They also last very long especially when placed in an airtight container away from humidity. They are also highly customizable. You can have really small roses and then go as big as your hands if you want to!
Couple toppers
These edible toppers are a great way to show off your personalities on your cake. Similar to sugar flowers, these are best stored away from humidity.
Acrylic toppers
If you want a more classic vibe, you can opt for really nice phrases/words or your names to top your cake with. These are usually seen in gold, but now, they are available in a variety of colors. They are also available in wooden finish, too. We usually recommend that they reuse this topper on their first anniversary cake for that total sentimental vibe."
Yumi: "This is determined depending on the style of the wedding cake they want; fondant for a more modern and clean look, buttercream for a romantic and rustic feel."
2. What are the most popular cake designs?
ADVERTISEMENT - CONTINUE READING BELOW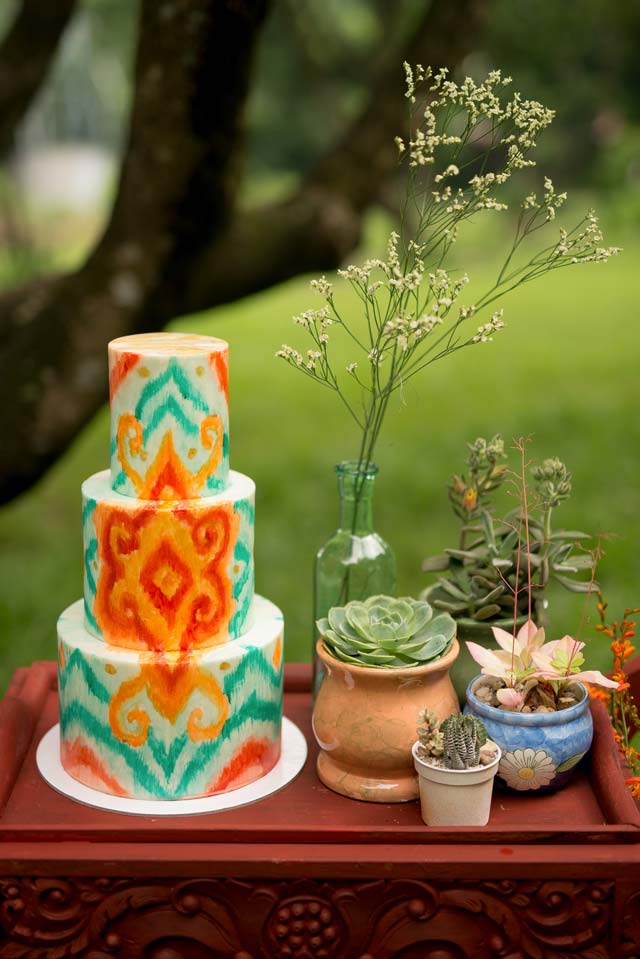 IMAGE Courtesy of Lovelots Cakes
Melissa: "Cake designs have evolved a lot over the years. From having the all-white traditional cakes, now, wedding cakes have become more colorful and personal. They now tell a story. Cake designs that are popular with quirky couples are ombre, watercolor, hand painted cakes. Some of those may come with their customized figures. For a more classic and elegant theme, sugar flowers never disappoint. Textured buttercream with foliage is also becoming a big thing. Others go for a minimalist look, and have a monochromatic cake, often muted or pastel in color, and opt for a monogram topper, or a single sugar flower statement piece."
Yumi: "Romantic and lush seems to be in demand, and although I've been doing it for the past five years already. Naked cakes don't seem to be going out of style anytime soon!"
3. What is the ideal cake size? How do you determine the slice and guest ratio?
Melissa: "Cake serving and ratio can get a little complex, but if well-coordinated with your cake supplier, it will be a breeze. Our standard wedding cake serving size per guest is 1"x2"x3" (LxWxH). This is a perfect size for the guests to savor the flavor of your wedding cake. We do not want the guests to be too full with it, especially that there's still a whole lot of food waiting to be served.
"The shape of your cake will also contribute to the number of servings. Square cakes yield more servings as compared to round cakes, hence they might be a bit more expensive. If you are expecting to serve 200 guests, I'd recommend a three tier 8", 10", 12"."
Yumi: "For an all-edible four tier cake, 6", 8", 10", 12" is enough for 200 guests. Party-size cake serving size is about three to four bites."
4. If the couple does not want a whole cake, what are the alternatives?
Melissa: "Modern times have paved the way for a lot of creativity when it comes to wedding cakes and cake-cutting ceremonies. I've particularly noticed that couples don't aim for a grand size anymore as a pre-requisite to their wedding cake. Instead, they are big on design, flavor, and number of servings. It highly speaks of the personalities of both the bride and the groom.
"Some couples choose a single tier cake for the sole purpose of cake cutting. Others, may order an all-edible three to five tier cake to serve and share with their guests. Some prefer to have three or more separate cakes. One alternative to having a wedding cake is to have a dessert bar featuring all the sweets they like. They can also opt to share cupcakes (just how they do it with the wine). Other couples opt to have edible centerpieces like have one cake per table or a cupcake bouquet per table."
ADVERTISEMENT - CONTINUE READING BELOW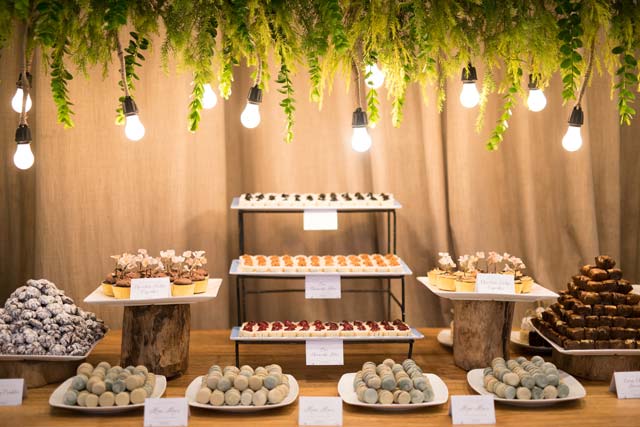 IMAGE Courtesy of Lovelots Cakes
Yumi: "Usually, cake makers give options as to which layers are edible when they make a quotation, such as having only the bottom layer of a three tier cake to be edible instead of the whole cake, which might be too cumbersome for the couple especially if they have no plans of serving the cake. Another alternative to wedding cakes is having a non-cake option–meaning making use of cupcakes, macarons, even donuts or other small desserts to be done up to look like a wedding cake."
5. What are the considerations brides should be aware of in ordering a wedding cake?
Venue
Yumi: "Cakes need to be in a comfortable climate, not scorching hot. So lunchtime by the beach is not a particularly good idea for a buttercream filled naked cake!"
Melissa: "Will it be outdoor or indoor? You do not want to have a melting buttercream cake or a sweating fondant cake."
Number of Guests
Melissa: "How many are your guests? Do you want to serve the cake? If yes, you need to coordinate with your caterer as they will be the one who will cut the cake to your desired servings."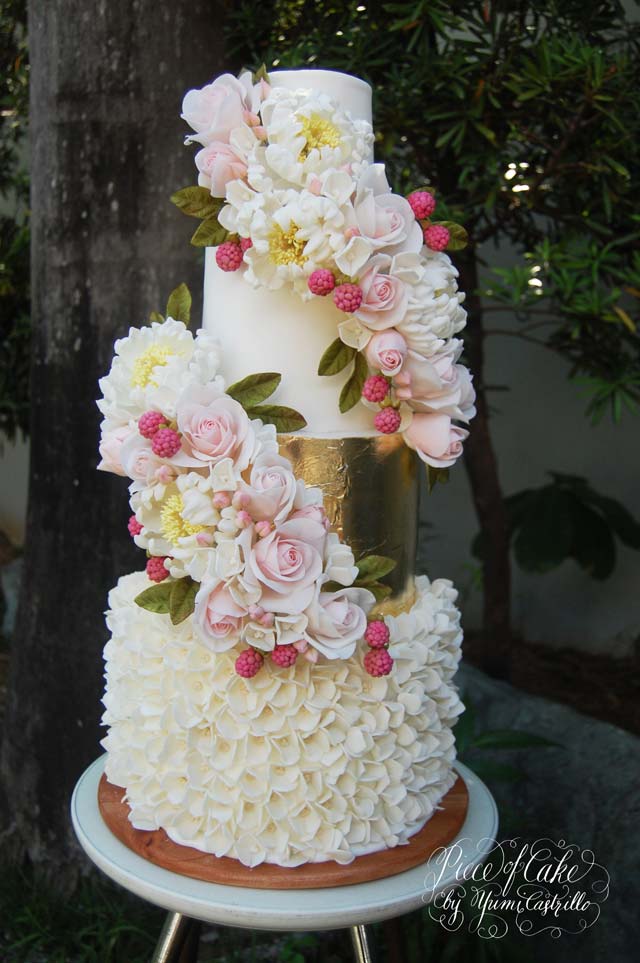 IMAGE Courtesy of Piece of Cake by Yumi Castrillo
Design and Styling
Melissa: "How big is your venue? Cake table styling is a big factor when it comes to having a cake centerpiece on your reception and that needs to be coordinated with your event stylist."
Time
Melissa: "What time is your wedding reception? We are usually one of the last suppliers to arrive at a reception as we try to present the cake as fresh as possible, one consideration is that the air conditioning is hopefully already turned on when we arrive. Or the cake table is already set-up. Cake deliveries can be tricky and we almost, always recommend that we personally deliver the cakes to the venue."
ADVERTISEMENT - CONTINUE READING BELOW
Transport and Delivery
Melissa: "The added costs are well-worth it because the artist will be personally there to touch-up whatever breakages the fragile cakes incurred while in transit. What time of the year is your wedding? The peak season is considered to be from November to February. If your wedding month falls on these, you have to inquire early on (especially when you are eyeing on a particular supplier). A year ahead may sometimes be too late if you are getting married on December."
Dietary Restrictions
Melissa: "Always check if your cake supplier can accommodate your requests like vegan, gluten-free, sugar-free, dairy-free etc."
6. What do you expect them to bring to the table when they set an appointment with you?
Melissa: "All our cake consults are primarily done online, via e-mail. When couples send us an email, we let them fill out a form with all the important details such as date, venue, theme, and their cake design ideas. Most cake suppliers take a limited number of orders a week so it is best to check availability and inquire ahead of time. We take cake consults very carefully because our design philosophy is collaborative. We want their cake to reflect their personality and tell their story. We want a cake that will evoke emotions and memories that will linger not only for the couple, but also for the guests."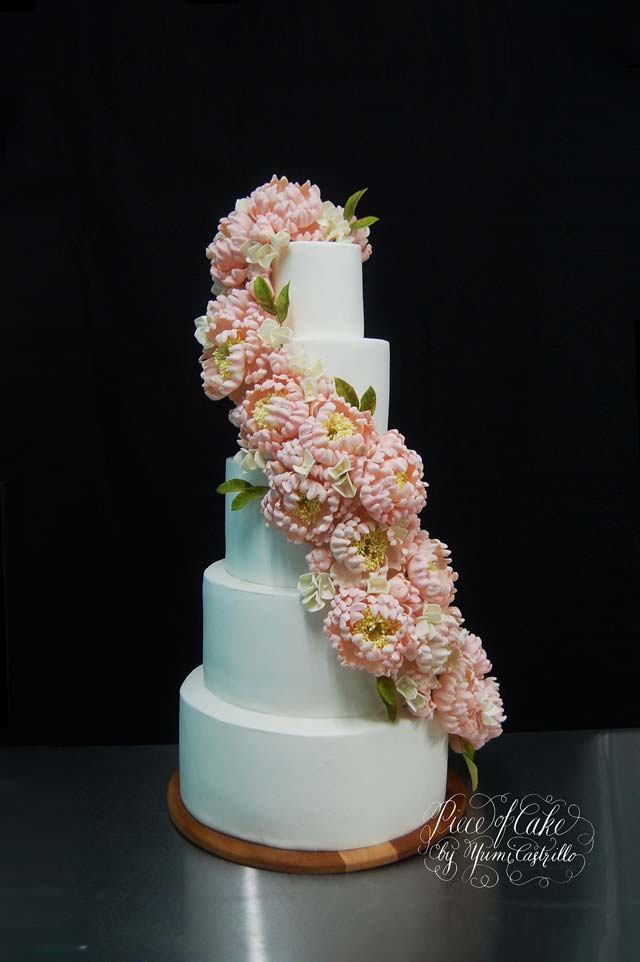 IMAGE Courtesy of Piece of Cake by Yumi Castrillo
Yumi: "Apart from having their final details of their wedding (date, time and venue) as well as cake design ideas (bringing pegs would be great), and how big their cake will be, that's really all I need for me to come up with a quotation. I usually expect the bride to scout for the cake after most of the other wedding suppliers have been booked (church, venue, caterer, gown, flowers etc). It's like the final touch, which I prefer really, because by that time, brides are able to show me the overall look of her reception and I have best chances of matching her style."
Related Stories from Preview.ph
Hey, Preview readers! Follow us on Facebook, Instagram, YouTube, Tiktok, and Twitter to stay up to speed on all things trendy and creative. We'll curate the most stylish feed for you!