With over 20 years of experience in the industry, artist and photographer Wawi Navarroza has had her fair share of ups and downs. Hers was a rollercoaster of epic highs and all-time lows. From receiving grants and awards, to losing all her works and contracting a deadly disease, each experience shaped her into the person she is now, and the art she continues to craft. However, perhaps nothing quite defines Wawi more than her recent exhibition, Self Portraits and the Tropical Gothic. A rebirth from the tragedies that plagued her life, Tropical Gothic is Wawi's attempt at reconstructing and rediscovering herself via cut-and paste style tableaus rendered in eccentric and vibrant colors that also remind her of her Filipino roots.
ADVERTISEMENT - CONTINUE READING BELOW
"Tropical Gothic came from how Nick Joaquin described his literary works. Tropical means 'what is lush, where things incessantly grow.' Just think of the jungle. Everything grows here in the Philippines. The Gothic to me is something that is just so extra. Something dark and mysterious, something you can't comprehend or is almost absurd. It also has to do with something baroque, meaning intricate, or things that don't fit," described Wawi during her Artist Talk. "This is the way I defined Tropical Gothic. It's syncretic, a mix of almost disparate things. That's our situation in the Philippines and as Filipinos. It's a blend of East and West, of Catholic and pagan, of this Latin and Asian about us."
Read up on snippets during Wawi's artist talk below, and get to know her and the journey that eventually led her to creating Tropical Gothic.
On her start
"I started photography when I was a teenager, around 18 or 19, as part of the Communication Arts program in De La Salle University. As a teenager my home was my imagination. I would make a lot with pictures, with the things that I imagined as a way to put what I've read or what I've thought about in the dark rooms of my laboratory. There was a lot of experimentation with self-portraits then, that was really my background. Mostly, I was interested to tell the story coming from the inside because I had a lot of it. I was a very dense teenager. I was always questioning the meaning of life and all these other existential questions. But I was also interested in the world. I also wanted to tell a story. But the story that I wanted to tell was personal because that's what I do best, and so I hid my stories in setting up things with my camera. I didn't want to be a diary. I wanted to speak in symbols."
CONTINUE READING BELOW
Recommended Videos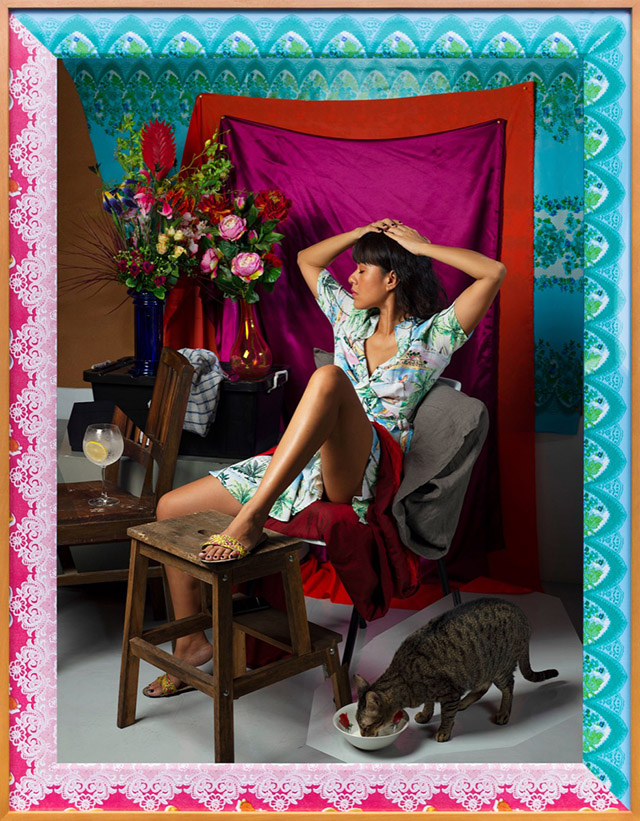 On her struggles
"Fast forward, I went to New York thanks to a fellowship grant from the Asian Cultural Council, and there I stopped taking self-portraits. When I came back to Manila, I finally moved to my first studio. This was my first home, and later on would also be a public space where I hosted slide shows for the photography community. A lot of things happened there. I was happy to be home here for eight years. But then disaster came one day. There was a typhoon and the walls caved in, all my photos got wet, books, debris everywhere. The studio was basically wrecked. The next day I decided to leave and I dropped everything, and I didn't know where to go. I didn't know what to do with the fact that the studio was destroyed, not completely, but in a sense that it was such a big shock. The first thing I that I grabbed was my hard drive. "
ADVERTISEMENT - CONTINUE READING BELOW
"[After this] I was suddenly uprooted because I got an award for a scholarship in Spain to finish my masters in Madrid. I literally had two weeks to remove my life from here and then there, after the flood. Something in Spain happened while I was doing my masters. At the end of the whole process of studying I was robbed during the day I was meeting with a curator in Madrid. So, all my works for the past two years, and the 10 years before that in a separate hard drive were robbed, while Rafael Nadal was winning his biggest win. I thought to myself, how could it be that in a snap of a second, I just lost what I felt was my reason for working, my big purpose? At the same time, I received an e-mail from CCP, and it created an anxiety because what are you if you're an artist, and you're abroad and you have no work, and you have no paper, because everything was stolen. So, I had to start from scratch."
ADVERTISEMENT - CONTINUE READING BELOW
On Tropical Gothic
"I was back to zero, and I came back to Manila and made a blank map to start with. I wanted to re-learn my place again in Manila. I stopped making big landscapes…After that, I asked 'What is it to know land? What is it to know where one is from?' Because after a while, landscape to me just looked abstract and the bigger question to me was 'Where do I belong?'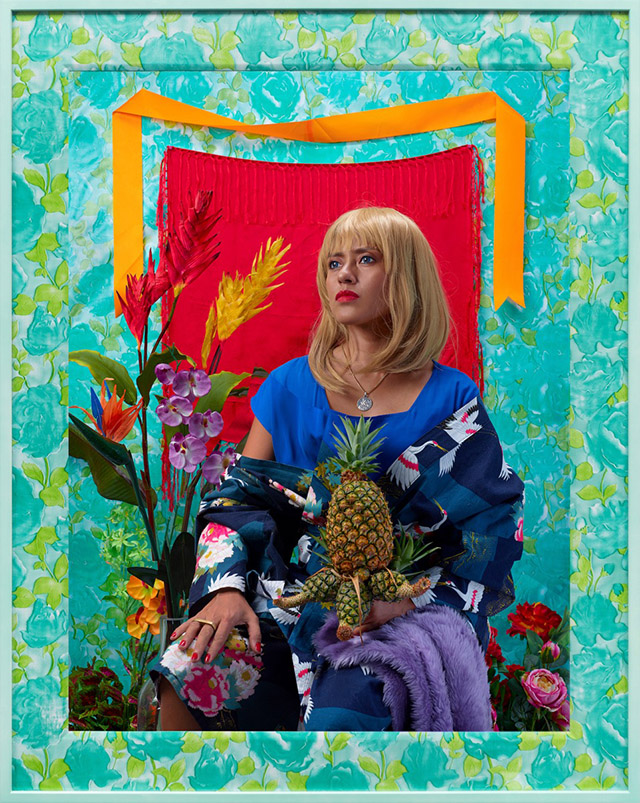 ADVERTISEMENT - CONTINUE READING BELOW
"When I was 19, I had the image of Narcissus pasted on the cover of a journal. He's always had a bad rep with his name and his reflection…But I just see the ego as some kind of construct. We're all a part of it. We all have it. But there's also another side when we talk about the self. For this exhibition I'm interested in the self-making and the anamnesis, the remembering who we are. In the same way that Narcissus' portrait was made, this is me remembering who I am.
"Using the tableau format, that's how I express my story without being too diaristic about it. [Showing] the sort of disasters that happened to me. At the end of the day there's a person that lived through it and these photos are testaments to a life that is not going to give up. There is a spark that refuses to die, that which wants to live. Most of the self-portraits here are to encase that experience. To sum up the grand tale of my dramatic life: the typhoon, losing everything in Spain, getting Dengue, not having a studio and always moving…I came back to a practice that I've abandoned in 2010. This is like coming back home."
ADVERTISEMENT - CONTINUE READING BELOW
On the difference between self-portraiture and selfies
"Self-portraits are not about projections. These are going in. It's the opposite of a selfie because when you do a selfie, it's to tell something that goes out. This show is a big inhale. Selfies are more to be seen, to be validated, to show your style, or whatever makes you, you. It's more of a function of ego. Not that that's bad because we all have that part."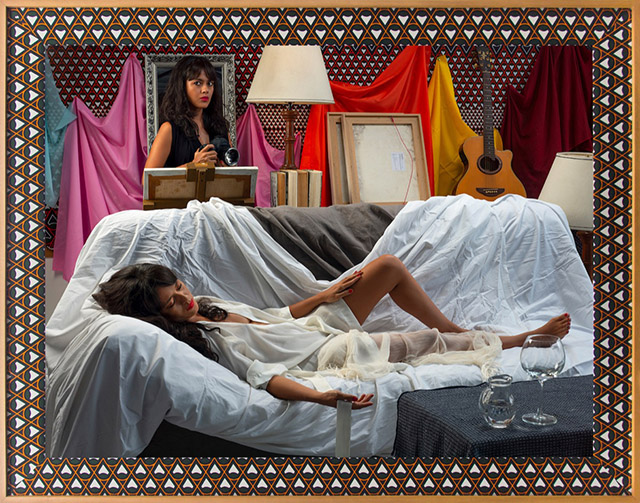 ADVERTISEMENT - CONTINUE READING BELOW
On her future works
"This is my coming back to 20 years of doing [self-portraits]. But I'm not limiting myself to it. One thing for sure now in this moment is that the Tropical Gothic is a fountain that is inexhaustible for inspiration. I think it's just begun. There's a lot to more to do."
You may view Self Portraits and the Tropical Gothic at the Silverlens Galleries in Makati until September 14, 2019.
Related Stories from Preview.ph
Hey, Preview readers! Follow us on Facebook, Instagram, YouTube, Tiktok, and Twitter to stay up to speed on all things trendy and creative. We'll curate the most stylish feed for you!