With the absurd number of people panic-sharing it, chances are you've already seen the latest Instagram chain-message going around the site. It's supposedly an urgent message warning IG users about the site's plan to change its Privacy Policy so they may soon use and publicize all your posts and photos against you, specifically in court related matters.
A slew of celebrities including Niall Horan, Tom Holland, Julia Roberts, Rob Lowe, and Usher even shared the post on their personal accounts, along with a few influencers, and the the current United States Secretary of Energy, Rick Perry—all unintentionally causing the letter to sound even more legitimate, and to spread like widlfire among their millions of followers.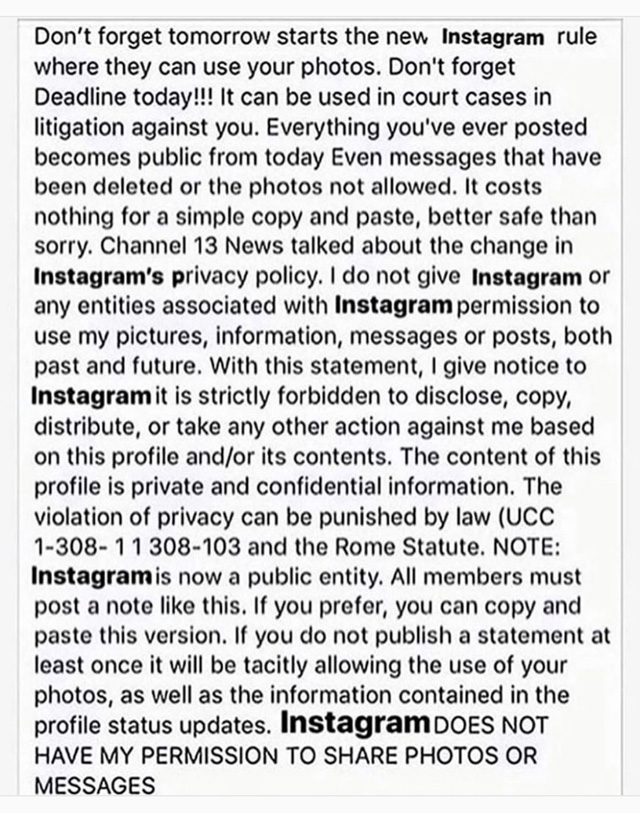 In fact, the same chain-mail first made its rounds around 2012, targeting Facebook users. It has since then managed to resurface in the coming years from 2016 to 2017, and continues to be proven as a mere hoax every time. The message recently being passed around Instagram actually happens to be the same text from 2012, only with the words 'Instagram' repeatedly badly photoshopped atop 'Facebook.'

But here's another thing you should be aware of. You've actually already agreed to everything contained in the hoax message. Yup, it was right at that moment when you agreed to Instagram's terms and conditions (which you probably didn't read, like the rest of us.)
According to Instagram's Privacy Policy:
"We do not claim ownership of your content that you post on or through the Service. Instead, when you share, post, or upload content that is covered by intellectual property rights (like photos or videos) on or in connection with our Service, you hereby grant to us a non-exclusive, royalty-free, transferable, sub-licensable, worldwide license to host, use, distribute, modify, run, copy, publicly perform or display, translate, and create derivative works of your content (consistent with your privacy and application settings). You can end this license anytime by deleting your content or account. However, content will continue to appear if you shared it with others and they have not deleted it. "

ADVERTISEMENT - CONTINUE READING BELOW
Meaning, Instagram has the proper license to use your messages and photos in however way they see fit, much like all the other social media sites you're using, after agreeing to their terms and conditions. Sharing a message stating that you revoke their rights to do so isn't going to change anything, unless you delete your account. This also includes disclosing your information, messages, and posts with authorities if deemed absolutely necessary. "We share information with law enforcement or in response to legal requests," as stated on IG's Data Policy.
In light of this, read up on Instagram's complete Terms and Conditions, here. While you're at it, it would be best to review that of your other social media sites as well. Aside from making yourself aware of the site's policies regarding their use of your data, it also helps to avoid any further fear-mongering in the future.