Talk about a historic moment. Filipino dancers Jan Cerezo and JR Marquez are set to represent the Philippines at the Gay Games 2018 in Paris! An international competition that has been combating LGBT discrimination in sports for over three decades now, it's held every four years (yep, much like the Olympics)—but what makes this sporting event different is that it does not require participants to pass through a qualifying process or audition.
"We actually only had to register," Jan shares. "I believe that it has always been this way because of the Gay Games' vision of creating a sporting event that is inclusive not just for LGBTs but for any athlete who wants to showcase their talent without fear of prejudice."
They'll be flying to France in August, but just in time for Pride Month, we sit for a chat with Jan about dance, dreams, and shattering stereotypes in sports and beyond.
ADVERTISEMENT - CONTINUE READING BELOW
What segment will you guys be competing in?
"My dance partner and I will be competing in the same-sex Latin Dance Sport (or competitive latin ballroom dancing) events of the Gay Games."
IMAGE Courtesy of Jan Cerezo
How long have you been dancing together and how long have you been training for the Gay Games?
CONTINUE READING BELOW
Recommended Videos
"I actually have two dance partners—I have been dancing with Jeffrey A. Calamaya for three years already and Michael L. Marquez Jr. (or JR as we call him) for two months. I met Jeffrey when he was very young way back in 2011 (this was when I was just starting to learn how to dance). He was one of my coach's scholars from Antipolo; their group was called Belinda Adora's Step Kids. Apart from my training in Ateneo, I would also sometimes train with them (as a boy back then) so that's how we got close. In 2015, I asked him if we could compete in the Third World, the annual local gay DanceSport competition held in Makati Sports Club. He agreed, and we have been dancing since then.
"At that time, we didn't take our partnership as seriously because we thought that there won't be any other opportunity for us to dance as a couple outside of that competition. But in 2017, we were given the opportunity to dance in Joshua Oliveros' music video Nobela as a same-sex couple (with me in drag). We then decided to take things more seriously and have had more opportunities to perform despite our being a same-sex couple. We were recently invited to perform in this year's recently concluded Pasinaya Festival last Feb and have appeared in Umagang Kay Ganda and in Jessica Soho's State of the Nation Address. We were also featured in TEAM Mag.
ADVERTISEMENT - CONTINUE READING BELOW
"Jeffrey and I had actually been preparing to compete in this year's Gay Games since January of this year. Unfortunately, Jeffrey informed recently that he could not compete with me anymore because of personal reasons so I will be dancing with JR instead. JR coached us last year in preparation for last year's Third World so I'm very confident in his skills as a dancer and I give my full trust in our newfound partnership. JR and I are training as often as possible because we definitely have a lot of things to work on. We have been working twice as hard because we only have less than two months to work on our partnership. I have also been conditioning my body a lot by taking Pilates classes at Onelife studio, yoga classes at White Space, and HIIT classes in Surya Fitness."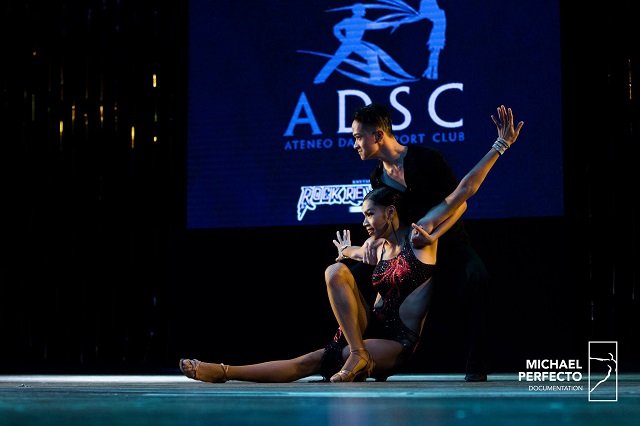 ADVERTISEMENT - CONTINUE READING BELOW
IMAGE Courtesy of Jan Cerezo
How did you start out as a dancer?
"I am actually a late bloomer—I discovered that I had an interest and talent in dance very late in my life. During freshman year in college, I had enlisted in DanceSport as my P.E. class, thinking that it was another word for aerobics—at that time I was very, very unathletic, very skinny, and very lanky. For some reason, I fell in love with DanceSport (a.k.a. competitive ballroom dancing).
"I was inspired by the president of the Ateneo DanceSport Club back then and our P.E. teacher Belinda Adora (who by the way was the 2005 SEA Games champion in Latin DanceSport). They were very sexy and moved very gracefully. I remember telling myself that I wanted to be like them, so I joined the Ateneo DanceSport Club and had out of school rehearsals with my coach. At one point, I even found myself being the dance partner of Toni Gonzaga for a year and a half! During my senior year, I became president of the Ateneo DanceSport Club and was also awarded the Loyola Schools Awards for the Arts for Dance during our graduation. Then after graduation, I told myself that I would not have been able to do and achieve all of these had dancing not been for me, so I decided to pursue with my whole heart dancing as a career."
ADVERTISEMENT - CONTINUE READING BELOW
IMAGE Courtesy of Jan Cerezo
What type of dance is your expertise?
"I definitely consider Latin DanceSport (competitive ballroom dancing) to be my expertise, since I have been a DanceSport athlete for eight years already. However, dancing in heels is a fairly new to me (I only started to dance in heels in 2015).
ADVERTISEMENT - CONTINUE READING BELOW
"Apart from Latin DanceSport though, I also dabbled in other genres like belly dancing and ballet. I took belly dancing for two years with Jill Ngo. Taking up belly dancing was an important phase of my dancing life because that was the period when I started to accept my femininity as an individual and the period when I started exploring the idea of using my being an effeminate gay man to my advantage as a dancer (which ultimately led me to pursuing a career as a dancing 'drag' queen).
"As for ballet, I initially started taking ballet classes in 2015 to supplement my ballroom dancing. Since then I have been taking class with various teachers. I am lucky that two ballet schools (Center for Movement and Music and Hampton Court Ballet) have 'adopted' me and allowed me to take classes with them from time to time. Although ballroom dancing and ballet are very, very different forms of dance, I was able to use the similarities between the two disciplines to my advantage (for example, learning ballet helped me become a better turner in ballroom dance)."
ADVERTISEMENT - CONTINUE READING BELOW
IMAGE Courtesy of Jan Cerezo
When do you leave for Paris?
"The opening ceremonies for the Gay Games will be held on August 4 so we'll be flying out on August 3, but our events will be held on the 9th and 10th."
What's something exciting we can expect from your routine?
ADVERTISEMENT - CONTINUE READING BELOW
"Dancing in a same-sex partnership has given me the opportunity to challenge and break gender stereotypes in the world of dance. Whenever I put on my dancing heels, I am given the chance to show that a man can portray a woman's role just as any woman can so I am definitely very excited that my dance partner and I will have an even bigger platform through the Gay Games to showcase what we have to offer. We are preparing lots of tricks in our dance. Hopefully, we wow the audience with how strong my dance partner is considering that he is doing tricks and lifts with another man, and as for me I hope to show that dancers should no longer be restricted from dancing the way they want just because of their sex and that a man call also embody fragility and femininity on the dance floor."
ADVERTISEMENT - CONTINUE READING BELOW
Is there any way we can watch the Gay Games live from Paris?
"I'm not sure. Most probably, they will stream it. But if not, I will stream it live from my own FB!"
Have you ever joined any dance competitions in the past?
"Yes, I have been dancing for eight years already and have danced in numerous competitions as a boy and girl, but the Gay Games will be my first international competition and it will definitely be the biggest one for me yet."
ADVERTISEMENT - CONTINUE READING BELOW
From your point of view, how are the Gay Games important in light of Pride Month?
"I think this competition is a good reminder for everyone that we are always who we choose to be and that we can become whatever we aspire to become as long as we set our hearts and minds on that goal, nothing is impossible."
If you want to help Jan and JR fund their journey to Paris, click here and donate!
Related Stories from Preview.ph



Hey, Preview readers! Follow us on Facebook, Instagram, YouTube, Tiktok, and Twitter to stay up to speed on all things trendy and creative. We'll curate the most stylish feed for you!