Papercutting is the delicate art of cutting paper into intricate designs. One Filipina who has turned her craft into a business is Chicago-based illustrator and artist Yang Pulongbarit-Cuevo. Read on to find out how she got started and what inspires her creative work.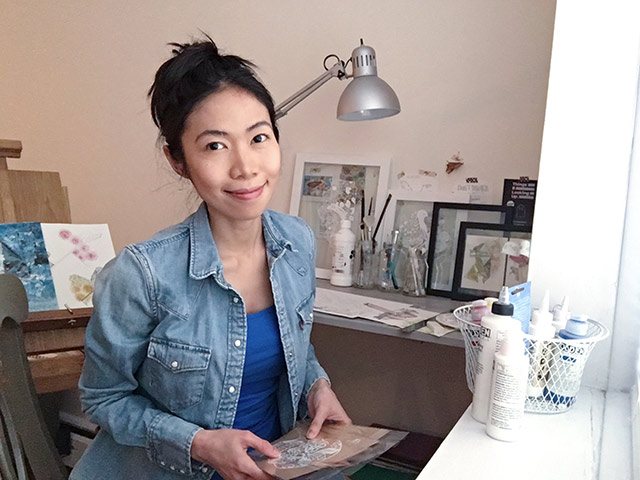 IMAGE Courtesy of Yang Pulongbarit-Cuevo
How did you get started in papercutting?
"I quit my corporate job of five years in 2013. Before going back to the workforce later that year, I decided to dabble in a few creative activities. One of those activities was a papercutting workshop in Cookie Collective, which used to be in Cubao Expo (if you're curious, Cookie Collective is now the burger joint Sweet X). I was always making art growing up, but that was my introduction to the craft."
What was the very first piece you designed?
"I honestly can't remember. I created random designs during my papercut exercises. And this was way before I decided to open an online art shop last year. I feel so bad not remembering! [Laughs] I remember the first piece that I sold though. In December 2013, I ended up putting two of my amateur pieces up for auction for the benefit of typhoon Yolanda victims. They were both sold and I donated all of the proceeds to the cause. That experience served as sort of a compass for my artistic journey."
How long have you been creating papercut art?
"As I mentioned, I started in 2013 and had two of my art pieces sold that year. But other than that, I did not actively pursue it until after a very eventful 2016 (getting married, moving to Chicago permanently, and hosting a weekend radio show), I finally invested in more supplies and went back to illustration and papercutting regularly, with a timeline and goal to open an online art shop in 2017."
ADVERTISEMENT - CONTINUE READING BELOW
What do your clients usually request for when having papercut art customized?
"My best-selling custom piece is my celebration map. I hand-draw and hand-cut an intricately-designed state silhouette and personalize it with details of the event or milestone that took place in that state.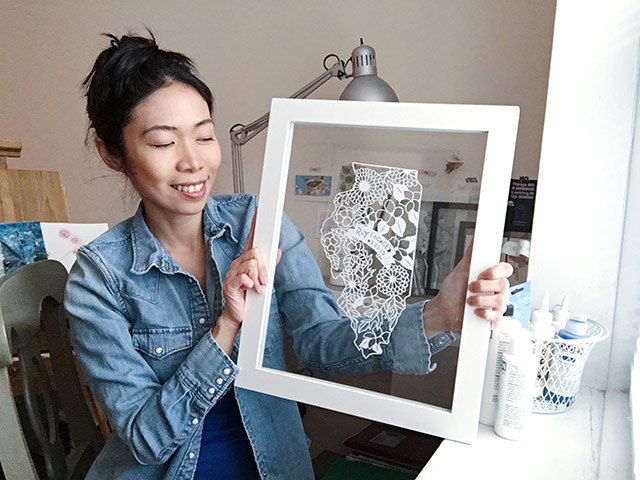 IMAGE Courtesy of Yang Pulongbarit-Cuevo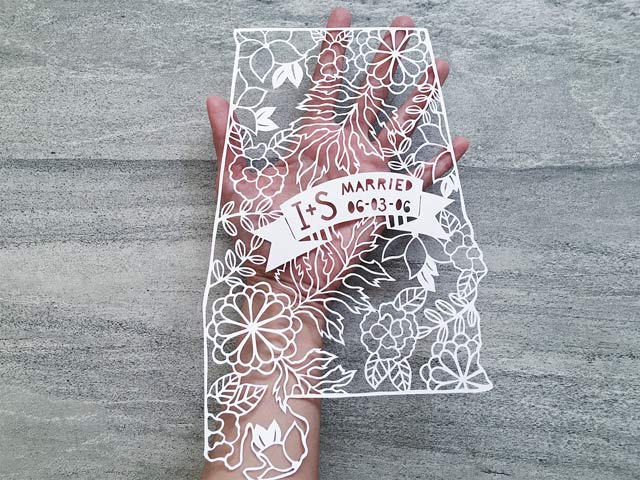 IMAGE Courtesy of Yang Pulongbarit-Cuevo
"Most custom orders are artistic representations of things that are very sentimental, personal, and meaningful to my clients—and those are what I love the most. I once had a project for a custom papercut art of a wedding lace pattern. This lovely girl from Florida had it made for her mother-in-law who lost her wedding gown a long time ago from constantly moving houses and has always been sad about it. It was so touching that her daughter-in-law came up with this idea for a unique art piece to remember her wedding by."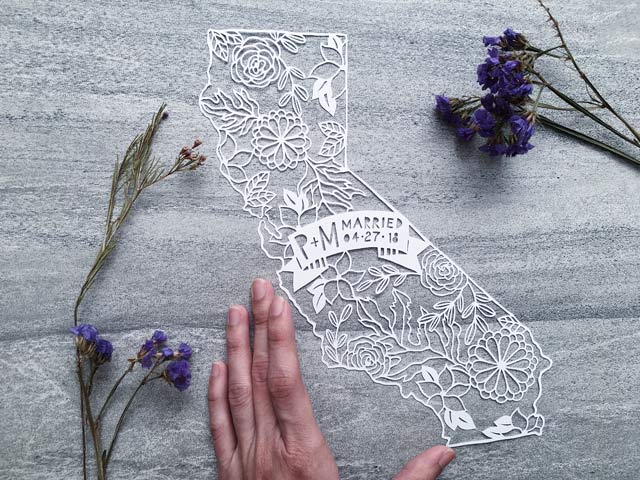 IMAGE Courtesy of Yang Pulongbarit-Cuevo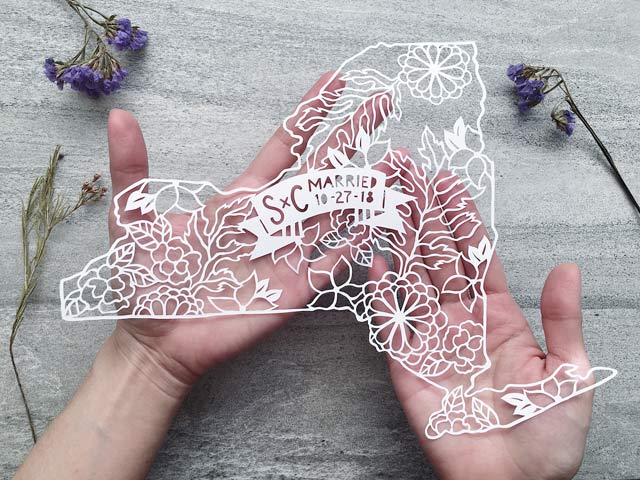 IMAGE Courtesy of Yang Pulongbarit-Cuevo
How long does it take for you to work on a piece? Where do you usually create them?
"The time I take to complete a project depends on the size and details of a design. A smaller piece may take longer than a bigger one depending on the details. So the range is big; say anywhere from two to 12 hours. But art pieces that I'm currently making to build my first collection and potentially exhibit in galleries is a totally different story. They are taking me days!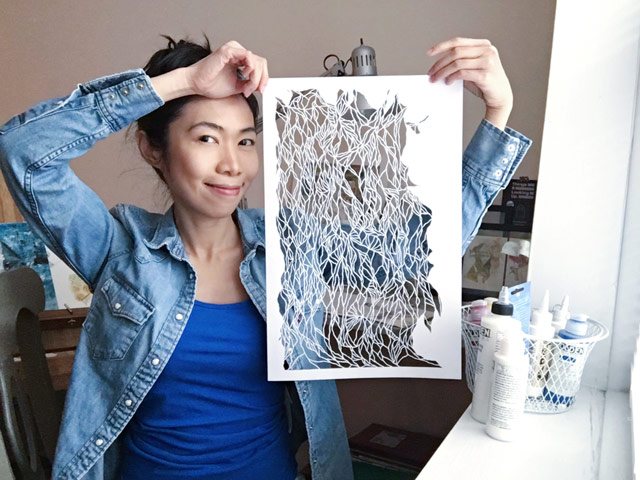 "Right now, I work from a home studio in Northern Chicago. It's a quaint corner in our tiny home. My husband DIY-ed a counter-height table from shelf brackets, gray-washed wood planks, and pipes!"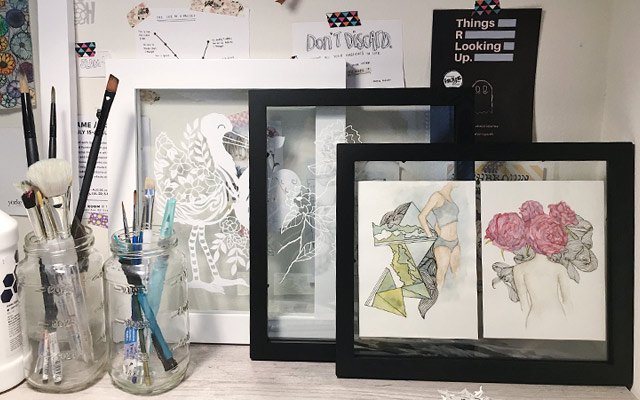 IMAGE Courtesy of Yang Pulongbarit-Cuevo
For your personal work, what inspires your art?
"The initial inspiration was probably the fact that the shop was opened in the middle of the woods. I set it up and activated it while spending the weekend in a summer house in Wisconsin—and we got Wi-Fi, yay!
ADVERTISEMENT - CONTINUE READING BELOW
"So my early batch of papercuts for sale was mostly woodland creatures/forest animals. I also draw inspiration 'from inspiration.' It sounds silly but it just means that inspiring and motivating thoughts are also good sources of my designs, because I create a few pieces with text and my own visual representations of virtues such as strength, courage, acceptance, etc. Also, my illustration style always comes through in my papercuts. I love doodling and I always illustrate using fine, repetitive lines and I think that habit often shows in my papercuts, too."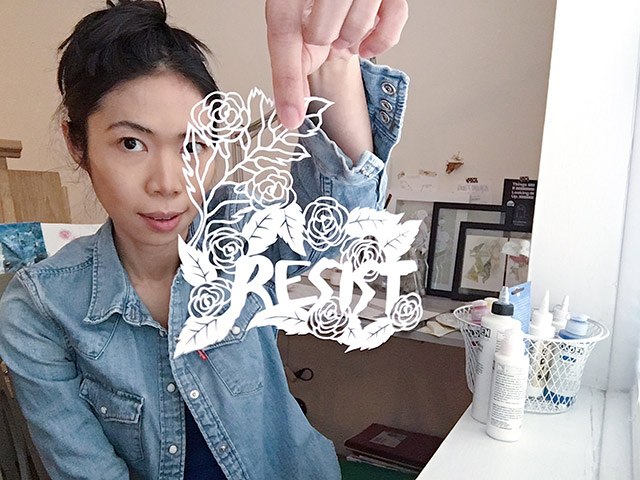 IMAGE Courtesy of Yang Pulongbarit-Cuevo
Aside from papercutting, what other art do you create?
"I also paint with watercolors and acrylics. I'm actually contemplating on offering them the past few months, but I wasn't sure if I should disrupt my current artistic direction. But art is not supposed to be stiff and strict, right? So who knows… I am also first and foremost an illustrator, which helps a ton with papercutting because it gives me the creative liberty and flexibility in coming up with designs by hand. I was a political cartoonist in college so it felt great to be able to illustrate again when I opened shop."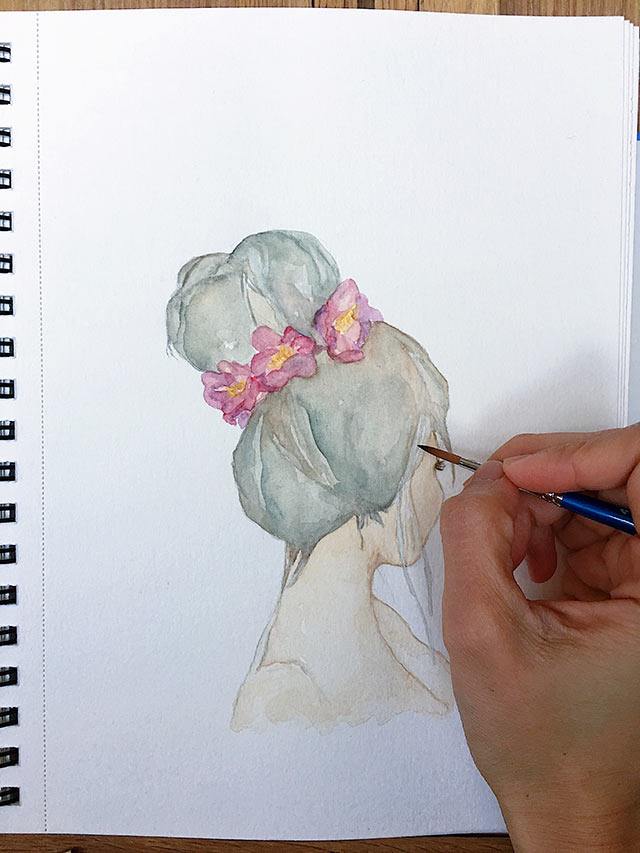 IMAGE Courtesy of Yang Pulongbarit-Cuevo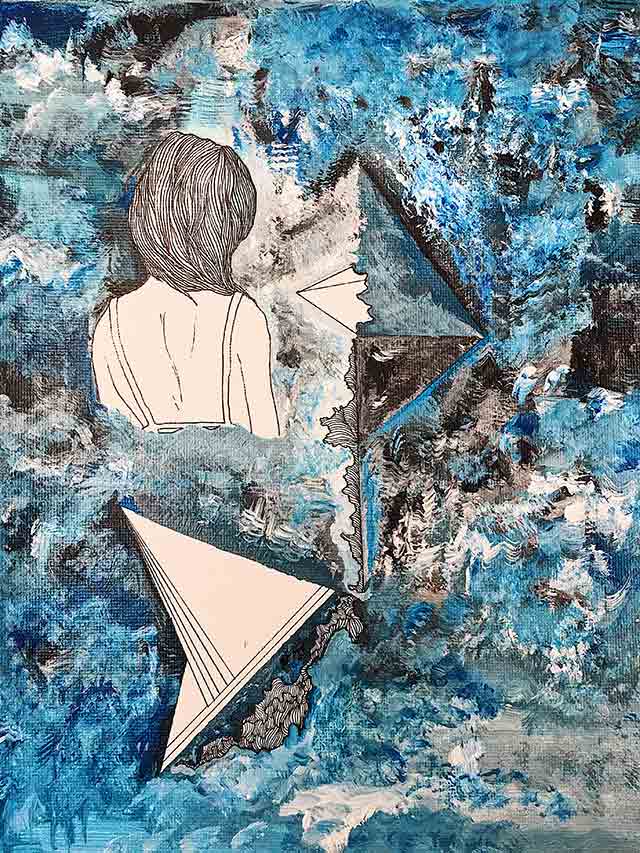 IMAGE Courtesy of Yang Pulongbarit-Cuevo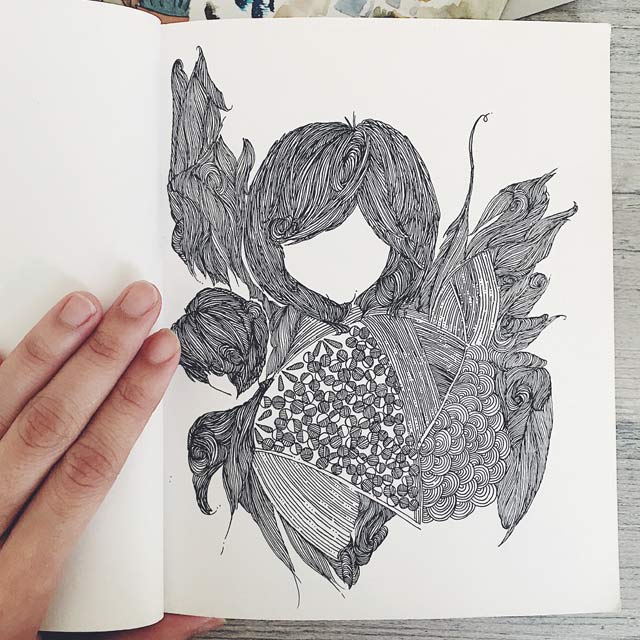 IMAGE Courtesy of Yang Pulongbarit-Cuevo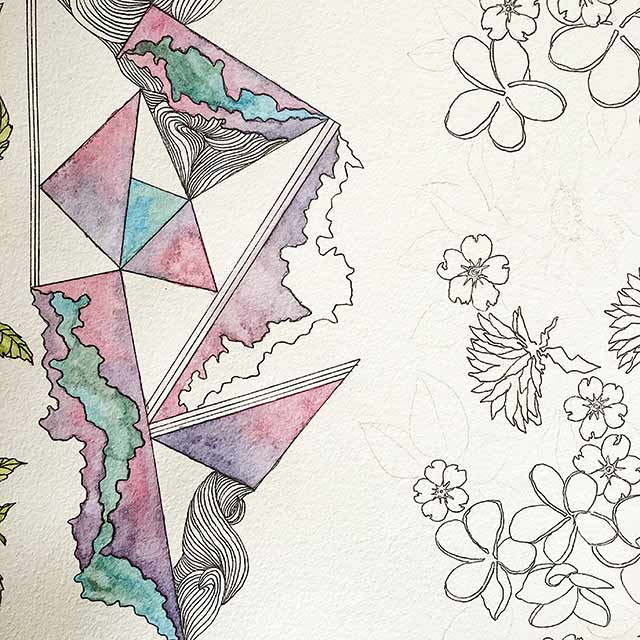 IMAGE Courtesy of Yang Pulongbarit-Cuevo
What are your tips for people who are first-time papercutters?
"This won't be the first time I gave this interview answer: Never drop your precision knife because it will instantly dull the blade! [Laughs] On a serious note, don't be afraid to dabble in papercutting! It can be intimidating because creating with a knife is nerve-wracking as compared to drawing with a pencil and an eraser to correct mistakes. So start with very basic designs, be very patient, and never rush into finishing a piece—I tried and went berserk. Once you get better with cutting and controlling the tools that papercut artists use, then you can move on to more challenging designs."
ADVERTISEMENT - CONTINUE READING BELOW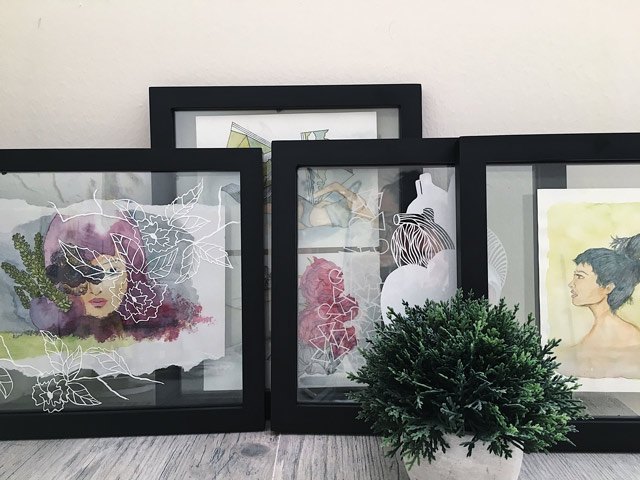 IMAGE Courtesy of Yang Pulongbarit-Cuevo
What are your dream papercutting projects?
"One of them is actually an idea from a fellow creative here in Chicago. We are planning to collaborate on an art installation sometime in summer or fall. She is a stylist who's really good with textiles and staging so that's pretty exciting! I have a number one, big, crazy—or not—goal, but not a single soul knows about so I have to leave you hanging right there and update you when it is finally in the horizon."
What's the best thing about being a papercutting artist?
"I think as with any other artists, it is having an incredible and unique ability to evoke a feeling or emotion. Also, my goal is to have my work in as many houses as possible as a part of their interior art. It is not just a conversation piece, but also an art that completes a home because of what it means to the people who own it. The craft is also very flexible and has great potential to produce various compositions. I aspire to be a mixed media artist and I believe papercutting is the perfect foundation for me to build my artistic identity."
You can follow Yang's work at yangcuevo.com, @yangcuevo, and shop her art at paperhuggerstudio.etsy.com.