Tucked away the quiet streets of Marikina is a humble museum that houses some of the world's rarest books and a growing artifact collection of our Filipino heritage. The Book Museum cum Ethnology Center rests under the helm of Atty. Dominador Buhain, who also owns Rex Group of Companies, a renowned local publishing house.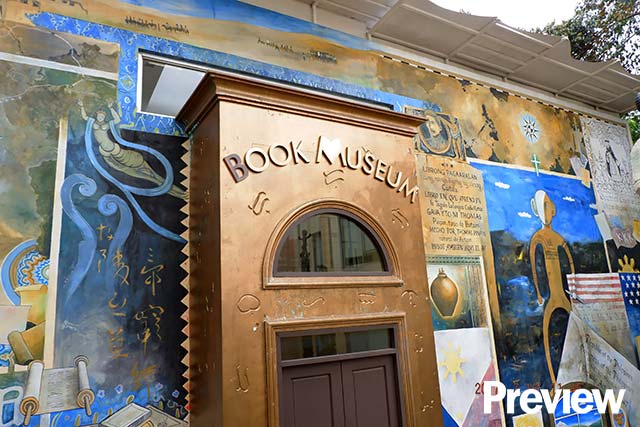 IMAGE Sam Sison
Attorney, as his staff fondly call him, walked into the musuem for our meeting in a lilac button-down paired with crisp white trousers and a pair of sensible black shoes that matches his belt. He is a quiet and gentle man, but once we got to talking about his collections and beloved books, I immediately noticed a glint of excitement in his eyes.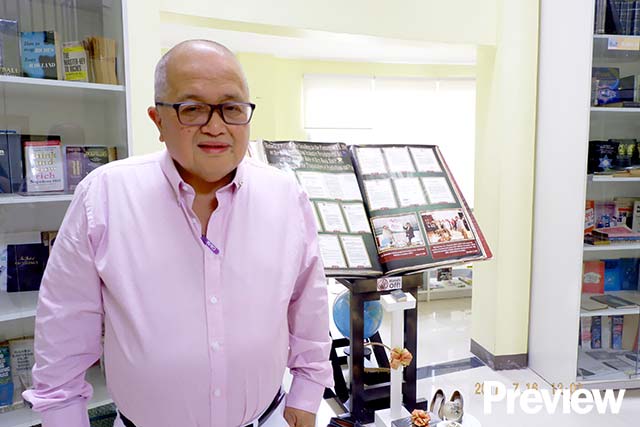 ADVERTISEMENT - CONTINUE READING BELOW
IMAGE Sam Sison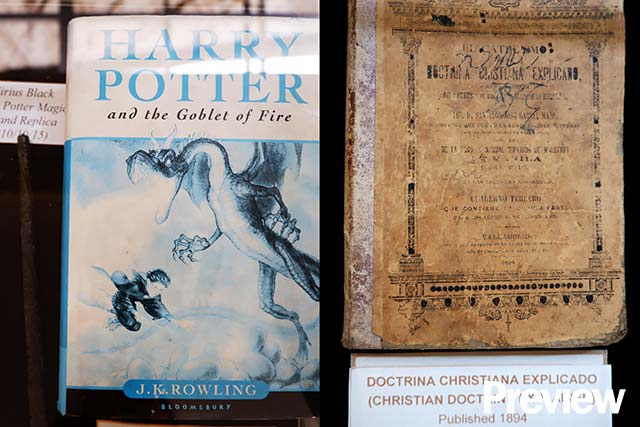 IMAGE Sam Sison
Left: A first edition of the fourth A Harry Potter book; Right: A copy of one of the first books published in the Philippines, Doctrina Christiana Explicado.
When asked about his museum, he explains, "I am very close to the book publishing industry as this is my source of livelihood. And fortunately, through my business, I was able to see the world. And I feel like sharing what I've seen in a humble way for the others to see. I have other souvenirs that represent the countries I have visited, but for the public, I did it through books that's why I try to buy books representing the country that I have visited."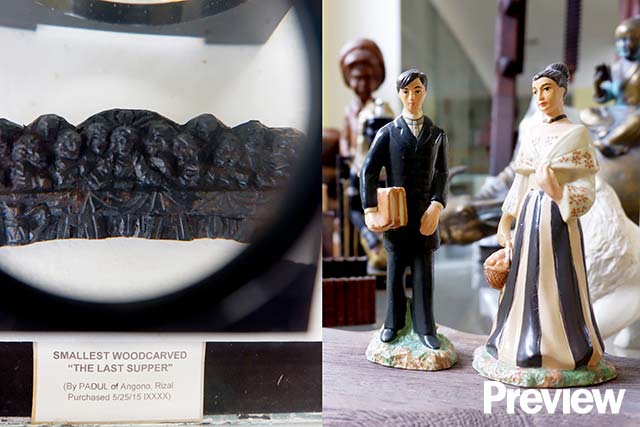 IMAGE Sam Sison
Because of the demands of his work, Atty. Dominador was able to travel a lot thus the accumulation of various knick knacks he had brought home. But it was only after the unfortunate demise of his wife that he "decided to move everything here because of the existing vacant lot here, which is not that productive." He added that there are more souvenirs that are stored in his house, which is now more like a warehouse that preserves his collection.
Atty. Dominador is also member of the Travelers' Century Club, an elite organization that only enlists members who have traveled to over a hundred or more territories around the world. In line with Attorney's dream to visit as many countries as possible, I asked him about his latest travel. He then told me that his 228th place to visit is a new territory called the Republic of Srpska.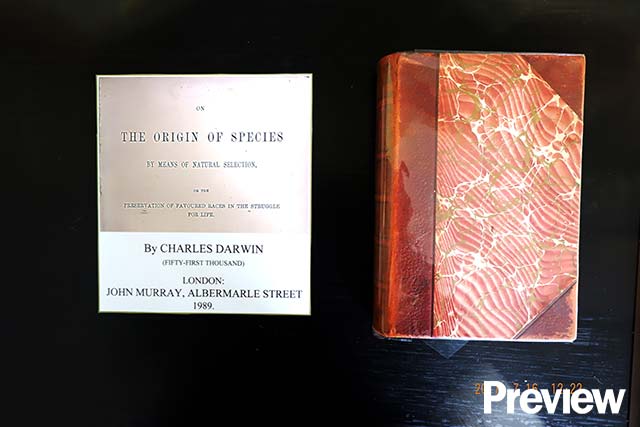 ADVERTISEMENT - CONTINUE READING BELOW
IMAGE Sam Sison
In his travels, he has acquired a great number of rare and valuable books, including the oldest book in the museum. "[It's] 15th-16th Latin Commentary of the Bible from Germany. But probably the most valuable book here is [the one] I bought from London, The Origin of Species by Charles Darwin," he noted.
He also shared his plans on expanding the three-building complex. "In the adjacent lot, I would like to have another landscape depicting the global scenery, the big map. It will serve at the same time as a multi-purpose hall." So if you're a little intrigued as to what the place can offer you, read on and find seven more reasons why you should schedule a trip, stat.
1. The museum holds one of the smallest books in the world that you can only read through a special magnifying glass.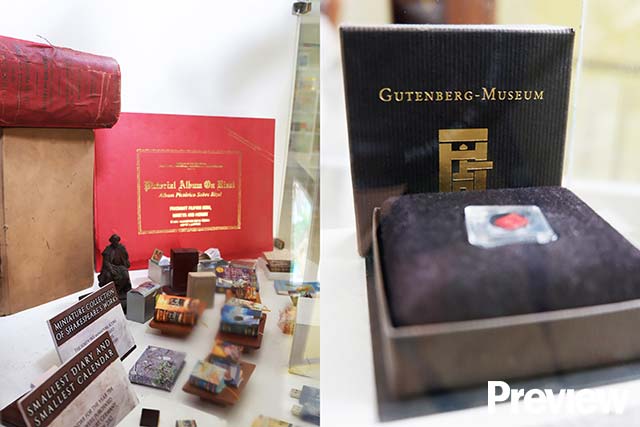 IMAGE Sam Sison
The smallest book in the collection is a limited edition book from Germany that has The Lord's Prayer translated into different languages.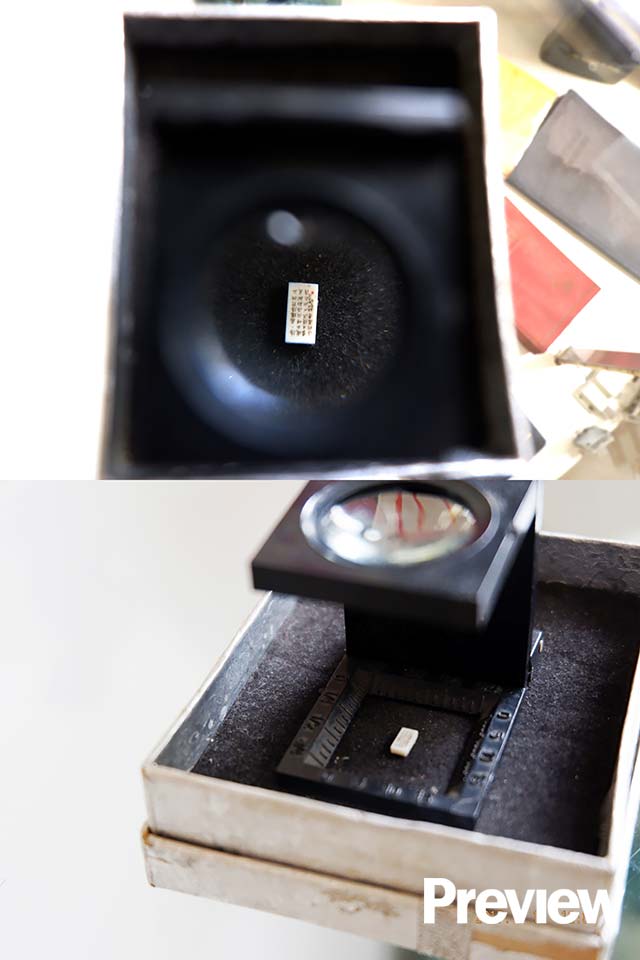 IMAGE Sam Sison
The smallest tablet from China was purchased by Atty. Dominador in his visit to the Yungang Grottoes in the Sichuan Province in 2013. Etched on the tablet is a poem called Peach Flower Stream by poet Pan Hi Gui.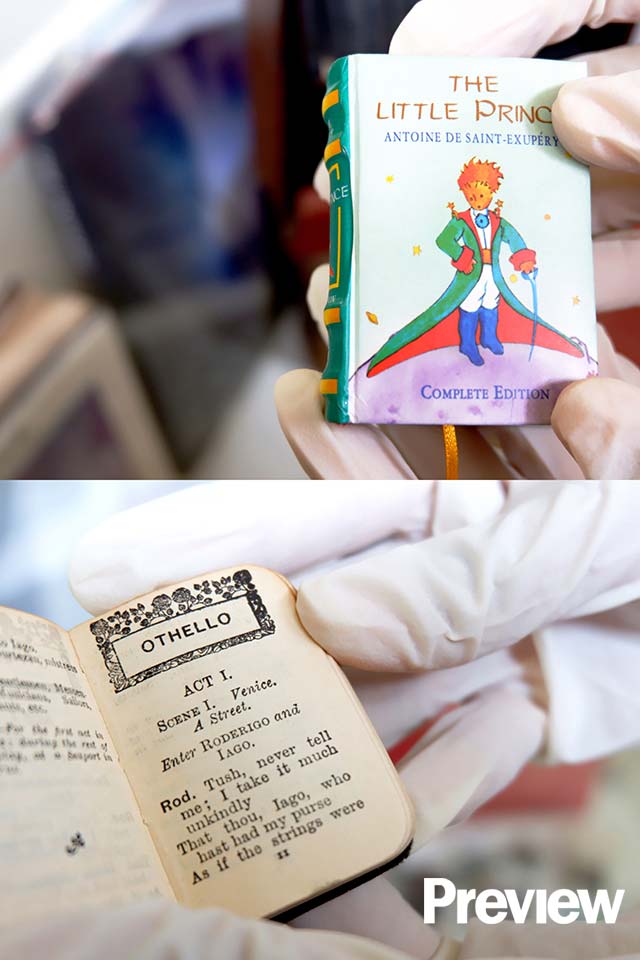 ADVERTISEMENT - CONTINUE READING BELOW
IMAGE Sam Sison
Apart from this, they also have a tiny version of Antoine de Saint-Exupery's beloved The Little Prince novel and a complete tiny collection of Shakespeare's plays and prose.
2. As you enter the museum complex, you'll be greeted by three totempoles that are made from recycled wood. Two of these depict our Philippine mythology; the third was carved by an Igorot.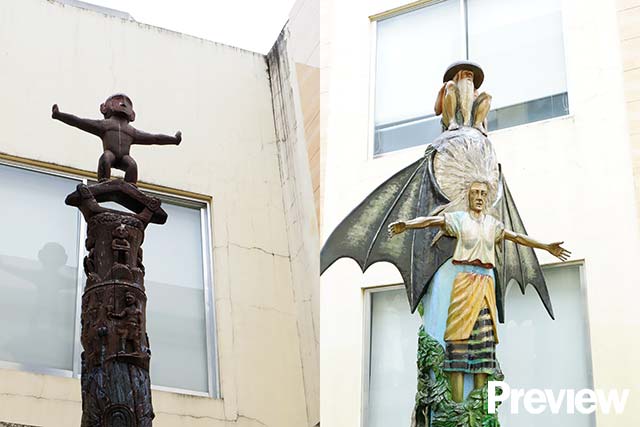 IMAGE Sam Sison
3. You'll also see murals on either side of the museum door that were painted by Filipino artist Leo Aguinaldo.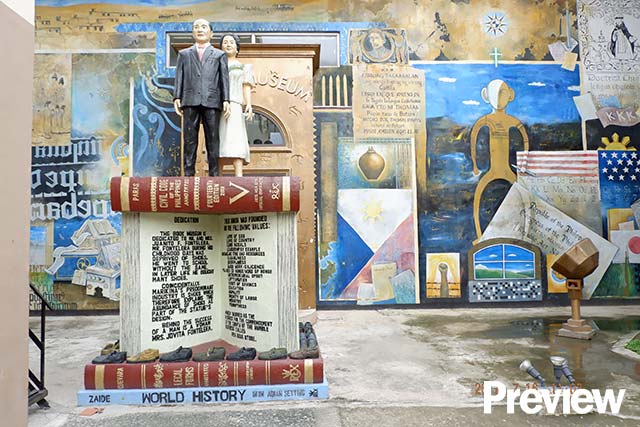 IMAGE Sam Sison
It took about a month for the murals to be completed. It tells the history of the printing press came to be—globally on the left side, and how it developed locally on the right.
4. The complex also houses an old printing press from Recto, a trophy, and reminder for Atty. Dominador's case against the printing of fabricated documents in the said place in Manila.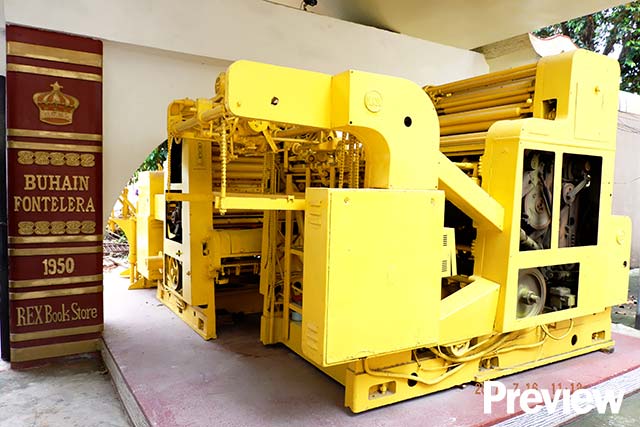 IMAGE Sam Sison
5. The museum is not just about books. It is also an ethnology center that displays artifacts that the good lawyer had collected from his immersions in various provinces of our country.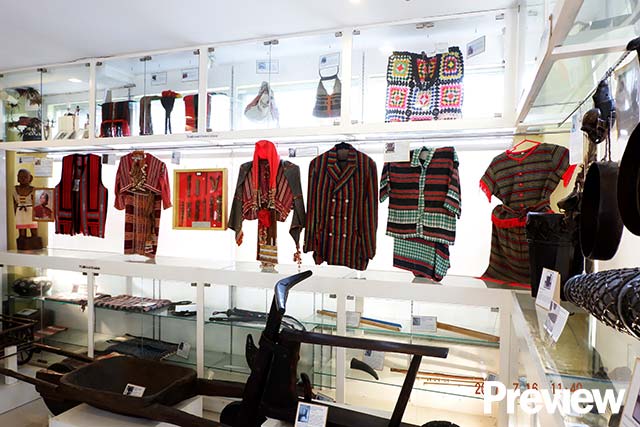 ADVERTISEMENT - CONTINUE READING BELOW
IMAGE Sam Sison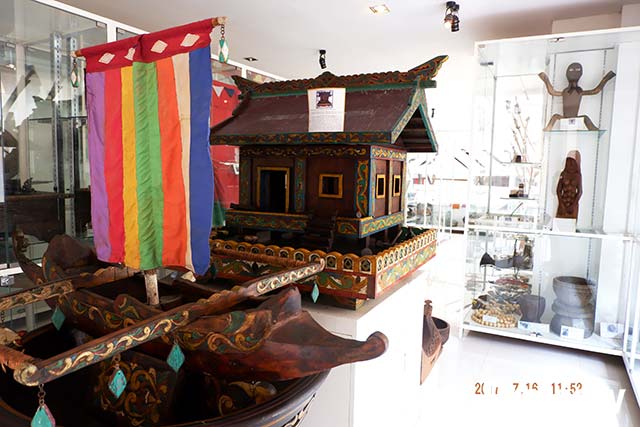 IMAGE Sam Sison
It's definitely worth the visit as most of his stored items cannot be found in any other museums. These are personal gifts to him by the indigenous people, after all. It is also recommended to take the free guided tour around the places to know more about the curated pieces.
6. The museum also functions as a library.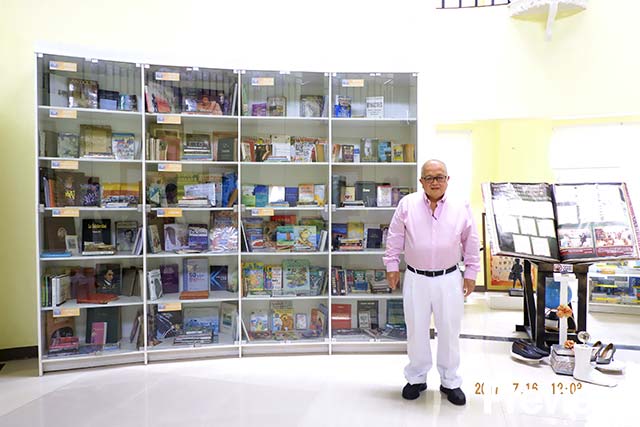 IMAGE Sam Sison
Atty. Dominador aims to share his collection to the public. As per his objective, "I like to visit unexplored places and hopefully, I can bring home some souvenirs to future visitors. At the same time, I hope to inspire others to travel through these books, kasi iba talaga 'yung pag-travel." Apart from this, students can also read his books and use them as resource materials for their research.
Tip: The books are arranged per country from which the book came from!
7. There's a cafe opening soon!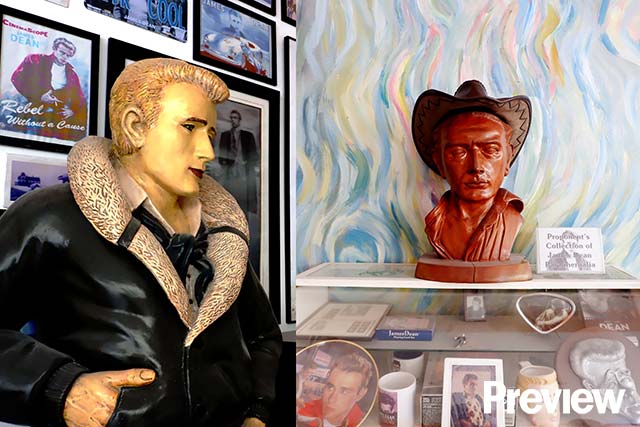 IMAGE Sam Sison
In an exclusive interview with Preview, Sherleen Bautista, the museum's supervisor, told us that they are building a '50s-inspired diner to be decorated with James Dean memorabilia that Atty. Dominador had collected over the years.
And the best part? You can check out all these things for just P100 admission fee! The Book Museum Cum Ethnology Center is located at 127 Dao St. Marikina Heights, Marikina City.
ADVERTISEMENT - CONTINUE READING BELOW
Related Stories from Preview.ph
Hey, Preview readers! Follow us on Facebook, Instagram, YouTube, Tiktok, and Twitter to stay up to speed on all things trendy and creative. We'll curate the most stylish feed for you!