There's much to be said about the virtues of getting away from the hustle and bustle of the city. There's also much to be said about how you can't put a price tag on memories. Every now and then, you must splurge on life-changing experiences. Here are some of our favorite resorts where you can do just that. And they're right here in the Philippines, too!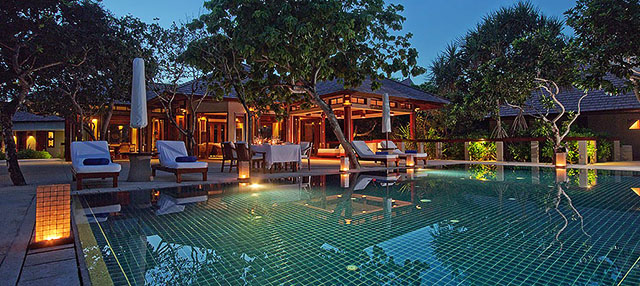 ADVERTISEMENT - CONTINUE READING BELOW
IMAGE Aman
A go-to destination for VIPs both foreign and local, Palawan's Amanpulo lives up to its reputation as one of the Philippines' most sought-after resorts. Casitas patterned after the bahay kubo are designed to work around what you want to do most—waking up to the sound of waves crashing on the shore, taking in a hillside view of the sea over breakfast, or enjoying quiet moments beneath the forest canopy—while the villas, with their wide-open spaces and floor-to-ceiling windows, offer you a seamless transition between the comfortable indoors and the alluring natural surroundings. There's a private chef and a butler service for each villa, letting you enjoy your stay completely worry-free. From $1,150 (P57,300) per night.
Shangri-La Boracay Resort and Spa
ADVERTISEMENT - CONTINUE READING BELOW
IMAGE Shangri-La Boracay
On an island where serenity has become scarce, Shangri-La's Boracay Resort and Spa remains a mainstay of luxury, thanks in large part to the resort's two secluded beaches. World-class beachfront accommodations allow you to bask in Boracay's pristine beauty, while still keeping you just a stone's throw away from the rest of the island's legendary parties. Apart from the usual quality amenities one can expect from a Shangri-La resort, a healthy supply of daily activities, such as massage workshops and dragon boating, helps keep the tropical lifestyle dynamic. From $433 (P21,600) per night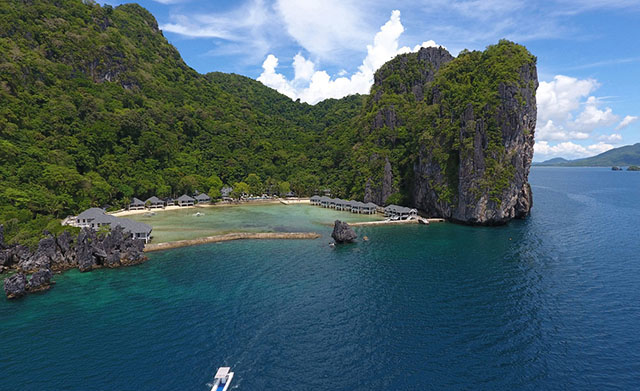 ADVERTISEMENT - CONTINUE READING BELOW
IMAGE Lagen Island
Imagine sitting at the fringes of a lush Palawan forest and overlooking a calm, peaceful lagoon; a stay at El Nido's Lagen Island is one of the best ways to reconnect with nature. The resort is billed as an eco-sanctuary, with the development taking great care to leave the habitats of the local flora and fauna untouched. This leaves guests with the opportunity to go bird-watching, explore the island's mangroves, and trek through forest trails en route to a breathtaking limestone cavern. In keeping with the resort's eco-friendly mindset, accommodations are built with sturdy timber recycled from old homes, adding a sense of familiarity to the villas' understated yet elegant design. From $560 (P28,000) per night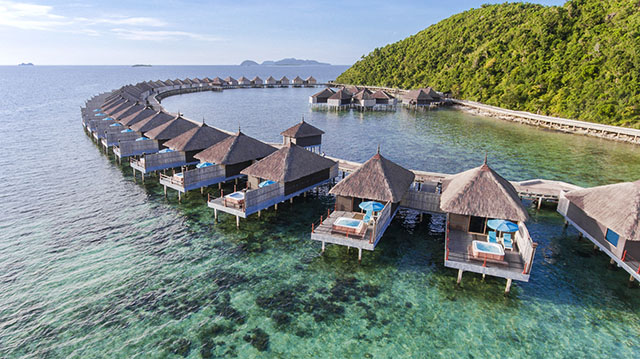 ADVERTISEMENT - CONTINUE READING BELOW
IMAGE Huma Island
It's only fitting that Huma takes its name from a Spanish galleon that, according to legend, got shipwrecked on an idyllic island in Palawan—the area is a treasure trove of natural beauty. Surrounded by crystalline waters that nourish a thriving coral reef, the island's namesake resort stands out for its water villas: an outcrop of Maldives-inspired huts, elevated directly above the water by stilts and topped off with rustic thatched roofs. Each villa offers the most relaxing view of the Palawan sunset, with hot tubs on every sun deck allowing you to soothe your body as you take in the spectacular sight. The island's coral reefs and ten nearby shipwrecks offer unmatched underwater exploration, and the spa's "signature journeys"—authentic healing traditions from Morocco and India—are ready to pamper you after the day's adventures. From $930 (P46,400) per night
ADVERTISEMENT - CONTINUE READING BELOW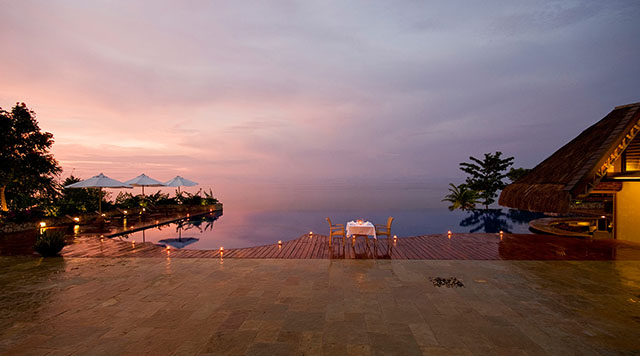 IMAGE Eskaya
The most common impression of Eskaya is that it's less a resort than it is a spa with its own beach. Seclusion and simplicity are key to the Eskaya experience. Each villa has its own private pool, the perfect place to disconnect from the real world and recharge yourself. The resort doesn't advertise frill services like beach-hopping or diving, opting instead to focus on the two things to which you'll be treating yourself most: the full-service spa and the excellent food. Dining al fresco along the waterfront gives you a stellar view of the Bohol sea, and indulging in a massage at the hilltop spa before retiring to your Zen private villa reinvigorates even the most tired of souls. From $525 (P26,200) per night
ADVERTISEMENT - CONTINUE READING BELOW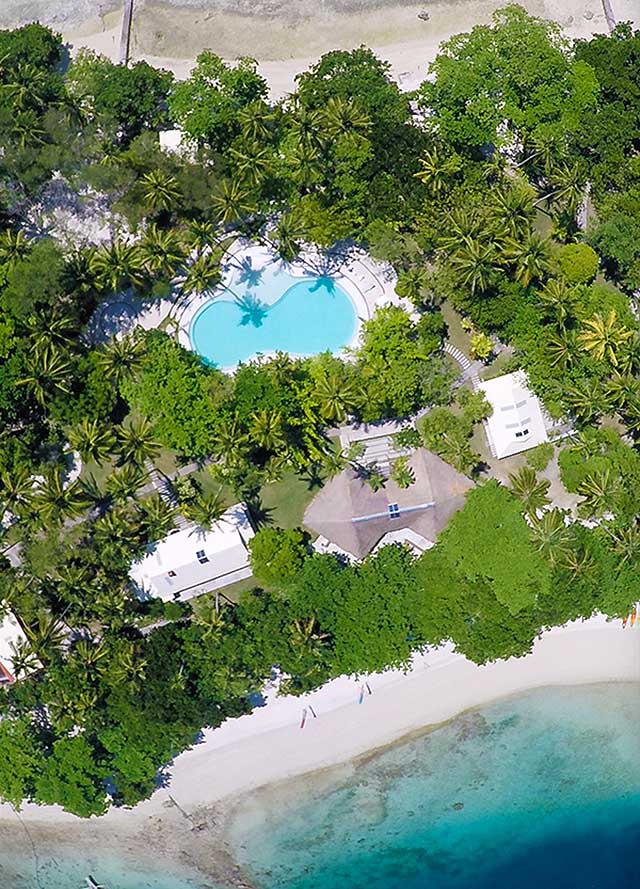 IMAGE Island Buenavista
If privacy is the height of luxury for you, then The Island Buenavista is the perfect summer stop. Rather than renting out rooms and villas, the resort's proprietors rent out the island itself. Balinese-inspired villas house no one but you and your guests, with nothing but Davao's turquoise waters surrounding the island. The attentive staff is available at your call to offer massages, guide you on fishing trips, or even start bonfires for those perfect beach evenings. The island is also home to a hawksbill turtle reservoir, so its protected waters are among the cleanest and clearest you'll find in the country. From $2,100 (P105,000) per night
ADVERTISEMENT - CONTINUE READING BELOW
*This story originally appeared on Townandcountry.ph. Minor edits have been made by the Stylebible.ph editors.