When we arrive at the Chan Hampe Galleries at The Raffles Hotel in Singapore, Heart Evangelista­—or "L.M. Ongpauco" as it appears on her paintings—is already pecking besos with her plenty guests. It is the night of her third art exhibit, and though she is swarmed by gallery owners Angeline Chan and Ben Hampe, the Philippine ambassador Antonio Morales, and an assortment of Asian media, I walk up to her and offer my hand to her bejeweled one. I only met her that afternoon for a chat, but she blesses me with the same scented, jovial, powdery beso as she does all. "Ang daming tao!" she gushes giddily. The lengthwise white space is so packed with guests (all too happily tipsy on the free-flowing wine) that I can't even find space to snap Heart's #OOTD. An assistant whisks her away so she could make her speech in front of the adoring crowd. She looks perfect—immaculate hair and makeup, dripping in jewels, blazer thrown over her essential black strappy Hervé. But right before she steps in front of them, she shudders and whispers sheepishly, "I'm shy…"
ADVERTISEMENT - CONTINUE READING BELOW
...And for good reason. Chan Hampe Galleries only feature Singaporean artists...until now. Things happened quickly for Heart to keep track of, but it was her whom they chose to break that custom – or rather, start a streak with, to her surprise. She's known more as artista than artiste, but contrary to many a Filipino brow raised, it's not like she's expecting to be the next Frida Kahlo or anything (although, on that point, she does admit to loving the famously unibrow-ed feminist painter's masterpieces).
CONTINUE READING BELOW
Recommended Videos
Over spring rolls earlier that afternoon, she ponders, "I never really expected anything to come out of it..." while passing her phone around for us interviewers to flip through the works. Somebody points out, "There's actually a flavor of [Gustav] Klimt somewhere –" and Heart cuts in with a frank "YES. Klimt nga daw," and giggles, almost hinting at fine, it's Klimt, if you insist, then adds, "Well I also like Frida and madami talagang nagsasabing Gustav. I guess it's Gustav...! The only work I saw of Gustav actually a while ago was The Kiss, 'yun naman yung pinaka-famous eh," she concludes as lightly as the freshman artist she actually admits to being.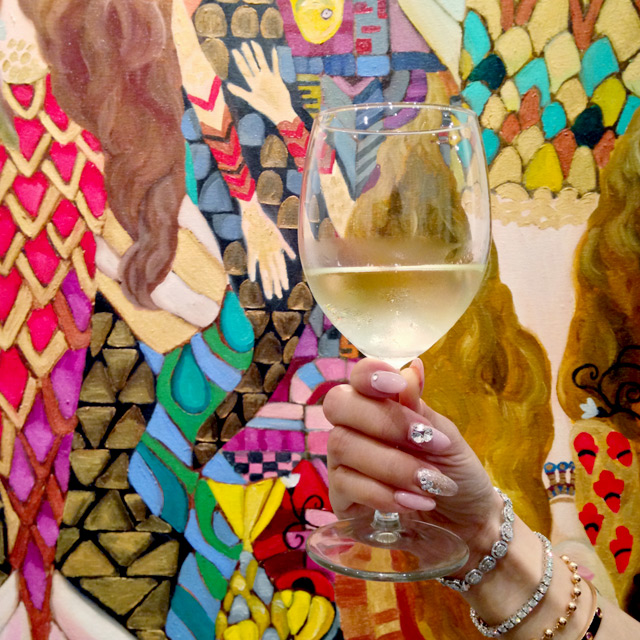 ADVERTISEMENT - CONTINUE READING BELOW
The Artist Formerly Known as a Princess.
Heart toasts to her own painting, brandishing dazzling talons. (Image by Belle Rodolfo)
She actually "trained" under the Filipino artist Ivan Roxas – for the grand total of one day. "He taught me one time when I was twelve, thirteen," Heart confesses. "He gave up on me the same day because matigas daw ulo ko. He just allowed me to do my own thing…" Which proves true. While they have constantly kept in touch, Heart's works are of different worlds and of women, and Roxas' renowned work is the ultimate in realism.
She divulges that when she began, she could only work when depressed. Her version of the brooding artist has her painting until 4AM buzzed on wine and listening to an unlikely assortment of music (Sarah Brightman, then some Lana del Rey). On the brighter side of things, she's still the Heart Evangelista who indulges her inner kikay. She uses a custom blend of lavender-scented linseed oil, to emulsify her paints, and even snaps on surgical gloves – lest her glassy, pointy, gem-encrusted acrylic nails look soiled for her taping tomorrow!
ADVERTISEMENT - CONTINUE READING BELOW
Unsurprisingly, she can quickly shuttle back and forth between her identities; she is an actress after all. On the night of her exhibit in Singapore, when everyone had left, Heart took it as her cue to shrug off her blazer (revealing va-va-voom curves). In a second, she turned from artist to artista, and for the next two hours, shot footage for the conditioner endorsement that brought her there, nailing one hair flip after another.
Hey, Preview readers! Follow us on Facebook, Instagram, YouTube, Tiktok, and Twitter to stay up to speed on all things trendy and creative. We'll curate the most stylish feed for you!