It's safe to say that Iza Calzado's condo unit in Makati is an achievement built on hard work, patience, and perseverance. After selling her house in Quezon City, the actress began looking for a new home in Makati and acquired this spacious unit in 2014. Improving the condo unit was second on her list of priorities as she chose to finish paying the mortgage first. After living in the space for six months, Iza started the renovation process, enlisting the help of her good friend, interior decorator Nix Alañon, who is also the principal designer of FTA Design, an art and style company.
What makes this unit extra special is her involvement in terms of choosing materials and shopping for pieces that will complete the home. "Ang dami pang gagawin. Unti-unting binubuo…Ayoko talagang magmadali just for the sake of filling it up," shares the actress. Just like what's seen in her former sanctuary, the condo exudes class and sophistication while still being homey and inviting. An open layout connects the areas on the first floor as neutrals dominate the space. When asked about her decorating style, Iza says that it's "quite eclectic." "Hindi ko masabi ano'ng style. Honestly, no'ng una, dapat French siya. But I found it too girly, so I needed it to be edgier, but also quite feminine. That's me—naughty and nice," she explains. Aside from working with Nix, Iza also got ideas from her fiancée Ben Wintle's mom, Friday Wintle. "A lot of it I consult with her 'cause she's very stylish. My God, idol ko siya. She's the best," Iza adds.
Foyer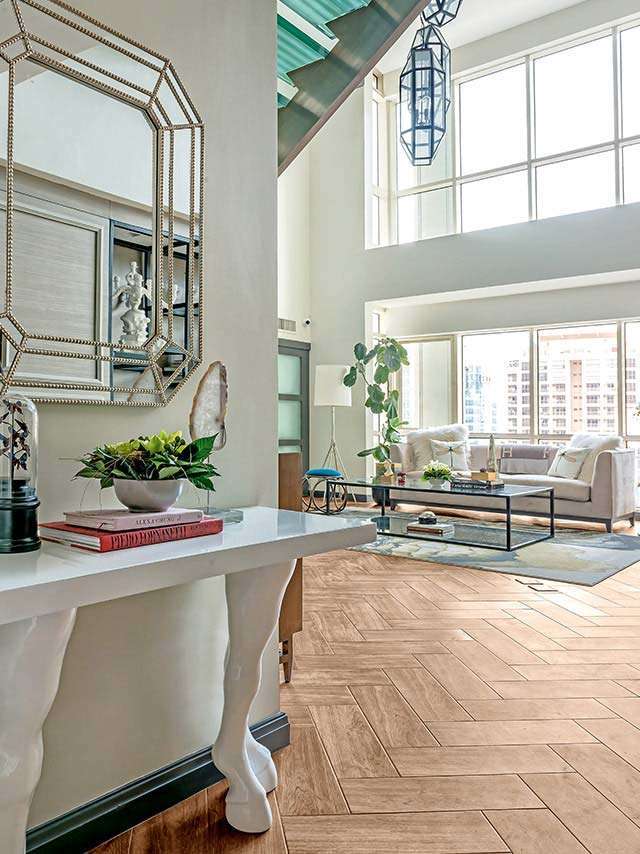 IMAGE William Ong and Cyrus Panganiban
From the foyer, one can already have a feel of how spacious and open the unit is—with a view of the huge picture windows and high ceiling. Defining the foyer is a horse-leg console table from Firma. It holds books and a few accessories.
ADVERTISEMENT - CONTINUE READING BELOW
Living Area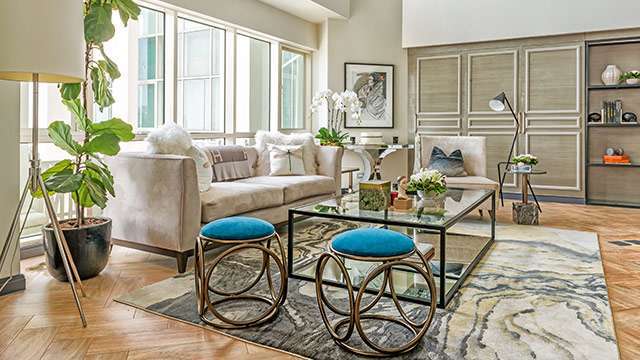 IMAGE William Ong and Cyrus Panganiban
Most of the unique furniture pieces added to the space are from
PhoeNix Home
, the furniture and lifestyle brand owned by Nix. The living area is a study in elegance—with the pairing of the neutral sofa with an accent chair, two stools, and a glass coffee table. Sleek lighting pieces add to the streamlined feel, while plants make the space extra relaxing.
Look closely and admire the work of art on the wall, the star of the living area. Iza considers her Sabel sketch by National Artist for Visual Arts Ben Cabrera (also known as BenCab) as a prized possession. Aside from modeling for the said piece, it also marked her first foray into theater. She played the titular role in Sabel: Love and Passion.
Find a similar sofa at Calligaris. If you're looking for an accent chair visit BLIMS Fine Furniture.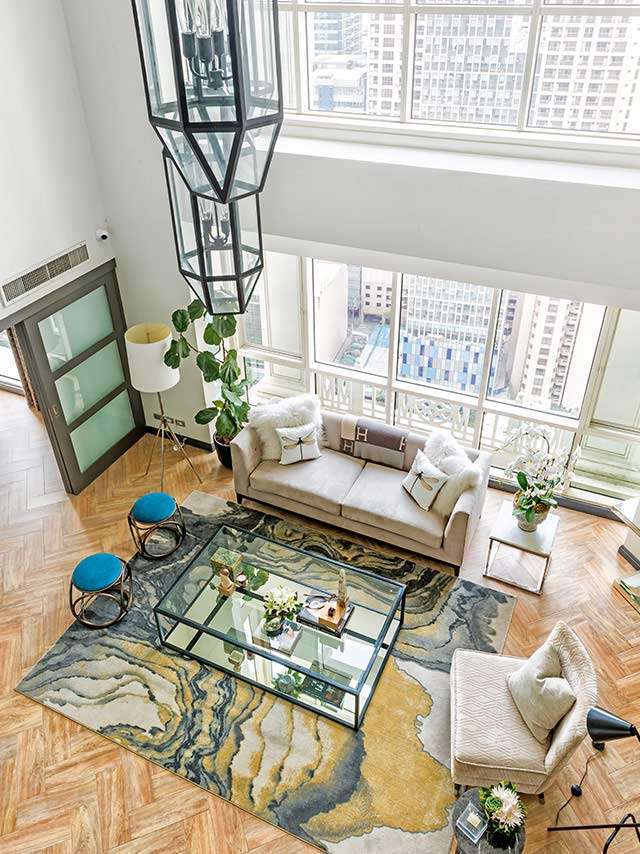 IMAGE William Ong and Cyrus Panganiban
The living area looks stunning from the top. From this view, one can best appreciate the high ceiling in the condo unit, adding to its bright and spacious feel. Sprucing up the sofa are fluffy pillows and an Avalon throw blanket from
Herm

è

s
. If you look at the area rug, the colors complement the rest of the pieces in the living area, resulting in a cohesive aesthetic.
For a similar area rug, check out Decoliving Manila.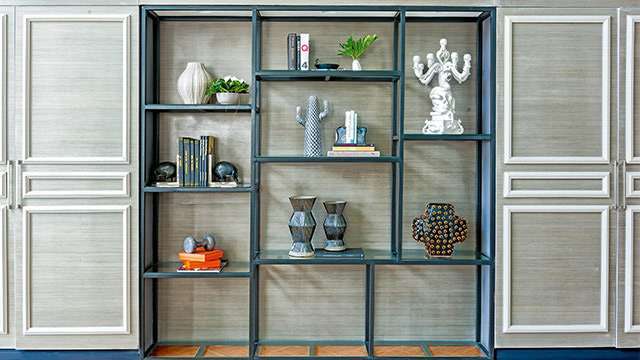 IMAGE William Ong and Cyrus Panganiban
Aside from initially wanting a French-inspired design for her condo, Iza also loved the idea of having moldings. However, given the walls and windows, they had to be creative in incorporating the said element into the final look. Moldings add character to the door panels flanking the open metal shelf holding the things Iza loves most like skull accessories, books, and other interesting décor pieces. The door panels conceal her book collection on the left and her shoes and slippers on the right.
ADVERTISEMENT - CONTINUE READING BELOW
Entertainment Lounge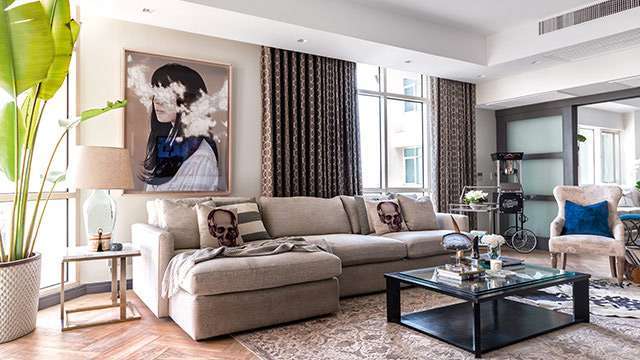 IMAGE William Ong and Cyrus Panganiban
Compared to the living area, the entertainment lounge seems warmer and more relaxing—with a sofa in a shade of gray, a darker area rug, and curtains that can block the sun's rays. These must-haves will surely come in handy during movie nights, especially the popcorn machine Iza ordered online.
The work of art on the wall is by Japanese painter Takahiro Hirabayashi and was bought from Gallery Kogure.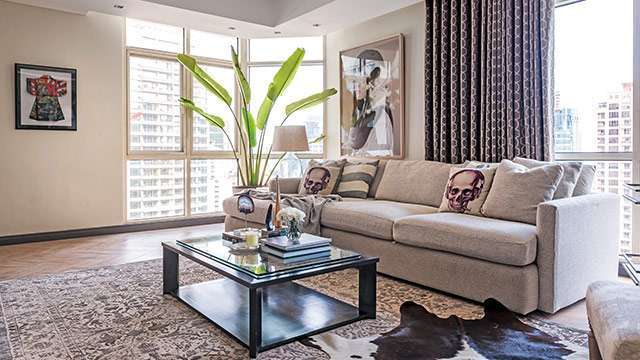 IMAGE William Ong and Cyrus Panganiban
Iza's condo is also home to different works of art. She has framed pieces showcasing a thinking man made of lingerie by Japanese artist Chikako Motoyama and a pair of kimono artworks by Vincent de Pio. "I'm not even saying I'm a collector, I'm just buying here and there. Sayang nga, e. Kung alam ko lang, sana diyan [art] na lang ako nag-invest noon pa, kesa sa bags," she muses. Adding warmth to the entertainment lounge are the wooden flooring and cowhide rug.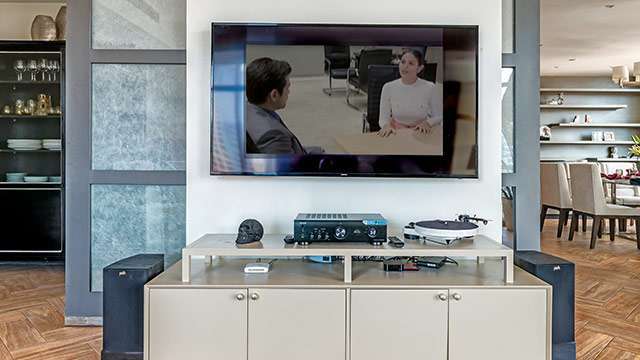 IMAGE William Ong and Cyrus Panganiban
The lovely homeowner doesn't want to have a TV set in her bedroom so all the TV watching is done in the entertainment lounge. On top of the console cabinet are a few gadgets, and yes, another skull décor piece.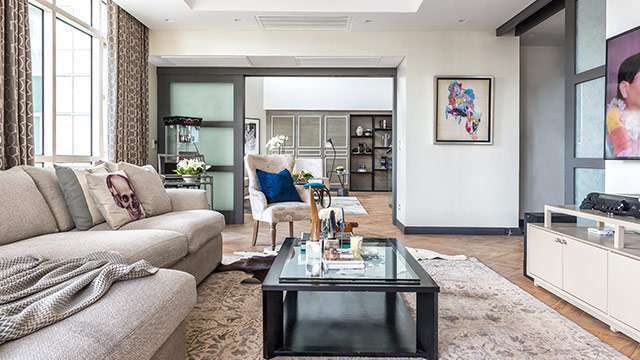 IMAGE William Ong and Cyrus Panganiban
From this angle, one can see that the entertainment lounge can be accessed from the living, dining, and kitchen areas. The entertainment lounge used to be the dining area following the unit's original layout but Iza wanted a family area. "Di ba, maganda 'yong flow niya? Parang open and spacious," says Nix.
Dining Area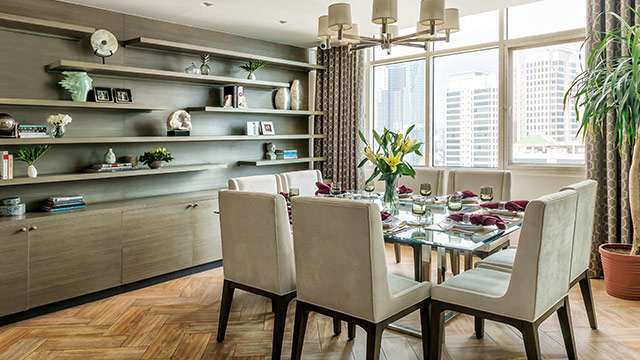 IMAGE William Ong and Cyrus Panganiban
The dining area will remind you of lush gardens and al fresco dining. Bathed in natural light, it is furnished with a glass-topped table and eight matching upholstered chairs. Just like the rest of the areas on the first floor, it features touches of white, light gray, and beige. "Actually, dati gusto ko talaga, all shades of gray. Siyempre, hinaluan na lang din namin ng other things," shares Iza.
ADVERTISEMENT - CONTINUE READING BELOW
According to Nix, it was also Iza's request to have a herringbone pattern for the floor tiles. The flooring of all the areas on the first floor are done in a similar color.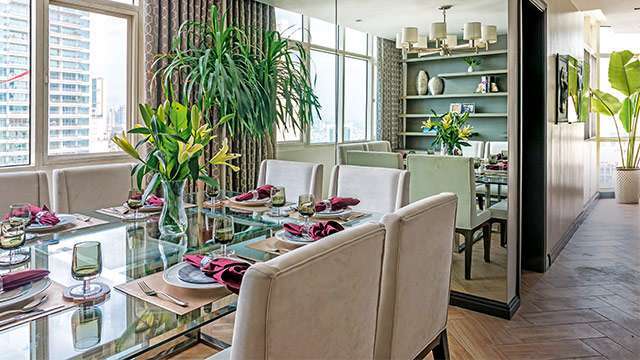 IMAGE William Ong and Cyrus Panganiban
Mirrors were used to make the dining area look bigger. Even though she lives in the unit alone, Iza made sure that there are enough seats to accommodate guests since she loves having friends over.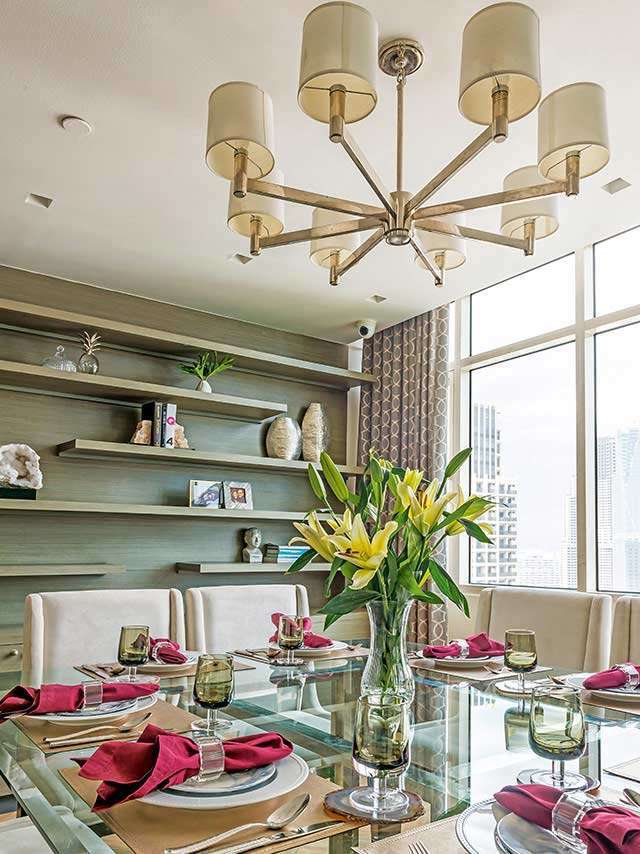 IMAGE William Ong and Cyrus Panganiban
The open shelf that covers an entire wall works in tandem with the mirrors in creating an illusion of a bigger, wider space. Having a shelf in a pale shade of green adds to the outdoorsy feel of the dining area while serving as the perfect backdrop for books, potted plants, and other accessories. The striking lighting piece complements the seating pieces.
Find a similar chandelier at Azcor.
Kitchen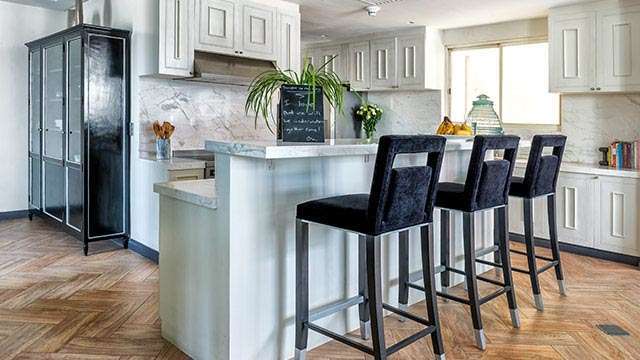 IMAGE William Ong and Cyrus Panganiban
Iza wanted the kitchen done in white for a clean look. Complementing the white cabinets, marble countertop, and backsplash are the wooden flooring and dark velvet bar stools. The actress' collection of unique plates, saucers, and wine glasses are kept in a black glass cabinet in one corner.
Notice the mini blackboard on the counter? It's Iza's "Thought of the Day" board where she jots down thoughts that come to mind. Her fiancée also leaves her messages here.
IMAGE William Ong and Cyrus Panganiban
Though Iza admits that she's on a constant diet, she remains a foodie. The kitchen is perfect for prepping meals—with its generous countertops and cozy ambiance. Who wouldn't fall in love with the marble backsplash?
Find similar tiles at La Europa Ceramica.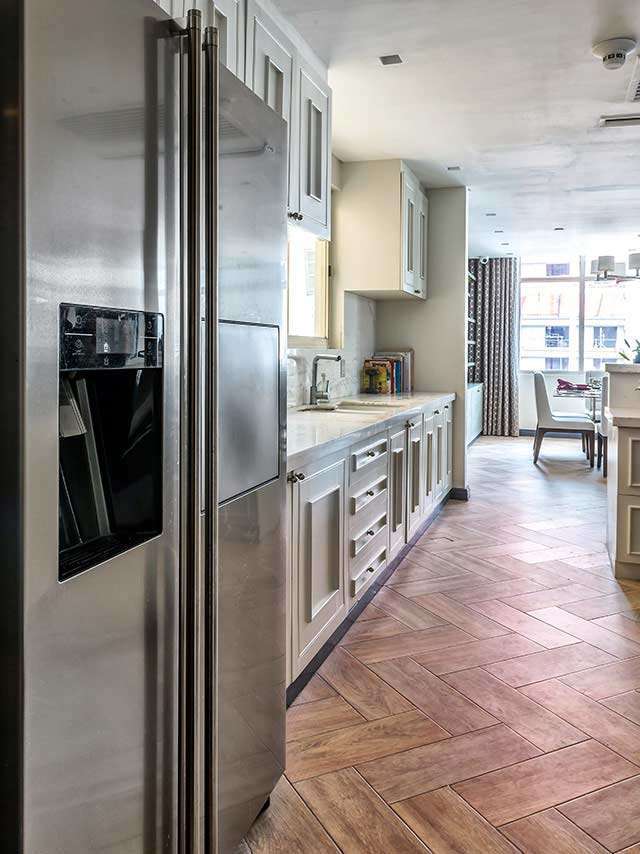 IMAGE William Ong and Cyrus Panganiban
The cooking area is also well-equipped with topnotch appliances, including a cooking range and a high-end refrigerator. With free-flowing spaces, Iza can move around freely and work on tasks when entertaining friends.
ADVERTISEMENT - CONTINUE READING BELOW
Powder Room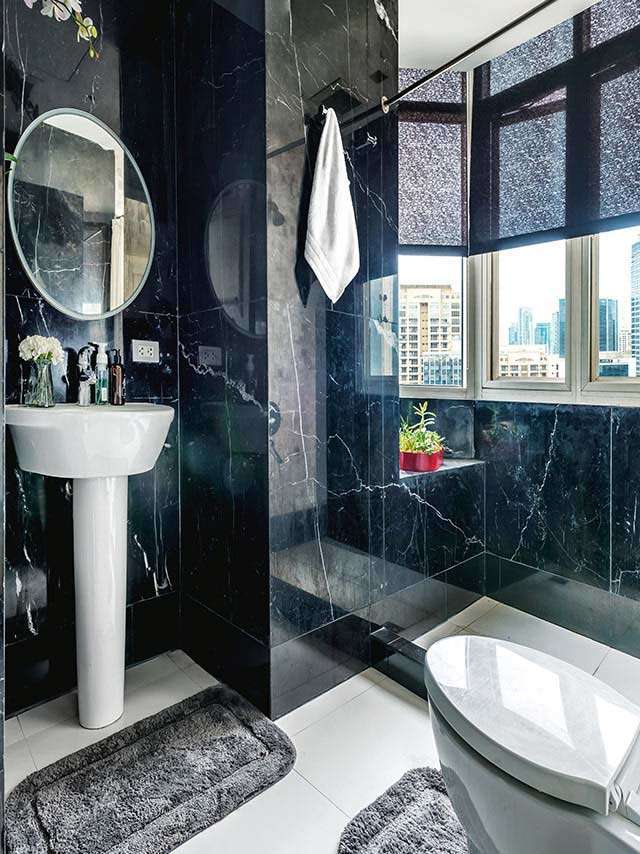 IMAGE William Ong and Cyrus Panganiban
The former owner of the condo unit loved marble a lot that many areas highlight the use of the said material. For the powder room on the first floor, Iza chose to retain the black marble and paired it with white fixtures. Black marble exudes elegance and will remind guests of hotel suites.
Staircase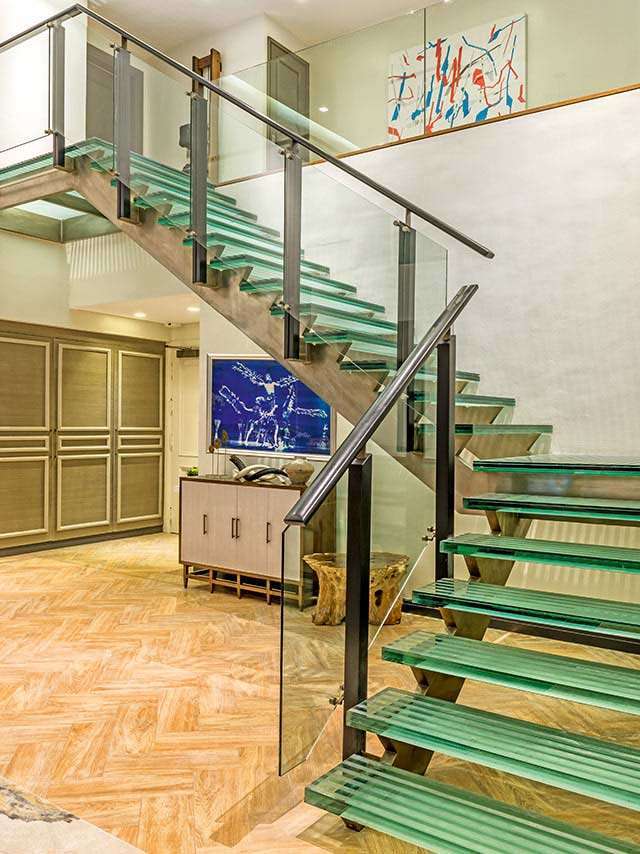 IMAGE William Ong and Cyrus Panganiban
Who wouldn't be captivated by the staircase? Instead of the usual wooden, metal, or concrete planks, this one has glass planks—another element retained from the original unit. "Hindi ko na ginalaw, kasi ang mahal niyan," shares Iza. Under the stairs is a framed photograph of Iza's late father Lito Calzado who was a member of the Bayanihan: The Philippine National Folk Dance Company.
Bedroom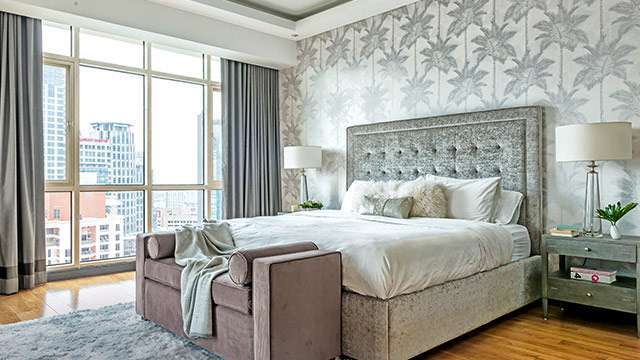 IMAGE William Ong and Cyrus Panganiban
Iza's personal space is both peg- and envy-worthy. Dominated by touches of gray, it features a customized California king bed with a cushioned headboard, side tables, and a foot bench—all from PhoeNix Home. Don't dismiss the small pillow on the bed as according to Nix, it's a Natori. The Natori Company is a global luxury fashion brand by Filipino designer Josie Natori. "So, mahal 'yong maliit na pillow na 'yan. Hehe," Nix adds.
What we love best about the bedroom (aside from the view) is the gray wallpaper that defines the wall behind the bed. The said wallpaper was bought in the United Kingdom by Tita Friday.
IMAGE William Ong and Cyrus Panganiban
One of the things that Iza loves best about her unit is the view. It has the view of the park and from her room, she can admire the Makati city skyline.
Completing the bedroom is a limited edition lounge chair designed by actress Solenn Heussaff in collaboration with Philux and a four-tiered cabinet that holds her gadgets and other knickknacks. On top of the cabinet are two works of art—a framed photo of a naked woman from her art dealer and friend Rocky David and a photographic version of Takahiro Hirabayashi's painting seen on the wall in the entertainment lounge sans clouds.
ADVERTISEMENT - CONTINUE READING BELOW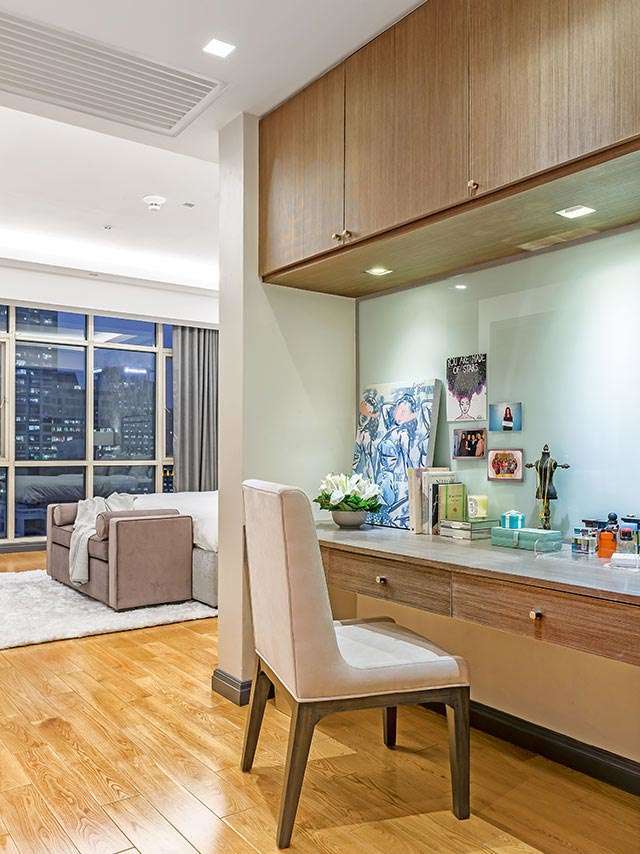 IMAGE William Ong and Cyrus Panganiban
Found a few steps from her bed is a work nook of sorts where Iza can get some tasks done. It's kept neat and orderly, with drawers and cabinets where other essentials can be kept. The owner plans to fill this space with old photos of family and friends.
Find a similar chair at Our Home.
Bathroom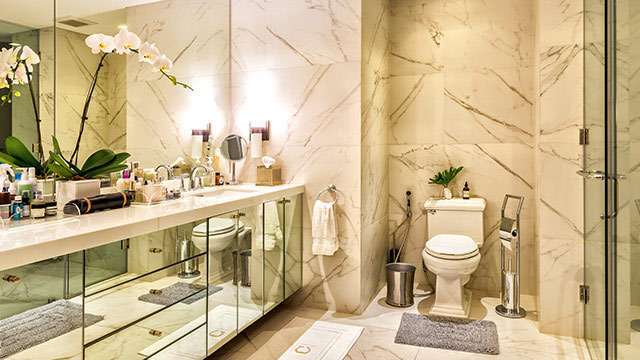 IMAGE William Ong and Cyrus Panganiban
Who wouldn't be reminded by a five-star hotel suite? According to Iza, the former owner of the unit has a penchant for using marble. "'Yong sa bathroom sa taas [pertaining to the one in photo], pinaalis ko. Pinagawa kong table top 'yong iba… Kasi hindi ko type. Mga moss green, dark emerald…medyo mabigat. Hindi ko naman alam na mahal pala 'yon. Nagsisi tuloy ako," says Iza. The marble elements retained in the bathroom works well with the mirrored sink cabinet chosen for the space.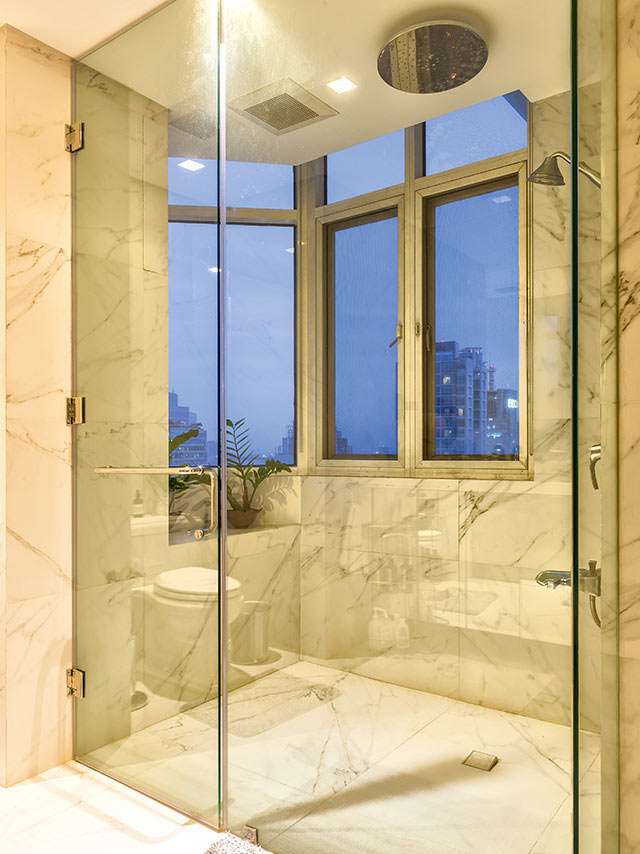 IMAGE William Ong and Cyrus Panganiban
One of the things maximized in this home is the view. Even the enclosed shower area has huge windows that can let in natural light while letting the owner admire the beauty of the city.
Walk-in Closet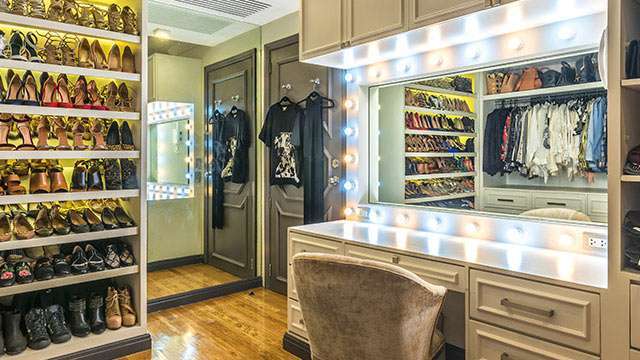 IMAGE William Ong and Cyrus Panganiban
What used to be the entertainment den on the second floor was transformed into a roomy closet/grooming area for the actress. It has a vanity corner complete with lights and enough space for primping.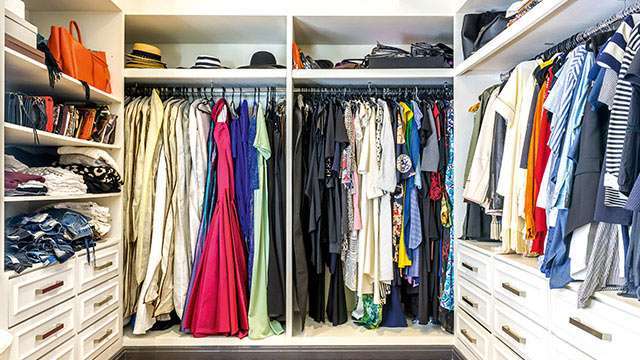 IMAGE William Ong and Cyrus Panganiban
The room also houses Iza's collections of clothes, shoes, and bags. There are compartments allotted for each to keep the area spic-and-span. Iza consulted with Kat Cruz, her stylist, in organizing the closet, but she got a lot of help from her "angels." "My PA [production assistant], Lornie Dominguez, plus my makeup artist, Mike Lariosa, who has some design background as well, helped organize my closet," she shares.
ADVERTISEMENT - CONTINUE READING BELOW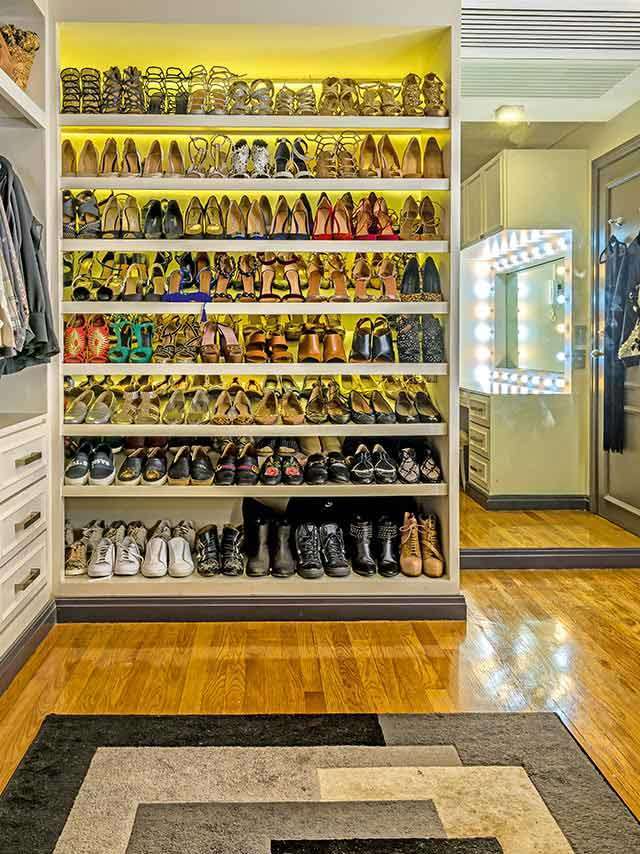 IMAGE William Ong and Cyrus Panganiban
Even her shoes are properly grouped—from heels and flats, to sneakers and casual footwear. Arranging them these way can make it easier to spot what she needs and return each to its proper place.
*This story originally appeared on RealLiving.com.ph. Minor edits have been made by the Preview.ph editors.