Manila is becoming a place where people are more aware of what they take in—a growing movement to be healthy and eat wide awake (Hi, Salad Stop!) and frankly, that is great! Slowly, restaurants have also been gaining awareness (from our old-time favorites like Corner Tree to newly opened restaurants like The Wholesome Table and Adaam & Yves), which then let's us enjoy the better choices we make without sacrificing our love for dining out and socializing.
Related Stories from Preview.ph
But admittedly, eating healthy can be tough, especially if you're just starting out and you recently started caring about where and how your food is prepped. Below, the struggles of trying to be healthy:
1. Cooking at home can be fun, but sometimes you're just too lazy.
Your skill level when it comes to grocery shopping and cooking has been up a notch since you started whipping up healthy meals for yourself. But honestly, there are just those days when you're too tired that you can't even stand up to cook. That's when you start wishing for some sort of McDonald's that serves organic, gluten-free, dairy-free, vegan (whatever your preference) food that can deliver in a jiffy. HUHUHU.
ADVERTISEMENT - CONTINUE READING BELOW
2. Dining out NEEDS to be planned with precision.
Well, not all the time; but for days when you are left with no choice but to eat out, you have to carefully consider which restaurant will abide by your health rules—may it be sticking to an organic lifestyle or just staying away from anything processed or over marinated with random ingredients (MSG, I'm looking at you!). So when you finally decide on a restaurant, you then end up with a long chat with the waiter about the specifics of your order.
3. Ordering food takes time. A lot of time.
Pray that you land a patient waiter or server to answer all of your queries on how the food is cooked, what ingredients are used, and if they can customize or tweak something for you. We don't mean to disrespect, but please serve my steak grilled with no butter. And oh, sauce on the side!
ADVERTISEMENT - CONTINUE READING BELOW
4. Your BFF starts devouring glazed fried chicken in front of you.
Triumphant and happy, you managed to stick to your healthy choices in life, but when your best friend sits down in front of you and starts eating her fried chicken, suddenly, you (and me!) are faced with a new obstacle—to resist asking for a bite. HUHUHU some more.
ADVERTISEMENT - CONTINUE READING BELOW
5. There is shortage of coco sugar or even muscovado sugar in cafes and restaurants.
You've heard it from your doctors and nutritionists and even read articles about it online—sugar, especially refined, is EVIL. But of course, you find ways to sneak in something sweet once in a while like a cup of latte with coco sugar just to get by. But, guess what? They don't always offer these condiments, which leaves you a tad bit sad. Out of the kindness of their hearts, they offer brown sugar instead. Thanks, but no thanks—we all know it's not the same.
ADVERTISEMENT - CONTINUE READING BELOW
Tip: Bring sachets of coco sugar in your bag for these kinds of emergencies. I know, I do!
6. Going to a convenience store for snacks is just not the same.
You know when you're out and incredibly in need to snack? It used to be easy because you can simply head to a convenience store to grab something quick, but now the multitude of options just doesn't fit with your new life and leaves you scrambling for a place that serves banana singles, apple slices, and fruit cups (even if all you really want at the moment is a cookie).
ADVERTISEMENT - CONTINUE READING BELOW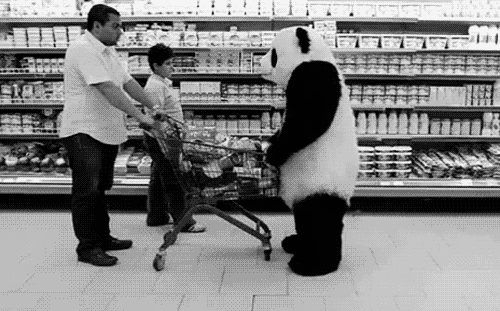 7. Sometimes, you unravel and people judge.
So you decide to order a pastry in Wildflour today or a cup of frozen yogurt—it's gluten-free and you're only doing it one time anyway so it's not so bad. And then, given our millennial habits, you post it on Snapchat or Instagram only to receive messages from caring friends that say "'Di ba bawal sa 'yo yan? Why are you eating that??" which leaves you feeling miserable for cheating although slightly touched—what a bittersweet moment!
ADVERTISEMENT - CONTINUE READING BELOW
Are you going through these things, too? Share with us which one you can relate to the most!
Hey, Preview readers! Follow us on Facebook, Instagram, YouTube, Tiktok, and Twitter to stay up to speed on all things trendy and creative. We'll curate the most stylish feed for you!