Stop Kiss revolves around the blossoming love story between Sara and Callie, two strangers, turned friends, who are soon unable to deny their attraction towards each other. Set in a non-linear timeline, the narrative watches the two fall in love for the first time, paralleled alongside the tedious events that play out after they're brutally assaulted after sharing their first kiss.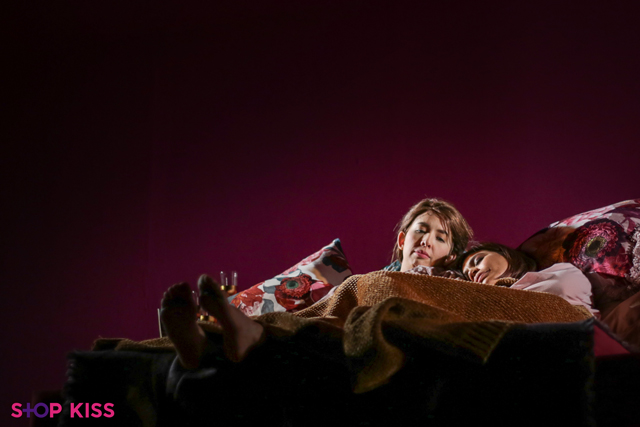 ADVERTISEMENT - CONTINUE READING BELOW
So is this play worth your time? Read up on our review and find out for yourselves!
What I Liked About It
The lead actresses are phenomenal.
There's a vibrant energy that envelopes the room whenever Missy Maramara and Jenny Jamora step onstage together. Their chemistry is palpable, their tension magnetic, and the way they play at two women navigating the nervous yet exciting feeling of being attracted to one another for the first time feels all too real. Jenny is endearing as the eccentric and empathic school-teacher Sara. Her nearly childlike gusto fills the bare set with an infective positive energy, it's hard not to get swept up into her light. Missy, on the other hand, works wonders for a whole two hours. Her character Callie is present for almost the entire story while it alternates from the past to the present. The role quite literally demands of the actress to constantly jump from a distressful breakdown in one scene, to a laughing ball of energy not five seconds later, and Missy pulls it off so effortlessly it's like watching a movie play out onstage. To call her dynamic performance impressive is an understatement. She might just steal your whole heart.
CONTINUE READING BELOW
Recommended Videos