Upon entering the Starbucks Reserve at Jupiter, Makati, we're introduced to Ana Mendoza, a Starbucks barista with a wide grin and welcoming aura, everything you'd expect from your coffee maker. But Ana is actually more than just your usual barista. She's what they call a Coffee Master.
No, we didn't just give her this title for fluff or flattery, a Starbucks Coffee Master is an actual thing. You may not notice it but they're the baristas you see donning black aprons, instead of green, in the midst of your daily caffeine fix.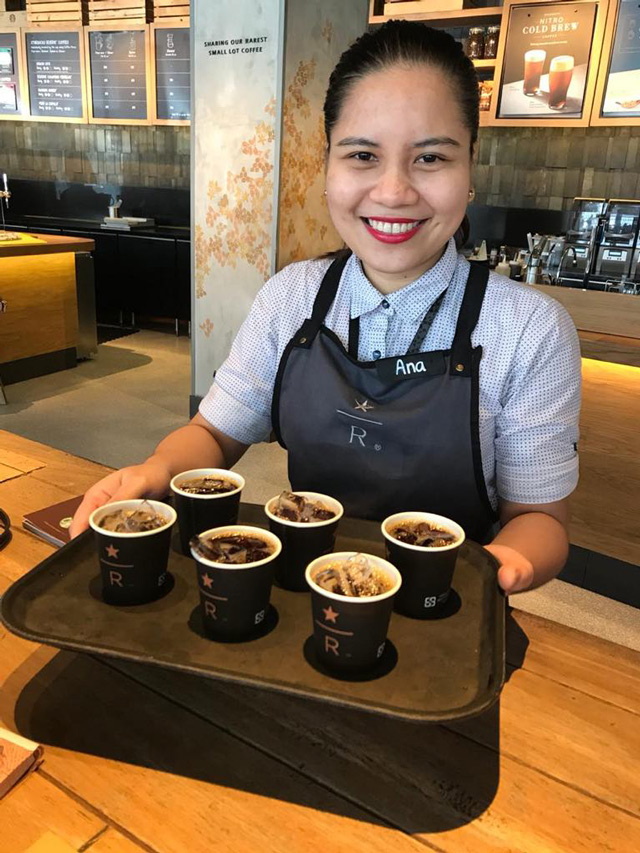 ADVERTISEMENT - CONTINUE READING BELOW
What is a Coffee Master?
Coffee Masters like Ana are pretty much coffee aficionados. They know everything there is to know about coffee and can answer just about any question you throw at them. But it's more than just about being familiar with Starbucks' core drink lineup. Baristas who hope to be Coffee Masters go through an arduous three month process before they're certified to wear the coveted black apron.
"It's like schooling" Ana tells us. The process has five steps or chapters. Activities include coffee tastings where the partner has to familiarize herself with Starbucks' core coffee lineup. They also have to learn about the history of coffee, present two activities on the specific chapter, and masterfully pass a question and answer portion before proceeding to the next steps of the program. It's essentially an intensive coffee boot camp.
The daily grind
Of course, with a grand title (and black apron) comes great responsibility. Upon certification, Coffee Masters are expected to be guardians and champions of coffee quality, making sure all their hand-crafted beverages are up to par with Starbucks standards. They're pretty much your coffee gatekeepers. They must also coach and mentor their partners from the different equipment used, to the techniques applied in making each cup of coffee. But their duties aren't only limited behind the counter. Coffee masters have to be quick on their feet, too, ready to answer any customer's question before subsequently directing them to the right kind of coffee that perfectly fits their preference.
ADVERTISEMENT - CONTINUE READING BELOW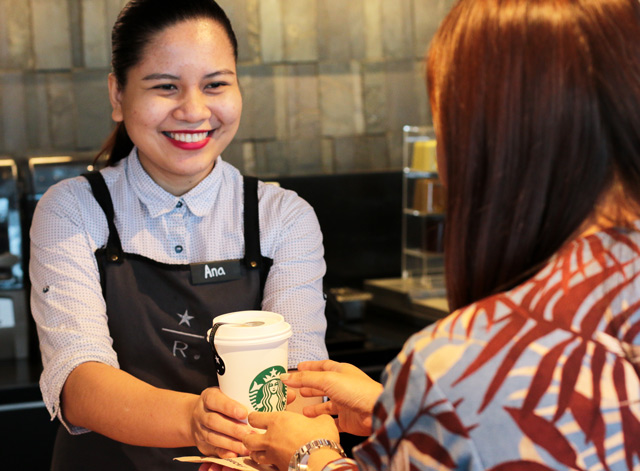 It's obviously so much more than just making coffee. "I wake up at 4:30 in the morning because my shift always starts at 6am." Ana reveals. "I normally get my first cup of coffee, which is usually an Americano, because I can't function without it." The rest of her day is then filled with conversations about coffee from customers asking about their preferences to genuinely curious folks who just want to tickle their coffee interests. Aside from this they also have coffee tasting activities where they sample the newest blends and flavors before having to describe their tastes in great detail.
ADVERTISEMENT - CONTINUE READING BELOW
An internationally certified barista
But it turns out there's more to this modest Coffee Master than meets the eye. Aside from being the Jupiter branch's store manager, Ana also happens to be the first and only Starbucks partner in the Philippines certified by the Specialty Coffee Association, a global organization dedicated to upholding and raising the standards of the coffee industry worldwide. As of writing, Ana is Foundational Level SCA Certified Barista.
But wait—there's more! Ana's also one of the only two coffee leaders in their area. To illustrate how impressive of a feat that is, an area is roughly composed of 10 districts, with at least 10 to 12 stores making up each district. Coffee Leaders are tasked to manage a whole area and are expected to keep in touch with each other, making sure that the expertise of all their baristas are calibrated to high quality Starbucks standards.
ADVERTISEMENT - CONTINUE READING BELOW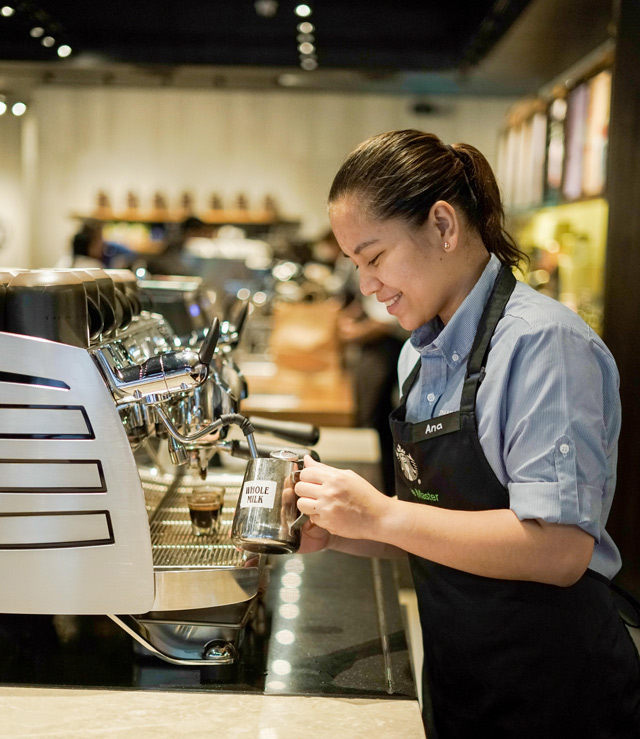 Surprisingly, when asked if she had acquired her fine taste for coffee from her early years, what we got was an almost resounding no. "It was the inspiration that I got from a previous coffee ambassador who was, back then, my assistant store manager in Power Plant." Ana explains. "I think that was 2012. She introduced me to the program. When I saw her teaching and mentoring my partners, that was my turning point to getting into coffee and understanding what coffee is."
ADVERTISEMENT - CONTINUE READING BELOW
With the title of Coffee Master under her belt, Ana not only hopes of being a district manager one day, she also dreams of being part of Starbucks' Green Coffee Quality Team. The GCQ team is in charge of defining the standards of Starbucks quality products and making sure they're constantly maintained. But more importantly they create the recipes of your next favorite Starbucks blend, and with Ana's expertise and passion for coffee we have no doubt that it won't be long before we get to order a drink of her own personal concoction.
Related Stories from Preview.ph
Hey, Preview readers! Follow us on Facebook, Instagram, YouTube, Tiktok, and Twitter to stay up to speed on all things trendy and creative. We'll curate the most stylish feed for you!