"Basically for me a hero has to be somebody who sacrifices or takes chances to help others but still have human traits—still not be perfect." —Stan Lee on The Larry King show, 2000
The events of Avengers: Endgame may have put moviegoers through an emotional and heavy cinematic experience, but Spider-Man: Far From Home wants you to see the brighter side of the MCU after Thanos' snap and Tony Stark's heroic death.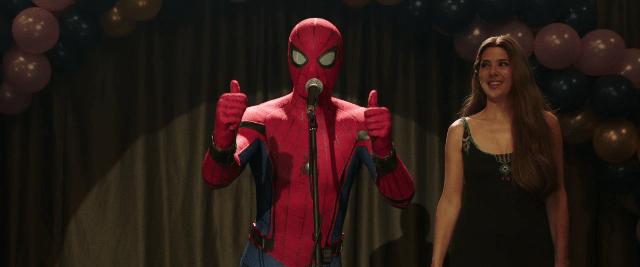 ADVERTISEMENT - CONTINUE READING BELOW
The film takes place almost immediately after the events of Avengers: Endgame and shows you a glimpse of life after the "blip" aka what normal people call the Thanos-snap-eradicated-half-of-the-universe incident. Aunt May (Marisa Tomei) now holds (relatively vague) fundraisers, aided by Tony Stark's right hand man Happy Hogan (Jon Favreau), while Peter Parker (Tom Holland) and his best friend Ned Leeds (Jacob Batalon) are preoccupied with their science tour (or vacation) in Europe.
CONTINUE READING BELOW
Recommended Videos
But what's really on Peter's mind is telling the girl he likes, MJ (Zendaya), how he truly feels. In typical Spider-Man fashion however, Nick Fury (Samuel L. Jackson) along with special agent Maria Hill (Cobie Smulders) need Peter's help defeating these elemental monsters wreaking havoc all over the globe as revealed by Mysterio aka Quentin Beck (Jake Gyllenhaal). Peter is less than thrilled about all of this, wanting an uneventful but romance-filled vacay, nevertheless, bad things follow him around and he has to step up and be the hero.
ADVERTISEMENT - CONTINUE READING BELOW
As the seventh Spider-Man movie made—counting the original trilogy with Tobey Maguire and Andrew Garfield's two films—is this latest Spidey flick starring Tom Holland the "best" among the seven? We dare say it isn't, and we're not even sure if it's "good.". Find out why in our spoiler-free review below!
What I Liked About It
Jake Gyllenhaal is amazing as Mysterio.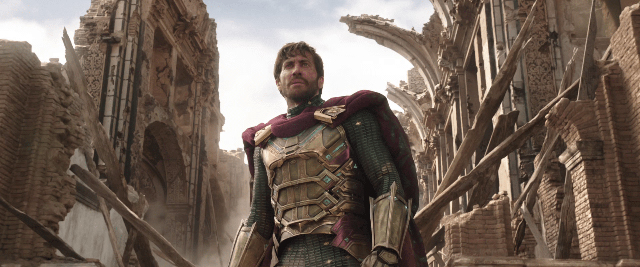 ADVERTISEMENT - CONTINUE READING BELOW
If Jake Gyllenhaal didn't play this character, this film would have not been as enjoyable. That's how good he is in this movie. He played Mysterio with such chameleon-like charisma and believability, and he fleshed him out so well that he doesn't come across campy even when in costume. It was also so obvious that Jake was having so much fun with the role and he made the film interesting and worthwhile given what Mysterio becomes. (As promised, no spoilers!)
The big CG fight sequence is one of the best CG action sequences in a Marvel movie.

ADVERTISEMENT - CONTINUE READING BELOW
That crazy and trippy fight sequence where Spider-Man can't figure out how to defeat these incredibly realistic illusions was so satisfying and entertaining that it immediately picked up the pace of the film. As a person who hates overly CG-ed sequences—I loathe Transformers movies because of this, as well as that finale scene between Superman and Zod in Man of Steel—mainly because it's all visual with no substance most of the time. But the CG action in Far From Home felt earned, and you almost crave for it. It was well directed and beautifully animated too, and it honestly saved the movie in a way.
Tom Holland is great (as usual); those high school scenes, and Peter and MJ moments are cute.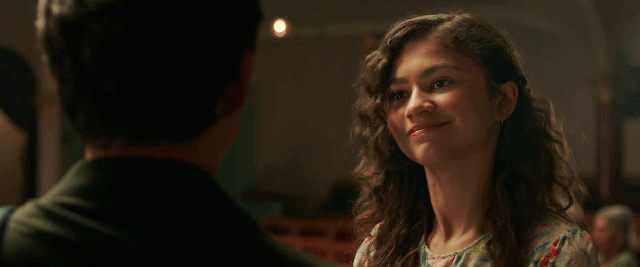 ADVERTISEMENT - CONTINUE READING BELOW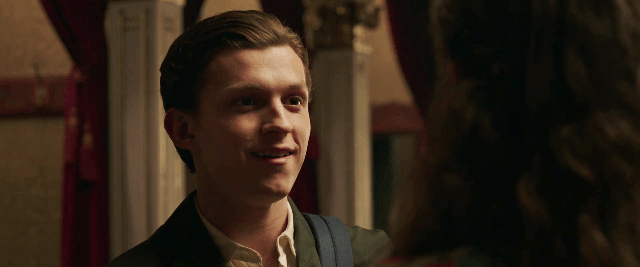 Director Jon Watts loves this awkward teen movie genre a lot, and it shows so much in FFH. Every time it goes back to Peter Parker trying to enjoy time on his school trip, the scenes are funnier, wittier, and all around cuter. It's strange but watching this film on opening day with a lot of fan boys and girls, and guys bringing their girlfriends along, there was definitely more of a positive "kilig" response to the film from the female audience. Maybe also because the romance angle is such a huge part of the plot. There's no denying that Tom and Zendaya have great chemistry on screen, and Tom plays the awkward and insanely adorable Peter Parker so well that it's so hard not to have a crush on him.
ADVERTISEMENT - CONTINUE READING BELOW
What I Didn't Like About It
In Far From Home, Spider-Man/Peter Parker is more of a hormonal teenager than he is a superhero.

Going back to what Stan Lee said "Basically for me a hero has to be somebody who sacrifices or takes chances to help others", there's this nagging feeling throughout the movie that makes you always question why Peter or Spider-Man does what he does. Are his motivations good? He's definitely a guy with super powers, super great connections, and super in love with this girl (for some unexplainable reason), but is he a hero? By the end of the film, I can say that he's not. This version of Peter Parker is self-centered, immature, and oddly a little stupid (for a science school goer), and Far From Home just expects us to accept these major character flaws because "he's just a kid." This is a point I want to argue in defense of movies and series with children as lead characters like Stranger Things or Shazam, is a weak excuse.
ADVERTISEMENT - CONTINUE READING BELOW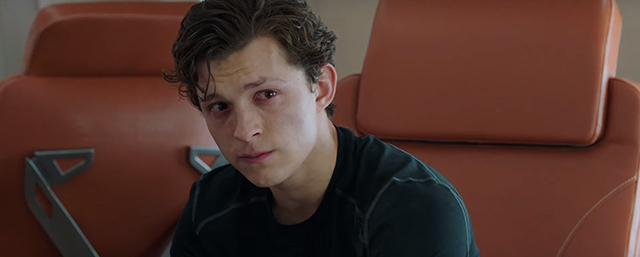 It's sad because Tom Holland is such a capable and versatile actor. I personally adore him. But it's not his fault, it's the script and overall writing. Spider-Man/Peter Parker is written in this movie like he's a real-life yet unrealistic cartoon character who shifts from one emotion to another in a split of a second. Peter goes from happy to sad to nervous to grieving in such Quicksilver speed that you don't know what he's truly feeling or thinking. He has no voice of his own. This movie reduced Marvel's most-loved web-crawler into a super powered white boy who'd rather—despite being dead for five years and seeing Tony Stark's sacrifice in Endgame—want to spend time with his friends and his crush than save people. It's frankly a little uninspiring.
ADVERTISEMENT - CONTINUE READING BELOW
The movie's tone is inconsistent throughout the film. It's not bad, but I don't agree with it.
There are two films in Far From Home: one of them is an adorkable teen romance starring MJ and Peter Parker, and the second is a Spy Kids or Fast and The Furious type action movie with Spider-Man and Mysterio. Up until the last arc of the film, I was simply confused. Confused in the sense that I couldn't believe this was the treatment the director went with and why this was the movie's main plot. It's not necessarily bad, but it wasn't also great.
There's (still) too much Iron Man and less Spider-Man.
ADVERTISEMENT - CONTINUE READING BELOW
Tony Stark is gone and he's left a hard-to-top legacy behind. It's obvious that this fact bogs down Peter Parker, but there's this constant mentioning of Tony and his tech that it feel a little bit like Spider-Man is just piggy backing on Iron Man's fame, fortune, and friends. It would have been great to see what Peter can do on his own, and for him to have a story that has nothing to do with the rest of the Avengers.
There's no takeaway. It's mostly fun no substance.
ADVERTISEMENT - CONTINUE READING BELOW
I'd like to think that people read comic books and watch comic book movies to both be entertained and inspired. Superheroes may be unrealistic but they should inspire people to be better one way or another. They're aspirational. This film is a flat-out popcorn movie—it's a high-budget blockbuster with the best special effects out there—but there's nothing more to it. Sadly, it may be the most shallow Spider-Man film to ever exist, even when its lead star is incredibly likeable.
So Should You Watch It?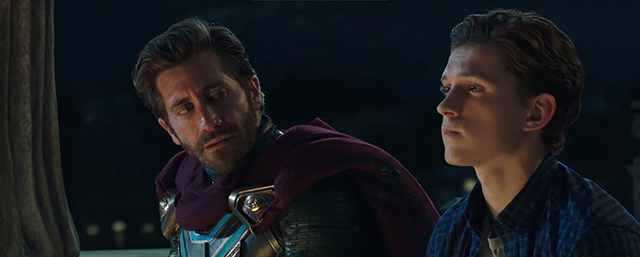 ADVERTISEMENT - CONTINUE READING BELOW
As a tradition, as a past time to have fun with friends or your S.O., if you're a person who loves Tom Holland as Spider-Man/Peter Parker, sure, why not? The movie won't disappoint in that aspect; it's got entertainment value and Tom is so magnetic on screen. But as a superhero movie, as a film that you can go home with something more than just a few laughs in your pocket and some special-effects-filled memories, it's not really worth the watch. As a Spider-Man fan, there's something here that's missing so terribly that was present in previous Spider-Man films (including Homecoming): and it's that sense of motivation and responsibility Peter constantly has that propels him to do the right thing (whether he likes it or not). Where's that gone? It's definitely not in Far From Home, but maybe he'll finally figure it out (hopefully) in the next film.
ADVERTISEMENT - CONTINUE READING BELOW
Spider-Man: Far From Home is now showing in theaters nationwide.
Related Stories from Preview.ph