I only realized—no, accepted—my sexuality in college. Prior to that, I always found reasons to talk myself out of the inevitable: that I only liked that one friend; that being groomed within the confines of an all-girls Catholic school had clouded my judgement; that, as my high school guidance counselor told our class, we were simply confusing "admiration" or "deep, deep friendship" for romantic feelings, as if attraction between two people of the same gender couldn't possibly be anything but wrong.
Brought up in a devoutly religious household, it didn't help there was nothing on mainstream media at the time to tell me otherwise. Instead, once I did come to terms with my truth, representation was something I actively had to search for, scour even, in the most cavernous corners of the web. In the process, obscure Western movies or independent Pinoy films became my reprieve, I read more fanfiction than the actual novels I could buy in local bookstores, and strangers on the internet going through the same thing became virtual friends.
ADVERTISEMENT - CONTINUE READING BELOW
When dramas like My Husband's Lover, The Rich Man's Daughter, Baka Bukas, and Billie and Emma started coming out in the 2010s, I held on to each release like a lifeline, albeit one I could only watch by myself in fear of drawing out unsolicited, disgusted comments from family members. Unsurprisingly, with only limited content to work with, shows or movies that do highlight the queer experience typically end up becoming fixations for me, as with other peers from the LGBT community, often lasting until the next one replaces the fanfare in a month or three.
My social media feed's latest obsession this time around is Yoon Sol (Lee Ho Jung) and Seo Ji-wan (Yoon Seo Ah) from the JTBC drama Nevertheless. For side characters with approximately less than five minutes of screen time each episode, they were a pairing hardly anyone saw coming, or believed to be genuine at least, throughout the show's early episodes. Because while the Hallyu wave has undeniably swept the globe, K-dramas like this, produced in a conservative country, remain predominantly straight.
CONTINUE READING BELOW
Recommended Videos
Of course, that's not to say there have never been attempts at diversifying the field. Anyone who takes the time to Google content can easily find a list of K-shows featuring LGBT characters, such as Reply 1997, Seonam Girls' High School Investigators, Life Is Beautiful, SF8, and Hello Dracula, among others. That said, none of these TV series had the luxury of a global platform like Netflix, or a full-fledged social media stan scene to bolster their reach at the time of their run, the way Nevertheless has. Perhaps a close second would be tvN's Mine, which featured a repressed lesbian lead as played by Kim Seo Hyung. Lee Joo Young's Ma Hyun-yi, a trans character from Itaewon Class, on the other hand, warrants a separate piece on her impact altogether.
ADVERTISEMENT - CONTINUE READING BELOW
Apart from Netflix and fan culture, Soljiwan, as they're fondly called by viewers, has found purchase in the hearts of many thanks to how their story strongly resonates with a community that rarely sees its realities portrayed in the media. In case you don't watch the show, or have only seen the viral clips on Twitter, Sol and Ji-wan are the lead character, Yoo Na-bi's classmates in college. The pair have been inseparable since middle school, staying practically joined at the hip even throughout university, which makes Sol's long-time crush on her BFF even more weighted. Anyone who's pined after their straight friend for years, yet continues to bear the load in silence instead to keep their bond, will most likely gravitate towards Ho Jung's character.
ADVERTISEMENT - CONTINUE READING BELOW
Episode eight, in particular, saw a pivotal turning point for the two after Sol finally laid everything on the line and admitted her feelings, not expecting anything in return. Unlike most climactic confessions between straight characters in romance dramas, she immediately follows the revelation with an apology, as if to say, 'I'm sorry for burdening you with this and potentially ruining our friendship.' It's a defeatist train of thought common among us, born from a culture of compulsory heterosexuality, constantly reminding us that we're a "minority." Unless you're one of the lucky few, you'll always be plagued with the idea that there's probably no chance in hell your friend likes you back.
ADVERTISEMENT - CONTINUE READING BELOW
I saw myself in Sol during that scene, painfully clear as day—the breath hitch, the loaded pauses in between, the familiar fear, or acceptance even, of losing it all, before taking the plunge and freeing herself off years of pent-up yearning. When I confessed to a dear friend in college the same way Sol had, I lost count of how many times I apologized after, knowing full-well nothing following that moment would ever be the same between us—and nothing was.
I wasn't the only one who could relate to the character either, if the passionate reactions online are any indication.
ADVERTISEMENT - CONTINUE READING BELOW
ADVERTISEMENT - CONTINUE READING BELOW
ADVERTISEMENT - CONTINUE READING BELOW
That said, as much as thousands of queer girls have caught themselves reliving similar memories through Ho Jung's masterful portrayal, so have others found comfort in Seo Ah's Ji-wan who, as it turns out, harbors mutual feelings for her best friend. This long-awaited admission, of course, then leads to that now iconic back hug, before Ji-wan hurries off, leaving a confused Sol in her wake.
ADVERTISEMENT - CONTINUE READING BELOW
In contrast to Sol's confidence, though, Ji-wan, having spent her whole life up to this point only dating men, is less sure about the true extent of her love for the former. Before this, the thought of romantically coupling with another woman probably never even crossed her mind, hence, why it's taking her a while to come to terms with her new truth. After all, the onset of realizing one's queerness can undoubtedly be a terrifying plain to navigate, especially for those who grew up in a conservative society. It took me two years and countless breakdowns before I could truly accept myself, and even then, before the rainbow flags and the pride parades, it's a journey most of us must weather through alone.
ADVERTISEMENT - CONTINUE READING BELOW
ADVERTISEMENT - CONTINUE READING BELOW
While their story does not illustrate the entire queer experience—honestly, what media can—Sol and Ji-wan's plotline is fraught with nuance and an agonizing yet comforting familiarity that's not often given space in mainstream television, let alone in K-dramas. Not to mention, the decision to explicitly explore their relationship is no doubt a brazen move by JTBC, after the network was penalized just six years ago for airing the first lesbian kiss on Korean national television.
As Nevertheless' take on Soljiwan's relationship continues to receive an outpouring of support from international fans, we can only imagine it's impact on the Korean LGBT community, and what this might mean for K-dramas in the future. I, for one, can't wait to find out.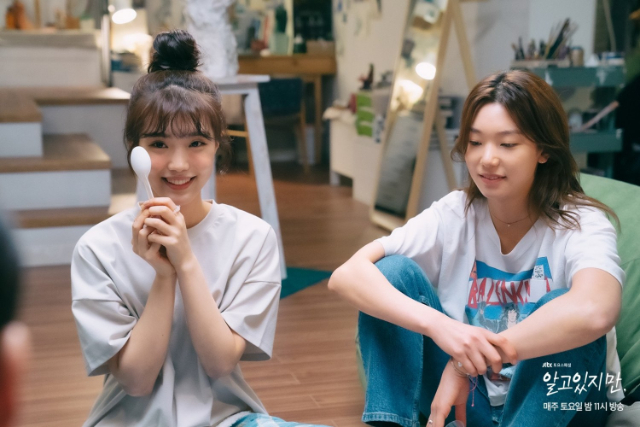 ADVERTISEMENT - CONTINUE READING BELOW
Preview is now on Quento! Click here to download the app for iOS and Android and enjoy more articles and videos from Preview and your favorite websites!
Related Stories from Preview.ph



Hey, Preview readers! Follow us on Facebook, Instagram, YouTube, Tiktok, and Twitter to stay up to speed on all things trendy and creative. We'll curate the most stylish feed for you!